Gym Rat's Notebook: You Gotta Have Faith
by Elijah Kyle, 11/19/04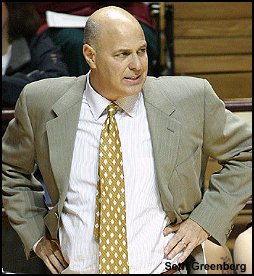 One could probably accurately portray head coach Seth Greenberg as someone who is most comfortable micromanaging his teams and players. That was the case last season, when the Hokies confounded most everyone with their winning record, and has been his modus operandi in previous stops at Long Beach and South Florida. In his second season directing the Hokies, things just might be a bit different for Greenberg, and consequently his team and players.
Last season saw a young and inexperienced team that was intent on running Greenberg's offense, especially where it concerned getting the ball to standout senior Bryant Matthews, and getting it there often. The Hokies were patient and deliberate in that approach in half court settings, and Greenberg had to be pleased with how Matthews became such a focal point in the offense. He represented the only true and proven offensive player early in the season. The freshman backcourt of Zabian Dowdell and Jamon Gordon, with some help from previously little-used sophomore Markus Sailes, was especially effective in making sure Matthews got plenty of touches and that they were done at the most effective places on the floor for Matthews.
Early evidence is that this season might look quite a bit different from last season's team, at least from a structure standpoint. That is something that Greenberg will be taking a huge leap of faith on, seeing his players positively handle the added freedom that Greenberg seems poised to thrust upon them.
With Matthews the only player not returning from last year's starting five, and with three-year starter Carlos Dixon returning from a redshirt year for his senior season, it was probably assumed in most quarters that this 2004-05 Tech team would simply plug Dixon into the lineup to replace Matthews, watch the young sophomore trio of Dowdell, Gordon and Coleman Collins flourish with the added strength, maturity and confidence that starting as freshmen in the Big East Conference would bring, and simply keep on keeping on. After all, Dixon and Matthews were cohorts for three years, Dixon can bring the experience and senior guidance to the team that Matthews brought last year, and they are both 6-7.
But, while Matthews might represent Headbanger's Ball with his approach to the game, Dixon is more along the lines of Sade as a "Smooth Operator". Their individual playing styles are different and with the new move into the ACC, where pressure defense, trapping the basketball and running at full throttle seems almost a given (did you see that Wake-George Washington track meet Monday night?), Seth Greenberg has evidently made the decision to entrust his players with considerably more latitude on the court in their half court offense this year.
Matthews represented the Hokies' lone inside scoring threat last season and replacing that will be a very difficult task. Without someone to draw double teams inside, get opponent players in foul trouble, or even demand defensive attention, it will be much harder for the Tech perimeter players to get good open looks at the basket. One thing that is abundantly clear is that this Tech team will want to push the tempo and pace as much as possible. We witnessed that last week during the Exhibition game victory over EA Sports. Greenberg obviously feels that this edition must get out and run to take advantage of their quickness and athleticism, while helping to cover up some of the flaws that will be evident in the half court setting, that of not having a legitimate post scoring threat to open up and spread the court.
The Hokies will also need to prove that they can shoot the ball from the perimeter this year, another area of concern. But in order to run as much as Greenberg would like to, you have to rebound the basketball well and force turnovers, something that happened with mixed results last week in the exhibition game. The Hokies were outrebounded by EA Sports by 5, but they did force 28 turnovers, many of them early with their stifling pressure that created some easy early baskets, while seemingly rattling the visitors. Later on, after EA adjusted to the Tech pressure, the fast break opportunities diminished considerably, as EA was able to run their half court offense effectively and get the ball inside for easy baskets, or kick the ball out to shooters who seemed to be wide open the entire second half. The Hokies were unable to sustain the early energy level that they displayed defensively in the first half, another area where Matthews' presence was greatly missed. Matthews brought an unrelenting energy level that infused the game throughout entirely, and a level that his individual opponent knew had to be met. Matthews set the bar in every game from an energy standpoint, both for his team and for his opponents.
That might be something that Hokie fans will have to get used to seeing this year. When Tech can create the tempo they want, which is utilizing trapping pressure that opens up transition opportunities, the team will look good and play well, as they did early in the first half last week. The defense was crisp, the players played with great energy and they got out and converted a number of early fast break opportunities. On the other hand, when EA was able to systematically enforce their will and tempo, which they did during the second portion of the first half and the entire second half, it became very clear that Tech has much work left to do from a defensive standpoint.
This team wasn't as physical as it will need to be, another area that Matthews had an effect upon the team. Get used to seeing teams with a double post threat and bulk get ample opportunities inside. 6-7 freshman forward Deron Washington, at 190 pounds, will be giving up 40-50 pounds inside as he tries to guard taller and stronger post players. Tech will need to put much more pressure on the ball to keep teams from so easily going over the top and getting the ball inside. That pressure will also have to take teams out of their offense and get them into a scattered approach, so that the Hokies can create turnovers. If they are not able to do that, and they don't become more physical and rebound the ball better than we saw last week, the team defense will struggle, and consequently it will be very hard for Tech to exert their will and their tempo on opponents.
And, if it then becomes a battle of teams effectiveness in running their half court offense, this is the area where Greenberg is taking his greatest risk. Moving to the ACC means that you will constantly be playing against teams that love to play at a fast pace, pressure you defensively, and try and take you out of your offense. With no established low post scoring threat that will demand defensive attention, or draw double teams that open up the floor for perimeter threats, Greenberg has obviously made the calculated decision that he will utilize one of the strengths of this team, that being the ability of a number of players being able to take you off the dribble. Gordon, Dowdell, Dixon, Marquie Cooke and Wynton Witherspoon all can do that. Overplaying the passing lanes, harassing, hounding, trapping and pressing you relentlessly, as many ACC teams do, will create opportunities for you offensively, as long as you have players that can beat people off the dribble and spread people out a little and use those penetration skills.
Greenberg is obviously going to give much more latitude this year to his players to go outside of the offense and use their ability to beat people off the dribble to create scoring opportunities. And, the more players you have on the court at the same time that can do that, the more chances you have to find mismatches to take advantage of. That seems to be the clear direction that this team will take this year and it does represent a gamble, especially when you consider that this team might look drastically different in a half court setting than it did just a year ago, while only losing one player. How easily will each player adjust to that added freedom? Will the disruptions and flow of the offense suffer greatly from this entrustment? We saw evidence last week in the exhibition game that it won't be an easy or a rapid change of style. At times it appeared that players were going one-on-one, especially in the second half when EA Sports was getting control of the flow of the game. Will turnovers be adversely affected by allowing so much freedom for the players?
There will be some early growing pains as this team tries to establish a new and revamped playing style offensively. It won't come without some struggles, and hopefully those struggles won't be in the form of a loss to a team, or teams, that is unexpected. How quickly, and more importantly how effectively, the Hokies are able to establish a new offensive style will be a very early season barometer on how well this team will do. Greenberg has chosen to try and take advantage offensively of one of the team strengths, but it's something that will call for a dutiful guidance and the rein of his players will be far from entirely free.

Other Gym Rat Notebooks:
10 Keys to VT's First ACC Season (Part 2) - 11/12/04
10 Keys to VT's First ACC Season (Part 1) - 11/5/04
Hanging With the Big Boys - 10/15/04
Sobering Thoughts and a Dash of Culture - 8/9/04
Paging Ryan Odom, Paging Coach Ryan Odom - 6/18/04
Ch-Ch-Ch Changes - 6/18/04
ACC Recruiting Rankings - 5/25/04
Adding Another Piece - 5/19/04
Recruiting Hits Final Stretch - 5/11/04
The 5-8 Rule -- It's Finally Gone - 5/5/04
Help Could Be Looming on the Horizon - 4/23/04
A Look Ahead: The Backcourt - 4/16/04
A Look Ahead: The Frontcourt - 4/8/04
There's No Place Like Home, Toto - 4/1/04
About the Over/Under? - 3/26/04
Did You Say Four, or Forty? - 3/17/04
Big Game, Big Year, and Big Hopes - 3/10/04
Home, Sweet, Home - 3/1/04
On or Off Broadway? - 2/24/04
Trolling for Additions - 2/18/04
Georgetown a Must Win? - 2/11/04
Defense in Numbers - 1/28/04
Chemistry Class and Hitting It Early - 1/21/04
Subtraction and Addition - 1/13/04
Hey, Brother, Can You Spare a Big Man? - 1/6/04