A Gym Rat's Notebook #3: Chemistry Class and Hitting It Early

by Elijah Kyle, 1/21/04
Editor's Note: All pictures are clickable for larger images.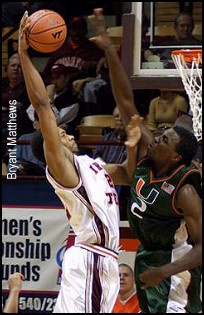 The move of senior forward Bryant Matthews from the four (power forward) position to a perimeter position (small forward) after the injury to freshman guard Jamon Gordon had a brief shelf life. Matthews had played the early portion of the season inside and had racked up some impressive numbers prior to the injury to Gordon. After Gordon went down and underwent surgery, Matthews moved outside for the Pittsburgh game, with sophomore Allen Calloway stepping in to start at the power forward position.
This move lasted all of one game, and while Matthews was Tech's leading scorer for the game, it is what he did in the other areas that might have given pause for Seth Greenberg to consider his new lineup.
Matthews scored 22 points, but the two problem areas were ball handling and rebounding. As the best rebounder on the team, Matthews' move outside didn't come without risk, and his season low total of 3 rebounds in the Pittsburgh game was probably more than coincidental. In addition, Matthews also was credited with 9 turnovers in the game, a season high as well, although as a team Virginia Tech had 26 turnovers, which also resulted in a season high for the team. Both of these stats, even though not marking a trend and representing a very small sample size, might have been the reason that Seth Greenberg pulled the plug on this move.
However, this wasn't the only reason for Matthews' return to familiar ground. The Virginia Tech defense has been spotty this year, but the best part of its defense has been its half court trapping pressure, which has caused problems for several opponents. While Gordon was instrumental in the success of that defense and is certainly missed, another big factor in the success has been the utilization of three guards, and allowing players to become better within the framework of that defense, which takes teamwork and anticipation to be prosperous. Matthews' move outside would not only take him further away from the basket and rebounding position, but also equip him with additional ball handling responsibilities, while also requiring a positional change within the structure of the mostly effective half court, trapping defense.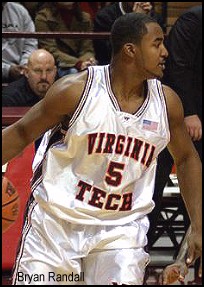 Greenberg probably didn't want to gamble with seeing Matthews' rebounding numbers go down, while his turnover numbers went up, especially if there might also be a loss of effectiveness in the team's best defense, its 1-3-1 trap. Team chemistry, not only from an offensive but also from a defensive standpoint, can sometimes be an elusive and volatile quality, so seeing Greenberg revert quickly back to the three-guard lineup should not come as a surprise. It may have been just as much about maintaining his team's chemistry. West Virginia head coach John Beilein mentioned as much after the Virginia Tech win over his team, when talking about chemistry. Beilein suggested that this year's Mountaineer team had not found their team chemistry yet, while indicating that Virginia Tech seemed to have found a nice team chemistry on the floor, comparing Tech to his own team last year.
The move of Matthews was and remains risky, and not only affected the best player on a team searching for success, but also involved the chemistry of the team, something that the team had shown promising signs in developing. Incorporating Bryan Randall into the mix will be the next challenge, while trying to maintain the slippery chemistry.
Recruiting Update
On the recruiting front, things have been somewhat quiet lately, but not necessarily by design. Head coach Seth Greenberg had scheduled a couple of trips to see prospects in the early part of the month, but both were cancelled due to inclement weather. Greenberg had scheduled trips to watch 6-7, 240-pound junior forward/center Jimmy Graham out of North Carolina and 6-10, 175-pound senior forward Chris Johnson of Colonial Beach VA.
Graham has already been evaluated this year by a member of the Virginia Tech staff, when assistant coach Ryan Odom took in one of Graham's games in December. Graham is also getting early interest from North Carolina State and has stated a sincere preference for playing his college ball in the Atlantic Coast Conference. Graham plays at a very small private school in North Carolina, and as yet isn't a well known prospect. He is further along defensively than offensively, and already appears to be a legitimate-looking high major level rebounder. The early issue with Graham will be two-pronged. At 6-7, can he effectively rebound at the post position and guard centers at the ACC level, given his lack of height, if that becomes his collegiate position? The other issue would be whether he can effectively step away from the post area and operate as well at a forward position at the college level as he currently does at the prep level?
Those are two key questions that would need to be answered with Graham, but he is very strong physically, is a fine rebounder and gets off his feet surprisingly well for someone with such a large, muscular body. Virginia Tech would presumably have difficulty getting a legitimate ACC post player out of North Carolina should other ACC programs become involved. Virginia Tech might be able to get such a player if they can offer early and hope to sneak in and get a player who clearly prefers to play in the ACC, before other programs are ready to make a decision. That would appear to be the course to take that would have the greatest possibility of securing a worthy North Carolina prospect, and even then it would be far from a slam dunk.
Johnson, on the other hand is a player who is of more immediate concern. With the entire staff combing the country in search of inside prospects to add to the '04-05 recruiting class, Johnson is an interesting prospect. On the surface, he doesn't appear to be a particularly suitable match. At 6-10 and with only 175 pounds on his frame, Johnson appears years away from being able to develop the type of strength and body that would be needed to compete at the ACC level. When Philip McCandies arrived at Virginia Tech in the summer prior to his freshman year last season, he weighed 198 pounds, this on a 6-8 frame. McCandies is still thin when compared to ACC and Big East type post players, and McCandies now goes about 6-9 and 220 pounds. Johnson is currently about one inch taller, but 45 pounds lighter than McCandies, who is hardly a sturdy, bulky presence.
This might be more of a reflection of the lack of inside players available at this late a date in the season, if you are searching for senior frontcourt players capable of playing at the ACC level and where the process is taking the coaching staff, more than anything. But, Johnson's ability should not be completely overlooked either. He has true three point shooting range, is athletic and a good shotblocker. He is a skilled frontcourt player capable of playing either forward position, and while he can't ever be expected to defend the center position, he can provide very difficult matchup problems with his ability to play and shoot away from the basket. His lack of girth and weight is a considerable concern. His intriguing package of skills is also a very tempting proposition, so it should be interesting to see where this story leads.



Copyright © 2003 Maroon Pride, LLC