A Gym Rat's Notebook #11: About that Over/Under?

by Elijah Kyle, 3/26/04
Note: All images are clickable for larger versions.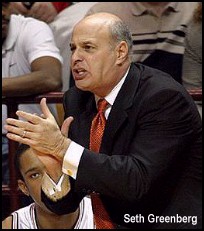 It was approximately one year ago that Athletic Director Jim Weaver decided that a change was needed at the helm of the basketball program. After interviewing several candidates - such as Rhode Island head coach Jim Baron, UT-Chattanooga's Jeff Lebo and then-head coach Ed DeChellis of East Tennessee State - Weaver decided that the someone that this program needed was the head coach at a program whom some of the faithful weren't at all unhappy to see leave the sunshine state.
Yes, Weaver decided that Seth Greenberg was the man to be entrusted with the fortunes of the program. Greenberg had been a head coach at Long Beach State and South Florida for thirteen years, but was a generally unknown coach prior to being tapped by Weaver. After the initial season of the Greenberg era, the question that can now be asked is: It is time to ante up: who had 15 wins or greater on your parlay card?
While the news last spring of Greenberg's hiring was met with a general ho-hum among Virginia Tech faithful, few can argue that the first season under Greenberg went about as well as most could have hoped for, and better than many expected. Greenberg took a team that was inexperienced, started three freshmen, only had one returning starter - albeit a wonderful one in Bryant Matthews - had no post players on the roster after 6-9 F/C Dimari Thompkins left the program in late August, and suffered from a lack of perimeter shooting. And, all that Greenberg did was post a winning season, finish eighth in the conference when most experts and prognosticators predicted that the Hokies would finish fourteenth, then go on to win a first round game in the conference tournament against a Rutgers team which is still playing in the NIT.
Ahh yes, those three ugly letters: NIT. While Tech saw a West Virginia team that it swept during the season get an invite to the NIT, rather than the Big Dance that all crave, and while the Hokies took two out of three games from the Scarlet Knights, Virginia Tech was still omitted from the NIT mixer and wondering exactly who is in charge of the punch being served there? Executive Director Jack Powers recently was attributed with a quote that is my favorite from the post season, while providing acute insight into the decision-making process that reflects the NIT. When asked why a Virginia team which had drawn twice as many people to its opening round NIT game was playing on the road in the second round at a Villanova team that drew just half as many customers, Power's response was brief, to the point and didn't particularly illuminate the subject.
"No particular reason," was Powers' reply.
This has always been the way the NIT seemed to make its decisions. Without any particular reason or clarity. It reminds one of the five-year old child that is allowed for the first time to venture into a candy store with a pocketful of change, with no parent in sight. The child grabs two hands full of all the candy he can, empties his pockets of all the change, throws the candy and the coin on top of the counter with no clue how much he has or how much he can buy. He looks up at the clerk as if to say "Here, you figure out what I have, because I haven't a clue."
That omission should not though, detract from the job that Greenberg and his staff did in their first year of residence at Blacksburg U. While many might have been surprised by the early success, Greenberg was able to immediately stamp the program with his brand and style, and it says here that a strong case could have been made for him being named the Big East coach of the year, an honor instead bestowed upon first year head coach Jamie Dixon of Pittsburgh.
Dixon had a terrific first year, winning the conference regular-season title, and the Panthers have made the sweet sixteen of the NCAA tournament. Dixon was an assistant coach on the staff of head coach Ben Howland, who left Pittsburgh last spring to become head coach at UCLA. Howland left behind a very strong nucleus for Dixon to work with, though. Pittsburgh brought in an outstanding recruiting class headed by 6-10 center Chris Taft, and returned starting senior guards Jaron Brown and Julius Page. Pittsburgh also returned sophomore guard Carl Krauser, 6-7 junior forward Chevon Troutman, who averaged 11 points as a sophomore, and sweet shooting 6-10 forward Mark McCarroll. The Panthers had won 57 games in Howland's final two seasons, so the program was gliding along very smoothly in the heady atmosphere of the high altitude region of the conference.
On the other hand, Greenberg inherited a depleted roster that saw perimeter threat and three-year senior starter Carlos Dixon sit out the season as a medical redshirt. Greenberg also inherited a program that had posted three consecutive losing seasons, and had never participated in the Big East Conference tournament. He saw his lone post player (the aforementioned Thompkins) leave the program before the start of the fall semester, and he was forced to play a freshman (Coleman Collins) and a couple of inexperienced sophomores (Allen Calloway and Philip McCandies) out of position inside, when they should have been playing the forward position. Furthermore, Greenberg saw some major pre-season injuries impact the team's ability to field enough players to have productive practices, with assistant coaches and managers filling in so often that they too had to spend time in the training room being treated for injuries. All of this, just so that the program would have enough bodies to scrimmage, when they could.
Dixon took a team that most had predicted to finish in the top three of the conference, and a team that has became accustomed recently to success, and led them to a first place regular season finish. The cupboard was far from bare, and Dixon became the first coach to be named coach of the year in his first season. Greenberg far surpassed expectations of the Tech faithful, won admiration throughout the conference from his colleagues for the job that he did this year, and coincidentally, Greenberg was also in his first year. Might Big East politics and the fact that Virginia Tech is leaving the conference have had any bearing on the award? Not to say that Greenberg was shafted, but he clearly had the resume this year and could very easily have been the first Big East coach of the year in his first season on the job, had Dixon not beaten him to it.
Success is a relative thing and depends of course on one's perspective, but with all of these factors in place and the hurdles and obstacles facing a new coach as they were, how did Greenberg guide this team to a winning record? With injuries, inexperience, lack of depth and having to navigate the treacherous waters of the Big East Conference with three freshman starters? That is precisely one of the reasons that Greenberg was able to reverse the struggles of the past three seasons. Greenberg came in and announced at the press conference upon his hiring what kind of player he would recruit at Virginia Tech and hoped to have as a staple of the program. He wanted tough kids who would compete, and he set the stage by demanding that they compete, and more importantly, he didn't want excuses. That approach served him and the team well this year.
Many expected the team to struggle, and the injuries and defections made that look even more probable back in the fall. Rather than use those injuries and the lack of bodies as a built in excuse for failure, when many would have understood, Greenberg pressed and still expected the team to compete and be successful. He never used what he lacked or didn't have as a reason to not win games, only that he wanted the players that he had to grasp his program and push themselves to become better. That no-nonsense approach developed a certain degree of mental toughness in the program, something that had to please Greenberg greatly.
Defense was a great equalizer for this team as well this year. The final statistics won't necessarily reflect the progress that was made over the course of the season. It is no coincidence that the biggest reason that Virginia Tech finished so strong, winning 7 of its final 11 games, was the defensive improvement seen during the final third of the year. The Hokies won their final five home games and had a four game winning streak in the conference broken in the conference tournament by Pittsburgh, both milestones never before reached by any previous Tech team in the conference.
This Tech team in the final third of the season, and that in the first portion of the season, were clearly much different from a defensive standpoint. Much of that can be attributed to the three freshmen. Defense at the high school level and defense at the college level are two totally separate creatures. The three freshmen had to learn how to play transition defense at this level. They had to learn how to play defense off the ball, or help-side defense. They had to learn how to play ball screens and how to double down in the post, then get into proper rotations when the ball is passed out of that. They had to learn how to close out with the urgency necessary to have defensive success at this level. It didn't come quickly, and this isn't to say that this team is now an outstanding defensive team. But, these are things that are largely ignored or overlooked at the high school level, so the improvement was noticeable and much can be attributed to the adjustments made as the freshmen learned how to apply sound defensive principles at this level.
One notable exception that we witnessed this year was how well all of the freshmen adjusted to major college basketball. Usually, starting three freshmen will result in poor decision-making, inconsistency and times where they lack poise. Instead, this team was lucky that all three freshmen played with great poise, took care of the basketball very well and exhibited sound decisions on the court. Jamon Gordon was eighth in the conference in assist-to-turnover ratio, with Zabian Dowdell having spent a good part of the season in the top ten. Dowdell, Gordon and Collins were also the team's second, third and fourth leading scorers behind Bryant Matthews.
Speaking of which, the season would not have been the season it was without the stalwart contributions of Matthews. Bryant was a first-team all-conference selection; he led the conference in scoring with 22.1 points per game, finished second in steals with 2.48 per game, while pulling down 8.9 rebounds per game, ranking third in the conference there, and first in offensive rebounding. Matthews' season was even more impressive when you consider how little proven scoring talent he had around him to help take some of the pressure and focus off. No other elite player in the conference had to face the intense scrutiny that Matthews faced this year, with so little help.
His maturity started last year and continued this season. While Matthews isn't a vocal leader, he did lead by example, and the three freshmen had the perfect scenario in which to learn, with Matthews serving as the sole upperclassman for them to emulate. With no other seniors this year, and no juniors on the team, Matthews set an example for all three freshmen with his incredibly consistent work ethic, which started in practice, and he never took a day off. His lasting legacy might be setting the stage for what kind of work ethic is required and how you need to bring a lunch pail every day, not just on game days. His voice and work habits stood alone, and there were no other upperclassmen voices that competed on the court or in the locker room, to be heard among the freshmen. There was no one else to lead the younger players astray in the locker room or daily in practice, like we have seen before.
This necessary work ethic will be needed next year when Virginia Tech moves into the Atlantic Coast Conference. There will be new faces added, and one very important face moving on. The mental toughness that Greenberg demanded and instilled in his team this season, the confidence that the players developed and the work ethic path that Matthews demonstrated so vividly will help ease the transition. It will be a difficult one, though. The three freshmen provided hope that they will be four-year contributors, and while none was named to the Big East all-freshman team, they easily could have been. Jamon Gordon led the conference in steals at 2.75 per game and was sixth in the conference with 4.46 assists per game. Zabian Dowdell averaged 10.8 points and also finished in the top 10 in the conference in steals. Coleman Collins was handicapped late in the season with some back trouble, but he gave evidence of his large, blossoming potential earlier in the year and might have the biggest upside of all three freshmen. All three averaged 30 minutes per game as well.
There are plenty of kudos to go around this year, but it first needs to start with Greenberg and his staff. They laid the foundation, established a toughness on the team and gave hope to fans that the transition to ACC ball will not be as ugly as first feared. His players bought into what he was selling. He reversed a trend of looking for excuses and made everyone more accountable, and the team's confidence and mental toughness flourished as the season unfolded.
A good coach always starts by working with players between the ears first, and paving a clear avenue of expectations that won't be compromised as far as things that are in the control of the individual. That has been the biggest stamp exerted by Greenberg on the program this year, and that tough-minded approach started gaining believers among his players as spring came knocking.

Other Gym Rat Notebooks:
A Gym Rat's Notebook #10: Did You Say Four, or Forty?
by Elijah Kyle, 3/17/04
A Gym Rat's Notebook #9: Big Game, Big Year, and Big Hopes
by Elijah Kyle, 3/10/04
A Gym Rat's Notebook #8: Home, Sweet, Home
by Elijah Kyle, 3/1/04
A Gym Rat's Notebook #7: On or Off Broadway?
by Elijah Kyle, 2/24/04
A Gym Rat's Notebook #6: Trolling for Additions
by Elijah Kyle, 2/18/04
A Gym Rat's Notebook #5: Georgetown a Must Win?
by Elijah Kyle, 2/11/04
A Gym Rat's Notebook #4: Defense in Numbers
by Elijah Kyle, 1/28/04
A Gym Rat's Notebook #3: Chemistry Class and Hitting It Early
by Elijah Kyle, 1/21/04
A Gym Rat's Notebook #2: Subtraction and Addition
by Elijah Kyle, 1/13/04
A Gym Rat's Notebook #1: Hey, Brother, Can You Spare a Big Man?
by Elijah Kyle, 1/6/04



Copyright © 2003 Maroon Pride, LLC