A Gym Rat's Notebook #5: Georgetown a Must Win?

by Elijah Kyle, 2/11/04
Editor's Note: All pictures are clickable for larger images.
Coming off last weekís home victory over top 25 Providence, the Virginia Tech menís basketball team must continue the momentum started with that impressive victory. In fact, one might advance an argument that the Georgetown game tonight represents a "must" win for the program. It is only the ninth of sixteen conference games, and there will still be a large portion of the conference schedule remaining for the team to secure a Madison Square Garden season ending trip. And, regardless of the outcome in the Georgetown game, Tech will neither clinch, nor be positioned so far outside of the twelve teams that will head to New York that they canít make up ground before the end of February.
But, as the bottom echelon teams in the conference continue to post wins, the bar has seemingly been raised on how many victories it will take to get to the tournament. Earlier projections were that 6 wins would wrap up a spot and five wins might get you in a position to finish in the top twelve. Those projections now seem to underestimate the threshold that needs to be attained to insure that Tech will not be left out. Five wins now seems to appear to leave you dead in the water. Six victories might get you in. Six might not get you in, but rather will more likely leave you dependent on Big East tiebreakers, of which Tech now has to start paying close attention to.
Big East Standings
(through games of 2/10/04)


Team

Big East

Overall

W-L

Pct.

W-L

Pct.

Pittsburgh

8-2

.800

22-2

.917

Connecticut

7-2

.778

19-4

.826

Seton Hall

6-3

.667

16-5

.762

Providence

6-3

.667

15-5

.750

Villanova

5-3

.625

13-8

.619

Syracuse

5-4

.556

15-5

.750

Notre Dame

5-5

.500

11-9

.550

Rutgers

5-6

.455

13-8

.619

Georgetown

4-5

.444

13-6

.684

Boston College

4-5

.444

15-7

.682

West Virginia

4-5

.444

12-8

.600

Miami

3-6

.333

13-10

.565

Virginia Tech

2-6

.250

9-10

.474

St. John's

0-9

.000

5-15

.250
The Georgetown game might now represent a "must" win because the team needs to start securing some tiebreakers in the eventuality that they will be needed at the conclusion of the regular season.
It appears that Tech will need to finish ahead of either Georgetown, Boston College, West Virginia or Miami to finish its season in New York. With its two conference victories, Tech lags behind those other programs, all of whom already have four wins except Miami, which has three wins and a tiebreaker advantage over Tech.
Miami: Already, Virginia Tech has lost head to head in its sole conference game against Miami. Miami is on a five game losing streak and leads Virginia Tech by one win.
WVU: Tech does have a road win over West Virginia, and if they can defeat the Mountaineers in Blacksburg in late February, they will hold a tiebreaker advantage there. West Virginia however, already has four conference victories and has a home game with St Johnís on Wednesday, so staying within striking distance of the Mountaineers will be difficult.
Boston College: BC game is another game that might loom large in Techís post season conference tournament hopes. With a 4-5 conference record, Boston College is within striking distance for Virginia Tech, but the Hokies must win on the road in Boston to secure the tiebreaker.
Georgetown: The Hoyas are two wins ahead of the Hokies in-conference and have a game remaining against St. John's. But on the positive side of the ledger, the Hokies play Georgetown twice, and the other games on Georgetown's schedule are against some Big East toughies: Syracuse, Pittsburgh, Seton Hall, and Notre Dame. If the Hokies win both against Georgetown, they could wind up tied with the Hoyas, possessing the head-to-head tiebreaker.
Virginia Tech does possess a conference win over Providence, and one of the tiebreakers used by the conference are victories secured against those highest finishing conference teams. But a sweep over Georgetown or a road victory over Boston College, coupled with a home win against West Virginia, are goals that Virginia Tech might need to accomplish to secure enough tiebreaking advantages to feel good about their chances of going to New York.

Sailes a Key Defensively
Last weekís victory in Blacksburg over Providence was a much-needed confidence boost for a program that really needed to see some conference success. What was surprising about that win was the way that Tech was able to shut down the Providence attack, without using the 1-3-1 defensive trap that has been effective in so many games this year. Instead, Virginia Tech played a full game of man-to-man with some tweaks for Ryan Gomes, which helped keep him from going off.
The Tech defensive strategy was to double Gomes every time he received the ball in the low post -- every time. The Hokies brought a guard down in the post to double Gomes, then dropped their other post defender into the lane to deny cutters. Providence shot only 39% for the game and turned the ball over more than Virginia Tech.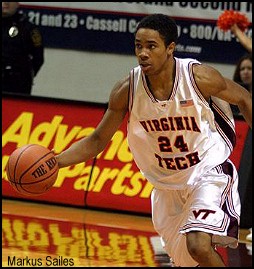 One overlooked aspect of the Tech victory was the defensive job done by guard Markus Sailes. Many people are starting to push for Bryan Randall to move into the starting lineup, and Randall has gotten better and better. Randall is a calming influence on the floor, he is a more dangerous offensive player and better shooter than Sailes, plays solid defense, and the team plays well with a three-guard lineup of Randall, Zabian Dowdell and Jamon Gordon.
However, it might be better to stay with the same lineup that started the Providence game and continue to bring Randall off the bench. When Randall enters the game he brings an offensive spark off the bench that Sailes does not. In addition, Tech is able to play the first 7 or 8 minutes of each half with Sailes in the game, and his size (6-5) enables him to guard a point guard, wing guard or a small forward, something that would fall to Jamon Gordon (6-3) when Randall, who stands just 6-1, is in the game. When Randall enters, Tech plays those three smaller guards for shorter periods of time together than they would if all three started, before Sailes re-enters the game for Dowdell or Gordon in the substitution rotation.
In the Providence game for instance, there were extended periods where Sailes guarded 6-6, 215-pound forward Rob Sanders, and other times when he guarded 6-9 forward Tuuka Kotti. Tech would be more exposed with Gordon having to guard those type players for longer stretches if Randall started and Sailes came off the bench, because now you would have Gordon playing the first 7 or 8 minutes of each half trying to guard forwards, and he would be more susceptible to foul trouble or finding himself posted up inside. Sailes has the size at 6-5 to guard forwards and guards and his defensive versatility enables Tech to play as much man defense as they wish, something they might not be able to do as much if Randall starts and Sailes comes off the bench.
Finally, as we saw at the end of the Providence game, Sailes is a more dependable and reliable ball handler when Tech is trying to protect a lead. Randall is still working to become a better ball handler, but his spark off the bench, feel for the game and offensive ability give Tech a fine complement to the starters, and he currently is the only player that can be relied on to consistently give the team a lift off the bench, something that may or may not happen if Sailes were to come off the bench.

Recruiting Update
Assistant coach Ryan Odom has been busy lately in Florida evaluating several prospects, as Virginia Tech tries to close in on a senior post prospect. The newest name to add to the list is that of Idongiest Ibok, a 6-9 senior who attends Montverde Academy outside Orlando. Florida State essentially placed Ibok at Montverde, but the recent verbal commitment of Jerome Habel to the Seminoles might provide an opening for other schools with Ibok. He is a strong post player with a good body, and there are more than a few people who like his game a lot. Florida State hasnít dropped out of the picture with Ibok as they are still looking for one more post prospect, but Ibok is also not a major priority any longer for them.
After the Providence win last week, the Virginia Tech club team played Massanutten Military Academy later that night, a first year program with several foreign kids, one in particular, Younes Idrissi, who just recently arrived in this country. Idrissi has been in the U.S. for only 14 days, having arrived from his native Morocco. He speaks four laguages fluently, played on the National team there for a couple of years, and is a 6-9, 220-pound forward/center. Idrissi needs to get stronger, and it will be interesting to see how much improvement we see over the next month, when he will lift weights daily and be in a better nutritional setting. He has a body frame that can handle more weight and shoots the ball decently, so he will be watched closely by the staff. He is interested in Virginia Tech, SMU, Gonzaga, Michigan State and Western Illinois.
Head coach Seth Greenberg recently made the trip to Wilson NC to watch 6-7, 245-pound junior forward Jimmy Graham work out. Graham has gotten a lot of attention now from the coaching staff, as assistant coach Ryan Odom has seen him a couple of times, and now Greenberg himself has watched Graham. Graham is a very strong, athletic post player who is probably stronger than anyone on the Tech team right now. A verbal commitment is not imminent and Graham is looking at a number of schools, but if there is any underclass prospect that you might see commit to Virginia Tech in the future, Graham is as likely a choice as anyone.



Copyright © 2003 Maroon Pride, LLC