A Gym Rat's Notebook #17: Recruiting Hits Final Stretch

by Elijah Kyle, 5/11/04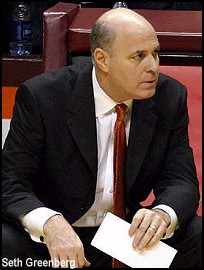 The close of the spring signing period is rapidly approaching, and Seth Greenberg and his staff are waiting for some key decisions to be made soon by several players that will determine how much larger, if any, the 2003-04 recruiting class becomes.
With interest in any available inside player increasing daily, as schools see players transfer from their programs, the Hokies are finding themselves running up against many of the same schools, in pursuit of a handful of players.
When 6-10 senior center Idongeist Ibok of Montverde Academy in Florida made his decision last week to attend Michigan State, it set in motion a number of domino moves with other frontcourt players, and the small number of schools that are seemingly recruiting the same group of players.
Michigan State, Providence, Penn State, Nebraska and Seton Hall are all, or were, converging with the Hokies on a number of similar recruiting targets, and the Ibok decision has reshuffled the deck a bit. Prior to the Ibok decision, Michigan State was in the lead with 6-9, 230-pound F/C Marcus Cousin from Maryland, a possible target of the Hokies, along with Seton Hall, Nebraska and Penn State. Once Michigan State secured Ibok, they called Cousin and dropped out, thus opening up the door for other schools to emerge, many of them latecomers to his recruitment.
Sources indicate that Cousin will make a decision this week, and he has already visited the Spartan campus, along with Seton Hall and Nebraska, where he officially visited this past weekend. Providence, Penn State and the Hokies are trying to get involved, and an official visit to Blacksburg is apparently forthcoming from Cousin, although the exact date is uncertain. The Hokies, along with others, are trying to get Cousin to visit during the week, not wanting to wait until the weekend and risk him making a decision before they have had an opportunity to bring him on campus.
Cousin is a prospect whose name hasnít been in the forefront of many recruiting lists until very recently. It has been reported that he emerged as a late spring target of many programs after a recent performance at an AAU event in Maryland, where he went head-to-head with 6-10 junior Eric Boateng, acknowledged as one of the top 25 junior prospects in the country. Cousinís performance thrust him onto a number of recruiting lists, and he is already qualified for freshman eligibility next year, another significant factor that increases his late appeal. It is said that Cousin is a big, long, run-and-jump athlete who is average offensively. With Michigan State having dropped out, Seton Hall might have forged to the front, dependent on the weekend visit to Nebraska. The Hokies are pushing to come from behind, and getting an official visit locked up this week will provide them hope, although it looks to be an uphill battle with Cousin.
The Hokies are presumably still working the foreign angle hard on frontcourt prospects, but another senior frontcourt player that has garnered the attention of the Hokies, along with many of the same schools recruiting Cousin, is 6-9, 230-pound Jerome Johnson, who attends the Pendleton School in Bradenton Florida. That school is also known as IMG Academy, which is more famous for its Tennis Academy, but is fast becoming a school of choice for basketball prospects in Florida, due to the outstanding facilities and comprehensive in-season training. Johnson is in his first season at IMG, having transferred there this year from Bullis High School in Maryland. The Hokies are involved with Johnson, along with Providence and Nebraska as well. Johnson is also considering DePaul, and made an earlier official visit to Cincinnati, which is no longer involved.
Complicating matters, while also illustrating how tied in to each other several of these schools are, is that Seton Hall is seriously involved with Cousin, and looking hard at Johnson as well. The Pirates have significantly increased their interest and scope with the expected departure of 6-9 sophomore Eric Davis, who is looking to transfer. Coincidentally, Nebraska and Penn State are trying to entice Davis, while both schools are also looking at junior college sophomore center Joel Anthony, from Florida, along with Seton Hall. One unknown factor is the number of schools who might close out the process on Johnson or Cousin, should there be commitments forthcoming from an Anthony, Davis or another of their targets. This would perhaps increase the prospects of Virginia Tech, in that scenario.
Aside from the aforementioned two prospects, and the foreign players that the Hokies are studying, Younes Idrissi is another possible target of Virginia Tech. Idrissi arrived in the United States in February from Morocco, and is a rapidly improving 6-10 senior, capable of playing both the forward and center positions. Idrissi has visited or will visit Fairfield, South Carolina, Purdue and Georgia. Virginia Tech and Virginia are also staying in contact with Idrissi, who has actually already been on the campus of Virginia Tech, in February when his Massanutten Military Academy team played the Virginia Tech club team.
Other Recruiting Notes
While the frontcourt is the area of the team that is garnering the most attention this spring, there are a few wing prospects that the Hokies remain involved with in the senior class. 6-7 forward Alex Galindo is still in play, although the Hokies are fighting others to get his last official visit. Kansas might be the leader for Galindo, who recently visited there. A prospect that the Hokies were earlier recruiting has re-emerged this spring and is also getting attention. 6-6 forward/guard Wynton Witherspoon from Georgia is considering Tech, along with a host of other schools, including Georgia, Auburn, Texas, UAB, Providence, Memphis and Miami.
In addition, a number of underclass prospects have recently mentioned Virginia Tech. One such player however, 6-10 junior center Carl Swanigan from Utah, recently announced a verbal commitment to Mississippi, over Louisville, Xavier, Virginia Tech, Utah, Penn State, Notre Dame, Utah State, Rutgers and Providence. 5-11 junior point guard Jawan Carter, from New Jersey, is listing Wake Forest, Kansas, Missouri, Georgia Tech, Villanova, Virginia, Virginia Tech, Maryland, St Josephís and Notre Dame on his lengthy list of schools. 6-8 junior forward Gerald Inman from New Jersey is listing Maryland, Virginia, Rutgers, Seton Hall, Siena, Virginia Tech, Connecticut, Notre Dame and Boston College. Finally, Virginia Tech has also been included on a recent list, along with Maryland, Syracuse, Massachusetts, Villanova and Delaware, of 6-5 junior forward Semaj James, from New Jersey.

Other Gym Rat Notebooks:
#16: The 5-8 Rule -- It's Finally Gone - 5/5/04
#15: Help Could Be Looming on the Horizon - 4/23/04
#14: A Look Ahead: The Backcourt - 4/16/04
#13: A Look Ahead: The Frontcourt - 4/8/04
#12: There's No Place Like Home, Toto - 4/1/04
#11: About the Over/Under? - 3/26/04
#10: Did You Say Four, or Forty? - 3/17/04
#9: Big Game, Big Year, and Big Hopes - 3/10/04
#8: Home, Sweet, Home - 3/1/04
#7: On or Off Broadway? - 2/24/04
#6: Trolling for Additions - 2/18/04
#5: Georgetown a Must Win? - 2/11/04
#4: Defense in Numbers - 1/28/04
#3: Chemistry Class and Hitting It Early - 1/21/04
#2: Subtraction and Addition - 1/13/04
#1: Hey, Brother, Can You Spare a Big Man? - 1/6/04



Copyright © 2004 Maroon Pride, LLC