A Gym Rat's Notebook #9: Big Game, Big Year, and Big Hopes

by Elijah Kyle, 3/10/04
Note: All images are clickable for larger versions.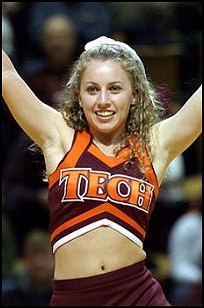 With its ticket to New York punched and an appearance in the season-ending Big East Tournament finally on the docket, the Virginia Tech men's basketball team can focus solely on what it must do to move beyond a brief stay in the Big Apple. Ensuring that last week's thrilling movie ending is repeated would go a long way toward that goal, although the theatre venue will be a different one.
After Coleman Collins' last second tip-in of the Jamon Gordon runner catapulted Tech from behind to defeat Rutgers, thoughts became consumed with New York City and the first conference tournament participation for Virginia Tech. At that time, having a return engagement with the Scarlet Knights looked to be down the list of possible scenarios. Head Coach Gary Waters of Rutgers said as much himself after the game, when he was asked about a possible first round game with Tech and replied that the Hokies were too far behind Rutgers to entertain that as a realistic possibility.
While Waters is probably not the only person surprised by this first round matchup, one in which the Hokies actually finished with the higher seed (#8 to Rutgers #9), Virginia Tech must hope the ending of round 3 with Rutgers is as pleasurable and fulfilling as round 2 was, and not the bitter taste left in their mouth after the 33 point blowout loss in New Brunswick on February 15 in the two teams' first meeting.
To do that, Virginia Tech must handle the ball as well as it did at home when the Hokies had only 5 turnovers, and shoot the ball in a similar fashion as they did in the second half of that game when Tech shot 55.2%, in coming back from a fourteen-point second half deficit. Tech must also do a better job on the glass after being outrebounded by 10 at home and 11 in New Jersey.
The Rutgers guards dominated the Tech backcourt in the first game when Ricky Shields, Marquis Webb, Juel Wiggan and Quincy Douby combined for 52 points, which happened to be the point total for the entire Virginia Tech team in the 33 point loss. In addition, all four of those perimeter players were in double figures in that first game. By contrast, Tech got five points from Jamon Gordon, three from Zabian Dowdell and Marcus Sailes didn't scratch at all from the floor.
The game in Blacksburg last week was different not only because the result was different, but also because the Tech backcourt played much better. Shields was the leading scorer for Rutgers with 17 points, but Webb was the only other backcourt player to reach double figures with 10 points, and the Rutgers foursome shot a combined 11-30 from the floor, or 36.7%. In the first game between the two teams, the Rutgers backcourt was 17-32 from the floor, while the Tech backcourt was only 4-20.
Getting a handle on the backcourt and not getting overwhelmed as they did in the first game in New Jersey will go a long way toward giving the Hokies a shot at winning this game. But, that challenge will be a difficult one. The Rutgers guards, and team for that matter, are quicker than the Tech guards overall. They push the tempo as much as possible, looking to run and shoot the three in transition, and they are better perimeter shooters than the Hokie backcourt.
Seth Greenberg has played more and more man to man defense down the stretch, so seeing Tech predominately employ a man-to-man for this tournament game shouldn't be unexpected. There is already a difficult matchup in the front court with 6-10 senior Herve Lamizana, who can post up inside, step out and take people off the dribble in isolation, or shoot the trail three off the secondary break. Throw in a player who also impacts the game defensively, as witnessed by his outstanding block of the Coleman Collins layup attempt prior to Collins' game winning tip-in, and you have a player capable of dominating the game from the frontcourt. Tech has such a player itself in Bryant Matthews, and it has now become routinely expected from all quarters that Matthews will have a big game in every Tech game.
Not allowing Ricky Shields and the Rutgers backcourt to go off and dominate, and seeing the Tech backcourt perform similarly as they did last week, and not as they did in the first game at Rutgers, will go a long way in determining this game. Virginia Tech has to get solid play from the backcourt to have any chance to win this game, rebound the basketball better than in the first two games, get another outstanding performance from Bryant Matthews, continue the defensive turnaround that we have seen in the last three weeks, and have a low turnover game to maximize their offensive opportunities. Otherwise, it could be a short stay for Hokie Nation in New York.

Matthews Caps Big Year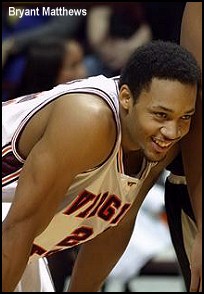 The announcement on Monday of Bryant Matthews' inclusion on the Big East All-Conference first team was just reward for a player whose game has come such a long way in his four years here. Matthews was the leading scorer and offensive rebounder in the conference and played an enormously important role in Virginia Tech finishing eighth in the conference, after being picked last in most pre-season predictions.
While there is no quibble at all with the announcement of Emaka Okafor as player of the year in the conference, had that award been named the most valuable player instead, you could make a very strong case for Matthews there. He was simply indispensable to a team that fought its way to 14 victories. One could legitimately argue that without Matthews, Virginia Tech might not have won half the games that they did. Matthews put this team on his back, especially early, when he established to his very young and inexperienced teammates that he would be the horse that they would ride.
Matthews' 21 points and 15 boards against Virginia, 37 points and 12 rebounds against Old Dominion, and 36 points against Morgan State showed that he would be a constant beacon of strength and could put this team on his back. Although both the ODU and Virginia games ended in Tech losses, Matthews' play in these early games allowed the freshmen on the team to slowly integrate themselves and not feel added pressure to step up and be a co-dependent scorer. Jamon Gordon, Zabian Dowdell and Coleman Collins didn't have to force themselves into a primary offensive focus role before they were ready.
That is an overlooked aspect of the Matthews domination early, not thrusting more pressure than there already was on the three freshmen to score big right off the bat. Confidence is so important in any sport, and getting your feet under you, and Matthews' early play allowed his teammates to flourish and prosper at their own pace.
Matthews himself has developed quite a bit in his four years here. He came out of high school as a post player with limited perimeter skills and immediately was thrust into a starting position as a freshman at the three position, hardly a comfortable position for him. He struggled with his ball handling in transition, turnovers and decision-making early on as he made that transition from high school center to starting freshman small forward. It wasn't always pretty, but Matthews consistently competed, always played hard without exception and was a ferocious off season worker to improve his game. His mental strength allowed him to not lose his confidence early in the first two years, when many people got down on him.
There is a lesson here, and it's not just about a hard working, extremely competitive kid being rewarded for his contributions. Matthews had an awful lot thrust upon him as a freshman before he was ready. He was making a difficult transition from a position standpoint, and it was a transition that he wasn't allowed to ease himself into, but rather by learning on the job as a starter on a team that needed him to perform and assume a great role right off the bat, probably before he was ready. He had no dominant player that would put his teammates on his back and carry them. He made his mistakes in full view of Tech fans and followers, yet didn't lose his confidence or mental toughness.
That isn't always the result, and the three freshmen that were so instrumental for Tech this year had one thing going for them that Matthews didn't when he was a freshman: they had a stud to ride and could ease themselves in to a certain extent. Bryant Matthews was thrust into a larger role right off the bat without that same stud to ease the pressure, all the while doing so while learning on the job.

Other Gym Rat Notebooks:
A Gym Rat's Notebook #8: Home, Sweet, Home
by Elijah Kyle, 3/1/04
A Gym Rat's Notebook #7: On or Off Broadway?
by Elijah Kyle, 2/24/04
A Gym Rat's Notebook #6: Trolling for Additions
by Elijah Kyle, 2/18/04
A Gym Rat's Notebook #5: Georgetown a Must Win?
by Elijah Kyle, 2/11/04
A Gym Rat's Notebook #4: Defense in Numbers
by Elijah Kyle, 1/28/04
A Gym Rat's Notebook #3: Chemistry Class and Hitting It Early
by Elijah Kyle, 1/21/04
A Gym Rat's Notebook #2: Subtraction and Addition
by Elijah Kyle, 1/13/04
A Gym Rat's Notebook #1: Hey, Brother, Can You Spare a Big Man?
by Elijah Kyle, 1/6/04



Copyright © 2003 Maroon Pride, LLC