A Gym Rat's Notebook #16: The 5-8 Rule -- It's Finally Gone

by Elijah Kyle, 5/5/04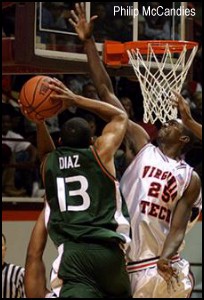 With the NCAA finally implementing legislation last week that will address graduation rates for its member institutions, while also finally deep-sixing the controversial and problematic five-eight rule, Seth Greenberg and his staff can now chart a course that will not be paved with the uncertainty that has marked this year, where recruiting is concerned.
The five-eight rule, which stated that no school could award more than eight scholarships in any two year span, nor more than five in any single year, has handicapped this program, along with numerous other programs across the country, since its inception three years ago. Now that the rule has finally been rescinded by the NCAA presidents themselves, Greenberg and staff know exactly how many scholarships they have to work with, and their hands are no longer tied by having scholarships lying around unused.
After earlier signing three players in the fall signing period, Greenberg now has an additional three scholarships at his disposal to use, after the announced departures of sophomore forward Fabian Davis, who is undecided on his next destination, and sophomore forward Philip McCandies, who just announced that he would transfer to the College of Charleston, and play for head coach and former UVa assistant Tommy Herrion.
The Davis decision to transfer has been in the offing for several weeks, but McCandies' decision to ask for a release was something of a surprise. On a team severely handicapped by a lack of interior size, McCandies was expected to return along with Allen Calloway and Coleman Collins next year. Instead, McCandies took a weekend visit to Charleston, liked the situation there and will sit out next year, then have two years of eligibility, starting with the 2005-06 season. McCandies chose Charleston over East Carolina, Radford, Dayton, Marshall, Winthrop, and Kent State.
Greenberg and his staff were already actively recruiting with the expectation that the 5-8 rule would be overturned. Additional inside size was an acute need and focus, and that was prior to the McCandies decision to transfer. Ibongeist Ibok of Montverde Academy in Florida recently made an official visit to Virginia Tech, but he has committed to Michigan State, unfortunately.
With the loss of McCandies and three scholarships available to use now, Greenberg might try and sign two post players. It is thought that Virginia Tech is looking at a couple of additional junior college players such as Randy Orr, a 6-10 power forward from Georgia Perimeter JC, along with 6-9 C/F Yusef Baker of Southern Idaho JC. The Hokies are thought to also be involved with a number of foreign prospects. However, finding two ACC-caliber interior players at this late a date is problematic, so the more likely route, should Greenberg decide to opt for more than one spring addition, would be to add a wing player or guard.
One such player that has indicated some interest in Virginia Tech, is fall-signee Alex Galindo, a 6-8 forward who inked with UTEP, only to ask out of his scholarship after the staff there moved on to Texas A&M. Galindo, a teammate of UNC-signee and NBA draft-submit J.R. Smith, averaged 16.3 points and 7.7 rebounds on a Newark (NJ) St. Benedictís team that went 29-2. Galindo was recently named the game MVP for his losing team in the Commonwealth Classic all-star game in Richmond. Galindo led all scores in that game with 33 points, and prior to selecting UTEP in the fall, he considered Rutgers, Pittsburgh, Villanova, N.C. St., Virginia, Boston College and Arizona. Galindoís revised list now includes Kansas, Pittsburgh and Rutgers, with visits having been already taken to Pittsburgh and Rutgers, with a Kansas visit upcoming. Galindo has not announced whether he will take his fifth and final visit (he visited UTEP in the fall), so the Hokies would appear to have their work cut out there.
With only one senior leaving the program next year in Carlos Dixon, it appears almost certain that Greenberg will hold at least one of the scholarships over to combine with the Dixon scholarship that becomes available at the end of next season. Greenberg has been quoted recently as saying that he will only use more than one scholarship this spring if he can find players capable of stepping in and playing at the ACC level. Although he could sign as many as three this spring, that prospect appears to have very little chance of happening. Instead, one signing appears to realistically be the most likely scenario, with a second being awarded if certain players that the Hokies find appealing return the mutual interest.
The spring signing period concludes on May 19, so every school still has a little more than two weeks to get their house in order. After that, scholarships and letters-of-intent that are signed are no longer binding. Scholarship papers are what bounds the school to the player. A signed National Letter Of Intent binds the player to the school. A player might sign a scholarship with a school after May 19, but would no longer be bound to that school, and could sign with and matriculate at another school, should a possibility open up there.
Recruiting News
6-8 senior power forward/center Jerome Johnson, who attends IMG Academy in Bradenton Fl, is looking closely at Clemson and Depaul. Other schools that Johnson is interested in are Virginia Tech, Penn State, Cincinnati, Auburn and Texas A&M. Johnson has eliminated Nebraska from his list and the Cornhuskers received one of his two fall official visits, along with Cincinnati. Johnson is originally from Maryland. 6-9 senior forward/center Davis Nwankwo has decided to play next year at Vanderbilt. Nwankwo, who had interest from the Hokies, ended up selecting the Commodores over Princeton, Clemson and Northwestern, after earlier being involved with Arizona, Virginia, Stanford, Miami and Georgia Tech. The Hokies are mentioned by Kevis Anderson, a 6-5 junior wing player who attends De La Salle HS in New Oreleans. Penn State might be the leader for Anderson, over the Hokies, Florida State, New Orleans and Tulane. 6-9, 250-pound junior center Jimmie Sutton has interest in Florida, Syracuse, Virginia Tech, Miami, Florida St., Clemson, Washington and Connecticut. Finally, Dominique Archie,a 6-7 junior forward from Augusta GA is interested in Virginia Tech, Florida, Cincinnati, Charleston Southern, Georgia, South Alabama, College of Charleston and Syracuse. Archie has indicated a desire to pursue Engineering in college.
Jarvis Jackson Profile
A player that I mentioned earlier as having a keen interest in the ACC and the Hokies, is Jarvis Jackson, a 6-5, 210-pound junior forward from Winston-Salem (NC) North Forsyth HS. Jackson averaged 16.8 points and 7.5 rebounds a game last year, while shooting 48% from the field and 82% from the free throw line.
According to Mike Muse, his coach at North Forsyth, Jackson is a self-motivated, driven individual who wants to play at the very highest level in college.
"Jarvis really wants to get to the highest level of basketball that he possibly can, and that is one of his best features," said Muse." He is a tough competitor, a tough, hard-nosed player and he hates to lose."
Muse feels that Jackson has a great work ethic and that single-minded approach will help him get to his ultimate goal, that being to play in an elite power conference such as the ACC, SEC or Big East.
"The biggest difference from last year to this year for Jarvis is that he took on more of a leadership role, for one thing. He also was able to score inside and outside, as opposed to just inside as he was as a sophomore," Muse said." From the end of the season until now, his biggest improvement has been in his shooting range. It was fifteen to seventeen feet, but now he is shooting it out to the seventeen to nineteen foot range. We convinced him that he needed to be able to score from places other than the block and paint area, and that he could take his game to another level by adding the mid-range jumper."
Muse feels that Jackson will continue working at address the areas of his game that will need to improve, if he is to play at the ACC level, a specific desire for Jackson.
"Jarvis is a physical player, heís a banger and that is what he does best. He rebounds well, scores inside and now facing the basket, and he runs the court well," said Muse." If we can get him to spot up against the zone and create off the dribble, then the sky is the limit for him.
"He catches the ball well, is rangy and very physically strong. He benches 230 pounds, and thatís pretty good for a junior."
While indicating that Jackson has a keen desire to play at the highest level, Muse mentioned that there were a couple of ACC teams that are recruiting his junior, among them Clemson, N.C. State and Virginia Tech.
"I know that the schools that have been on our campus this spring to watch Jarvis are Appalachian State, Elon, Winthrop, UNC-Wilmington, Old Dominion and Coastal Carolina," said Muse. " We have also been in constant contact with on the phone and through the mail, and have sent transcripts to N. C. State, Virginia Tech and Clemson, more so N.C. State and Virginia Tech than Clemson."
Muse also feels that this summer will be an important one for Jackson, who will be out to prove that the growth in his game during this season has made him a more versatile player.
"Athletically, Jarvis is like Trent Strickland (Wake Forest sophomore), and I am sure that with the 5-8 rule being rescinded, his stock will go up to another level," Muse said." He has some minor weaknesses and skills that he needs to work on, but he and I both feel he will do that this summer and I know that he will work his rear end off to meet those challenges."

Other Gym Rat Notebooks:
A Gym Rat's Notebook #15: Help Could Be Looming on the Horizon - 4/23/04
A Gym Rat's Notebook #14: A Look Ahead: The Backcourt - 4/16/04
A Gym Rat's Notebook #13: A Look Ahead: The Frontcourt - 4/8/04
A Gym Rat's Notebook #12: There's No Place Like Home, Toto - 4/1/04
A Gym Rat's Notebook #11: About the Over/Under? - 3/26/04
A Gym Rat's Notebook #10: Did You Say Four, or Forty? - 3/17/04
A Gym Rat's Notebook #9: Big Game, Big Year, and Big Hopes - 3/10/04
A Gym Rat's Notebook #8: Home, Sweet, Home - 3/1/04
A Gym Rat's Notebook #7: On or Off Broadway? - 2/24/04
A Gym Rat's Notebook #6: Trolling for Additions - 2/18/04
A Gym Rat's Notebook #5: Georgetown a Must Win? - 2/11/04
A Gym Rat's Notebook #4: Defense in Numbers - 1/28/04
A Gym Rat's Notebook #3: Chemistry Class and Hitting It Early - 1/21/04
A Gym Rat's Notebook #2: Subtraction and Addition - 1/13/04
A Gym Rat's Notebook #1: Hey, Brother, Can You Spare a Big Man? - 1/6/04



Copyright © 2004 Maroon Pride, LLC