A Gym Rat's Notebook #7: On or Off Broadway?

by Elijah Kyle, 2/24/04
Note: All images are clickable for larger versions.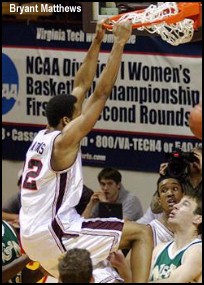 As the Virginia Tech basketball team heads into the final two weeks of the season, and final four conference games, reversing the performances of the past three games will help determine whether the bright lights of Broadway will be a reality, or yet a distant and unattainable blur that has sped past for another season.
Defense wins basketball games and that is a tried and true axiom. To consistently win games, you have to play solid defense on the road and in February. The Virginia Tech defense has been inconsistent and spotty this season. It appeared a corner was being turned after the back-to-back home conference wins over Providence and Georgetown. The Friars were held to 39% shooting and the Tech game plan, which was largely dependent on doubling Ryan Gomes throughout the game, was a major factor. While Georgetown shot 42.3 % from the floor, they were held to 38% shooting in the first half, when Tech bolted to a 9 point halftime lead.
However, Tech followed those two games with a blowout loss to Rutgers on the road by 33 points and a decisive loss to Villanova on the road, games where again the defense was inconsistent. This was followed by Saturday's narrow win over a 1-11 St. John's team that has battled off the court problems all season, in a game that frankly, St. John's probably deserved to win.
With two home games upcoming against a Rutgers team that soundly thrashed the Hokies, and a West Virginia team that is playing with much more confidence than the team that Tech earlier defeated in Morgantown, Tech will probably need to win one of those games. Otherwise, they face having to possibly win on the road in Washington in the season's finale against the Hoyas.
While defense will largely dictate the success down the stretch, offense might also be an equally critical factor. There are some troubling numbers which vividly point out the struggles of a team and program looking for some offensive consistency.
In all three shooting categories, Virginia Tech is being outshot by at least 5% by their opponents. Tech opponents are shooting .463 from the floor and .362 from behind the arc. Virginia Tech, on the other hand, is shooting .411 from the floor and .310 from behind the arc. Tech also lags behind from the free throw line, where the Hokies are shooting just .605, while their opponents are shooting .658.
This problem becomes more acute in conference play, where the numbers are even more ugly. The Hokies are shooting .400 from the floor and .325 from behind the three point line, while conference opponents are shooting a staggering .516 from the floor and .399 from behind the arc. Tech is shooting just .584 from the line and conference opponents are shooting .651.
Seth Greenberg's final South Florida team held opponents to .389 shooting overall from the floor last year, so this is unaccustomed territory for him. Finding some defensive consistency will go a long way toward finding a recipe for conference success in these final two weeks, but it will not just be about defense.
Virginia Tech looked and played Saturday like a team that was trying not to lose, rather than playing to win. The team looked tight and not at all relaxed. Perhaps it was a very young and inexperienced team feeling the pressure of being expected to win a conference game for the first time this year. Perhaps it is the pressure building on a group of players, many of whom have never played in the Big East prior to this season, to throw off the monkey from their back after the lack of success of previous Tech teams in the Big East. Perhaps it is a team that is desperately feeling the weight of past failures and three last-place finishes in the conference, and is looking for something-almost anything really- to show for four seasons in the Big East conference.
This pressure might be building on a program that was not expected to make the Big East Tournament at the beginning of the season, but is now finding itself in the position of having that possibility right in front of it, owning their own destiny. There is also some pressure building from past seasons, so playing more relaxed in these next four games will be critical, along with demonstrating a commitment to improved defense.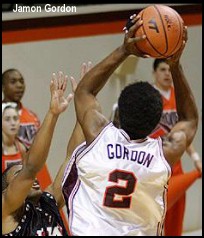 In looking for offensive improvement, the first place that Tech needs to look is the backcourt, and specifically freshmen Jamon Gordon and Zabian Dowdell. While senior forward Bryant Matthews is the most indispensable member of the team, and its collective offensive leader, finding some offensive consistency will be most welcome from other players.
Gordon might have had his least effective game on Saturday. He had 4 points and 6 turnovers, many of those turnovers being of the unforced variety. Dowdell hit a big three late that gave Tech its first lead and finished with 12 points, but that represented only the second game in the last seven that Dowdell has scored in double figures. He scored in double figures in four of the first five games, and getting back to his earlier scoring levels would be a boost in these last four games.
While it is not at all unusual to see freshmen struggle from the floor, before turning things around - and we have former Tech guard Damon Watlington from the NIT championship team a decade ago as a clear example - Tech needs Dowdell, Gordon or someone in the backcourt to step up during these final four games.
Watlington only shot.354 from the floor as a freshman during the '92-93 season, then improved that percentage every year, finishing with a .465 mark from behind the arc as a senior in the '95-96 season. He finished as a very reliable perimeter shooter for some very strong Tech teams. Dowdell and/or Gordon could easily see the same improvements as they get stronger and more confident, but the backcourt now is the area that is struggling to make shots. All Tech backcourt players are shooting less than 40%, with the exception of Marcus Sailes. Dowdell is shooting .371, Gordon .358, sophomore Shawn Harris .340 and mid season walkon Bryan Randall is shooting .349. Only Sailes is shooting above 40% and he barely eclipses that with a .408 mark, and he is probably the least effective perimeter threat for the Hokies.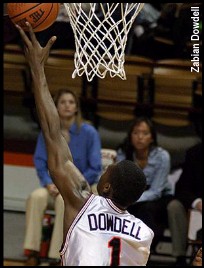 Dowdell has shown an inclination and propensity to take and hit crucial shots in games. He did that again on Saturday and is not afraid to step up and take a big shot. On Saturday, he was joined by Randall, who knocked down a couple of important threes in the second half, then rebounded his own missed free throw for the deciding basket. Having Randall become a reliable perimeter threat late in games will be a sorely needed shot in the arm for a Tech team that needs to win at least another game to head to New York.
What we might see in these next two weeks is a defensive effort employed against Tech similar to that on display Saturday by the Red Storm. St. John's had a very effective and sound defensive game plan that was designed to significantly limit the touches specifically of Bryant Matthews, and to some extent Coleman Collins, and invite Virginia Tech to win the game from the perimeter. It was a strategy that almost pulled off a road upset for the Johnnies. St. John's played a very packed and tight 2-3 zone that always had their weak side defender at the top of their zone completely down in the paint. Most teams will have their weak side defender with one foot above the foul line, so that they can get to the top of the key when the ball is passed there, or get to the opposite wing if there is a skip pass. St. John's elected to allow the Hokies to shoot mostly uncontested shots from behind the arc, many of them without much effort to even get a hand up, gambling that a team with all five perimeter players shooting 40% or less would struggle to win the game, which we indeed saw.
The packed zone was designed to limit the movement of Matthews and Collins and keep them from flashing to the high post and receiving the ball. The few instances that Matthews was able to get there, he had a 7-3 defender (Curtis Johnson) in his face, and at least two other defenders keeping him from putting the ball on the floor to attack the basket. It's a strategy that frankly we are lucky we haven't seen more of.
These last four games will be opportunities for someone in the backcourt to step up and make shots. Randall doing so was a welcome start, and Dowdell has proven he can make big shots. This team very much needs someone to jump start the offense from deep and keep teams from totally eschewing the perimeter game. There will be ample chances the last two weeks, and the season's success might ultimately rest in the hands of a hot hand, wherever it might come from.

Other Gym Rat Notebooks:
A Gym Rat's Notebook #6: Trolling for Additions
by Elijah Kyle, 2/18/04
A Gym Rat's Notebook #5: Georgetown a Must Win?
by Elijah Kyle, 2/11/04
A Gym Rat's Notebook #4: Defense in Numbers
by Elijah Kyle, 1/28/04
A Gym Rat's Notebook #3: Chemistry Class and Hitting It Early
by Elijah Kyle, 1/21/04
A Gym Rat's Notebook #2: Subtraction and Addition
by Elijah Kyle, 1/13/04
A Gym Rat's Notebook #1: Hey, Brother, Can You Spare a Big Man?
by Elijah Kyle, 1/6/04



Copyright © 2003 Maroon Pride, LLC