A Gym Rat's Notebook #8: Home, Sweet Home

by Elijah Kyle, 3/1/04
Note: All images are clickable for larger versions.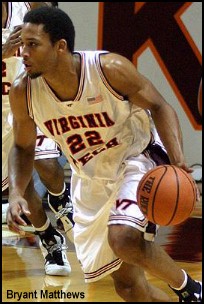 The home court victory Saturday in Blacksburg over West Virginia has positioned Virginia Tech on the precipice of something not seen in these parts since admission to the Big East Conference, and that's people scurrying around to book travel plans for the Big Apple.
After a long and frustrating four years, which annually ended in front of the television watching twelve other teams participating in the season ending conference tournament, but without seeing any Hokie teams getting a taste of Madison Square Garden, this year could see that streak end very soon, as early as Tuesday evening, in fact.
While Saturday represented another struggling offensive performance, Bryant Matthews being the exception, it was another in a continuing series of strong defensive efforts in the Cassell. The Mountaineers shot 32.6 from the field for the game, and only 25% in the second half, when the Hokies rallied for the victory. It might have been the best defensive performance of the year for Virginia Tech, and was almost certainly the best defensive half that the team has played.
Going into the game, there was some concern among the coaching staff about the individual matchups with West Virginia. In the first Tech win in Morgantown, the Mountaineers started a different lineup. A lineup that was a better matchup for Virginia Tech. 6-10 sophomore forward Kevin Pittsnogle, who was the leading scorer Saturday with 22 points for West Virginia, came off the bench in the first meeting between the two teams. The Virginia Tech coaching staff was concerned particularly with its matchup with 6-7 forward Tyrone Salley and who would guard the perimeter-oriented Pittsnogle. There was considerable thought given to allowing Jamon Gordon to play Pittsnogle, with Bryant Matthews taking Salley. Instead, Tech had Matthews face off with Pittsnogle, with Gordon and Markus Sailes guarding the taller Salley, who had but 5 points, along with 5 turnovers. The importance of these two decisions was that it put a smaller, but quicker, player on both Pittsnogle and Salley, thus hindering some of the dribble penetration of both players.
The larger issue from a defensive standpoint for this team is that Virginia Tech must play sound defense the entire game, every game, to have an opportunity to win. The team simply does not have the type of offensive firepower that can bail itself out of games where the defense is spotty or inconsistent. The Mountaineers 32.6% shooting marked the fourth consecutive game that the Hokies have held an opponent under 50% shooting -- in Cassell Coliseum, that is.
On the road it is an entirely different team, and that helps explain part of the difficulty the team is having in closing out games on the road. Tech had BC on the ropes last Wednesday in Boston, only to go 8 minutes or so without scoring and allowing Boston College to come from behind, shooting 53.8% in the process. Tech is 1-6 now on foreign courts in the Big East this season, its sole victory being over West Virginia, in a game in which the Hokies shot 50.9%, their high-water mark in the conference this season away from Blacksburg. West Virginia shot 55.6% in the loss, and Tech has allowed every other Big East team to shoot over 50%, with the 64.3% allowed by Villanova representing the highest shooting performance by an opponent, when Tech plays on the road.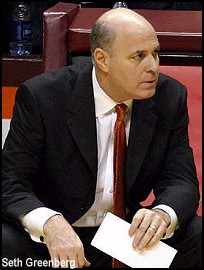 One of the areas that Virginia Tech has wanted to improve has been in becoming more physical, and while yesterday was a very physical game that could have seen a couple of calls go against Tech players that didn't, it's comforting to see this team play more physically and start hitting teams back. The size limitations have put this team in a position where other conference opponents are starting to impose a rugged, physical brand of basketball on the Hokies, especially where Bryant Matthews is concerned. It might not be a coincidence that at home in front of its home crowd, a Tech team might find itself becoming more comfortable with inflicting some physical punishment on teams, before teams take shots at them.
Seth Greenberg has consistently spoken about wanting players and teams who are tough, both from a mental and physical standpoint, so perhaps we are seeing a cause-and-effect result here. Four consecutive opponents have now shot under 50% in Blacksburg, while every conference opponent has eclipsed that when Tech goes on the road. In fact, the 43.8% shooting by St. John's in the Cassell is the best among the last four conference opponents. Prior to West Virginia, Georgetown shot 42.3% and Providence shot 39.0%.
The discrepancy in the road and home shooting percentages allowed seems to go deeper than merely being away from the comforts of home. In New York, Virginia Tech will have to break this pattern to have any hope of advancing past the opening round and its cup of coffee. But, this team also is showing signs of becoming the tough minded, physical defensive team that will be necessary to win games with its limited offensive weapons.
For now at least, as long as those games are played in Blacksburg at Cassell Coliseum.

Recruiting Notes
Probably the most interesting development in a busy last two weeks for the staff has been that assistant coach Eric Skeeters went down to Raleigh NC this week to watch 6-7, 245-pound junior forward Jimmy Graham play in his state tournament. The reason this development is interesting is because Sketers represents the third member of the staff to have seen Graham play. Earlier, Seth Greenberg watched Graham work out, and assistant coach Ryan Odom has also been in to watch Graham. Tech has probably now evaluated Graham at this stage as much as any other program, probably more so. With an allowable 40 in season evaluation days by your staff imposed by the NCAA, Virginia Tech has now spent 10% of those on Graham. One can draw the obvious inferences from that statement.
Another player that has captured the attention of the staff is 6-6 junior shooter Alex Ruoff, from Florida. Tech has an "in" with the coaching staff of Ruoff and while he currently is injured with a wrist injury, he comes billed as a very good perimeter shooter, a dire need for the program. Ruoff should be healthy in time for spring AAU events.
Greenberg made a recent trip to Florida to see several players, chief among them being a couple of juniors. 6-3 guard Derwin Kitchen is from Jacksonville and is a friend of Tech freshman Jamon Gordon. Kitchen is looking at Wake Forest and Virginia Tech as his two primary schools at this time. He is a very good passing guard capable of playing either backcourt position. The second player that Greenberg watched was 6-8, 230-pound center/forward Jimmie Sutton of Delray Beach Fl. Sutton is a good athlete who can post up, run the court and has fine leaping ability. His high school season has been marred by some team turmoil, in which there was a coaching change during the season, along with some player defections and problems, but Sutton wasn't part of that, only someone probably hurt by the process.
Finally, assistant coach Ryan Odom made a west coast trip this past Thursday and Friday to see 6-11, 255-pound junior college center Mohamed Camara, who is playing at Riverside (CA) CC. Camara is from Louisville and is being recruited by Arizona St, San Diego, Long Beach and San Jose St. He is a player very reminiscent of West Virginia center D'Or Fischer. Fischer is a 6-11, 240-pound junior transfer from Northwestern who was averaging 10.3 points, 6.5 rebounds and 3.92 blocks per game, runnerup only to Imeka Okafor in the Big East Conference, coming into the Virginia Tech game on Saturday. Camara isn't an impact player next year for Tech, but he does bring size, strength and a legitimate true post player to a team that currently has no natural post player on its team next year.

Other Gym Rat Notebooks:
A Gym Rat's Notebook #7: On or Off Broadway?
by Elijah Kyle, 2/24/04
A Gym Rat's Notebook #6: Trolling for Additions
by Elijah Kyle, 2/18/04
A Gym Rat's Notebook #5: Georgetown a Must Win?
by Elijah Kyle, 2/11/04
A Gym Rat's Notebook #4: Defense in Numbers
by Elijah Kyle, 1/28/04
A Gym Rat's Notebook #3: Chemistry Class and Hitting It Early
by Elijah Kyle, 1/21/04
A Gym Rat's Notebook #2: Subtraction and Addition
by Elijah Kyle, 1/13/04
A Gym Rat's Notebook #1: Hey, Brother, Can You Spare a Big Man?
by Elijah Kyle, 1/6/04



Copyright © 2003 Maroon Pride, LLC