A Gym Rat's Notebook #4: Defense in Numbers

by Elijah Kyle, 1/28/04
Editor's Note: All pictures are clickable for larger images.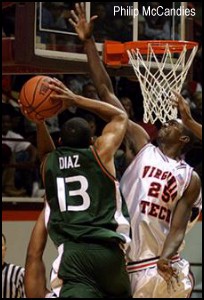 The Virginia Tech men's basketball team has seen four opponents eclipse the 50 percent shooting mark this season. All four of these occurrences have taken place in the last five games, and all have been Big East opponents. This is a troubling trend, and the chances of success greatly diminish during the second half of conference play if Virginia Tech is not able to reverse this trend.
Seth Greenberg will be the first to tell anyone that his team's play on the defensive end has not been as good as he would like. Finding the reasons behind the success of Big East foes lies in more than one area though.
The knee jerk reaction to the fact that no Tech out-of-conference opponent has shot better than 50% from the floor, while four of the first five Big East teams have done so, lies beyond simply stating that the meat of the schedule has been encountered. Of course the teams in conference are more talented and better, thus one would expect this team to encounter more trouble putting the clamps on a team defensively.
Virginia Tech isn't the only team with a new head coach in transition. North Carolina is experiencing similar difficulties on the defensive end as well.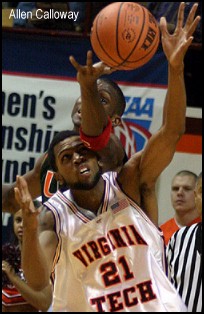 With former Kansas head coach Roy Williams in charge of the Tar Heel program, North Carolina doesn't have their defense where they want it and have the losses to show for that fact. North Carolina built a 24 point first half lead in their game last Thursday night against Florida State, only to see the Seminoles battle back to win 90-81 in overtime. This represented the largest deficit that a North Carolina team had allowed an opponent to come back from in their illustrious 2,489 game history.
Further, this year's North Carolina edition has allowed four opponents to shoot better than 50% from the floor. This, after having allowed only three opponents to do so in the previous two seasons combined. In addition, in the four Carolina losses, they held a double-digit lead at some point in each of those games.
What Williams has been displeased with is something that Greenberg understands as well. Just as Williams knows that his depth-shy team can not contest every shot and every possession, as does Greenberg, he fully expects that his team will do those things at critical junctures of the games, and that has been reason for concern, as it is with this Virginia Tech team.
For Virginia Tech, the reasons go deeper than that. This team isn't consistently closing out on shooters and is allowing far too many open, uncontested perimeter looks. While the man-to-man defense has actually modestly improved lately, it still needs to get better and especially needs to become more consistent.
A deeper probe shows an overlooked reason for the early difficulties, and certainly one of the reasons that Big East opponents have had such early success, lies in the interior defense. The Pittsburgh front court was 18-27 from the floor, with freshman center Chris Taft scoring a season high 17, in the earlier Pittsburgh victory. Pittsburgh shot 57.7% in that game. West Virginia shot 55.6% from the floor in their loss to the Hokies, with their starting frontcourt and key reserve Kevin Pittsnogle going 13-22,or 59.1%.Center Rodrigue Djahue of Miami had 12 points and 10 rebounds against the Hokies, after coming into the game averaging less than 5 points. Finally, although Notre Dame is the only Big East opponent that has not shot 50% from the floor this year against the Hokies, sophomore center Torrin Francis went 9-12 from the floor and had 22 points and 16 rebounds in the Notre Dame 11 point win.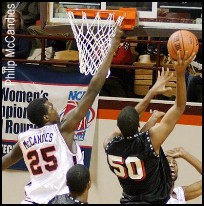 This points to the lack of size and strength inside and how difficult it is, and will continue to be, for Virginia Tech to slow down opposing Big East frontcourt players. Trying to stop larger, stronger frontcourt players, especially when trying to do so with undersized forwards, rather than centers, just points out how much this team needs size. Dimari Thompkins surely would have helped some there, as could have transfer Deonte Smith, had he stayed.
The numbers suggest that it is Tech's interior defense that is as big a reason as any for the defensive struggles from the floor. The overall shooting percentages for all Tech opponents suggest that might well be the case, especially when compared to last season's numbers. During the 2002-03 season, Virginia Tech opponents shot .434% from the field. Through the first 16 games this year, Tech opponents are shooting .445%. Tech opponents last season shot .351% from behind the arc, compared with .335% this season, a slight improvement. During the '02-03 season, Virginia Tech allowed conference opponents to shoot .366 on threes, while that figure has been .363 this season.
The real change has been the overall field goal percentage from the floor allowed in conference games this season. Virginia Tech has seen their 5 conference opponents shoot .531% from the floor, and that figure has actually dropped the past two games from an earlier high of .559%. In conference opponents last season shot .463% overall from the floor.
Addressing this concern will be a challenge for the coaching staff during the balance of the remaining conference games, and a good place to start is the interior defense and devising some strategies that might minimize Big East opponents' ability to continue to put up big numbers, especially from their interior players.

Recruiting Notes
The NCAA allows forty evaluation or "observation" days during the course of a year for college programs, and the Virginia Tech staff appears poised to take full advantage of those allowable days on the road.
With a senior high school player or junior college big man requiring the greatest majority of the staff's time, underclass prospects continue to get some hits as well.
Prior to the Seton Hall game last week, Tech watched a couple of northeast underclassmen in action while in that area.
6-7 sophomore forward Lance Thomas and 6-8 center Derrick Caracter were both evaluated by assistant coach Ryan Odom. Caracter is a consensus top 10 player in his class among the various scouting and recruiting services, while teammate Thomas is a top-100 caliber player. Both Thomas and Caracter attend Scotch Plains (NJ) Scotch Plains - Fanwood HS.
6-5 junior wing player Jaron Griffin from Toms River (NJ) Manchester Township was also watched by Odom during his trip, while assistant coach Eric Skeeters evaluated 6-0 sophomore point guard Tywon Lawson of Forestville (MD) Bishop McNamara and 6-9 senior center Davis Nwankwo of North Bethesda (MD) Georgetown Prep. Head coach Seth Greenberg also saw Nwankwo at that time.
On the night of the Saturday home loss to Miami, assistant coach Brad Greenberg was at Franklin County HS in Virginia watching Franklin County and its 6-7 sophomore forward Lewis Witcher play Oak Hill Academy, with Tech target K.C. Rivers. Witcher had 18 points in the Oak Hill blowout win and looked impressive doing so. Rivers, a 6-4, 215-pound junior, mentioned Virginia Tech as one of seven schools he is considering, along with Wake Forest, N.C. State, Virginia, North Carolina, Clemson, Georgetown and Charlotte.



Copyright © 2003 Maroon Pride, LLC