Gym Rat's Notebook #22 – Sobering Thoughts and a Dash of Culture
by Elijah Kyle, 8/9/04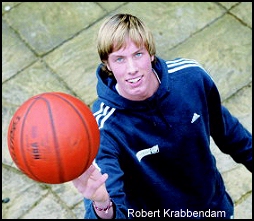 With the recent addition of Robert Krabbendam to the Virginia Tech men's basketball program, Seth Greenberg has proven that it is never too late to stop recruiting, and when you add players to your program isn't as important as adding them, period.
Now the big question for Hokie Nation becomes whether the 6-11 Dutch treat can play basketball at all. An affirmative answer would surely help traverse the dangerous first year waters of the ACC, but it would still leave the program in need of additional depth inside, a fact not lost on Greenberg, who has recently said that he might not be finished recruiting for the 2004-05 season. The possible addition though of another late signee becomes more and more unlikely with each passing day, but the Krabbendam addition, should he pass NCAA muster, could prove to be a shot in the arm of a program still looking to construct its components in the manner that Greenberg desires.
As with any foreign player, the NCAA will look closely at every issue concerning Krabbendam's immediate eligibility. Not only will he have to be cleared academically by the NCAA clearinghouse, but you would surely think there will be very acute scrutiny of the relationship of Krabbendam and his Dutch professional team. The 6-11, 205-pound forward played with the Demon Astronauts last season as an amateur, and an NCAA inquiry into his academics and professional standing is routine for foreign players looking to make the move abroad and play collegiate ball in the United States.
As long as there are no hiccups with the NCAA, Krabbendam can be a most useful player for a program very much in need of size. While Krabbendam isn't the space-eater that most everyone has on their wish list, he is 6-11 and that is an area of need for the 2004-05 team. And, if the advance talk concerning Krabbendam's skill level is accurate and not embellished, he comes at a most opportune time. Krabbendam is reputed to be a very good shooter out to the three point line, and while he doesn't have the body mass to punish people or bang inside, he will find minutes at both the forward and center positions. Hopefully, he will also be a solid rebounder as well, because that looks like a problem area, now that last season's leading rebounder, Bryant Matthews, has graduated.
In addition, it is hoped that Krabbendam will be the first in a succession of foreign talent that will find its way to play for Virginia Tech. Getting a foot in the door of the talented Euro market can be nothing but good, so the auxiliary benefits of Krabbendam's addition might be important hopefully as well.
While it is far too early to be speculating on a lineup and playing time for next year, this addition does provide Greenberg some additional possibilities that he did not have before. 6-9 sophomore Coleman Collins and Krabbendam can play together on the court at the same time, with Allen Calloway to back them up, a scenario that Greenberg could not previously consider prior to Krabbendam's selection of the Hokies. Collins might now have the opportunity to play more at a forward position than it appeared earlier prior to the arrival of Krabbendam. Or Greenberg can go small and use Calloway, Collins and Krabbendam inside and not be as concerned with foul trouble, now that he has some additional help at the forward and center positions.
In any event, Krabbendam fills partly at least the prescription for size that is still lacking in the program. Finding additional players with some tonnage won't be all bad, and it is thought that is something that Greenberg is trying to find out on the recruiting trail.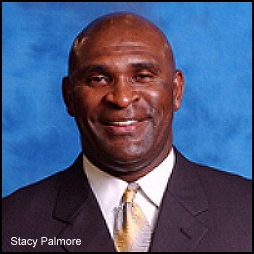 Palmore Is Newest Addition To Staff
With Eric Skeeters having left the basketball staff in June, just prior to the July recruiting period, Greenberg had to fill that position in time for the new assistant to be able to go out on the road in July and recruit. The newest addition to the Hokie family is Stacy Palmore, who just completed his first season as an assistant at the College of Charleston. Palmore was hired just prior to the first evaluation period in July, and he is notable at least, for the fact that he was a former head coach at Warwick High School in Virginia, which just happens to be the former high school of Michael Vick. In fact, Vick played under Palmore at Warwick.
It remains to be seen how this staff change will affect the recruiting of the entire staff. Skeeters was thought to be strong and have his best contacts in the Baltimore Maryland area, Northern Virginia and Washington D.C., along with Ohio, where he served as an assistant at Youngstown State. Incidentally, Skeeters was also the former high school coach of a prominent professional athlete as well. Carmelo Anthony of the Denver Nuggets played his high school basketball under Skeeters at one time, in the Baltimore area.
Conversely, Palmore's perceived recruiting areas of strength are Virginia, North Carolina and South Carolina, which just happen to match up better with Tech's new home, the ACC. Skeeters was a more natural presence in the northeastern corridor, where many of the Big East schools are located, while Palmore leans southward into the Mason-Dixon states, where the ACC rules.
That subtle change is probably an important one. While Virginia Tech is thought to be considering a philosophy that will take it anywhere to unearth players, a distinction that is quite different than the previous staff of Ricky Stokes, still the majority of schools within the ACC are located in North and South Carolina and Virginia. Those three states appear to be the area of greatest strength for the newest assistant, who will add balance to the foreign connections that Assistant Ryan Odom brings to the table. Assistant coach Brad Greenberg, also Seth Greenberg's brother, has some foreign connections of his own that date back to his time as a scout and Pro Personnel Director in the NBA. Finally, Seth Greenberg is a strong recruiter most anywhere, given his energetic and abundant personality. He is particularly strong in New York and California, due to his contacts in New York from attending college there, and in California from his time spent as head coach at Long Beach State.
Recruiting Picks Up
As mentioned earlier in this column, recruiting and player evaluation started in earnest for the basketball staff in the month of July. August is generally reserved for the time that staffs will prioritize their lists of players that they evaluated in July, and contact players about official and unofficial visits. Before getting into some names that have been linked with Virginia Tech recently in the frontcourt, it might be best to cover some names that have made their college decisions recently.
Two players from the state of California, and the 2004 class, have recently selected schools and Virginia Tech was thought to be involved with each of them, prior to their announcements. Chris Berry, a 6-6 forward from Compton (CA) has selected Fresno State and will apparently be eligible immediately. Berry chose Fresno over Bowling Green, Virginia Tech, Gonzaga and DePaul. The second player to select a school was 6-6 forward Nick Young, from Reseda (CA), who had committed last season to USC. After re-opening his commitment, Young decided to stay with his original commitment to the Trojans. UCLA, Pittsburgh, DePaul, Louisville and Virginia Tech were schools that Young considered as well.
A name that might be partially familiar to followers of the Tech program, and another player who has cast his lot with a college, is 6-8 center/forward Jimmy Graham of Wilson (NC). Graham unofficially visited the Tech campus last February and selected Miami recently. Graham has also re-classified and will now be a junior, having two more seasons of eligibility before arriving to play ball in the ACC. Graham reportedly had a fine summer and considered the Hokies, Wake Forest, Notre Dame and Clemson.
Recently, Jamal Boykin, one of the better front court prospects in the 2005 Class, and a 6-7 forward from Los Angeles (CA), selected Duke over Pittsburgh, Georgia Tech, Illinois, Boston College and Virginia Tech.
Moving on to the frontcourt class of 2005, Virginia Tech has been mentioned by a couple of players in the state of California again, with the Hokies hoping the results will be different than those of the aforementioned Berry and Young. Sylvester Seay is a 6-9, 210-pound F/C who has Arizona State leading Virginia Tech, Colorado, Texas A&M and UNLV. Jeff Pendergraph is a 6-8, 205-pound athlete who most scouts have indicated has made great progress during the spring and summer. Pendergraph likes Oregon State, Arizona State, Virginia Tech, Pepperdine and UCLA.
6-8 forward/center Matthew Dotson of Tennessee has indicated that he likes Virginia Tech, Stanford, Oklahoma, James Madison and Middle Tennessee. 6-7 forward Josh Dollard, from South Carolina, has a list that includes Oklahoma, Miami, South Carolina, Virginia Tech, Tennessee, Depaul, Maryland and Tulsa. 6-9, 230-pound post prospect John Garcia of New York recently gave a list that included St. John's, Villanova, Seton Hall, Pittsburgh, Connecticut, Richmond and Virginia Tech. Kenny Tribbett is a 6-8, 225-pound frontcourter from Pennsylvania who stated that he prefers Navy, Rutgers, Virginia Tech, Penn State, Miami and Villanova. Finally, 6-9 forward/center Quentin Thornton of Florida has a rather lengthy list of schools that he recently gave. Thornton's list includes South Carolina, Purdue, Virginia Tech, Tennessee, Western Kentucky, Clemson, St. Joseph's, Rutgers, South Florida and Minnesota.

Other Gym Rat Notebooks:
#21: Paging Ryan Odom, Paging Coach Ryan Odom - 6/18/04
#20: Ch-Ch-Ch Changes - 6/18/04
#19: ACC Recruiting Rankings - 5/25/04
#18: Adding Another Piece - 5/19/04
#17: Recruiting Hits Final Stretch - 5/11/04
#16: The 5-8 Rule -- It's Finally Gone - 5/5/04
#15: Help Could Be Looming on the Horizon - 4/23/04
#14: A Look Ahead: The Backcourt - 4/16/04
#13: A Look Ahead: The Frontcourt - 4/8/04
#12: There's No Place Like Home, Toto - 4/1/04
#11: About the Over/Under? - 3/26/04
#10: Did You Say Four, or Forty? - 3/17/04
#9: Big Game, Big Year, and Big Hopes - 3/10/04
#8: Home, Sweet, Home - 3/1/04
#7: On or Off Broadway? - 2/24/04
#6: Trolling for Additions - 2/18/04
#5: Georgetown a Must Win? - 2/11/04
#4: Defense in Numbers - 1/28/04
#3: Chemistry Class and Hitting It Early - 1/21/04
#2: Subtraction and Addition - 1/13/04
#1: Hey, Brother, Can You Spare a Big Man? - 1/6/04