Gym Rat's Notebook #20 – Ch-Ch-Changes
by Elijah Kyle, 6/18/04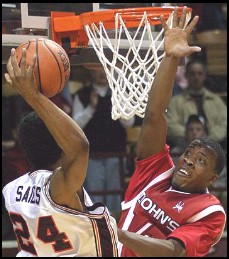 The balmy weather of summer usually finds Virginia Tech basketball fans lounging poolside somewhere, daydreaming about the next season and thinking about the nirvana that will set in when that elusive 6-11 frontcourt player is finally secured. Of course, these daydreams have been a staple now for many years, and they can expect to be at the forefront of thoughts next year, five years from now, or however long it takes to find that missing piece.
After all, that is the only thing stopping Virginia Tech from taking its rightful place among college basketball royalty. Just get that 6-11 player who will dominate and the program will take off, at least according to many fans and program followers. Sipping mint julep on a hot secluded beach, watching tan lines that you like, and would rather not have to see, gives one plenty of time to think about that elusive step for the program. It is what summers are for, while you wait for the weather to cool off, and listen for the driving beat of the basketball, and not a souped up '86 Camaro with modified speakers and customized rims.
Virginia Tech coaches are generally making last minute plans for the all-important month of July, which gives them their only opportunity to go on the road and evaluate players, so that they can entice the 6-11 prospect that everyone wants. They are booking flights, making reservations at Marriott Inns throughout the country, and Hertz is on everyone's speed-dial. June is the month for the monotony of basketball camps on campus, preparations for July and generally a rather ho-hum uneventful month.
But, in the words of Ziggy Stardust himself, ch-ch-changes have been the watchword for the month and the basketball program is abound with news in a month normally reserved for quiet reflection.
No, that elusive 6-11 post player has not cast his ballot with Virginia Tech. And no, there hasn't even been a frontcourt addition to the program either, something that is causing some consternation among the faithful.
But, there will be some differences on the horizon next season, and they only start with a December home ACC date with North Carolina. Yes, we are not talking about an out-of-conference matchup against the sky-is-blue lads from Tobacco Road, but rather an opening ACC conference game against UNC in Cassell Coliseum, to kick off the momentous occasion of the Virginia Tech program finally entering a club that they have never had the correct password for. Those ducats from that first ACC game should make a nice collector's item on E-Bay some day, and don't think that isn't a thought that many have considered already.
Think of it. Victoria Principal, i.e. Pam Ewing, hawking cosmetics AND a ticket stub from the first ACC game in Blacksburg. You gotta love this country.
While the conference change is occupying most of the thoughts now, as the date rapidly approaches, there have been a couple of off-the court events that have transpired that will have important effects on the program.
Assistant coach Brad Greenberg, Seth Greenberg's brother, decided to depart the program and take an athletic position in Florida, to be closer to his family.
That announcement was followed quickly by the announcement that assistant coach Brad Greenberg has decided to stay in Blacksburg after all, and that news was heartily welcomed, although it might have seemed rather mundane to some. The loss of Greenberg would have been greatly felt. In a world of college basketball where most programs assign scouting responsibilities of upcoming opponents to various members of their staff, Brad Greenberg essentially flies solo under his brother Seth. His NBA background and international scouting experience, along with his former NBA General Manager experience and Director of Scouting titles that he held under two NBA teams, equipped him to be the ideal person to prepare scouting reports on the Virginia Tech upcoming opponents. Insiders say that Greenberg's acutely focused, meticulously prepared scouting reports left little or no detail unmentioned. According to these people, Greenberg charted team and individual tendencies so well that there was rarely an occurrence on the floor that developed from any of the Hokie opponents that the team was not prepared for.
That was certainly not the lone positive contribution that Brad Greenberg brought to the program. While there are great similarities between Brad and Seth, there are also clear personality differences that help them be a very good balance for each other. Where Seth is high-strung and energetic, Brad is more reserved and laid back. The twosome served as a very good partnership and you will not find very many programs fortunate enough to have an assistant with the vast experience at all levels that Brad Greenberg has, so his remaining at Virginia Tech constitutes very good news, and aborting change there can only be construed as extremely beneficial to the program.
There is no doubt, and never has been, about the top dog in Blacksburg, where men's basketball is concerned. Seth Greenberg won a lot of admirers last year with the work that he accomplished, and he seemed to have a clear plan in place. That has not changed at all, and recent events only cemented that. Brad Greenberg is a substantial contributor to the program, so while the most important member of the program, Seth, was never in danger of leaving, a vital component in the success will also be staying, and that might not be an attention-grabber, but it should be.
The other change in the program came with the announcement that 6-7 sophomore Justin Holt, who had entered school in December for the second semester and was sitting out, had been dismissed from the team. Holt, a natural small forward and perimeter player, was expected to see significant time inside next season, probably being the starter at the power forward position. The Holt dismissal, coming on the heels of the spring transfer of 6-9 sophomore Philip McCandies to the College of Charleston, has left the Hokies in an extremely precarious position in the frontcourt. 6-9 rising sophomore Coleman Collins, along with 6-8 rising junior Allen Calloway, represent the only two frontcourt players currently on the roster. The staff has been out looking under every rock for additions along the front line, and while 6-8 Jerome Johnson made an official visit to campus, recent information seems to indicate that he will not be wearing the maroon and orange next year.
There still remains time before fall semester starts in August, so the staff will remain on the prowl for frontcourt reinforcements, looking internationally and at some late junior college players, who historically graduate during the summer.
The loss of Holt will be felt as well, although he never played a minute of basketball for Virginia Tech. Word from practices during the winter was that Holt was getting better and better and was a player that could get his own shot and score points, a commodity that you can never have enough of. Holt also represented a bit of a gamble for Seth Greenberg, as he was a player who has had a somewhat exhaustive odyssey of schools attended, starting with Iowa State, Oregon State, and Tacoma CC, culminating with his brief time spent in Blacksburg this winter.
The immediate changes in the style, tempo and personnel will not be immediately be known, until recruiting is finished for this year. But, one thing that you might hear from the public address announcer at home games next year in Blacksburg is: "Now starting at power forward, and wearing # 32 is 6-7 senior Carlos Dixon."
Like David Bowie says, ch-ch-changes are all around and wouldn't that be a change that probably NO fan of Virginia Tech would ever thought they would hear soon.
Unless, of course it's that same public address announcer saying: 'At power forward for Virginia Tech, at 6-11, wearing #52 is Stanislav Uvedenko.'
Ahh yes, back to the crashing waves of summer with a Mai-Tai in hand, bathing suits all around and the daydreams of what is just around the corner.

Other Gym Rat Notebooks:
#19: ACC Recruiting Rankings - 5/25/04
#18: Adding Another Piece - 5/19/04
#17: Recruiting Hits Final Stretch - 5/11/04
#16: The 5-8 Rule -- It's Finally Gone - 5/5/04
#15: Help Could Be Looming on the Horizon - 4/23/04
#14: A Look Ahead: The Backcourt - 4/16/04
#13: A Look Ahead: The Frontcourt - 4/8/04
#12: There's No Place Like Home, Toto - 4/1/04
#11: About the Over/Under? - 3/26/04
#10: Did You Say Four, or Forty? - 3/17/04
#9: Big Game, Big Year, and Big Hopes - 3/10/04
#8: Home, Sweet, Home - 3/1/04
#7: On or Off Broadway? - 2/24/04
#6: Trolling for Additions - 2/18/04
#5: Georgetown a Must Win? - 2/11/04
#4: Defense in Numbers - 1/28/04
#3: Chemistry Class and Hitting It Early - 1/21/04
#2: Subtraction and Addition - 1/13/04
#1: Hey, Brother, Can You Spare a Big Man? - 1/6/04