A Gym Rat's Notebook #14: A Look Ahead: The Backcourt

by Elijah Kyle, 4/16/04
One would think after the kind of freshmen seasons registered by Zabian Dowdell and Jamon Gordon that they would be feeling pretty giddy and confident about the next three seasons wearing the maroon and orange colors of the Virginia Tech program. But in a clear sign of the what-have-you-done-for-me lately mentality the predominates major college basketball these days, both would be wise to listen closely for the footsteps looming behind them.
There is no question that this past season would not have turned out nearly as well had Gordon and/or Dowdell acted more like the typical freshman playing in a power conference. A set of freshmen backcourt starters playing in the Big East, on a team that had struggled to find previous conference success, seemed poised to continue the conference struggles that Virginia Tech had experienced in their first three years of play. Instead, Gordon shook off the effects of a mid-season injury, and Dowdell took control of the point position early, and their contributions were significant in the Hokiesí winning season.
However, Gordon and Dowdell found assistance in running partner and sophomore Markus Sailes, whose contributions cannot be overlooked, and the three players brought solid decision-making, while greatly minimizing the turnovers that might have been expected from two freshmen, and a sophomore who garnered little playing time as a freshman.
All three players return, along with sophomore Shawn Harris, and the program adds medical redshirt and three-year starter Carlos Dixon to the mix next year, along with heralded point guard recruit Marquie Cooke.
After taking a sneak peak last week at what the 2004-05 edition of Greenberg, phase 2, will look like in the frontcourt, letís turn our attention to what we might see next year with the added players in the Tech backcourt.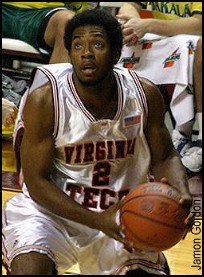 Jamon Gordon is one of those players that coaches love. It is for a very simple reason: Gordon does not need to score to help his team win games. He provided ample evidence of that last year. When Gordon is knocking down his jumper, he can be an outstanding player. When the jumper isnít falling, and that occurred on more than a few occasions, he can still be a very good player. Gordon plays hard, he is tough in a street kind of way, he is a very unselfish player who passes the basketball well, and he has lightening quick hands, which helped him lead the Big East conference in steals. He did that as a freshman, by the way.
Gordon was just what the doctor ordered last year for Virginia Tech, and a strong case could be made that Virginia Tech participates in post-season play if Gordon isnít given his Christmas cheer - in the form of an injury that kept him sidelined for five games - during the East Carolina game. Gordon averaged 2.75 steals, 9.8 points and 4.4 rebounds per game, all evidence of his ability to "stuff the stat sheet." His value lies much deeper than a cursory look at his point totals and shooting ability. That shooting ability is probably one of the reasons that some schools didnít pull the trigger on recruiting Gordon, along with some nervousness about whether he would qualify. But he had 107 assists with only 54 turnovers, an excellent 2 to1 ratio, and that is one of the first qualities you look for in a guard.
This isnít to suggest that Gordon is a finished product that doesnít need to address area of his game. He does need to work on his outside game. He might need to fundamentally tweak his shot a bit in the off-season. He shot .365 from the floor, .280 from behind the arc and .673 from the free throw line, all of which need to be improved in the future. The more Gordon improves his perimeter game, the more dangerous an offensive weapon he becomes. He did gain the confidence of the coaching staff, who went to Gordon on a couple of occasions on the final possession of the game, when Tech needed to score. Throw in his ability to play both backcourt positions and that he is the best guard on the team when it comes to making sure his team converts two on one fast breaks, and you have a player that should be a solid ACC player in the next three years.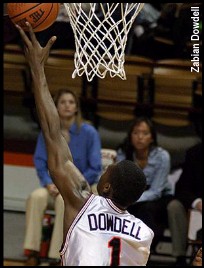 Zabian Dowdell averaged 33.8 minutes and started all 28 games that he played in this year, missing one game due to a death in the family. While Dowdellís final shooting percentage from the floor of .375 only ended up slightly better than Gordon, he showed a propensity for taking and making crucial shots. Dowdell showed confidence in his late game ability to hit jumpers, and the coaches allowed him enough freedom to continue taking them, without him looking over his shoulder.
Dowdell also proved to be a very streaky shooter. He had games and stretches where he went long periods without converting shots, so working on his consistency would seem to be an off-season goal. Dowdell shot .305 from behind the arc and .685 from the free throw line. While his 89 to 63 assist-to-turnover ratio isnít in the heady atmosphere of Gordon, it is still a solid season for a freshman running the point for a Big East team. Dowdell finished second on the team to Bryant Matthews with 10.8 points per game, but he will face a significant challenge next year at his position from incoming freshman Marquie Cooke. Dowdell needs to shoot a higher percentage from the floor next year, but he did show in-season improvement in his mid-range game off the bounce.
With the ability to swing over and play off the ball, Dowdell can easily find time in the backcourt playing with Cooke as well, which should help expand the plate of options for Greenberg next year. His handle remains a solid area, and his defense improved during the season, although he still needs to work on pressuring the ball more consistently.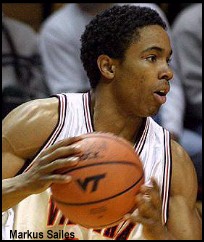 Markus Sailes was probably the teamís most unsung player this year as a sophomore. Sailes came into the season off a freshman year that saw him get very little playing time. He also had two new freshmen players on the squad who served notice early that they would scramble for significant minutes. What Sailes was able to do was carve out a niche for himself as a quiet, unheralded role player who took on the task of guarding many different types of players. While Gordon was the best backcourt player at converting fast breaks, with his sound decisions and fundamentally executed passes in transition, Sailes might have been the best at serving up the long alley-oop pass in transition - usually to Bryant Matthews - and getting defenders elevated at the goal, only to leave a pass to a trailing teammate. Sailes played in and started all 29 games, averaging 32.0 minutes per game, shooting .384 from the field and .293 from behind the arc. Sailes doesnít hunt his shot at all, content to find open teammates, evidenced by the fact that he took just over 4 shots per game, even though he averaged 32 minutes. By comparison, fellow sophomore Shawn Harris averaged just over 5 shots per game, while playing just half the minutes that Sailes played.
Where Sailes proved his worth was in providing another ball-handler to the team, and his 81 assist to 42 turnover ratio proved to be excellent.. It is no surprise that the fortunes of the team improved down the stretch, as they began playing more consistent defense. The 6-5 Sailes was a featured player there, as he showed the capability to guard players ranging from 6-0 to 6-9, thus allowing Greenberg to play as much man-to-man as he wanted, knowing that Sailes was his most versatile defender.
Sailes will face a battle next year to earn the type of minutes he received this year, with Carlos Dixon returning to the team and Marquie Cooke coming aboard. Sailes is another player who needs significant work on his shooting, and he needs to use his legs much more on his jumper. He was able to show Greenberg that he can be effective as a role player and showed his competence at defending multiple positions, but he needs off season improvement in his offense and will have a fight on his hands to hold off Dixon and Cooke from taking his minutes.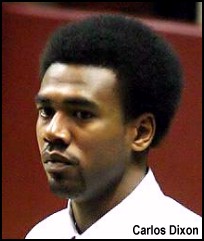 What appeared early on to be a crushing blow to the program has ended up being a second opportunity for Carlos Dixon. As one of two proven returning scores this year, along with Bryant Matthews, Dixon was expected to shoulder a great deal of the scoring load. His injury and subsequent medical redshirt year has him poised to play his final year in Blacksburg in the ACC, a fact that the North Carolina-bred Dixon is eager to embrace.
But, the team that Dixon started on for three years, and the team that he will play his final season for, are very different animals. He was able to return to regular practices during the season, thus becoming acclimated to the Greenberg style and offense, but Dixon will still have to prove himself on the court next year. There will be two returning starters at the guard position who had fine freshmen campaigns. There is another guard returning in Sailes who played a great deal of small forward. There is an incoming freshman in Cooke who promises to push hard for minutes. And, of course, there is Shawn Harris returning to the backcourt, so Dixon has to know that he will need to compete for minutes, something that he didnít have to do under former coach Ricky Stokes.
Where Dixon has an advantage over all others in the backcourt is his ability to shoot the basketball well, with deep range. He can put up points in bunches, and is capable of taking over games. He must work on his jumper off the dribble, as too often he is content to settle for the three-point jumper. He must make defenders respect his ability to shoot the pull-up jumper. He must be cognizant of the fact that his 6-7 height and ball-handling ability enables him to take the ball to the glass and finish, something that he seemed to forget more than a few times under Stokes.
Mostly, Dixon must push himself to finish his final season in Blacksburg and live up to the great promise that preceded his arrival. He has an abundance of offensive ability and can do a number of things very well. He can run the point in limited minutes. He can help on the glass. He can pass the basketball and score in a variety of ways. Dixon can also be a sound defender when he concentrates. He must learn to trust his teammates more and showcase all aspects of his arsenal, or he might find minutes more elusive than he would like to think.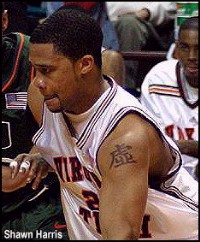 Shawn Harris suffered an unfortunate pre-season plantar fascia injury, which kept him out of action for the first part of the season. He later was suspended by Greenberg before returning for the final portion of the season. While Harris was playing very well during pre-season practices, his play during the season wasnít what anyone expected. Harris struggled in all aspects of his shooting, shooting just .329 from the floor and .200 from behind the arc. It didnít get any better at the foul line, where Harris shot .581, averaging 4.9 points a game in 16.6 minutes off the bench. He played in 16 of the 29 games and will have a very uphill battle for playing time next year. Harris plays hard and hustles every minute on the floor and is a consistently hard worker and intense player in practices. But, he struggles to guard athletic guards, his speed is just average and he has difficulty finishing inside, due to his lack of bounce and athleticism.
Many people have heard of incoming freshman point guard Marquie Cooke by now. The 6-3, 205-pound Cooke already has a college-level body and has used that upper body and strength to overpower opponents at the high school level. It wonít be quite that easy at the next level, but Cooke will benefit himself from weight training and having teammates who can help him with the scoring load. While Cooke isnít a quick point guard, and might struggle a little with smallish point guards, he is a player who loves the ball in his hands and can make those around him better. He and Dixon especially seem like a very good pairing, with Cooke using his ability to penetrate and draw defenders, then kicking it out to a shooter like Dixon.
As a defender, Cooke loves to use his stout upper body and punish smaller point guards. He is physical, strong and has a mean streak. He also knows how to dig down in the post area to help there and can play passing lanes well, very similarly to the way Jamon Gordon does. At the high school level, Cooke has had to assume a greater scoring burden than he will have to at Virginia Tech. He is a pure point guard who is a power dribbler and forces his way into the paint against players who are not as physical. He also has shown an ability to take contact and finish at the basket, getting more than his share of conventional three point plays.
Where Cooke will need to prove himself is as a perimeter shooter. He is an average shooter who has gotten better in that area. Additional improvement will make him a more well-rounded player, and he will be someone that will push very hard for major minutes in the lineup next year, even though the Hokies return Dowdell, Gordon and Sailes, while adding Dixon.
Greenberg was probably forced to play three guards this year due to the fact that his personnel was limited. You might see just as much of a three-guard look next year, this time because he wants to get his best players on the floor as much as possible. The backcourt will be a very competitive situation next season, and Greenberg will have multiple options back there. Given the fact that Sailes, Gordon, Dowdell and Dixon can all play more than one position, it allows a great deal of freedom for Greenberg to use multiple pairings, and perhaps some more full court pressure, since foul trouble wonít be quite the impediment that he faced this year.

Recruiting News
In recruiting news, 6-6 sophomore forward Bryson Krueger of Yavapai JC in Arizona, has chosen Arizona State over Oklahoma, Miami (FL), Iowa State, Oklahoma State, Virginia Tech and Oregon. 6-9 senior center Alan Metcalfe, of Notre Dame Academy in Virginia, has selected Vanderbilt over Davidson, Clemson, Virginia Tech and William & Mary.
Head Coach Kevin Sutton of Montverde Academy in Florida has indicated that his 6-10 senior center, Idongesit Ibok, will be taking an official visit to Virginia Tech this weekend. According to Sutton, Ibok is also being recruited by Florida St., Georgia, UNC-Charlotte and Depaul. The on again/off again recruitment of 6-9 senior forward Hatila DeSouza of Laurinburg Academy in North Carolina appears to be back on. DeSouza is a likely candidate to play professionally in Europe next season, but is still holding open his college options. South Carolina, Georgia, Cincinnati and Texas appear to be schools that DeSouza is considering, along with the Hokies, should he elect to bypass Europe next year.
Moving to a few current juniors, 6-6 forward Brian Asbury from Miami Fl is looking at the Hokies, in addition to Louisville, Clemson, Stanford, Kentucky, Florida and Florida State. 6-3 guard/forward Jesse Sapp from National Christian Academy in Maryland likes UConn, Georgia Tech, Virginia Tech, Stanford, Ohio State, Marshall and Arkansas. Sapp made an unofficial visit to Blacksburg earlier in the year during football season. 6-0 junior point guard Bryan Mullins of Illinois has indicated interest in Notre Dame, Wisconsin, Bowling Green, Stanford, Virginia Tech and Southern Illinois. Jose Garcia, a 6-5 guard/forward from St. Anneís-Belfield in Charlottesville, might be favoring Michigan State over Richmond, Virginia Tech, Georgetown and Florida State. Finally, 6-5 forward Jaron Griffin from New Jersey has indicated that the Hokies are on his lengthy list of schools, which include St Joeís, Wake Forest, Rutgers, West Virginia, Rhode Island, Penn State, Ohio State, George Mason and Appalachian State.

Other Gym Rat Notebooks:
A Gym Rat's Notebook #13: A Look Ahead: The Frontcourt - 4/8/04
A Gym Rat's Notebook #12: There's No Place Like Home, Toto - 4/1/04
A Gym Rat's Notebook #11: About the Over/Under? - 3/26/04
A Gym Rat's Notebook #10: Did You Say Four, or Forty? - 3/17/04
A Gym Rat's Notebook #9: Big Game, Big Year, and Big Hopes - 3/10/04
A Gym Rat's Notebook #8: Home, Sweet, Home - 3/1/04
A Gym Rat's Notebook #7: On or Off Broadway? - 2/24/04
A Gym Rat's Notebook #6: Trolling for Additions - 2/18/04
A Gym Rat's Notebook #5: Georgetown a Must Win? - 2/11/04
A Gym Rat's Notebook #4: Defense in Numbers - 1/28/04
A Gym Rat's Notebook #3: Chemistry Class and Hitting It Early - 1/21/04
A Gym Rat's Notebook #2: Subtraction and Addition - 1/13/04
A Gym Rat's Notebook #1: Hey, Brother, Can You Spare a Big Man? - 1/6/04



Copyright © 2003 Maroon Pride, LLC