A Gym Rat's Notebook #13: A Look Ahead: The Frontcourt

by Elijah Kyle, 4/8/04
The move isnít exactly a substantial leap from say, Baltic Avenue to Park Place next season, but to avoid being Pac-manned by the Donald Trumps of the world, the Virginia Tech menís basketball team should get used to repeating the magic words of the real estate industry: location, location, location. The Atlantic Coast Conference is the creme de la crŤme of major college basketball real estate, so being invited to purchase your slice of heaven comes not only with an exorbitant purchase price, but also a cautionary mantra from the Homeownerís Association, who will constantly remind you that it is also about the players, players, players.
With a winning season in his first year accomplished, head basketball coach Seth Greenberg can now get busy with the next item of business on his agenda, and that is preparing for life as a full member of the ACC. And, while Virginia Tech will return almost everyone from this seasonís 15-14 team, and will add some significant board pieces next year, one very important member will have moved on to the next arena in his life. Bryant Matthews will be a large loss for this team, and while the Hokies will return redshirted senior Carlos Dixon, while bringing aboard 6-7 Sophomore junior college transfer Justin Holt and 6-7 freshman Deron Washington, the ACC will return a very high percentage of its All-conference members and starting fives, dependent on late NBA declarations.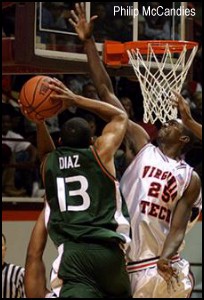 Finding a team chemistry next year and adjusting to the loss of Matthews, while adding Dixon, Holt and Washington, will be the first challenge for Seth Greenberg. This year witnessed a very young and inexperienced team that quickly grasped their defined roles that Greenberg laid out for them. In the second half of the season, the team defense improved substantially as the freshmen players adjusted to life in major college basketball, and how itís not all about simply trying to outscore your opponent. Greenberg will again have to quickly define roles and integrate new players into the mix. The frontcourt, which operated without a true post player the entire year, and had very little returning experience, might find itself in a similar situation next season.
Greenberg was able to utilize Philip McCandies, Allen Calloway and Coleman Collins in predominantly mix-and-match roles this year. None of the trio is a true center and all are at a size/strength disadvantage. Unless the NCAA overturns the 5/8 recruiting legislation, it appears that the Hokies will have to go into the ACC wars with the same personnel inside that they battled with in their final season in the Big East.
McCandies, a 6-9, 225-pounder who will be a junior next year, added about 20 pounds between his freshman and sophomore seasons. This helped of course, but he still struggled with the bigger bodies in the Big East, like Torin Francis of Notre Dame and Chris Taft of Pittsburgh. When forced to defend those types of players in the low post, McCandies would often lose position and be forced to grab and hold, thus getting into foul trouble. His offseason should again be spent adding weight and strength, while continuing to work on his low post game. His jumper is fine, and he knocks down enough of them from the foul line and corners to keep defenders from dropping off him, although he only shot .407 from the floor. But he needs to be able to score at the basket - in traffic - and that is an area he really struggled with this year. He found himself behind the basket far too much, and was stripped too often while going up inside. McCandies would get some offensive rebounds but not be able to finish, and that is an area where he must improve, and it was the biggest reason that his shooting percentage wasnít higher.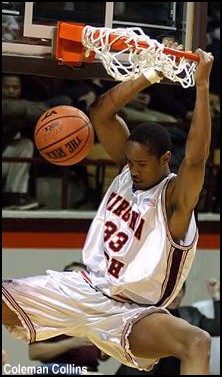 One would expect McCandies' role next year to be very similar to his role this year. He will play more minutes at the five (center) position, with some time at the four (power forward). McCandies, who had 13 starts this year and averaged 16.2 minutes per game, also had stretches where he didnít get as many rebounds as you would like to see, so that too needs to be a point of emphasis. While his per minute rebounding average was greater than both Collins and Calloway, it isnít at the level that one needs to see their post players rebound. McCandies did show that he is confident in his offensive game and came out of the chute strong in several games. He wasnít quite able to put a full game together, but he did flash some ability to score. As it looks now, without adding a late post signee, McCandies can be expected to help Coleman Collins inside, more likely as a backup than a starter next year.
Coleman Collins was a pleasant surprise for many people this year and his play gives hope that he will have a solid and productive career here. What Collins most needs for next year is something that is out of his control, and that is a true center to take over the major minutes inside and allow Collins to move out to a power forward position. Unless the Hokies can add someone at the center position this spring, it appears that Collins will again do battle inside at the center position. Collins, who started 16 games this year and averaged 23.7 minutes, isnít a naturally physical player, so he will need to add strength during the offseason.
What Collins does possess is the highest potential ceiling of any of the Virginia Tech returning frontcourt players. Collins is the best athlete among the frontcourt players. Collins is the best scorer of the frontcourt players, and he runs the court better than the others. Collins uses his high release jumper effectively out to about seventeen feet. He has a quick first step, which he uses to take larger, bigger defenders off the dribble from the high post, and is a good scorer who shot .473 from the field. Where Collins needs to see improvement is in his free throw shooting and rebounding. He under-performed in both of those areas. He has far too good a shooting touch to shoot 50% from the line, as he did this year. Collins also only pulled down 3.7 rebounds per game, so getting more hefty there will be a necessity as well next year.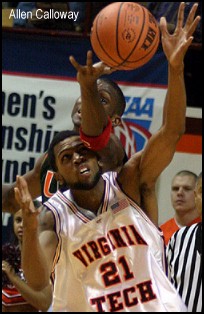 Allen Calloway will probably never be a player that will concern opponents greatly on offense. However, Calloway carved out a niche this year as a role-playing specialist that suited his talents. He logged his most minutes in games where the Hokies faced tall, athletic wing players who could score from the perimeter, and take people off the dribble.6-10 Darius Rice of Miami, 6-8 Brandon Bowman of Georgetown and 6-10 Herve Lamizana of Rutgers were all long, athletic scorers that Greenberg would bring Calloway off the bench to guard. His role should be expected to be a similar one next year as well. Calloway struggles even more so than Collins and McCandies when faced with playing long stretches defensively against centers and large low post bodies. While Calloway shot a fine .462 from the floor, he isnít a particularly proficient offensive player. He struggles with his shot and doesnít really have a go-to offensive move. Developing that will go a long way toward helping him become at least an offensive threat. Without that, he will stay a role-playing defensive specialist who probably isnít skilled enough to play major minutes. Calloway averaged 2.9 rebounds per game in his 16.6 minutes of play per game, while making 4 starts, and shot a very less than stellar .389 from the free throw line, so obviously that requires some offseason attention.
Of the two new players that will come aboard next year, Justin Holt and Deron Washington, expect to see Holt become a player who will push to be in the lineup. Although Holt is more naturally inclined to play a wing position, the lack of interior depth and presence will require both he and Washington to get some minutes inside at the power forward position. Holt is close to 6-8 and weighs about 210 pounds. He will become eligible after the fall semester next year and the word out of practices this year is that he is a multi-talented offensive player who can score in a variety of ways. Holt will and has had the advantage of getting some significant practice time, which has helped greatly with his adjustment. He is a streaky perimeter shooter, but a player who really takes people off the dribble and attacks the basket. Holt might end up replacing Matthews next year as the Tech player that goes to the free throw line the most. One can expect him to see time at a couple of positions, possibly even three, as Greenberg will probably play him inside and at a small forward and perhaps even guard position in certain instances. Holt will need to show that he can limit his turnovers and improve his shot selection. He will also need to be a consistent presence on the glass, as it is likely that Tech will operate again next season undersized. But, the early word out of practices this year is that Holt looks to be an offensive force, so adding his game, along with the return of Dixon and freshman point guard Marquie Cooke, should give the Hokies more offensive options than they had at any time this year.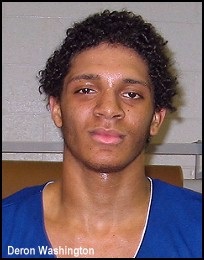 The final piece of the frontcourt mix for next year will be the sole freshman frontcourt player, as it now stands. Deron Washington is a 6-7 forward who is a little similar to both Allen Calloway and Bryant Matthews. Washington is a player who is very athletic, but still developing offensively, like Calloway. He is also a player who will need to make the transition from his high school position - center- to his college position, which will be that of a wing player eventually. Although Washington only packs about 190 pounds on his frame, he is a good rebounder and that might be the area where he can initially most help the Hokies. He is a very good athlete who best operates in an uptempo setting, so if that is the style of play that Greenberg implements next year, the chances of Washington pushing for early playing time will increase. Where Washington will need to prove himself is away from the basket, where he hasnít yet developed the confidence required in his perimeter game. Washington is very good in transition and his outstanding leaping ability enables him to throw down some man-sized dunks on the goal, similar to what we witnessed for four years with Matthews.
This team is shaping up inside next year to be one that has some missing pieces to the puzzle, notably some true post players will size, weight and strength. Greenberg was able to navigate those treacherous waters well this year, by changing defenses and mixing his players as situations saw fit. It will be an equally challenging proposition next year for him, until he is able to frequent the roster with more size and talent inside. We can expect to see Collins, McCandies and Calloway improve from their freshman and sophomore seasons. We can also expect them to garner major minutes out of position again, until reinforcements arrive. They will have some help next year with the addition of Holt and Washington, but they will simply be more numbers added to the same problem. That problem being the lack of true, natural post players. Greenberg will have more choices next year and that might help him to be able to utilize more of an uptempo pace offensively, while also seeing the team defend the entire court defensively at times, something that was seen very little this season.
What will be the same variable next year that we viewed this year is that it will be another period of adjustment. Greenberg will again have to adjust to the styles and tendencies of an entirely new set of coaches, while the players will also be learning nuances, techniques, fetishes and habits of their opponents in a new conference. It is indeed about location, but we will see next year that it is indeed also about players.

Other Gym Rat Notebooks:
A Gym Rat's Notebook #12: There's No Place Like Home, Toto - 4/1/04
A Gym Rat's Notebook #11: About the Over/Under? - 3/26/04
A Gym Rat's Notebook #10: Did You Say Four, or Forty? - 3/17/04
A Gym Rat's Notebook #9: Big Game, Big Year, and Big Hopes - 3/10/04
A Gym Rat's Notebook #8: Home, Sweet, Home - 3/1/04
A Gym Rat's Notebook #7: On or Off Broadway? - 2/24/04
A Gym Rat's Notebook #6: Trolling for Additions - 2/18/04
A Gym Rat's Notebook #5: Georgetown a Must Win? - 2/11/04
A Gym Rat's Notebook #4: Defense in Numbers - 1/28/04
A Gym Rat's Notebook #3: Chemistry Class and Hitting It Early - 1/21/04
A Gym Rat's Notebook #2: Subtraction and Addition - 1/13/04
A Gym Rat's Notebook #1: Hey, Brother, Can You Spare a Big Man? - 1/6/04



Copyright © 2003 Maroon Pride, LLC