Rookie Diary #19: Jaguars Sign Nathaniel Adibi to Practice Squad
by TechSideline.com, 10/22/04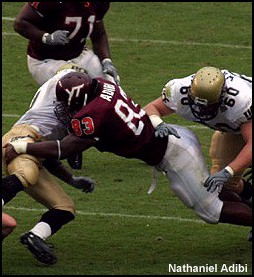 Editor's Note: It has been a while (early September) since we checked in with Nathaniel Adibi. In our last Rookie Diary, Adibi had been cut by the Steelers and picked up by the Tennessee Titans. He was looking forward to playing a Friday night preseason game with the Titans to try to impress them and make at least their practice squad.
Adibi played in the game and was cut by Tennessee the following Monday. The Steelers picked him up late that week, kept him on their practice squad for a week, and cut him. Here's what's been going on.
---
The game I played for Tennessee was against Green Bay, and I played the second half of the game. I know all of the first stringers played the first series of the second half, and then everyone else played the rest of the game. The first series of the second half was pretty long, so we backups played a good amount, but itís still not as long as we could have gotten because of how long the first team was in for on the first series of the second half.
I played pretty good, I actually played pretty well, I was chasing the quarterback a lot, but I didnít have any sacks. I was playing defensive end. I was just fighting on the field, trying to get to the quarterback, you know. Other than that, not too much happened. We beat up on Green Bay pretty good that game.
It was a lot more comfortable playing defensive end than linebacker. Itís what I am comfortable with anyway; I didnít have any problem playing it at all. I just feel more comfortable and more natural at it.
I wouldnít say I had a problem with the transition because it was playing defensive end. So there was no problem, I just went in there and played. I just talked to the coaches to get the basics. It was tight because my cousin lives there. So I had people there already and I wasnít there by myself like I was in Pittsburgh.
Everybody there at Tennessee was cool. I spent a lot of time talking to Carlos Hall, I think heís one of the starting defense ends. Everybody was helping me out. It's a great organization, a great place, but for whatever reason, things happen. People start getting hurt; they have to bring other people in. So, therefore, they had to release me. I was released on that Sunday, following the Friday night game I played in.
Then Pittsburgh picked me back up because a player that they released got picked up by St. Louis, and they had an open spot, so they picked me up. I practiced with them for the week and that weekend the player that St. Louis picked up was released, so he was available again. So, Pittsburgh released me again on Monday. I was there for a week.
When Pittsburgh released me the first time, I guess I canít say I was madÖmore disappointed than anything I guess. But I knew I was part of it. And then Pittsburgh picked me right back up again. I didnít even realize what happened until a week later until I found out the reason I was released was because the other guy was released again. So it was just like ďdang.Ē That pretty much told me they really wanted the other guy more than they wanted meóthere was no reason for me to be there.
Iím a guy that goes with the flow, but then again I hate moving. I am a person that doesnít like to move around a lot. I am not saying I donít like change, I just hate moving. I hate the fact of packing everything together, moving to another spot, and having to do it all over again, and have to learn my way around a new cityÖstuff like that. At least when I go to a place like Tennessee, I can get with somebody like a cousin who can take me around. Iíd rather go to a place like that than do everything on my own. Itís tight going to a city by myself, but I donít like having to learn it.
Itís not that I have bitter feelings towards Pittsburgh, it is that I got hurt the first week. They felt like I was behind, there is nothing I can do about that. Injuries come with the territory, but unfortunately I got hurt at the beginning of the preseason camp and there was nothing I could do about my reps. They felt more comfortable with other dudes. It just comes with the territory, when I talk to other people, they just tell me you need to have thick skin when you deal with the people in the NFL because so much stuff happens.
I went back to Blacksburg and started working out, doing treatment on everything. The first week I didnít go anywhere, the second week I had a call from Atlanta and worked out down in Atlanta. Then they started off like 3-0, so they didnít want to do any changes. A team, as long as they are winning, they donít like to make changes.
So after that week, I went to Cincinnati and worked out for them. They had a lot of stuff going on, they were going to hold me overnight to see what Coach (Marvin) Lewis was going to do. The thing with Cincinnati was that they werenít sure which way Coach Lewis wanted to take the team with some of the injuries that were going on. He decided to take another route that didnít involve me.
The following week I went to Jacksonville. I worked out at linebacker and d-end there. Thatís weird because it was like me and another guy were the only two working out. After the workout, they put us on an early flight to go home. So weíre going to the airport and the guy who is taking us there gets a phone call. He hangs up, we get out, say bye to each other, and weíre about to say bye to the Jacksonville guy who took us to the airport. We say bye to him, then he looks at me and says, ďYouíre staying.Ē I only had like two pairs of pants and a couple of shirts, four pair of underwear. So this past weekend, thatís why I went home, to get some more clothes.
Iím in a hotel right now. Iím not exactly sure what Iím gonna do right now. I might live with Ernest (Wilford) for a little bit, or I might just get an apartment. Iím not totally sure yet. What I had in my lease last time was that if I got released, my lease automatically terminated, so thatís not a big deal.
Being on the practice squad is pretty much being like a redshirt in a sense. If another team picks you up, you canít go from your practice squad to their practice squad; you go to the active roster for at least three weeks. You can always be released from the practice squad or the active roster.
Everybody here is real cool. Coach Del Rio is a great coach, heís real honest and real cool.. In practice squad, I work at linebacker. In individual drills, I do linebacker and d-end. We just picked up a guy from Cincinnatiís practice squad so (getting called up) can happen at any time. You just have to make the best out of the situation youíre in. You just have to show a good work ethic. I plan on going in tomorrow and doing some stuff on my day off to show them I am here to work and give 100 percent in everything I do.
If youíre on the practice squad forever, youíre making 70 thousand dollars a year. Thatís not bad, but your whole goal is to be on the active roster. I think everyone knows when to say when, when things arenít working out for them. It is different amounts of time for people; some can go to Arena, Canadian Football, NFL Europe, then making an NFL squad. Some play NFL Europe one or two years and say Ďyou know, this is not working out, time to give up.í It all depends on the situation and how long you think you can take it. If you think about it, in the NFL, the practice is easy. The only thing that is different is meetings all day. Instead of class all day, it is meetings. I wonít be able to see Tech play much this year. It costs too much money to fly back and forth and we have a light practice on Saturday mornings.
It is a rollercoaster type thing. I guess right now I am relieved to be with a team and I just have to make the best of the situation. You hear about stuff, but youíre not prepared for anything until you go through it.

Previous Rookie Diaries With Nathaniel Adibi:
Rookie Diary #18: Steelers Cut Adibi; Titans Pick Him Up, 9/3/04
Rookie Diary #17: Adibi Misses First Preseason Game With Injury, 8/20/04
Rookie Diary #16: Training Camp Opens, 8/11/04
Rookie Diary #15: Adibi Signs Contract, 7/23/04
Rookie Diary #14: Adibi Working Out in Richmond, 6/25/04
Rookie Diary #13: Offseason Program Concludes, 6/11/04
Rookie Diary #12: Learning the System, 5/27/04
Rookie Diary #11: Steelers Minicamp, 5/18/04
Rookie Diary #10: Adibi's a Steeler, 4/30/04
Rookie Diary #9: Waiting for Draft Day, 4/23/04
Rookie Diary #8: Adibi Visits the Tennessee Titans, 4/16/04
Rookie Diary #7: The Second Pro Day, 4/2/04
Rookie Diary #6: A Solid Pro Day, 3/24/04
Rookie Diary #5: In Town for Pro Day, 3/17/04
Rookie Diary #4: Adibi's Time in Oakland Winds Down, 3/12/04
Rookie Diary #3: The Aftermath of the Combine, 3/4/04
Rookie Diary #2: Busy Weekend at the Combine for Adibi, 2/26/04
Rookie Diary #1: Adibi Prepares for the NFL Combine, 2/19/04