Rookie Diary #18: Steelers Cut Adibi; Titans Pick Him Up
by TechSideline.com, 9/3/04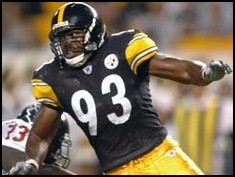 Editor's Note: It has been a wild week for Nathaniel Adibi. After spending months in the Steelers organization, he was cut by Pittsburgh on Tuesday, then picked up off of waivers by Tennessee on Wednesday. There's no time to take a break for the former Virginia Tech defensive end, as he'll be thrown into the fire Friday night in the Titans' last preseason game against Green Bay.
We talked to Adibi the day after he was cut, but before he was signed by Tennessee. Once the Titans picked him up, we called him back for his thoughts on that, so this entry in the diary is presented as two separate updates.
---
Tuesday: Adibi Gets Cut
Tuesday was cut day, and since I missed a whole week of practice and the first game, and they feel comfortable enough with another rookie, they decided to go ahead and let me go. Weíll just see how the roster plays out and possibly I can get on the practice squad.
You are on waivers the first 24 hours, and somebody can pick you up. If they pick you up, you keep the same contract. If nobody picks you up, but you make a practice squad, a practice squad player makes 70, 80 thousand. Once everybody gets the 53 man roster, then they start filling up practice squads.
They said the first week kind of messed me up when I was hurt. They felt like I was doing good, but they felt like I was behind a little bit when I got hurt. I didn't really think it was coming. They let go Terry Fair and Iím pretty sure he didnít know it was coming either. You donít necessarily know itís coming, sometimes it just happens.
I didnít hear it from the coach, it was just somebody from the office that I talked to. It was after practice, and he said come upstairs and bring your playbook with you. He told me I was doing well, but I was hurt. I have no clue who is going to pick me up. It just depends on the rosters, so you have no clue.
Iím disappointed, but I canít help that I got hurt and thatís pretty much the reason that I got cut. Life goes on.
I gave it a good run, but unfortunately that injury really did slow me down a lot. Thatís something that I canít take back.
I havenít thought about what I'll do if I don't make a practice squad. It hasnít crossed my mind, to be truthful with you. I could always just go with my degree and see what that gets me, or just do stuff around Blacksburg. Iíve got some things going on in Blacksburg. Iíve got different things I could be doing.
Coaching is a possibility too. I prefer to do what I know, which is D-line type stuff. Thatís what I really know. I donít know about the high school level. Thatís a possibility. The high school coaches donít get the respect or the money that they deserve all the time. They put a lot of effort into it, and they definitely deserve more rewards for putting that much effort into it.

Wednesday: Tennessee Picks Him Up
One of the people in the office called me up and asked me where I was at and what's the nearest airport, and they wanted to fly me up that night. They run a 4-3, and they're planning on using me at D-end. That's where I'm more comfortable, and I know what I'm doing. I'm playing some in Friday's game against Green Bay. They're going to play me in the second half, and there's going to be three or four of us rotating.
Their defensive scheme is similar to Virginia Tech, and they're an attack front. Pittsburgh's D-line was an attacking front, but their outside linebacker was more read what's going on and react from there. Here it's more of an attacking style like Virginia Tech.
One defensive end of theirs is out for the season, and also Travis LaBoy got a concussion and he's been out for two weeks. He should be back any time now, but he's hurt. So they need help on their D-end situation a little bit.
It'ss kind of weird, spending all that time with Pittsburgh and then being here. And also my first time being with them is going to be a game situation. I know some of the players from the Senior Bowl and different events that I've done during the offseason.
I don't really know their situation and what they plan on doing with me, but everything will be determined after tomorrow's game, I guess.

Next Update: Adibi finds out his fate with the Titans.

Previous Rookie Diaries With Nathaniel Adibi:
Rookie Diary #17: Adibi Misses First Preseason Game With Injury, 8/20/04
Rookie Diary #16: Training Camp Opens, 8/11/04
Rookie Diary #15: Adibi Signs Contract, 7/23/04
Rookie Diary #14: Adibi Working Out in Richmond, 6/25/04
Rookie Diary #13: Offseason Program Concludes, 6/11/04
Rookie Diary #12: Learning the System, 5/27/04
Rookie Diary #11: Steelers Minicamp, 5/18/04
Rookie Diary #10: Adibi's a Steeler, 4/30/04
Rookie Diary #9: Waiting for Draft Day, 4/23/04
Rookie Diary #8: Adibi Visits the Tennessee Titans, 4/16/04
Rookie Diary #7: The Second Pro Day, 4/2/04
Rookie Diary #6: A Solid Pro Day, 3/24/04
Rookie Diary #5: In Town for Pro Day, 3/17/04
Rookie Diary #4: Adibi's Time in Oakland Winds Down, 3/12/04
Rookie Diary #3: The Aftermath of the Combine, 3/4/04
Rookie Diary #2: Busy Weekend at the Combine for Adibi, 2/26/04
Rookie Diary #1: Adibi Prepares for the NFL Combine, 2/19/04