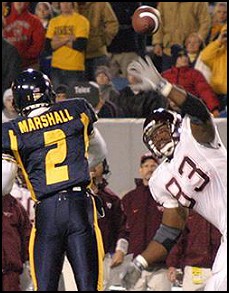 Rookie Diary #13: Offseason Program Concludes
by TechSideline.com, 6/11/04
For the most part, you do the same stuff everyday. You lift weights in the morning, and in the afternoon, we have meetings and practices. For the last week, it was more of an extended version of it. Instead of lifting weights in the morning, we had meetings starting at 8:30 to 11:00. After that we had an 11:00-12:00 lunch, and a 12:00-2:00 practice. So we went from meeting for an hour to meeting for two and a half hours, and we went from an hour and a half practice to a two-hour practice.
In the meetings, we spent more time as a group with the coaches, and then people came and talked to us individually about replenishing bodily fluids, heat exhaustion, and things of that nature, to get you to know what you're going to be going through for training camp [starting July 30th]. They had people come in and talk us to make sure we drink enough water and what the signs of heat exhaustion are. We only spent about 30 minutes on that stuff, so at least two hours was spent with the coaches.
We have 80% of our playbook in now. We're going to do some more stuff here and there, but we have the basic concepts of our defense in right now. I've been doing a lot better lately. I'm starting to get a lot more comfortable at my position. I actually know what I'm doing a lot more now. I move a lot better and know what I'm doing.
Once you get up there and hear the calls and try to know what's going on, it moves at whole different speed than it does in the readings.
On cooperating with other rookie OLBs who are competing for the same roster spot(s):
For the most part, when we rookies have a question, we help each other out. We're all at the same area right now. Everybody's learning what they have to do. In training camp, that's when things are going to start to separate, because that's when we have pads on. Right now, it's more of just a mental game, of knowing what you have to do.
In drills, I run with the second group, and the other outside linebacker with me is Alonzo Jackson, who got drafted last year, so he's a veteran. The other two rookie outside linebackers go with the third group. I'm not really in there with the other rookies, and even if I was, by the time I got to talk to a guy about what he might have messed up, or to help him out, the coach has already said something to him.
On making the team:
I know a big thing will be special teams. They've already got two great outside linebackers in Joey Porter and Clark Haggans. So those two are definitely the two starting outside linebackers. So as far as making the team, special teams are going to be an integral part of making the team and making the dress squad. We donít get as many reps as the starters, so we have to be ready to help out in other areas, like on special teams, or if somebody gets hurt.
I'm doing pretty well, like the last practice, I only made one or two mistakes, and that's normal, because I'm doing something new to me. If I have a problem or question, then at the end of practice I'll go to the coaches and talk to them myself, one-on-one, and ask them about my technique or whatever. I think things are going positive, but then again, you never know.
On advantages drafted rookies might have over rookie free agents:
The coaches treat everybody equally, other than when we first got here, I was number two on the depth chart, and the other guys were number three because they weren't drafted. But other than that, I don't see any difference in how we're treated. I get the motivation of getting to go through drills with guys like Alonzo Jackson, who have already played and know what they're doing. When we're up there, if I miss something, I can ask him, "What's the play again?" and he'll tell me real quick. But the other guys, they might both be struggling together, so I think in that sense, I might have a slight advantage. But all in all, the coaches do treat everybody the same.
Plans now that the offseason workouts are over:
Starting next week, I'm going to Richmond to work out with Velocity and keep training. That was set up by a marketing person that I work with, Curtis Stevens. He markets me in the Virginia area for no fee. He does it, and if we make a certain amount of money, then he'll get paid, but until then, there's no fee. So it's a great deal for me. He's a great person. He's based out of Richmond and he helps me get into marketing situations in the state of Virginia.
Next Update: Information on Velocity, and plans leading up to training camp.
Related Articles:
With the offseason program over, the Steelers are on vacation until training camp
Steelers.com, June 11, 2004
Bottom of class signed
SteelCitySports.com, June 9, 2004

Previous Rookie Diaries With Nathaniel Adibi:
Rookie Diary #12: Learning the System, 5/27/04
Rookie Diary #11: Steelers Minicamp, 5/18/04
Rookie Diary #10: Adibi's a Steeler, 4/30/04
Rookie Diary #9: Waiting for Draft Day, 4/23/04
Rookie Diary #8: Adibi Visits the Tennessee Titans, 4/16/04
Rookie Diary #7: The Second Pro Day, 4/2/04
Rookie Diary #6: A Solid Pro Day, 3/24/04
Rookie Diary #5: In Town for Pro Day, 3/17/04
Rookie Diary #4: Adibi's Time in Oakland Winds Down, 3/12/04
Rookie Diary #3: The Aftermath of the Combine, 3/4/04
Rookie Diary #2: Busy Weekend at the Combine for Adibi, 2/26/04
Rookie Diary #1: Adibi Prepares for the NFL Combine, 2/19/04