Rookie Diary #14: Adibi Working Out in Richmond
by TechSideline.com, 6/25/04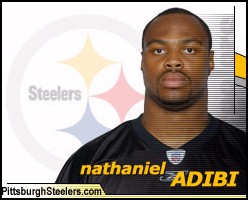 I've been working out at Velocity in Richmond for the last week or so. Velociy is really known as a pre-Combine place, one of the places where you would work out preparing for the Combine. I have a marketing guy down in Richmond, and I asked him if there were any places I could work out in Richmond or in Hampton. He said "They're building a new Velocity in Richmond, I'll go talk to them and see what I can do for you."
He set it up where I can work out at the Velocity for free, and all I have to do is talk to the kids there, like on Saturdays and stuff like that. I'll probably do some of that in July.
You pay to go here and work out, and they work on your technique, different drills designed to get you in shape, and things of that nature. There's some other guys, like one guy named Theo from Virginia State who's working out here. It's pretty much people from Virginia State, Virginia Union, plus some local high school kids, and other kids. Other than that, you don't see too many people working out here. There's a lot of kids, a lot of athletes, but not really any older people or people who aren't athletes. It just opened up in May, I believe.
I'm going to be doing Velocity all the way up until I leave for Pittsburgh training camp in late July.
I have an apartment. I did an internship last summer on the South side with the Beacon company. I stay in Bramblewood apartments on the South side. I'm staying with Kevin Lewis. He's doing an internship here, and he had a two-bedroom apartment, so I'm just hanging with him.
There's nothing new about how my contract negotiations are going. I'll call my agent in the next few days to see what's going on with that. I got myself a truck, a 2004 Yukon Denali XL that I'm leasing.
On Thursday, I met with some possible accountants that I can work with. They had some tickets to go to a thing -- Cory Alexander owns a car dealership here in Richmond, and him and Carmelo Anthony were doing a birthday bash in Richmond the whole weekend. I ended up getting VIP passes to all the events, and also they put me up in the Jefferson Hotel, which is like the best hotel in Richmond.
I got to meet different people this weekend. Carmelo Anthony, Nicole Ray, Dre Bly was there, DeAngelo Hall and Kevin Jones came down for it, plus another guy who plays for the Nuggets, Rodney White. There were two parties Friday night, and on Saturday, the street ballers who are on ESPN's "And 1" came down and played Richmond. Richmond won, and at the game, I saw Ernest [Wilford) and Duane (Brown). I ended up getting an extra ticket, so Jim Davis came down also, and he went out with me on Saturday night.
It was different, being in everybody's presence all at the same time.
I'll probably head home this weekend and visit my mom. My dad went out of the country to Tanzania, Africa to do some research, so I won't see my dad again for a while. By the time my dad is back in town, I'll be in training camp. Xavier's in Blacksburg doing the Iron Man competition. I see him on the weekends some.
Next Update: One more month until training camp starts.

Previous Rookie Diaries With Nathaniel Adibi:
Rookie Diary #13: Offseason Program Concludes, 6/11/04
Rookie Diary #12: Learning the System, 5/27/04
Rookie Diary #11: Steelers Minicamp, 5/18/04
Rookie Diary #10: Adibi's a Steeler, 4/30/04
Rookie Diary #9: Waiting for Draft Day, 4/23/04
Rookie Diary #8: Adibi Visits the Tennessee Titans, 4/16/04
Rookie Diary #7: The Second Pro Day, 4/2/04
Rookie Diary #6: A Solid Pro Day, 3/24/04
Rookie Diary #5: In Town for Pro Day, 3/17/04
Rookie Diary #4: Adibi's Time in Oakland Winds Down, 3/12/04
Rookie Diary #3: The Aftermath of the Combine, 3/4/04
Rookie Diary #2: Busy Weekend at the Combine for Adibi, 2/26/04
Rookie Diary #1: Adibi Prepares for the NFL Combine, 2/19/04