Rookie Diary #8: Adibi Visits the Tennessee Titans

by TechSideline.com, 4/16/04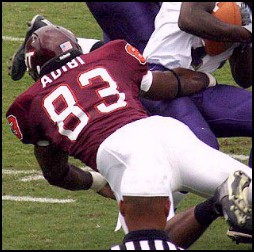 On Monday, April 12th, Nathaniel Adibi visited the Tennessee Titans in Nashville. He tells us how the trip went.
---
I found out early last week that I was going to go to Tennessee. My agent called and said they wanted to talk to me some more, nothing serious. I guess they wanted to get a feel for me a little bit more.
I left here around 4:00 Sunday. I arrived in Nashville around 6:30. I have some family in Nashville, so I got to visit with them. My cousin picked me up, and he took me around to see my uncle, and he took me out to dinner. I went to bed around 11:00 that night, and the next morning, I had to be at the Titans' facility at 8:30.
When I first got there, I met with a psychologist. They wanted to see how I best learned, whether it was visual or verbally. He didn't really tally up all my scores, but he said it seemed like, just by looking, that I was pretty good at both of them.
Some of these tests are tedious, some of them are fun. But other things are boring, like taking an exam that might be pages long. The verbal stuff, that's all right. Sometimes it gets tedious and tiresome, but it's all part of the process, and you have to deal with it.
When I was done with him, I talked to the defensive coordinator [Jimmy Schwartz] some, the head coach [Jeff Fisher] some, and then I met with the GM [Floyd Reese] later that evening. I had already talked to the defensive coordinator and defensive line coach at the Combine.
Jimmy Schwartz and I didn't really talk about too much. He asked me how things were going, making sure I kept training, and he told me that if I wound up going there, to make sure I was in shape when I came in, and make sure Iím ready to play a lot of games. Pretty much to make sure I was in shape mentally and physically. That conversation lasted about ten or fifteen minutes.
Coach Fisher said the same thing, pretty much to make sure I came ready to work and to play. He was telling me that when Jevon Kearse came in, he played 26 games his rookie year. Preseason, the regular season, then they went to the Super Bowl, then the Pro Bowl. He said be prepared to play a hell of a lot of games.
I'd never thought about it that way. It's like playing two college seasons.
Mr. Reese told me the reason they brought me down was to get a better feel of the players they were thinking about drafting. He said a couple years ago, they drafted somebody, and they wound up teaching him in a way that he wasn't able to learn the most efficiently. That's why I took the psychology test when I first got there.
Facilities-wise, they have pretty much the same stuff that we do in the weight room at Virginia Tech, but the weight room at Tech is bigger. We have more space, and a lot more equipment than they do. Usually, NFL weight rooms aren't that big. They don't have as many players, and they spend most of their money on the players themselves [laughs]. They're nice, don't get me wrong, but they're not as nice as what we've got at Tech.
I know they're definitely interested in me. They already told me that. But it comes down to who's in the draft at what time, when their picks come up. Do they have somebody who's higher on their board than me? It all comes down to who's left, and who gets taken. They definitely like me, but you never know.
On draft day, I'm going to be at the spring game, and I'll be up in the club area [in Tech's south end zone facility], watching the spring game and watching the draft.

Next Update: Draft day is rapidly approaching.

Previous Rookie Diaries With Nathaniel Adibi:
Rookie Diary #7: The Second Pro Day, 4/2/04
Rookie Diary #6: A Solid Pro Day, 3/24/04
Rookie Diary #5: In Town for Pro Day, 3/17/04
Rookie Diary #4: Adibi's Time in Oakland Winds Down, 3/12/04
Rookie Diary #3: The Aftermath of the Combine, 3/4/04
Rookie Diary #2: Busy Weekend at the Combine for Adibi, 2/26/04
Rookie Diary #1: Adibi Prepares for the NFL Combine, 2/19/04



Copyright © 2004 Maroon Pride, LLC