Rookie Diary #9: Waiting for Draft Day

by TechSideline.com, 4/23/04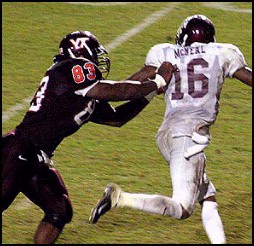 Right now, I'm doing stuff try to keep my mind off of the draft. You keep thinking about it and dwelling on it, and it seems like days are forever. I try to keep occupied, whether it's watching TV, watching the playoffs, working out, chilling, going over to my friends' places, trying to keep myself occupied, and let the time go faster and make sure I stay in shape.
Tonight [Thursday] for example, I'm going to Jim Davis' place, and sometimes I see Mikal [Baaqee] or Vinnie [Fuller]. Sometimes my girlfriend will come visit, or I'll go see her in Richmond or go home for a weekend. So I do a variety of things, since I have so much time on my hands. And I spend time with my brother, of course, and DJ [Parker], a fellow Phoebus kid.
All my life, I've been playing football just to play football. High school, when I played football, I never thought about going to college to play football. It was just something that happened. Just like when I got to college. Playing in the NFL is just something that popped up, not something I really planned on. When I was younger, I never said, "I'm going to play for the 49ers." It was nothing like that. When I was growing up, my favorite college team was Notre Dame. I used to love Notre Dame, I always watched Notre Dame. I watched their football team play all the time, but I never thought, "I'm going to go there and play football." Playing college football was just something that happened.
This is going to be my livelihood now, so of course, the money is great. But I think that if you don't like what you're doing, then you're not going to be successful at what you're doing. The money is great, but you've got to like what you do to be successful at it, and that's why I'm playing. I want to be successful at it. I want a championship so bad. I've never won a championship. Came close a couple of times, but I never quite made it just yet. And that's what I'm shooting for now. I have to go for the big Super Bowl ring now.
I talked to my agent this week, but nothing about who's interested in me. We're pretty much just waiting now. It's like a dead period right now. Everybody's getting together team-wise and going over their draft possibilities. Teams that have called me this week have just been verifying draft day phone numbers and such. Teams that called me so far have been Miami, the Jets, Atlanta, Green Bay, Jacksonville, Washington, Seattle, the Houston Texas, the Arizona Cardinals, Dallas Cowboys, Tennessee.
I talked to a couple of teams that say they're interested, like the Titans, the Cardinals, Atlanta. The guy from the Rams said they liked me a lot, and Dallas I believe likes me.
My parents, family and friends are coming to visit. Saturday, I'm going to be watching the spring game. I'll be up in a box [in the South end zone]. The Monogram Club invited everybody. I'm not sure who all is going. Plus I might be on the field a little bit. I'm not totally sure. But I'm definitely going to be watching my brother in the game. I think the first round will last probably through the whole game because they have so much time between picks.
I can't really go into areas where it's loud, or I can't receive a signal for my cell phone. So I'll probably just go home after the spring game, watch TV and chill for a little bit. And just wait. Wait for a phone call, really. Hope for the best, expect the worst. That's all you can do.
When I get the call, I don't know what I'm going to do. I have no clue. Pretty much be glad that everything's over with, and that I know where I'm going to go to, at least. Just happiness, I guess. I couldn't really tell you.

Next Update: Draft day is rapidly approaching.

Previous Rookie Diaries With Nathaniel Adibi:
Rookie Diary #8: Adibi Visits the Tennessee Titans, 4/16/04
Rookie Diary #7: The Second Pro Day, 4/2/04
Rookie Diary #6: A Solid Pro Day, 3/24/04
Rookie Diary #5: In Town for Pro Day, 3/17/04
Rookie Diary #4: Adibi's Time in Oakland Winds Down, 3/12/04
Rookie Diary #3: The Aftermath of the Combine, 3/4/04
Rookie Diary #2: Busy Weekend at the Combine for Adibi, 2/26/04
Rookie Diary #1: Adibi Prepares for the NFL Combine, 2/19/04



Copyright © 2004 Maroon Pride, LLC