Rookie Diary #10: Adibi's a Steeler

by TechSideline.com, 4/30/04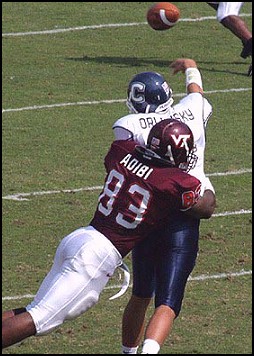 Saturday I went to the spring game, where I was in the box area with the Monogram Club, and also we had some RPM people up there also -- my major [Residential Property Management] -- so I was in two suites, going back and forth and watching the game. I was with my cousin, my girlfriend, Cols Colas, Franklin Bowser and Wayne Briggs, a couple ex-Hokies. We were just talking to people, chilling, watching the game. I was watching the draft some, but nothing too serious at that time.
After that, I went back home, watched the basketball game, and just waited to see something happen. I didn't get drafted that day, and the next day, the draft started at 11:00. My parents and cousin came, and we sat and watched TV, going back and forth between the draft and the basketball games again. Pretty much just waiting for a phone call, honestly.
I'm not exactly sure when I got called, but the fifth round started around 12:30 or 1:00, so it was about that time. Dallas was on the clock when I got a phone call, and I thought it was Dallas calling me, but it was actually the Pittsburgh Steelers calling me, telling me that they were going to draft me with the next pick. I talked to Bill Cowher, I talked to the GM, the owner, the defensive coordinator, the linebackers coach. Bill Cowher told me congratulations on becoming a Steeler. He thought I had a good workout. And that was pretty much it, everybody saying congratulations on becoming a Steeler.
I knew that finally I didn't have to wait anymore, and I knew where I was going to, finally. There's the relief of knowing where you'll be at for the next three or four years.
They play a 3-4 defense, so now I'm going to be playing the outside linebacker position. They've got a good linebacking corps, so hopefully I'll just go out there and play and have fun. I know I'm going to be playing a lot of special teams, so I'll be dressed out and seeing the field. I have to contribute that way.
My focus is going to be on learning the system, and whenever they need me to play, be it a third-down situation or relieve somebody once in a while, that's going to be my job. Once I learn the system, hopefully I can take on a bigger role.
I'm leaving on Thursday morning, May 6th to fly to Pittsburgh, and I'll be flying back Sunday to Norfolk. That's the rookie minicamp, May 6th through May 9th. I have no clue what's going to happen. I know we have practice, but other than that, I have no clue whatsoever.
One of the ladies who works for Bill Cowher called me and gave me my flight information and told me what to wear for Friday. Thursday night, they're having a dinner for us. All my stuff is packed, so I have to go buy me a pair of khakis and a polo shirt.
I know Max Starks, the offensive tackle from Florida who got drafted by the Steelers in the third round. I already talked to him. I got his number through Bobby McCray, a defensive end from Florida who's good friends with me. I wished him congratulations.
The Pittsburgh Steelers have a very rich tradition and history. Hopefully, I can go out there and fulfill my goals. They've always been know for their defense. I've seen their jerseys in our area, like Terry Bradshaw, Mean Joe Greene, Lynn Swann, players like that. I don't know much about the city itself, other than we go there every year and get beat by the Pittsburgh Panthers, it seems like. Other than that, I don't know too much about the city itself. But I had a cousin who went there and graduated from Pitt, so I know if I have any questions about the area, I can always call her.
I guess I have to talk to my agency about the contract, and have them keep me informed, especially about what incentives are going to be involved, so I at least have goals in mind with regards to what's in the contract. I have no clue how fast it will work or when it will get done.
I need to focus on the playbook, try not to mess up, waste as little time as possible. I need to learn quickly, show them that I can learn at a fast pace. I've been running a lot, so I'll go there in shape. I've never been a linebacker before, or been through linebacker practices before. That will be a different situation for me. I've been playing football all my life, and picking up pass coverage shouldn't be a problem.
I've been doing drills with Cornell Brown, I've been playing basketball. I'm not good at it, but I play it to get out there and run around. Cornell hasn't really given me any advice, but I've asked him questions in general. He told me how my practices are going to be. He said they're more of a lunch pail type team, they'll go to practice every day. He said they practice a lot, but that won't be hard for me to get used to. He said in Pittsburgh they do a lot more rushing from the outside linebacker position, but that the Ravens do a lot more coverage.
He said that the rivalry between Pittsburgh and Baltimore is a big rivalry, and that's going to be a game, where you know … everything's out the door.
I'm working out with Cornell until Tuesday, and I'm going home then, and I'll fly out to Pittsburgh on Thursday the 6th. After rookie mini-camp, I have voluntary workouts starting May 17th.

Next Update: Rookie mini-camp.

Previous Rookie Diaries With Nathaniel Adibi:
Rookie Diary #9: Waiting for Draft Day, 4/23/04
Rookie Diary #8: Adibi Visits the Tennessee Titans, 4/16/04
Rookie Diary #7: The Second Pro Day, 4/2/04
Rookie Diary #6: A Solid Pro Day, 3/24/04
Rookie Diary #5: In Town for Pro Day, 3/17/04
Rookie Diary #4: Adibi's Time in Oakland Winds Down, 3/12/04
Rookie Diary #3: The Aftermath of the Combine, 3/4/04
Rookie Diary #2: Busy Weekend at the Combine for Adibi, 2/26/04
Rookie Diary #1: Adibi Prepares for the NFL Combine, 2/19/04



Copyright © 2004 Maroon Pride, LLC