Rookie Diary #11: Steelers Minicamp

by TechSideline.com, 5/18/04
Editor's Note: From May 6th through May 10th, Nathaniel Adibi got his introduction to the NFL at the Pittsburgh Steelers' four-day minicamp for rookies and veterans.
---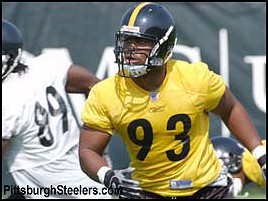 Thursday we got in, checked in, and went to the complex. We did our physicals there. All we did Thursday was physicals. After that we went back to the hotel and chilled for the night.
On Friday we had a seven o'clock wake up call, and we had two-a-day practices. We woke up, had a shuttle to take us to the facilities, where we stayed until about five o'clock each day. We got home about six o'clock, usually.
Friday morning we had to do some bloodwork. The line was long, and since some of us were rookies, the veterans kept cutting in line in front of us. We pretty much knew how it was going to go. But they [the veterans] didn't give us rookies a hard time at all, honestly. Any time I needed help with anything, Joey Porter and Clark Haggans, another outside linebacker, helped me out. A second-year player, Alonzo Jackson out of Florida State, helped me a lot. It wasn't nearly as bad as I thought it was going to be, with them telling you the wrong things to do, and stuff like that. They helped me out a lot, actually, especially Alonzo.
The only people that did not show were Plexico Burress and one other player, I can't remember who.
Practice wasn't hard at all. Usually you get a lot of walk-through stuff, you learn a lot, and you do a lot of seven-on-seven and speed drills. Practice was about an hour and a half long, and that was it. It was sort, sweet and to the point. A lot of the harder stuff was meetings and trying to learn things. My thing is, to begin with, I'm learning a different position. I've never played the position, so I'm learning coverages now. In one formation, I'm a rush end, if they shift I drop back into coverage, I might cover different people Ö getting all that down is tough.
Sometimes, you know what you're doing, and then the stupid offense will shift, and then you're doing something totally different. You hear all these calls being called on defense, and you're trying to figure out what you're doing, and all of sudden the ball is hiked, and you've got to run. Sometimes you guess right, sometimes you guess wrong. I think I did really good for it being my first time playing outside linebacker and all.
They want you to get everything down, so there's a lot of repetition, but they're patient, especially since all of us have never played outside linebacker before. We were all D-ends. [The rookie outside linebacker group included Adibi, Allen Augustin from FSU, Nick McNeil from Western Carolina, and Dedrick Roper from Northwood.]
We haven't seen nearly the whole playbook. We're coming back May 16th for what's called a coaching clinic, and that will include all the same stuff and also give us some new plays. Everything's just running together right now, in terms of plays and what I'm supposed to do. Once I hear it over and over again and do it over and over again, then that's when everything will become second nature. But right now, it's one thing to do it on paper and another thing to have to actually go up there and do it, and listen for the calls. Thatís where all the problems come in.
It was pretty laid back. We only did conditioning for one day. We had three full gassers and one half-gasser on our Saturday afternoon practice. Other than that, practice was laid back. You establish a full speed, but you don't have helmets on. It's amazing how they take care of each other. They play hard, but they also take care of each other at the same time.
It's definitely amazing seeing people that you've seen on TV, and see how they play, and how they practice, and to see their technique and how they do stuff. I watched them to see how they approach practices and how they approach each play. That's something I was definitely watching. You know there's some great athletes. Even the offensive linemen. Watching them pass blocking, they get back fast. I know I'm in a whole different league right now.
I'm just waiting for my opportunity to show them what I can do. I've been talking to the special teams coach a lot, because I know I'll be playing a lot of special teams. That's how I'm going to make the team this year, is by playing a lot of special teams.
Size-wise, it's no different from college, really. These guys are the same size, but they're more fundamentally sound in what they do. They really know what they're doing, and that's the biggest difference, they do it a lot faster than they do in college. You go against some big people already in college, like Boston College, West Virginia, the Miami guys. They're big guys, but they don't have that skill level like the professional players do.
Coaching's about the same. Coaches are more laid back because they realize this is more of a business. They're not as strict as they are in college. Like for example, in college they want all the players to wear the same thing to practice. And here they wear their jerseys, but underneath, they'll have their own stuff, like Under Armour stuff, because everybody has their own thing they like to wear. So it's not as strict as college per se, but it's definitely still a disciplined team.
We had a luncheon on Friday afternoon, where they brought some of the old Steelers down. Mean Joe Greene was there, he's part of the Pittsburgh organization now. There were a lot of people there, all the rookies and new free agents, like Duce Staley, plus some of the old coaching staff and some of the old-time Pittsburgh Steelers.
But other than that, you were tired when you got back to your room. I had my playbook, and I went to bed by eleven or twelve o'clock each night and got up around six-thirty.
All the rookies got along real well. We ate together some and went around Pittsburgh a little bit. Everybody got along real well. I wouldn't say there was any one person I connected with, but I will say all the rookies seemed to get along real well.
This summer, I'll be up there for a coaching clinic and summer conditioning. You get a certain number of practices, I think it's 14, so from Sunday to June 10th, I'll be up there training and working out. June 10th I'll fly back to Virginia. All the rookies who were drafted have to go to San Diego on June 27th through 30th for the Rookie Symposium, where they talk to you and teach you some stuff about the NFL. That's a requirement. After that, Iím free all the way up to training camp.
When I left, I asked Coach [Dick] LeBeau, the defensive coordinator, about how everything went with me, and he said I did good for my first time. So I guess that's a good starting point for me, and I'm looking forward to going back on Sunday and keep trying to perfect my craft.

Next Update:

Previous Rookie Diaries With Nathaniel Adibi:
Rookie Diary #10: Adibi's a Steeler, 4/30/04
Rookie Diary #9: Waiting for Draft Day, 4/23/04
Rookie Diary #8: Adibi Visits the Tennessee Titans, 4/16/04
Rookie Diary #7: The Second Pro Day, 4/2/04
Rookie Diary #6: A Solid Pro Day, 3/24/04
Rookie Diary #5: In Town for Pro Day, 3/17/04
Rookie Diary #4: Adibi's Time in Oakland Winds Down, 3/12/04
Rookie Diary #3: The Aftermath of the Combine, 3/4/04
Rookie Diary #2: Busy Weekend at the Combine for Adibi, 2/26/04
Rookie Diary #1: Adibi Prepares for the NFL Combine, 2/19/04



Copyright © 2004 Maroon Pride, LLC