Rookie Diary #4: Adibi's Time in Oakland Winds Down

by TechSideline.com, 3/12/04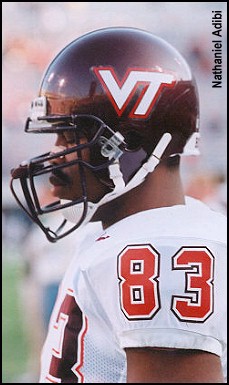 In this latest installment of Nathaniel Adibi's rookie diary, he talks to us about a number of topics, as he prepares to leave Oakland and return to Blacksburg for Pro Day testing.
---
I'm still doing my drills, my lateral drills, still working on running the forty and keeping everything fine-tuned. Plus I'm doing a little more conditioning. A lot more people have left. There's three of us left from Octagon, and two of us are flying out on Monday. I'm flying to Norfolk Monday and then flying to Roanoke Tuesday morning.
I'm staying with my parents Monday night, and I'll stay in my old apartment in Blacksburg. My roommate was Keith Willis, but my last year, I lived by myself. So my apartment is still available.
I'm going to get into Blacksburg Tuesday night and keep working out there, just fine tune everything and keep in my groove before Pro Day [on Thursday, March 18]. I'm looking forward to seeing everybody. I talk to Coach Wiles every once in a while. I'm going to see him when I get back, give him a holler, him and Coach Foster, and Coach Beamer. I'll probably see Coach Gentry every day, Tuesday, Wednesday, Thursday, and Friday.
The Rams called me, and they were making sure that I was working out on Thursday, and making sure they got my address right and my cell phone number. They said they were looking forward to working me out Thursday. It was an assistant coach that called me.

On Draft Experts Like Mel Kiper, Who Have Essentially Ignored Him to This Point
I guess it can be good and bad. I guess people do read his stuff, and you can get some good publicity, but he's not one of the 32 teams who is choosing. So it doesn't really matter necessarily what he thinks, per se. There are 32 teams, and 31 can hate you, but as long as there's what one that chooses you, then you're drafted.
It's good and bad. Publicity's always good for you, but he has no type of choice in who's going to get drafted or anything like that. All you need is one team to like you, and that's what you look for. People can say you're a fourth-round draft pick, but if somebody picks you in the second round, then you're a second-round draft pick. That's what you try to strive for, is to make that one team like you.

About the Ankle He Tweaked at the Combine
It was nothing big. When I get back [to Blacksburg], I'm definitely going to get a little treatment on that. But it's nothing big at all. I've iced it down out here and tried to exercise it and strengthen it up. But nothing's better than getting actual treatment, like ultrasound, and that's what I'm going to get when I get back to Blacksburg.

On the Questions NFL Personnel Asked at the Combine
There really were no "tough" questions, really. They're simple. What's your best three games, what's your worst three games, how much do you bench, questions about your family, where you grew up, that kind of thing. It's nothing too serious.
Some coaches want to ask you about the game itself, to see how much you know about football. What type of defense you played in, where you lined up, what your responsibilities were, all that kind of stuff. It's nothing too difficult, honestly.
I've heard about some really [off the wall stuff]. I haven't really gotten any off the wall questions. I know one cat -- coaches try to play mind games with you. One guy, a coach asked him, "How can I pick you out on a game film? He told the coach, "I'm always going to be the person running to the ball. No matter where the ball's at, I'm always running to the ball." And the coach told the player, "I looked at every game you played in. I studied every game you played in, I looked at every play, and you're telling a f----- lie." [Laughs hard.] That's the kind of reaction they try to get from you. They'll hit you with something like that to see how you react to them.

On the Contrast Between His Workouts in Oakland and VT Workouts
The guy I'm working out with [in Oakland] is more of a track person, and he does a lot of [different] stuff [than VT]. I definitely will go in there and talk to [Coach Gentry] when I have a chance to, and he has a chance, and I'll definitely go and show him some of the stuff I've been taught.
The difference between what Coach Gentry does and what I'm out here doing is -- pretty much, the Combine is based on -- it's almost like being a track athlete. You're running, you're jumping, you're doing lots of agility drills. It's pretty much trying to see how you are as an overall athlete, not how you are as a football player. When Coach Gentry does his stuff, it pertains more to football. He wants to do more explosive stuff, like power cleans, push jerk, squat, to make your lower body strong, so you can survive on a football field.
If you could put both together, it would be good. We're a little tight, because we lift weights so much, where if you go into a track environment, they're really loose and flexible. They don't pull muscles like a football player does. Most of us really can't stretch all too well. So if someone could put both together, it would get a lot better, I think.
But you know, track athletes don't lift as much weight as we do. And if we just did track-type workouts, we'd be really slender.

On Agents and Searching for an Agency
It was almost like choosing college again. All of the agencies called me, honestly. Everybody contacted me. I'd talk to people on the telephone and see what kind of vibes I got from people. Some of them were ridiculous. Like one dude was telling me, yeah, I'm working on a Nike contract for you right now. This was back when I was in like the second week of the season. I was like, yeah, keep working on my Nike contract.
Agents can always talk to you, they just can't buy you stuff. You can talk to agents when you're a freshman in college, basically, as long as they don't buy you anything, you don't take any cash from them … you can't even get a ride with them. They can't buy your family anything, your friends anything. It's really strict. You can't accept anything from an agency until you sign with them, or until your NCAA eligibility is up.
If you can find an agent you trust, that helps push you and show you the right path, it's good. You definitely know he's working for you, but this is your first time going through this, and he's been through it before, working with other players. If you can let him guide you in the type of path you want to take, both during football and after football.
I felt [my agent] Mike Sullivan was a great contract writer -- that's definitely important. But the other things matter, too. Octagon is backed by a great marketing firm. A marketing form owns Octagon, pretty much. So they have great marketing capabilities, too.
I felt like overall, their marketing capabilities can help me do other stuff, especially just do more stuff back in my hometown, back in Hampton. Maybe start some type of camp. I'm not really sure what all I want to do, but I know when the time is right, they can help me do that.
Next Week: We'll catch up with Adibi before Pro Day.

Previous Rookie Diaries With Nathaniel Adibi:
Rookie Diary #3: The Aftermath of the Combine, 3/4/04
Rookie Diary #2: Busy Weekend at the Combine for Adibi, 2/26/04
Rookie Diary #1: Adibi Prepares for the NFL Combine, 2/19/04



Copyright © 2003 Maroon Pride, LLC