Rookie Diary #3: The Aftermath of the Combine

by TechSideline.com, 3/4/04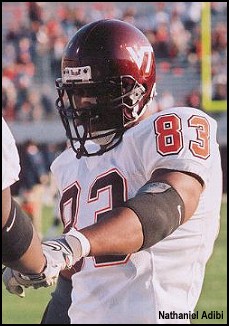 In this latest installment of Nathaniel Adibi's rookie diary, he reflects on his NFL Combine experience and describes his days in Oakland.
---
[The last week] I've pretty much been doing the same thing I was doing before the Combine, but I've also started working on stuff that I need to improve on. I've been working on strength, conditioning, the forty, and agility drills. Right now I'm doing a little bit more agility drills to work on linebacker stuff, and also lifting weights a lot heavier.
I was talking to my agent, Mike Sullivan, and he said that all the people that he talked to said that I did pretty good at the Combine. So I guess that's a good sign. They say I ran a pretty good forty, and only so many other linebackers and D-ends ran that kind of forty.
Mike said that it's still a big clump, and I can go anywhere from late second to fourth round. So there's a big glob of D-ends/linebackers in the pool, and they still have to figure out where everyone's going to go.
There's about 15 or 20 guys [working out in Oakland]. Now, everybody's sort of going different places. I know some people are disappointed with what they ran at the Combine, so they went back to work out at their [college] facilities. Also, some people are leaving because their Pro Days are coming up pretty soon, and they wanted to spend time working on just regular fundamentals of football, at their college, with their coach.
I'm going to be at Virginia Tech from the first Pro Day [Thursday, March 18th] right up to the draft [April 24th]. I'm going to be at Tech for the spring game to watch my brother play.

On Being Asked to Do Linebacker Drills at the Combine, for Which He Was Not Prepared:
I talked to Mike [Sullivan] about that, and he said usually, at the Senior Bowl, if you're a D-end, they'll ask to see you at linebacker some. But in my case, nobody asked to see that from me. So that's why he figured that I was a straight D-end.
I had practiced the L-drill in a left-handed stance, and all the people I talked to said they had been practicing it in a left-handed stance, too. Imagine taking a sprinter, who has a way that he gets off the blocks and sprints when he runs a hundred, and it's like telling him to start off the other foot. That's how I am, and pretty much they're telling me I have to change that and go the other way. Football-wise, it's great, in a football stance, that's fine, but in a sprinter's stance, it's kind of hard just to flip over like that. I can do it, I just need to work at it.
They just did that this year. Last year, it didn't matter, but this year, they switched it up. The thing about it -- Dontarrious Thomas, the linebacker from Auburn, he's working out with us, and he does it the same way I do it. When he went to do it, they told him to get in the other stance, and one of the NFL people that was working us out said, "He can do it in a left-handed stance if he wants to do a left-handed stance," but another one said, "No, we want everybody to do it in a right-handed stance." So even they were bickering about it, but it wasn't a big deal. He said he would do it later at his Pro Day.

On His Daily Activities As He Trains in Oakland:
I wake up around 7:15 to 7:30. We have a restaurant that makes us breakfast, and we eat there. Around 8:00 to 8:45, we go to our facilities, and we do agility stuff and run from 9:00 to 11:00. We usually do situps -- we do about 2,000 situps every day. We lift weights from about 12:00 to 12:30, then we go eat lunch at our restaurant, then come back and take a nap or something like that. We'll watch TV and chill all afternoon, then head back to the restaurant for dinner. Everything's customized to our working out purposes. Nothing fatty, everything lean, usually.
I've only been out once since I got out here. I went out the first day I got here, just to check things out, and ever since then, I've just been out here chillin'. I went out to my friend's birthday party, he had a little birthday party in the area, the guy I'm working out with, and I went to that. Those are the only two times I've been out since I got to Oakland. I've definitely been concentrating on what I came here to do, and trying to stay focused on the task at hand.
Like I said, there's about 15 or 20 guys. Some do go out, and are the going out people. Some who live in the area lay low or go to a friend's house and chill. The people who came in from out of town, some of them like to go out. I'm not worried about anybody else, honestly, I'm just focusing on what I have to do. Thatís their business, if they want to go out and drink, but my thing is, I know what I have to do.
I donít wish no harm on anybody, but if somebody were to do something like get a DUI, and he was rated a first-round pick or something, that makes him look bad, and that might drop him and make me go up. You can do whatever you want to, but I'm going to stay focused, and I'm not going to get myself in any trouble. I'm not going to be stupid, and I'm not going to get myself in any trouble.

On His Family, and Xavier:
I talk to my parents pretty much every day or every other day, and I talk to Xavier, especially about some of the stuff that's going on now. I tell him to make sure that he doesnít get into any trouble, because that's something they look for now, especially in the League. Everybody's question is pretty much have ever been arrested, have you ever gotten in trouble with your school, have you ever gotten disciplined by your coaches. That's a big topic now. I've never had none of that stuff. So I'm staying focused on what I have to do, because getting into trouble would be stupid.
I tell him to take care of classes and to have his fun, but to make sure that he stays focused. I talked to Kevin Lewis the other day, and he said, "Man, your brother is getting huge!"
When my brother first got here, he surprised me with how good he was, honestly. I didn't think he was bad or nothing like that, but I saw him go in certain drills, middle drills, and stuff like that Ö he surprises me. He surprises me.

Next Week: Workouts continue in preparation for Pro Day at VT.

Previous Rookie Diaries With Nathaniel Adibi:
Rookie Diary #2: Busy Weekend at the Combine for Adibi, 2/26/04
Rookie Diary #1: Adibi Prepares for the NFL Combine, 2/19/04



Copyright © 2003 Maroon Pride, LLC