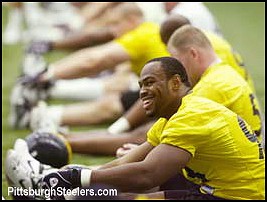 Rookie Diary #12: Learning the System
by TechSideline.com, 5/27/04
In the mornings, I usually ride to practice with Ben Roethlisberger and Nick McNeil. Ben brought his truck up here, so I ride to practice with him in the morning. I get there around 7:45, and we start lifting weights around 8:10. We finish lifting weights around 9:30 or 9:45, then we do a little bit of conditioning work.
About 10:00, we have meetings with the football coaches. That goes from about 10:00 to about 11:00, and then we practice from 11:15 to 12:30 or 12:45. After that, I come back here and I eat lunch and take a nap, wake up, watch TV, go through my playbook, and then go to bed about 11:00 or 12:00. That's every day, except weekends.
It's pretty much like being in mini-camp again. They're called coaching sessions. We stretch, do walk-throughs. The defense gets together, the offense gets together, and we walk through what we're studying that day. Then we go with our position coaches and do more walk-throughs and individual drills for our position. Then we have 7-on-7 pass scales and work on our pass scales a bit. Then we get together as a team for a little bit, and that's it. That's practice.
I've started learning what I'm doing a lot better. When I mess up now, I know what it is I did wrong. I'm just trying to move a little faster now. I still have my mistakes, but I'm definitely learning what I'm doing a lot better.
What I do in the pass scales depends upon what the defense is. I cover the tight end one-on-one sometimes, I drop back in zone, I'm on a wide receiver at times, and a running back at times. It's not bad, really, especially when you get the technique down. Knowing where your help is at, knowing if you need to be more outside because you have inside help, or be inside because you have outside help. Knowing where people are on defense.
When you drop back, you have to stay on your feet so when the ball is thrown, you can be ready to break on the ball right now, without having to gather yourself. That's one thing they've got me working on, plus being able to read the quarterback's eyes and anticipate where the ball is going. Also learn a little bit more about how to cut off passing routes, learn how maybe if a receiver is doing an out route, how to break on him a little bit faster. I think I'm getting better as I'm watching the quarterback.
I came close a couple times to getting my hands on the ball, but I haven't gotten one yet. Back in high school, my hands were real good, but since I've been in college, my hands have gone back to zero. I played tailback in high school, I played tight end, wide receiver, fullback. So I got my hands on the ball a lot more. They're starting to come back now, though. I can catch a lot better now.
I donít really talk to the coaches a lot about how I'm doing. I ask them when I have questions about a play, but it's rare, maybe once in a while, where I go to them and ask them how I'm doing. Really the only time I've done that is after mini-camp, when I asked the defensive coordinator, and he said I was doing pretty well for it being my first time standing up. Other than that, I haven't really gone to a coach and asked him how I'm doing.
I'm doing pretty good. Everybody makes mistakes, but I haven't done anything real stupid to embarrass myself.
Ben Roethlisberger is a real good guy. He has a strong arm. I hang around with him a lot. He's one of the main people I chill with, him and Nick McNeil out of Western Carolina. All of us are in this apartment area. At first Ben and Nick were roommates, and then he wound up getting a place to himself, and me and him live right next to each other. He asked me and Nick if we wanted to go out and eat one time, and ever since then, we've been chilling together.
Ben's real cool, he's really laid back. He seems to be a good leader, though I'm not really around him for offensive purposes. He seems to be a real good person. He has a great arm. He's strong, and he seems to move pretty well.
I haven't talked to anybody who has talked about any type of contract negotiations. I know Nick, being a free agent, he signed about a ten thousand dollar contract. Other than that, I don't know anything about anybody's contract. Matt [Kranchick] and Drew [Caylor] are two players who signed contracts already, and I haven't really talked to them about the ins and outs of their contracts. In some cases, some players are a little bit more into it, but in most cases, I think the players trust their agents to do a good job and take care of things.
In Ben's situation, he's looking for a house. He's got the kind of money in his situation where he can look for a house, so that's what he's looking for. I'm probably going to start looking for an apartment next week, maybe a townhouse, depending upon what's the best situation. If renting is almost the same as a payment on a townhouse, then I'll go ahead and own a townhouse.
Pittsburgh is definitely a different city. First of all, it rains all the time here. Thunderstorms, steady rains, you see lightning at night. It's raining all the time. Everything around here actually closes by eight o'clock downtown. It's crazy. If you want to go to a mall or anything of that nature, everything's on the outskirts of Pittsburgh. There's not too many fast food places. There's no IHOP here, so if you want a pancake house or something, you have to take like a fifteen minute drive. Everything you can do is really on the outskirts of Pittsburgh.
We go out to eat, maybe drive around here and there. They've got a waterfront area that's pretty cool with some different stuff to do.
I gave my Plymouth to my brother. I'm going to work on getting me another vehicle. Being up North, I'm probably going to get me a truck, since I'm going to be driving in snow a lot. I had a '98 Plymouth Breeze. It was good, I've had it since I was a senior in high school, and it's been with me all up and down the east coast. I'm working with my agency on getting me a deal on an SUV, possibly a Denali.
I'm heading back to Virginia right now, and I'm going to chill there till Monday and head back up on Monday. Then the coaching sessions start back up on Tuesday [June 1st]. That runs through June 10th, and then there's the Rookie Symposium on June 27th.

Previous Rookie Diaries With Nathaniel Adibi:
Rookie Diary #11: Steelers Minicamp, 5/18/04
Rookie Diary #10: Adibi's a Steeler, 4/30/04
Rookie Diary #9: Waiting for Draft Day, 4/23/04
Rookie Diary #8: Adibi Visits the Tennessee Titans, 4/16/04
Rookie Diary #7: The Second Pro Day, 4/2/04
Rookie Diary #6: A Solid Pro Day, 3/24/04
Rookie Diary #5: In Town for Pro Day, 3/17/04
Rookie Diary #4: Adibi's Time in Oakland Winds Down, 3/12/04
Rookie Diary #3: The Aftermath of the Combine, 3/4/04
Rookie Diary #2: Busy Weekend at the Combine for Adibi, 2/26/04
Rookie Diary #1: Adibi Prepares for the NFL Combine, 2/19/04