Rookie Diary #15: Adibi Signs Contract
by TechSideline.com, 7/23/04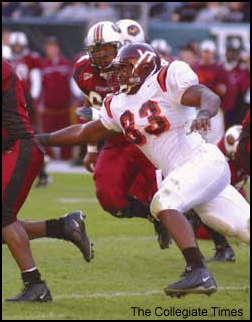 I just signed my contract. Itís a three-year contract. I have a $121,000 signing bonus, and the base salary is $230k for next year [then up to $305k and $385k, for a minimum three-year contract value of $1,041,500]. Itís good knowing that I donít have to depend upon anyone else, like my parents, for money. I can take care of things myself now, and thatís always great.
The contract worked out good. We were trying to get a $125,000 signing bonus, so we got real close to that. A three-year deal is always great. All in all, I had an increase in salary from last year, and the moneyís good. Iím happy with what I do have, and I didnít really want to press for more.
I may buy the condo that Iím renting, because the area is nice. I may just do that and wait a few years until my second deal comes around before I build something really nice.
Iíve been trying to come up with different things to do for my taxes, so I can put my money to good use so I wonít have to give everything to Uncle Sam. And Iím working on different options and different plans so I can use my money to benefit the area Iíll be living in. I plan to do something in Hampton, and maybe Richmond, and definitely the Pittsburgh area. So Hampton and Richmond definitely.
Iím not really sure yet what Iím going to do in the way of charity organizations. Nothing big has really ever happened to me and my family that would really inspire me, like I donít know anybody thatís been killed by a drunk driver, that might make me want to support Mothers Against Drunk Driving, for example. Maybe Iíll help out a couple of organizations, or some smaller organizations that need to build themselves up.
I have continued working out at Velocity in Richmond. Last week, Ernest Wilford came down and worked out with me. This past Sunday, we had something at Velocity where me and Ernest set up drills for some kids, basically drills we learned at Virginia Tech. We set different drills up and let them do them, plus some open-field tackling drills, some one-on-one. But we had the kids do two-hand touch instead of tackling to the ground.
We talked to them about the importance of following directions, listening to coaches, that kind of thing. These kids were mostly 12 or 13. These are kids that work out there, that pay money to work out at Velocity. Different age groups work out there. They have young kids all the way up to college kids that work out there. So the kids came, and some of the people who work there, their kids came. Some of the kids who were there knew who Ernest and I were, and some of them didnít.
To me, being an older brother [to Xavier], I always tried to set a good example for him. I tried to always keep my nose clean, just to let him know that he shouldnít get in trouble. You canít be successful and be a bad person. So, things like Ö I never smoked Ė I hate that. Iíve never done it before, and Iíve never had reasons to do it. I was around it a lot, but Iíve never been tempted to do it. And when I talk about smoking, Iím talking about marijuana.
I never did nothing serious as far as getting in trouble. I did some stupid stuff when I was young, though. One time my brother was sick, when I was in third or fourth grade, my mother asked me to get him a glass of water. I wanted his water to be cleaner, so I put some dishwashing liquid in it. He started throwing up, and my mom tasted the water, and she got into me real good!
The same guy who hooked me up with the Carmelo Anthony thing a few weeks back asked me if I wanted to go up to DC. They were shooting a commercial up in DC with Kevin Jones, Laveranues Coles, LaVar Arrington, and Clinton Portis. They were shooting a car dealership commercial at Gonzaga High School. They were in the car, singing the car dealership jingle. They were in the car, like lip-synching the song. To be honest, I donít know how itís going to come out on the commercial!
We had to wait for some stuff to come in, some jerseys or something like that, so it took a couple of hours, from about twelve oíclock to about two oíclock. It was tight meeting some other players, and after that, Clinton Portis had a cookout at his house.
There were some media people from Richmond who found out I was at Velocity, and they wanted to come by and interview me and do a story on me working out at Velocity. One of the news guys asked me, ďWhat do you think about Marcus getting in trouble again over the weekend?Ē I was like, ďWhat?Ē I didnít even know about it, and thatís how I found out about it.
Itís bad that he got in trouble again, because heís always in the spotlight, you know. All he has to do is keep his nose clean, and pretty much he has his ticket already for the NFL. Marcus is a great person. Heís cool to be around with, you go to his place and chill, whatever. Even Mike Hinton was cool to be around with. He just kept making mistakes and getting into trouble. All those people you hear about getting in trouble, theyíre not bad people, they just make bad mistakes.
When I was at Tech, my biggest thing was that I didnít want anything to happen where my parents were going to find out anything about it. Like being caught drinking and driving, and having it be on the news, and having my parents hear about it on the news and my family hear about it on the news. For me, it was more not wanting to disgrace my name with anything.
In one sense, you have to know when to say when to a player, but then again, you have to give a player a chance. Everybody deserves second and third chances sometimes. Everybodyís made mistakes in the past, and some peopleís mistakes are worse than others.
Youíve got people who want to see him gone, but if he transfers to another Division 1 school and does well, some of those same people will be wondering why Coach Beamer didnít give him another chance. Itís a tough situation.
Iím not staying with Kevin Lewis in Richmond anymore. Heís gone back to Virginia Tech. Iím staying with [former Hokie player] Franklin Bowser now. He works construction here. I think heís a supervisor, so heís doing good for himself. He did all four years of eligibility at Tech, and he got his engineering degree. I think itís a Civil Engineering degree [Editorís Note: Bowser was enrolled in Building Construction in 1999]. I played with him one or two years at Virginia Tech, so I kept in touch with him, hollered at him every once in a while, and when he heard I was in Richmond, he said I could come live with him if I needed to.
Training camp starts on the 30th. During training camp, weíre going to be at Saint Vincent College up in Latrobe. Weíve got four preseason games, and the first one is against Detroit. Then our first home game of the regular season is against Oakland, so thereís Jake Grove right there. Jake told me heís going to cheap shot me, and I said, all right, weíll both get kicked out of our first NFL game together. Jakeís all right -- I went to his wedding in Blacksburg about two weeks ago.
I donít really know what to expect, with it being my first training camp, so Iím a little anxious, but not too much. Itíll be good to get back into everything, get my plays back to where I was in the end of my summer sessions.
Iíll be heading up to Pittsburgh on the 29th. Iím going back to Hampton next weekend, but then itís off to Pittsburgh.
Iím going to play in a charity golf tournament this weekend that Ben Wallace is putting together. Hopefully, Iíll hit the ball straight a little, and when I hit it with a wedge, itíll go up in the air instead of straight along the ground. I can drive pretty well, except the ball goes off to the right every time. Every single time. I wonít hurt myself like Jim Davis did, but I canít promise Iím not going to hurt anybody else!

Next Update: Training camp begins.

Previous Rookie Diaries With Nathaniel Adibi:
Rookie Diary #14: Adibi Working Out in Richmond, 6/25/04
Rookie Diary #13: Offseason Program Concludes, 6/11/04
Rookie Diary #12: Learning the System, 5/27/04
Rookie Diary #11: Steelers Minicamp, 5/18/04
Rookie Diary #10: Adibi's a Steeler, 4/30/04
Rookie Diary #9: Waiting for Draft Day, 4/23/04
Rookie Diary #8: Adibi Visits the Tennessee Titans, 4/16/04
Rookie Diary #7: The Second Pro Day, 4/2/04
Rookie Diary #6: A Solid Pro Day, 3/24/04
Rookie Diary #5: In Town for Pro Day, 3/17/04
Rookie Diary #4: Adibi's Time in Oakland Winds Down, 3/12/04
Rookie Diary #3: The Aftermath of the Combine, 3/4/04
Rookie Diary #2: Busy Weekend at the Combine for Adibi, 2/26/04
Rookie Diary #1: Adibi Prepares for the NFL Combine, 2/19/04