Rookie Diary: Adibi Preps for NFL Combine

by TechSideline.com, 2/19/04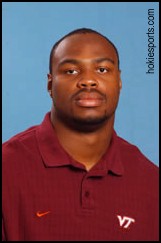 In the coming months, TechSideline.com will bring you a rare, close-up look at one athlete's efforts to make the NFL. Former Tech defensive end Nathaniel Adibi has agreed to do a rookie diary with us that will take us through his draft preparation, draft results, contract negotiations, rookie camp, and his rookie season in the NFL. We're excited about this series, which will follow the year-long journey of one rookie's trials, tribulations, and successes in his efforts to earn a living playing football at the highest level.
Adibi signed with the Hokies in February of 1999 after a distinguished career at Phoebus High School in Hampton, Virginia. He was a PrepStar and SuperPrep All-American and was ranked the #10 defensive lineman in the nation by SuperPrep, and the Roanoke Times listed him as the #6 recruit in the state.
After redshirting in the fall of 1999, Adibi was a four-year starter from 2000 through 2003, playing in 48 career games and amassing 186 tackles, 33 tackles-for-loss (171 yards), and 20.5 sacks for 143 yards in losses. His best seasons were his junior year (55 tackles, 15 TFLs, 9 sacks, 16 QB hurries) and his senior year (45 tackles, 8 TFLs, 5.5 sacks, 19 QB hurries).
Nathaniel graduated from Virginia Tech in the summer of 2003 with a degree in residential property management, and he took graduate level courses during the 2003 season, his redshirt-senior year.
Since the end of the Hokie football season, Adibi has been preparing for this weekend's NFL Combine in Indianapolis, Indiana. The Combine is the next critical step for Adibi in his efforts to earn a high draft spot. If he tests well at the Combine, he could go as high as the second or third round of the draft.
Nathaniel tells us, in his own words, how he has been preparing.
---
Adibi on his preparation for the NFL Combine:
Right after the bowl game, I took visits to two agencies that I really liked, which were Octagon and EAS. I ended up choosing Octagon, and I'm now out here in Oakland working out. I've been out here in Oakland since January 4th. I'm working out with Thomas Weatherspoon, an ex-track athlete, and Kenny [Harrison] his younger brother, who was an Olympic gold medal triple-jumper in the Atlanta Olympics.
The deal with Thomas [Weatherspoon] is that he's not just exclusive to Octagon. Other agencies have contracted him also. We have Tony Johnson, Larry Johnson's younger brother, working out here. We have Shaun Phillips, the defensive end from Purdue, Keyaron Fox, the linebacker from Georgia Tech, Dontarrious Thomas, the linebacker from Auburn, DeMarco McNeil, the defensive lineman from Auburn, also. We have Keith Lewis, a safety from Oregon. We've got cats from Washington, cats from Cal-Berkeley. We've got some high school players out here that we've been working with also.
I'm staying in Jack London square, which is pretty much downtown Oakland. It's real nice. Octagon has been taking care of everything. Everybody here has rental cars, we share apartments, everything's fully furnished. We have a nutritionist, a chiropractor who comes in two times a week, and we have a deep massage therapist here every day.
We already went through all the Senior Bowl stuff, and the Combine is coming up this weekend. It's the 18th through the 24th. Different positions fly in on different days. I fly in on the 20th and back on the 23rd. Ever since signing up with the agency, we've worked towards this Combine. This is it, the Indianapolis Combine, the big one.
Mentally, I feel great. I definitely prepared myself well. I think I'm in great shape, my body looks great now. This season, I went through some little nagging injuries that definitely hindered me, but I'm getting over those little aches and pains.
The thing about coming out here is they taught me how to run. I'm more flexible in my hip flexor areas and my joints. You seem to have more stamina, and your legs donít get as heavy as fast. Throughout the season, you start playing, and certain parts of your legs get tired and tight, but since I've been here, it has definitely helped me with the fatigue factor.
I was definitely in great condition when I was at Tech, but the mere fact of learning different techniques, and stretching in more of a track program, I'm definitely more flexible in my groin area and stretching my hips out a lot more, and strengthening your core muscles like your thighs, all the way down to your hip flexors and rear end.
After the Combine, I'll come back here and train again, and fly out on March 15th to March 18th for our first pro day at Virginia Tech. A lot of people [from NFL teams] should be there, because we have DeAngelo Hall, KJ, Ernest, myself, Jake Grove Ö we have a lot of big-name people coming out this year, so I would think there'd be a lot of teams there, more than the last couple of years.
There's another pro day on the 24th of March, and teams may want to fly down and work you out individually. So there's a lot going on, even after pro day.
Everybody wants to see me run right now, see what I can run the forty in. That's the big thing for me, is showing up for the forty yard dash and testing well. [At VT] I've been consistently in the 4.5 area, and that's just [going out there and] running. Now I'm actually learning to run, learning the technique of the forty, and that makes a big difference. I believe I should definitely still be around a 4.5.
(Editor's note: most VT players usually test slower at the Combine than they do at VT, so a 4.5 at the NFL Combine would represent a good achievement.)
On VT's on-field struggles this season:
Honestly, at the beginning of the season, we were on top of the world. I think sometimes people get complacent, people donít realize the situation, how hard it is to finish top two [in the BCS]. People donít realize the atmosphere, going to West Virginia, what that was going to be like. Some of the young people had never been there before.
I think [the Pitt game] killed us a little bit. We definitely should have won that game. I think people definitely lost confidence and focus on the season. We had everything going our way.
I think [the poor finish was caused by] Ö not believing in one another, maybe being too playful at times. It was a variety of things. You can't really blame it one thing, because it was a variety of things constantly happening. At the beginning of the season, things were going great, people started getting complacent, people started blaming each other. It was a variety of things, I think.
On his senior season:
I think stat-wise, I had a good season. At the beginning of the season, I had a hurt ankle and was close to not even playing in the first game, but I had a sack anyway. Midway through the season, I was playing well, then I hurt both my shoulders, and that hurt me a lot, because I lost a lot of strength in my upper body. I couldn't lift as hard, because of my shoulder injuries. It was a lot of little things that people don't even realize. I mean, my shoulders being hurt, I couldn't bench, I couldn't lift, I couldn't be as strong as I needed to be, going up against the tackles I was going up against. Therefore, I'm not able to overpower one when I need to.
I definitely give a hundred percent when I do play. My job is to help the team win. I block punts. If I can't get a sack, I at least try to hit the ball and cause an interception. I try to do different things, other than get a sack, to help the team to win. I can't get a sack every game, but I definitely did a good job making the quarterback run around, I thought, and throw the ball off balance, things of that nature.
I'm satisfied with everything. I wouldn't change anything. I have friends [at Virginia Tech], and I definitely loved playing football at Tech. I loved playing for Coach Beamer, and I love all my teammates. I'm sorry that we didn't succeed like we wanted to this year, but I wish the best for everything at Tech. Things aren't looking too great right now, I know a lot of things are going on down there, but I know they'll get it turned around for the best.
Next Week: Adibi tells us about the NFL Combine, and how he did.



Copyright © 2003 Maroon Pride, LLC