Rookie Diary #7: The Second Pro Day

by TechSideline.com, 4/2/04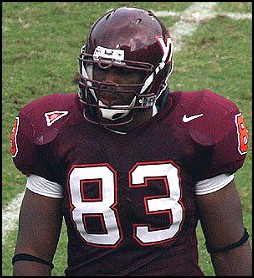 On Thursday, March 25th, VT held the second of two Pro Day workouts. This one was more lightly attended than the first, on March 18th. It marks the end of the pre-set workouts, and from this point on, NFL teams will start paring down their lists and will start meeting with players individually, sometimes at their colleges and sometimes at the pro team's facilities.
In this brief update, Adibi tells us about the second Pro Day.
---
The Houston Texans whole staff was there, and there were about seven or eight other teams there. It was definitely not as big. Some people did drills over again, some people did bench over, some people did long jump, vertical jump. Everybody did a little bit over again.
I did the short shuttle over, and I got the same time, like a 4.3. One of the Houston Texan assistants took me aside, told me not to get down on myself, [saying] Iím doing a 4.3, and that's real good. You watch a guy like Chris Shreve, and he's running a 4.0-something. [The Texan coach] told me even though I can't get a 4.1, it still looks good. Even the fast people only get a 4.0. So we're only talking about .3 difference, and our body frames are two completely different types.
Still, it's the mere fact that I know I can get a 4.1 or a 4.2, and I keep messing myself up. The whole thing pretty much is turning and starting real quick again. You don't get to full speed, it's just turn, pop, turn, pop. I can't get my last turn the way it should be. I'm coming off slowly. Like, I would touch, and I couldn't push off the way I should. Also, you have to go in a straight line, and I keep sort of rounding off that last turn. I keep messing up. That's all it comes down to.
We got to the position drills this past Thursday, and the defensive backs did their drills first. They did their drills, and then somebody was working out Jake Grove on the far end of the field house, and pretty much after DeAngelo was done with his drills, I went to talk to somebody, and he said that they didn't have anybody to work [the rest of] us out. He said that everything was pretty much on film now with me, and they said none of the coaches were really working anybody else out. The wide receivers did a little bit, but other than that, nobody really did anything, other than the DBs, and Jake had somebody work him out. KJ didn't do anything, nobody else really did anything.
I've showed them everything I can do. I've done all the D-line drills, all the linebacker drills. Everything is on tape now that I can do, and if they have any questions, they'll come holler at me. I guess I answered everybody's questions about whether I can move in space and such. Pretty much I'm just sitting here waiting now for any type of visit, any type of workout, things of that nature.
I wake up in the morning, go train a little bit. Cornell's around, so I work out with Cornell [Brown] sometimes a little bit. I'm going to go home to Hampton this weekend and then come back to Blacksburg on Sunday.
I should know a lot more stuff next week, hopefully, because Pro Days are finishing up, and teams will be getting back to their own facilities and talking with one another. So I should know something pretty soon.

Next Update: Will teams start taking interest?

Previous Rookie Diaries With Nathaniel Adibi:
Rookie Diary #6: A Solid Pro Day, 3/24/04
Rookie Diary #5: In Town for Pro Day, 3/17/04
Rookie Diary #4: Adibi's Time in Oakland Winds Down, 3/12/04
Rookie Diary #3: The Aftermath of the Combine, 3/4/04
Rookie Diary #2: Busy Weekend at the Combine for Adibi, 2/26/04
Rookie Diary #1: Adibi Prepares for the NFL Combine, 2/19/04



Copyright © 2003 Maroon Pride, LLC