Even After Spring Football Is Over, Questions Abound (Part 2)

by Will Stewart, TechSideline.com, 4/29/04
The favorite theme of spring football is answering questions. We asked some of those questions two days ago, in part 1 of this series, and here are some more questions for you to ponder this summer, as you wait for the 2004 football season. So grab a cup of coffee and sit with us as we ponder the mysteries of the Hokie football universe.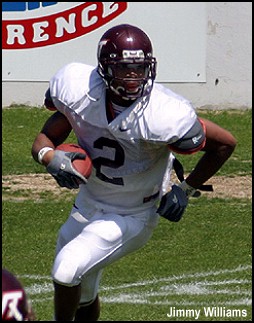 Can Jimmy Williams be a good cornerback?
I thought one of the more unexpected things that happened this spring was the swap of free safety Jimmy Williams and cornerback Vinnie Fuller. Fuller went back to safety, where he started his VT career, and Williams was moved down to corner, leaving the free safety position he had been playing for two years.
The question is, why? At first, the change looks odd, because in addition to Williams never having played corner, he outweighs Fuller by about 30 pounds (213 versus 184) and is regarded as a better run-stopper, thus better suited for free safety. Both are fast players, but Fuller is slightly faster in the forty (4.34 to 4.39 for Williams) and put up a better shuttle time (3.9 versus 4.06 for Williams), a good indicator of a player's ability to change direction, thus better suited for cornerback.
Any number of guesses can be had as to why the change was made. Williams freelanced a little too much last year -- or didn't know his assignments -- and was often out of position, and a free safety out of position is death on pass coverage. The cornerbacks count on him being there. Perhaps the switch was made because the coaches felt they could trust Fuller at free safety -- he earned good reviews from the coaches back when he played the position -- and Williams might be better served in more of a one-on-one, "here, cover this guy" scenario.
Or maybe, with the changes made to the defense, which include the rover and free safety playing back in deep coverage more with the cornerbacks closer to the line, it was felt that a more physical run-stopper at corner was more important. And Jimmy Williams coming on a blitz, if the corner blitz is truly to be used more this fall, is more intimidating than Vinnie Fuller.
The bottom line is, we know from past history that Fuller can be a good safety, and he has played the position before. But can Williams be a good corner? The coaches praised him and said he was getting better every day during spring practice. Physically, he's got good skills, and mentally, perhaps having a smaller area to cover will help him excel. He's got NFL potential but needs to step up his play soon if he's going to fulfill that potential.
Are the defensive ends for real?
Charley Wiles heaped some high praise on his defensive ends at the end of spring practice, saying that Darryl Tapp, Noland Burchette and Jim Davis are as good as any defensive ends in the country.
While that's hard to believe, the three of them did have a good spring and totaled four sacks in the spring game. And these weren't "touch the QB as he runs by" sacks. They got legitimate penetration and would have had a good shot at a sack in a real game.
The Hokies don't necessarily need another Cornell Brown or Corey Moore, though that would be nice. They just need one or two defensive ends who can apply pressure on every single play. The 17 sacks by Moore in 1999 were astounding, but what was more important was that he was a factor on every single play.
Nathaniel Adibi and Cols Colas each posted 9 sacks as juniors in 2002, (admittedly, in a 14-game season), which sounds good, but neither one brought pressure consistently. No one has since Moore. I'd rather have a guy apply pressure and get no sacks than have a guy get a sack on one play and be invisible on the next. The biggest problem the Hokie defenses of 2002 and 2003 had was the inability to "bring it" three or four plays in a row. They would put up two great plays and then cough up a long pass for a first down.
To this point, Burchette has been the most quiet of the three. Tapp put up good TFL and sack numbers for his time on the field last season, but he was extremely inconsistent. He would be a disruption on one play, and then completely disappear or pinch down inside and get burned by an outside cut by the running back. Davis, meanwhile, runs hot and cold, limited by nagging injuries when he does get on the field.
If Burchette can emerge, Tapp can be more consistent, Davis can avoid injuries, and redshirt freshman Chris Ellis can pop a play here or there, Tech will be in good shape on defense. The pressure they can bring will make everyone else better, in much the same way that John Engelberger and Corey Moore made Loren Johnson, not a particularly gifted player, into a star cornerback in 1998.
Can Nic Schmitt do that all the time? Can John Hedge? Can anybody?
Is there any player on the team who's a bigger mystery than Nic Schmitt? Okay, maybe, but in this section of this article, no, there isn't.
This guy's a kicker, and he weighs 260. Two hundred and sixty pounds. His leg is a frightening thing that scares footballs into having nightmares. And next year he will enter his third year in the program without having made much of a dent yet.
To my recollection, Schmitt is one of just three kickers that Beamer has offered a scholarship from day one, at least in the last decade. Parade All-American Shayne Graham was one, punter Vinnie Burns was another, and Schmitt is the third.
There's no doubt the kid can kick the ball hard, but there's doubt that he can kick it straight and do it over and over again. He hasn't yet. When you see him start off the game by kicking two kickoffs into the end zone and crushing two punts for 60 and 55 yards, you can hear Carl from Caddyshack shouting, "Oh, he got alla dat one!" And it's hard not to get excited. But Schmitt has to do it consistently. (Isn't it funny how that word keeps popping up with regards to the VT football team?)
Schmitt averaged 52.6 yards on five punts, with his shortest punt being 46 yards. Wow. That outshined Vinnie Burns, who averaged 44 yards on 7 punts but had punts of 33, 40, and 38 yards. Schmitt is still listed as the backup punter to Vinnie Burns, as he should be, given that Burns is a rising redshirt senior that has a lot of game experience. But Schmitt showed potential as a punter, and also as a kickoff artist. He put two of his five kickoffs in the end zone, and on average the other team started at their own 23.4 yard line. Schmitt's best chance to get on the field this year is at the kickoff spot, where he's listed as a co-number one with Jud Dunlevy, whose only kickoff Saturday went just 44 yards.
As for Hedge, he hit field goals of 39 and 45 yards during the spring game, with no misses. Hedge admitted after the game that he didn't hit the 45-yarder well, but he still made it, and that's more than Carter Warley did all last year. Warley only tried four field goals beyond 40 yards last year, making just one, a 43-yarder. He missed on attempts of 40, 41, and 45 yards.
It's nice if you have a kicker who can hit 50-yarders, but what's more important is that a kicker have a known, well-defined range, and that he be able to hit consistently within that range. That allows the coach to draw a magical line and make the decision to go for field goals inside that line, and punt outside that line (with allowances for special situations). So if Hedge can just hit from 45 yards in with some reliability, it will make Frank Beamer's job interesting.
But like Schmitt with punting, Hedge isn't even first on the depth chart at the placekicking spot. Brandon Pace is, and Pace didn't acquit himself well in the game, missing his only attempt … from 32 yards. You've got to have those.
Have team chemistry and discipline improved?
Since a much-talked-about "straighten up or we'll ship you out of here" discipline speech made by Coach Beamer a few weeks after the Insight Bowl, the Hokies have had four players arrested in two separate incidents (Marcus Vick, Mike Imoh, Brenden Hill, and Michael Hinton) and two (Hinton and Mike Brown) dismissed from the team.
There are two issues here, in my opinion: me-first guys who are concentrating on themselves and not the team, and players who are disruptive, combative with their teammates, and disrespectful of the coaches. Each situation undermines team chemistry and discipline, both on the field and off the field.
It's good to have talented football players on your team, but when they are being trumpeted as Heisman candidates, like Kevin Jones was, or when they go into the season talking about wanting to score a touchdown three different ways in the same game, as DeAngelo Hall did last year, the mindset becomes one of the individual first, instead of the team.
The situation isn't helped when the athletic department puts together something like allstars.hokiesports.com, a web site that hyped eleven Hokie players for individual college football awards. Some of the players were legit superstars, like Kevin Jones, Jake Grove, and DeAngelo Hall, but others weren't (and I'll leave it at that). To emphasize the individual with so many players at once, and to have so many players concentrating on their individual achievements, is simply not good for the chemistry of the team, or the attitude of the team.
I understand the thinking: promoting your current players makes them feel good and impresses recruits with the knowledge that if they excel at Virginia Tech the Hokies will get their name out there. But it leads to me-first thinking.
This spring, the coaches distributed T-shirts with the word TEAM in giant letters on the back, and "me" in much smaller letters underneath that. But team chemistry isn't built with slogans and T-shirts. It's built in practice, on the field, and off the field. Towards that end, the coaches cut down on the combativeness in practice by frowning on trash-talking and scuffling after the whistle. The team was told to act like a team, instead of having the offense and defense talk smack to each other and push each other around after the whistle.
Hinton and Brown, both disruptive influences, were dismissed. And many of the me-first types that were on the team last year have departed (hint: watch DeAngelo Hall's TV interviews).
The hope is that all of these various measures will improve team chemistry and discipline, but as noted above, that's not something that can be forced upon a team. You can create a better environment to cultivate it, but you can't make it happen.
It is a vitally important issue, though. The term "cancer" is applied to a me-first player or a player with a bad attitude about the coaches or the team, and it's a very descriptive term, because like cancer, if you don't eliminate bad attitudes, they spread.
Let me give you a hypothetical example. A true freshman linebacker comes into the program, and it's his first day of practice. Thirty minutes into it, Bud Foster sees something that he doesn't like and goes on a big rant, screaming at the players.
The freshman linebacker leans over to an upperclassman and says under his breath. "Man, dude's going crazy."
And one of two things happens. The upperclassman either says, "Better shut up and listen. Bud Foster is the man, and if you get on his bad side, you ain't never getting' off it. Now be quiet."
Or he says, "Psssshhh. Don't pay no attention to him. He does it all the time. Maybe if he knew what he was talking about, I'd give a ------, but since he doesn't, I don't."
Whatever the upperclassman says in that situation makes a huge, indelible imprint on that freshman's mind and shapes how he views the coaches and the program. If the comment is respectful and disciplined, the freshman is immediately pushed in that direction. If the comment is disrespectful and undermines the coaches' authority, then it plants a seed in that freshman's mind that grows in the wrong direction, and he may infect others with that bad attitude.
We won't know until this fall, or perhaps even longer than that, if team chemistry and discipline have improved, or if it's all just talk and T-shirts. But it is no doubt the biggest issue facing the team going into the fall.

Related Link:
Even After Spring Football Is Over, Questions Abound (Part1)



Copyright © 2004 Maroon Pride, LLC