Even After Spring Football Is Over, Questions Abound (Part 1)

by Will Stewart, TechSideline.com, 4/27/04
The favorite theme of spring football is answering questions. A team comes into the spring with questions, and while some of them get answered, some of them donít, and even worse, other questions are raised. Being a questionable person -- somehow I don't think that came out right -- I've got some questions of my own.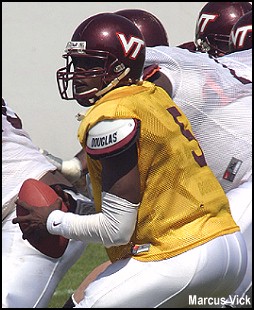 Who's going to be the quarterback?
Uuuuggghhh, on and on it goes, like the Mark Cox/Todd Greenwood two-headed QB monster of the early-mid 1980's. (You remember that one, don't you?) But whereas I couldn't tell the difference between those two guys back then, Marcus Vick and Bryan Randall bring completely different skill sets to the table. Randall brings leadership, quiet dignity and a better grasp of the offense to the program, where Vick brings athleticism, explosive potential and a penchant for getting in trouble.
In the "State of the Program" series last December, I wrote that Marcus Vick should be installed as the starting QB, no looking back, provided he put in the film work and dedicated himself to the job more than he had in the past.
Then Vick got into legal trouble and Randall set a great leadership example with the basketball team, and I found myself thinking that what Randall was doing in setting that leadership example was more important than any athletic potential Vick might have. The team was ruined by me-first attitudes last year, and Vick didn't appear to be thinking about the team, so my thinking swung back in the other direction. Start Randall, I thought.
Then spring football came and went, and Kevin Rogers expressed disappointment with both of his QBs. I had expected Randall to step up and take the reins and put an end to this thing, to truly lock in his knowledge of the offense, but by all accounts, he didn't. If anything, Vick closed the gap in that regard.
And then Vick looked really good in the spring game. With young players at wide receiver, tailback, and fullback, perhaps a guy like Vick who can make something out of nothing -- and there's going to be a lot of nothing going on with the 2004 VT offense, I fear -- is more valuable.
But there's the matter of that May 14th court date.
Hey, at this point, I give up. It's in the coaches' hands, and like most Hokie fans, I have but one thing to ask: this time, pick a guy and stick with him. No musical chairs at QB.
How much will Xavier Adibi and Vince Hall play?
There was a time when linebackers coach Bud Foster substituted so little that my three-year old son could count on his fingers the number of snaps from scrimmage that the backup linebackers got in a year.
That's an exaggeration, but during the 1999 season, for example, when the Hokies were blowing teams out all over the place, starting inside linebackers Jamel Smith and Michael Hawkes each took 82% of the snaps from scrimmage. In 1998, they took 87% and 89% of the snaps, respectively.
There are exceptions. In 2001, mike linebackers Jake Houseright and Brian Welch split time almost 50/50. And last season, Jordan Trott averaged over 20 snaps a game and even started a few games in place of Mikal Baaqee as Foster searched for answers on his defense.
My guess is that Hall and Adibi will play a lot. Adibi may even start over Blake Warren, who is currently listed ahead of him on the depth chart. Hall is currently listed behind Mikal Baaqee, but with Baaqee struggling with his weight -- at 215, he plays well but gets run over, and at 240, he can't get to the spot -- the 6-0, 237-pound Hall may muscle Baaqee aside for significant snaps.
I think that early in the season, particularly against Southern Cal in the BCA game, Foster may go with the experience, but as the season goes on, platooning will get more frequent, and Adibi in particular is a candidate to take over a starting position.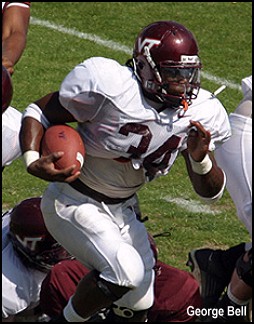 What color will George Bell's shirt be next fall? Maroon or red?
George Bell didn't get a chance to show much in the spring game. The blocking he received from his offensive line wasn't very good, so he wasn't given much room to work. I watched him pass-block, and he's Ö rough. He doesn't set himself well and doesn't maintain his blocks. Running the football, he looked like a load to bring down at times. He proved by shaking off a James Anderson tackle late in the game that he's strong and can run through people, and he proved when he got rocked by Roland Minor -- a cornerback -- that he isn't always set and ready for contact.
The thing you've got to remember about George is that he hasn't played much football. He played the whole season as a high school freshman, but as a sophomore, he missed three games because of a broken wrist. In his junior and senior seasons, a nasty, well-documented knee injury limited him to a total of just six games in two years.
Add it up. George Bell only played about 25 games in his entire high school career, a little more than two seasons. When you consider that he graduated early and should therefore still be in high school, it becomes obvious that although Bell is built like a man, he's not very mature as a football player.
Cedric Humes will be back in time for the 2004 season, and Mike Imoh will combine with him for a one-two tailback punch. Justin Hamilton, who moved from receiver back to his old position of tailback for the duration of spring practice, may stay in the backfield. In a TV interview the day of the spring game that aired locally, Hamilton had some interesting comments about battling for the starting tailback job in the fall, leading one to believe that the coaches may have told him he's staying at tailback.
Don't be surprised to see Bell redshirt for the 2004 season, independent of Hamilton staying at tailback or moving back to wide receiver.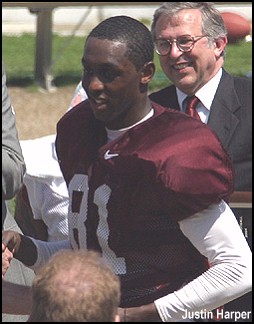 Will the "J Crew" contribute at wide receiver?
Justin Harper, Josh Morgan, and Josh Hyman all created buzz with their abilities during spring practice, to the point where Hyman wound up listed first at the depth chart ahead of David Clowney.
But will Harper, Morgan, and Hyman actually play much in the fall, and if they do, will they contribute much? History tells us no. Hyman is a rising redshirt freshman, and Harper and Morgan are going to be true freshmen in 2004. You'd have to go back to when we all lived in caves and clubbed animals for dinner to find the last time a true freshman wide receiver had a major contribution at Tech, and even redshirt freshman don't have a history of catching many passes.
In 1992, true freshman Bryan Still caught four passes in eight games. In 1998, redshirt freshman Andre Davis (slowed by injuries and playing just eight games) caught just five passes. That same year, true freshman Emmett Johnson caught three passes, and in 2000, redshirt freshman Ernest Wilford caught 12 passes in 11 games.
One exception is 1991, when redshirt freshman Antonio Freeman caught 19 passes in 9 games, including two TDs, finishing second on the team in receptions. But Freeman stands alone as an unusual case of a freshman wide receiver making a major contribution at Virginia Tech under Frank Beamer. If anyone from the J Crew catches ten or more passes, it will be a bonus. When push comes to shove, look for older players Chris Clifton, Richard Johnson, and David Clowney to be the double-digit reception guys for VT.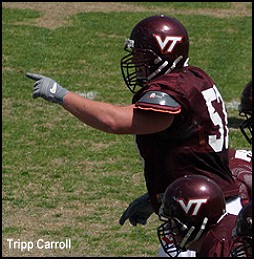 Are Brandon Gore and Tripp Carroll going to step up?
During Saturday's spring game, I watched defensive tackle Carlton Powell bull-rush 351-pound offensive guard Brandon Gore and push him two or three yards deep into the backfield on a running play. Much of Powell's impressive success in the game came against Gore, a guy who was highly recruited when he signed with the Hokies in 2002.
Gore has posted some impressive strength and conditioning numbers, earning Super Iron Hokie in the spring of his freshman year, but he has yet to translate that to success on the field. Part of the problem may be his weight. Gore is a big fella, standing 6-5 and weighing in at a whopping 351 pounds, up from 328 last fall. This extra weight is probably not a good thing for Gore, whom I interviewed his senior year in high school. As a high school sophomore, Gore ballooned up to 370 pounds, then trimmed 50 pounds off to get down to 320, where he played as a junior and senior.
At the time, Gore talked about wanting to get down to 310 or even 300 pounds, saying that would be "perfect." He arrived at Tech at 330 pounds, and his weight has gone up since. Only Gore and strength and conditioning coach Mike Gentry know what Gore's target weight should be, but 351 pounds is a lot, and I can't help but wonder if it's holding him back.
Regardless of the reason, Gore has yet to crack the starting lineup at guard, being beaten out by lightly-recruited Reggie Butler and James Miller, plus converted defensive tackle Jason Murphy.
As for Tripp Carroll, injuries (compartment syndrome last year, a sore back early this spring and a knee injury late this spring) have slowed him down. Carroll may also be a little heavy, though he "only" weighs 325 pounds. At 6-3 and a half, perhaps that's too much for him.
Gore and Carroll were supposed to be lynchpins of the Hokie offensive line. The coaches are still waiting for them to move from second team up to first team.
Is that nasty corner blitz going to stick around?
One stat more than any other ought to stand out to you from the spring game: Virginia Tech cornerbacks had three sacks on Saturday. Roland Minor had two, and Jimmy Williams had one. To my recollection, all were legit sacks, with most or all of them being created by the corner blitz.
Because the defenses in the spring game were only allowed to rush five players at once, it means that the corners were probably the only blitzers on those plays, so it's not as if the defenses flooded the backfield and the cornerbacks got lucky and got the sacks. They were sent alone and made the play. This is good stuff.
I did a little research, and in the eleven years of the Beamer Bowl Era (1993-2003), Virginia Tech cornerbacks have had a total of just four and a half sacks, with only one and a half since 1997. Cornerback sacks just doesn't happen at VT.
If the ability to bring pressure from the cornerbacks on the QB is a side effect of the tweaks that have been made in the Virginia Tech defense this spring, this is an interesting twist and opens up some possibilities. Corners operate well in space and could be effective blitzers when used sparingly, and when the blitz is disguised well.
I'm thinking ahead to the USC game in particular. If the Trojans review Hokie game film from last year, they sure as heck won't see the corner blitz anywhere on tape. VT might be able to surprise them with it. That idea is balanced out by the fact that the offenses run by teams like Southern Cal and California are sophisticated, and even if USC doesn't see the VT corner blitz on film, they may still recognize it in the game and check off into something that burns it. We'll see.
In any event, sacks by the cornerbacks, especially out of the corner blitz, is something I'll be watching in the 2004 season. I don't know why, but I just think it's a neat play.
Coming up in Part 2: Jimmy Williams, the defensive ends, Nic Schmitt, John Hedge, and team chemistry.



Copyright © 2004 Maroon Pride, LLC