Miami 26, Virginia Tech 24
December 1, 2001
by Will Stewart, TechSideline.com

1 2 3 4 F
-- -- -- -- --
Miami 0 20 3 3 26
Virginia Tech (13) 3 0 7 14 24

1st Quarter:
VT-Warley 27 FG, 3:18

2nd Quarter:
Mia-Shockey 14 pass from Dorsey (Sievers kick), 13:05
Mia-Portis 7 run (Sievers kick), 6:11
Mia-Sievers 34 FG, 3:59
Mia-Sievers 43 FG, 0:16

3rd Quarter:
VT-Ferguson 1 run (Warley kick), 10:30
Mia-Sievers 42 FG, 4:41

4th Quarter:
Mia-Sievers 39 FG, 11:32
VT-Ferguson 1 run (Parham catch for 2), 8:33
VT-Manning 22 blocked punt return (conversion failed), 6:03
---
Blacksburg, VA - Down 20-3 to the top-ranked team in the country, the Hokies fought back, but in the end, they couldn't overcome five turnovers and a dropped two-point conversion.
Tech trailed this one 20-3 at halftime, but a furious second-half rally fell two points short when wideout Ernest Wilford dropped a two-point conversion in the end zone. Wilford's drop came after walk-on Brandon Manning had run a blocked punt into the end zone from 22 yards out, making it 26-24 with 6:03 to play.
Manning's touchdown was the second of two fourth-quarter TD's for the Hokies that nearly erased a 26-10 deficit. The first fourth-quarter TD came with 8:33 left when Tech fullback Jarrett Ferguson scored from one yard out, and the Hokies added a two-point conversion on a Grant Noel pass to Terrell Parham.
After Wilford's drop, with the score 26-24, the Hokies stopped Miami in three straight plays and took over possession on the Miami 49 with 5:05 to go. But on 3rd and 10, Noel threw an interception -- his fourth of the day -- to turn the ball back over to the Canes on their 31 with 4:18 to go. Miami drove to the 50 and buried the Hokies on their own 4-yard line with a punt with 20 seconds to go, effectively ending the game.
Noel suffered through a terrible game, completing as many passes to his Hokie teammates (4-for-16) as he did to the Hurricanes. Noel also fumbled twice, losing 1 of them and accounting for all five Tech turnovers. He had just 81 yards passing on the day, and his turnovers led to 10 Miami points.
"The team played with great heart. I played terrible," Noel told reporters after the game. "If I had played better, we would have won."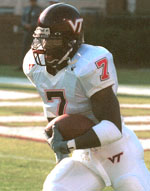 Kevin Jones had 160 yards
on 24 carries
(6.7 yards a carry)
The Hokies, who ran just 55 plays to Miami's 85, were outgained 384 yards to 248. The Hokies were led offensively by freshman running back Kevin Jones, who had 160 yards on 24 carries and ripped off runs of 56 and 40 yards in the second half.
But it was the turnovers, combined with Tech's inability to pass and to convert third downs (the Hokies were just 2 of 12 on third down) that spoiled a great effort by the Tech defense and special teams.
The Hokie defense was able to sack Miami's Ken Dorsey just once (a 3-yard loss late in the second quarter), but they unnerved him enough to force him into a 21-of-44 performance (235 yards, 1 TD, 0 INT's). Dorsey's passing totals included just 6-of-17 in the second half, and he only completed one of his last 7 passes as the Hokies stormed back.
After giving up 257 first half yards, the Hokies limited Miami to 127 yards in the second half, including just 40 yards in the third quarter, when the Hokies were able to stymie Miami and turn the 20-3 half time deficit into 23-10 heading into the fourth quarter.
But despite the defensive effort and the special teams score, the Hokies came up short in their bid for a first-ever victory over a number one-ranked team.
Miami fumbled on their first possession, but the Hokies were unable to turn it into points. After the Canes missed a field goal, Virginia Tech put the first score on the board on a 27-yard field goal by Carter Warley. Warley's field goal came at the end of a 7-play, 63-yard drive, the Hokies' best effort of the first half by far.
After Noel threw his first interception late in the first quarter, Miami scored on a 14-yard pass from Dorsey to tight end Jeremy Shockey that capped a 6-play, 55-yard drive.
After the two teams traded punts, Miami scored on their last three possessions of the first half. The first score was a 7-yard cutback run by Clinton Portis that made it 14-3, Miami, and finished a 9-play, 47-yard drive. After Noel threw an interception on Tech's 26-yard line, the Hokie defense stiffened and limited Miami to a 34-yard field goal. After Tech went three-and-out, Miami tacked on a 43-yard field goal with 16 seconds to go before the half to push their lead to 20-3.
The Hokies had Miami stopped early in the last drive when Dorsey threw an incompletion on third and 3, but a personal foul penalty on Tech's Cols Colas kept the drive alive.
Tech regrouped and played a strong third quarter, holding the ball for 8 minutes and 12 seconds and gaining over a hundred yards in the quarter. The Hokies drove all the way to the Miami 14 yard line, but on third and 5, a screen pass from Noel was batted into the air and intercepted by Miami's William Joseph.
Fortunately for Tech, the Hurricanes turned the ball right back over on a Portis fumble, which Ben Taylor recovered on the Miami 19. The Hokies punched it in on a 1-yard run by Ferguson, with the key play being a 13-yard run by Keith Burnell on third and 5. Ferguson's score made it 20-10, Miami.
Miami added a 42-yard field goal with 4:41 to go in the quarter. The Hokies quickly drove to the Miami 25-yard line on the strength of a 40-yard option run by Jones, but Noel fumbled the ball away on the Miami 30 as he was being sacked.
The teams went into the fourth quarter with Miami holding a solid 23-10 lead, and the Canes extended it to 26-10 on a 39-yard field goal with 11:32 to go.
When Miami placekicker Todd Sievers kicked a rare returnable kickoff to the Tech 3 yard line, the Hokies' Richard Johnson made him pay by returning it 40 yards to the Tech 43 yard line. The Hokies scored in just 6 plays when Ferguson went over from the one yard line. The key play of the drive was a 29-yard completion from Noel to Slowikowski on second and 12 that put the ball at the Miami 15, but during the drive, Kevin Jones injured his elbow and left the game, not to return.
With the score 26-16 and 8:33 to go, the Hokies went for 2 points on the conversion. Noel rolled right and hit wideout Terrell Parham at the goal line to make it 26-18.
Miami picked up one first down but then had to punt from their 41 yard line. Miami punter Freddie Capshaw bobbled the snap ever so slightly, and Tech's Eric Green blocked his punt. Brandon Manning pursued the bouncing ball to the Miami 22-yard line, where it hopped up into his hands, and Manning ran it in from there untouched.
Manning's score made it 26-24, with 6:03 to go, and the Hokies went for 2 again. Noel threw a pass to the corner of the end zone, where Ernest Wilford cut inside a fallen Miami defender. Noel's pass hit Wilford in the hands, and he dropped it.
With the Tech crowd whipped into a frenzy by the blocked punt, the Hokies stuffed Miami on the Canes next possession. Capshaw only managed a 26-yard punt, and the Hokies took over on the Miami 49. On third and 10, Noel badly overthrew his receiver, and Miami's Edward Reed picked off the pass at the Miami 31-yard line with 4:18 to go.
The Canes drove just 19 yards but ate up 3:58 in doing so, and then buried the Hokies at the Tech 4 on a punt with 20 seconds to go.
With the win, the Hurricanes are headed to the Rose Bowl and the national championship game, and the Hokies are left to mull over a handful of what-ifs that saw them come close to a huge upset, but still fall short.
ABC got their big game, and it was a good one, but for the Hokies ... it wasn't quite good enough.
Game Notes
Miami's 384 total yards represent their lowest offensive output of the season, but not by much. The Canes totaled 387 yards against both Temple and Boston College, and 391 against Florida State.
Tech's Andre Davis, playing in his last home game, had no catches. The Hokies only threw the ball to him twice, with neither one being catchable, and Davis only had one return, a kickoff return for 15 yards.
In his last three games, all starts (Temple, Virginia, and Miami), Kevin Jones had 82 carries for 496 yards (6.05 yards per carry). He finished the regular season with 175 carries for 957 yards (5.5 yards per carry) and 5 touchdowns.
Tech's sack of Dorsey was registered by redshirt freshman defensive end Jason Lallis, who was subbing for the injured James Davis. The Hokies are one of only three teams to sack Dorsey this season.
The Hokies only started 3 drives outside their 40, and they scored two touchdowns from those drives. Miami started 6 drives outside their 40, and they scored two touchdowns and two field goals from those drives.
On the last day of the season, the Hokie defense fell out of first place in total defense rankings in Division 1-A. Miami's 384 yards of offense raised Tech's average to 237.9 yds/game given up. Texas surrendered just 334 yards to Colorado in the Big 12 championship game, placing the Longhorns #1 in total defense at 236.2 yards given up. No other teams are close to Virginia Tech and Texas, so the Hokies finish #2 in total defense, their highest ranking under defensive coordinator Bud Foster.
Click here for TSL's post-game analysis

STATISTICS
Miami VT
---- ----
First downs 23 11
Rushed-yards 41-149 39-167
Passing yards 235 81
Sacked-yards lost 1-3 5-31
Return yards 60 41
Passes 21-44-0 4-16-4
Punts 7-34.6 6-42.0
Fumbles-lost 2-2 3-1
Penalties-yards 10-73 3-27
Time of possession 34:18 25:42
Att: 53,662
INDIVIDUAL STATISTICS
RUSHING: Miami-Portis 34-124, Gore 4-19, Davenport 1-7, W Mcgahee 1-2, Dorsey 1-minus 3. Virginia Tech-Jones 24-160, K Burnell 6-34, Ferguson 3-6, R Johnson 1-minus 2, Noel 5-minus 31.
PASSING: Miami-Dorsey 21-44-0-235. Virginia Tech-Noel
4-16-4-81.
RECEIVING: Miami-Jones 5-29, Shockey 4-60, Beard 3-46, Sands 3-32, Portis 2-35, Davenport 2-18, And Johnson 1-11, R Williams 1-4. Virginia Tech-Ferguson 1-42, Slowikowski 1-29, E Johnson 1-9, R Johnson 1-1.