TSL Extra
Defensive Player
of the Game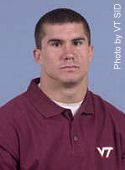 #5 Kevin McCadam
ROV, 6-1, 215, Sr.
Score: 29.0 points

Click here for an
explanation of the
award and how the
scoring is done

We usually don't
award a TSLX
Defensive Player
of the Game Award
after a loss, but the
Hokie D was so
impressive that we
decided to break the
rules this one time.
In winning the award
for the fourth time
this year, McCadam
recorded 10 solo
tackles and 4 assisted
tackles, including
2 tackles for 5 yards
in losses. That
was good enough to
rack up 29.0 points
and win the award,
which we're thinking
about renaming "The
Kevin McCadam
Defensive Player of
the Week Award."
2nd: Brian Welch
with 26.4 points.

The TSL Extra
defensive point system
was created in TSLX
issue #5. For a
complete explanation,
including rankings of
the Hokie defenders
from the 2000
season, see TSL
Extra issue #5.

Click here to
subscribe to the TSLX!
Your subscription
includes access to
all of the back issues!
Game Analysis: Miami

by Will Stewart, TechSideline.com, 12/3/01
Click here for TSL's Game Recap
This game, and the prospect of writing an analysis of it, brought back memories of the 1999 Sugar Bowl game analysis I had to write.
In that game analysis, nearly two years ago, I wrote, "It's impossible not to admire the heart and resiliency they (Virginia Tech) showed … But it's equally impossible not to ponder the what-ifs, the moments that sealed Tech's fate."
Bingo.
This game was very similar to the national championship game. Sure, much less was at stake, but like that Sugar Bowl, it was an important game, played on a national stage against the best team in the country (not just the number one team mind you, but the best team), and the Hokies were put in the position of trying to prove they belonged and trying to gain respect from the nation.
Much like that game, the Hokies got everything they wanted in this game, except for the W. They got respect, they got a sense of belonging, they got a thriller of a game … but they didn't get the win.
And like that Sugar Bowl, the outcome of this game came down to a few regrettable plays that can be hashed out and relived forever, to the agony of Hokie fans. "You can what-if yourself to death," Coach Beamer said in his post-game radio comments, and then he went on to try to advise the fans not to.
Good luck on that, Frank.
But there was one big difference between this game and the national championship game: in 1999, the Hokies got a performance of the ages from their quarterback, but in this Miami game, they received a totally forgettable performance from Grant Noel that, unfortunately for Noel, won't be forgotten.
Hokies can be thankful for one thing, namely that Tech wasn't 10-0 and playing for a Rose Bowl berth. As painful as this loss was, it doesn't affect anything but bragging rights. The Canes have now won two in a row over Tech, and Hokie fans still can't answer the question, "Has Tech ever beaten a number one team?" affirmatively.
Grant Noel can be thankful for that, too. He's taking a lot of heat, but if this game had been for a berth in the national championship game, and he had gone out there and turned it over five times, he wouldn't have been able to find a way out of Blacksburg fast enough.
Speaking of which….
Grant Noel
If you were rooting for the Hokies to win this one (and 99.5% of you reading this were), your worst nightmare was that the inconsistent Noel would show up and lay an egg in this game, particularly when the rest of the team was playing well enough to win. That's exactly what happened, as Noel went 4-16 for 81 yards, 0 TD's and 4 interceptions, with a lost fumble. Not a good day at the office for the likable, hard-working, but not-ready-for-prime time Noel.
He took the blame squarely on his shoulders. He met the press, said, "I was terrible," and fessed up to being the weak Hokie link in this game.
The rest of the team rallied to his defense, saying things like, "Grant might have thrown an interception or two. But you can't draw the blame on one player as much as the press would like to." (Chad Beasley) and "If anyone said 11 lost us that game that's just being selfish on their end. Number 11 didn't lose that game for us. I would like to see the person who said 11 lost us the game. I've got something for 'em." (Ronyell Whitaker)
That's commendable, but the simple fact is, if the Hokies get just a workmanlike performance out of Noel, instead of the disaster that happened, they probably win this game. In 1995, against Miami in Lane Stadium, Jim Druckenmiller was 9-16 for 97 yards, no TD's, and no interceptions. Not a Vick-Sugar-Bowl-like performance, but it was enough to keep the Hokies in the game and not waste a spectacular effort from the defense and the running game (which rushed for 300 yards that day). The Hokies won 13-7.
Druckenmiller's performance against Miami followed a disastrous performance against Cincinnati the week before that saw him go 12-33 for 135 yards and 3 interceptions -- one of which was returned for a touchdown -- in a 16-0 loss. Had Druckenmiller not turned things around, the Cincinnati game might be how people remembered him, not the rest of his career.
All players have games that define them, and this might be Noel's. Instead of the fire-breathing competitor that played the first quarter against Boston College and the gunslinger that played the first half against Virginia, the Hokies got Noel's worst performance of the season on a day where they couldn't afford it.
Of his five turnovers, two were particularly costly. His third-quarter fumble on the Miami 25-yard line, which came with the Canes leading 23-10, squandered a 40-yard run by Kevin Jones on the previous play. His last interception came with 4:18 to go, the score 26-24, and the Hokies facing third and 10 on the Canes 49. It seemed to take the air out of the fired-up Hokie defense, which proceeded to give up runs of 5, 9, 15, and 5 yards before stiffening and stopping the Hurricanes. But by then, it was too late.
Here are Noel's turnovers, and the results:
| | | | |
| --- | --- | --- | --- |
| Turnover | Time | Position | Result |
| INT | 2nd quarter, 14:52 re. | Tech 45 | Miami scores a TD |
| INT | 2nd quarter, 5:26 re. | Tech 26 | Miami scores a FG |
| INT | 3rd quarter, 12:21 re. | Miami 24 | Miami fumbled next play |
| FUM | 3rd quarter, 3:43 re. | Miami 30 | Miami punt |
| INT | 4th quarter, 4:18 re. | Miami 31 | Miami runs clock down to 0:20 |
The two interceptions on Tech's side of the field led to 10 Miami points, and the three turnovers on Miami's side of the field squandered scoring opportunities. The interception that came with 12:21 to go in the third quarter turned out to be relatively painless, because Miami's Clinton Portis fumbled the ball right back on the next play, and the Hokies scored a TD, anyway.
To Noel's credit, he almost vindicated himself in the fourth quarter. Down 26-10, The Hokies took possession on their own 43 with 11:32 to go, and a few plays later, Noel hit tight end Bob Slowikowski with a strike for a 29-yard gain to the Miami 15. After Jarrett Ferguson scored from the one, Noel rolled out and calmly hit Terrell Parham in the chest for a two-point conversion that made it 26-18 (the last time I can remember the Hokies converting a two-pointer in a loooong time).
And he threw a good enough pass to Ernest Wilford on the Hokies' other two-point conversion attempt, which came with Tech down 26-24 and 6:03 to go.
Ah, the pass to Ernest Wilford….
Other What-Ifs
There are other what-ifs that will haunt the Hokies and their fans.
The biggest was Wilford's drop of Noel's two-point pass to him, a play that will define Wilford until he gets the chance to erase it from memory by doing something else. It was a strange play in one respect: everyone, from the Hokies to their fans to the radio announcers to the TV announcers, thought he had caught it at first. But the ref stepped in and waved it off, and cold reality started to set in.
The Miami defender fell down on the play, Wilford stepped inside him, reached for it … and just dropped it. He appeared to get caught between catching it with his hands and catching it in his stomach, and the result was a shame. Wilford, a 6-5 redshirt sophomore whose career has been hampered by injury (most notably in the springs, when the bulk of a player's learning is done), will have to wait another day to redeem himself. Until then, his career remains one of potential yet to be achieved.
And of course, another big what-if is Cols Colas' personal foul on Miami's Ken Dorsey, which came with less than two minutes to go in the first half and Miami leading 17-3. Dorsey had just thrown an incompletion from the Miami 45 on third and 3, and Colas gave him a dead-ball bump and shove that earned him a flag and earned Miami a first down. The Canes went on to score a crucial field goal right before the half, but then again, they're all crucial when a game ends up being just a two-point decision.
The unfortunate thing is that Colas' penalty -- the first on Tech at the time and one of only three for the Hokies in the entire game -- obscures what was an outstanding game for him. He only had two tackles on the day, but he was by far the most active of the defensive ends, and he brought the most pressure on Dorsey when the Canes dropped back to pass. Tech only sacked Dorsey once, but they were able to give him happy feet, and Colas was responsible for a lot of that.
Great Effort by the Hokie D
The Tech defense, it goes without saying, gave a great effort, despite being backed up near their goal line for much of the game. After Miami's second TD in the second quarter, the Hokies limited them to four field goals for the last 36 minutes of the game.
Tech pulled off the tricky job of blitzing and bringing pressure without giving up huge plays to the tight end and the backs out of the backfield. Miami stung Tech, but did not kill them, with passes to tight end Jeremy Shockey (4 catches, 60 yards, 1 TD) and to running backs Clinton Portis (2 for 35) and Najeh Davenport (2 for 18).
In all honesty, Tech's cause was helped by Dorsey, who once again showed that he's awful under pressure and on the run. While the Hokies only sacked him once and didn't put him on his back a lot, they did collapse the pocket and make him nervous. Dorsey responded with a number of poor passes, many of them horribly thrown.
I thought Miami's best play calls were screens and flat passes in the teeth of the Hokie rush. One such play came on third and 9 at the Tech 39 in the first quarter, when the Hokies got off a great blitz, only to have Dorsey spin and heave the ball to Portis in the flat. Portis was all alone and would have scored had Larry Austin not made a touchdown saving tackle (with a blocker hanging on him) at the Tech 19. Austin's tackle was critical, because the Hokies later blocked a Todd Sievers field goal attempt to keep Miami off the board.
Coverage by the Tech defensive backs on the Miami wideouts was tremendous. Larry Austin was often running stride for stride with his man on the deep ball, and Miami pretty much threw away from Ronyell Whitaker. By my calculations, Miami's wideouts only caught 12 balls for 119 yards. Twelve balls sounds like a lot, but when you consider that they averaged less than 10 yards a catch, that tells you that Miami completed no deep passes, and the Tech DB's made the tackles after short completions.
I could go on and on calling out individual plays and players, but the fact is, it was an outstanding effort. Particularly impressive was the shark-like feeding frenzy that started taking place every time Miami handed the ball off during the fourth quarter. The Hokies stuffed the Miami running game in the fourth quarter, up to the point where Noel's last interception seemed to take the zip out of them.
Too bad the Hokies couldn't get their mitts on Dorsey more often.
ABC: Absolutely Biased to the Canes
ABC's coverage was incredibly biased towards the Canes. That's understandable, since they showed Miami five times this year and Tech just once, but it's unusual for the home team not to be favored by the commentators (note the Al Groh love-in during the UVa-VT broadcast on ESPN a few weeks back).
That's because the commentators get to the venue early in the week and get schmoozed and chatted up by the home SID and staff, and it usually produces home-team-biased commentary. But not in this case, due to ABC's familiarity with the all-powerful Canes. I will admit that at one point late in the second quarter, when the Canes' offense shifted formation and Ben Taylor called off a planned blitz, ABC commentator Bob Griese was very complimentary of the Hokie defense and football program in general.
Jeers to ABC for missing Eric Green's punt block live. Despite Tech's reputation for kick-blocking, while the Canes lined up for a critical punt, ABC showed a replay and then cut to a sideline shot of Dorsey, only to miss Green's block of Freddie Capshaw's punt. Play-by-play man Brad Nessler was yammering about something else, and he wasn't ready for the play. He went from talking about one thing to suddenly blurting out, "They got it!" Well, duh. The guys on ESPN are always ready when Tech blocks a kick -- why weren't you?
When Dorsey overthrew wideout Kevin Beard in the end zone in the fourth quarter, the ABC announcers seemed to think he should have caught the ball. They proceeded to speculate that Beard was looking back into the sun when clearly -- clearly -- that area of the field was bathed in … shade. Sheesh. The worst part was Lynn Swann chiming in from the sidelines and agreeing with the announcers.
For those of you who only watched this game on television, ABC showed "aerial views provided by Goodyear Tire and Rubber Company," including a cute little graphic of the Goodyear Blimp. But the blimp was not there -- just a slow-flying plane, high in the sky. I still await the day that a blimp is seen flying over Lane Stadium.
Speaking of those aerial views, they gave some excellent perspective of what Lane Stadium's proportions will be when the South end zone expansion is finished, and yes, it's hard not to get excited when seeing it. And let me say that ABC putting Swann in the half-finished luxury box in the South end zone (where VT was no doubt trying to make a sale to the fans seated there) was a cute move.
Miscellaneous Notes
Tech's one ultra-rare sack of Dorsey came from an unlikely source. First, defensive tackle Dan Wilkinson flushed him out, and then redshirt freshman defensive end Jason Lallis, who was playing only because Jim Davis was hurt, sacked him. I never would have predicted that before the game.
Kevin Jones had 11 carries for 29 yards in the first half, and 13 carries for 131 yards in the second. Jones was plagued by slipping on his cutbacks. He must have slipped five times or more while attempting to reverse field.
The Hokies were just 2-12 on third down conversions, including a sad 0-6 in the first half.
Vinnie Burns averaged 42.0 yards on 6 punts, his best effort of the year and well above his season average of 37.8 yards per kick.
Miami's unsung hero: placekicker Todd Sievers was 4-5 on field goals (34, 43, 42, and 39 yards), with one block. If he misses one of those, the Canes are dead meat. Bobby Bowden, were you watching?
Lastly, for those around the country who thought Virginia Tech was good in 1999 and 2000 just because of Michael Vick, in the words of country singer Toby Keith: How Do You Like Me Now?? The Hokies showed that they are a very, very strong program, able to hang with the best team in the country despite turning the ball over five times.
Virginia Tech football was not just Michael Vick and a bag of chips. The Hokies never have been about one player, and never will be. They've got a new #7 now, the same great coaches, and the same great defense, fans, and special teams, and the express rolls on.
They're still looking for that first W over a #1 team, though ….

Good article, huh? Well, TechSideline.com's monthly TSL Extra is packed with articles like this! For just $24.95 a year, you can be treated to a Tech e-zine of the highest quality, featuring in-depth articles, statistical analysis, and fascinating interviews!
Click here to subscribe!