Keys to the Game: The Sugar Bowl
by Raleigh Hokie, 12/30/04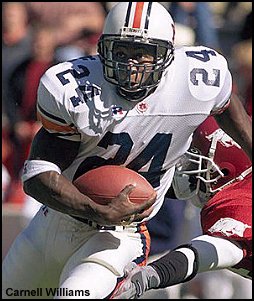 Snubbed by the BCS calculators and slide rules, SEC champion and #3 Auburn heads into the Sugar Bowl with a big chip on its shoulder. They will want to start fast and finish faster, looking to steamroll ACC champion and #9 Virginia Tech to show the college football world that they belonged in Miami, not New Orleans. Tech will gladly accept the challenge, playing up the role of the heavy underdog as only the Hokies can do. While Auburn tries its best to shake the distractions and disappointment of the BCS snub, the Hokies return for the third time to their favorite bowl destination, with confidence, karma, and no pressure.
As usual, in this article I will focus on specific factors that will be key for Techís success on the offensive and defensive sides of the ball. I considered adding a special teams section this time, but I havenít done that so far and who am I to mess with karma? Plus, Iím a little superstitious when it comes to the Hokies, so offensive and defensive keys it is.
Enough of the fluffy introduction stuff. Letís get to the detailsÖ.
Tech Defense vs. Auburn Offense
Everyone knows about Auburnís superb running back duo of Carnell ďCadillacĒ Williams and Ronnie Brown, and while both have been as good as advertised, they do not tell the full story of the Auburn offense. This is an offense that is best described as multi-dimensional, versatile, and very balanced. This season they have shown a variety of formations, have introduced a new wrinkle or two each week, and have run or pass with equal comfort on any down in any situation.
In Jason Campbell, the Tigers have an experienced quarterback that has flourished in his senior season under new offensive coordinator Al Borges. Campbell is a big, strong quarterback that can make all the throws. Not particularly quick or fast, he isnít a scrambler per se, but he has good feet and good mobility out of the pocket. He reminds me of former UVa QB Aaron Brooks, with Brooks a little more athletic and Campbell a little stronger. Like Brooks, Campbell prefers to throw from the pocket where he can exploit vertical passing lanes with his height, but he is also very good when heís on the move, both on planned rollouts or when escaping pressure.
Much like Techís Bryan Randall, Campbell has gone through some ups and downs during his career, but after a big senior season, he has become the unquestioned leader of this Auburn team. He is a poised and mature player that comes into the Sugar Bowl with a lot of confidence.
Carnell Williams and Ronnie Brown are the one-two punch of a formidable ground attack that runs behind a big offensive line, led by 6í9Ē, 332 lb. All-American left tackle Marcus McNeil. In Courtney Taylor, Devin Aromashodu, Anthony Mix and Ben Obomanu, Campbell has a quartet of wide receivers that he will go to short or long with equal confidence. Cover all of that and Campbell will look for 2nd team All-SEC TE Cooper Wallace, a good possession receiver that is a tough matchup for most linebackers.
With all of those options in the passing game, it might surprise some that Brown is Auburnís second leading receiver. But thatís where the versatility of their offensive system comes in. They will use Brown in a variety of ways Ė from tailback to fullback to H-back to wide receiver Ė in order to get him in a mismatch against the defensive personnel. Williams is a weapon in the passing game as well, generally on swing passes and screens from his conventional tailback position.
The message here is that this is an offense that has very few weaknesses, if any. The Tech defense is facing a huge challenge, as they are probably facing the best offense they have seen all year. While Auburn doesnít have a playmaker quite on the level of a Reggie Bush, overall I believe this offense is more versatile and better balanced than USCís offense was the first game of the season.
Now, the good news. The Tech defense matches up very well against Auburnís offense. Techís balance along the defensive line and overall team speed will neutralize Auburnís intent to widen the field horizontally with Williams and Brown and stretch it vertically with their wide receivers. The biggest concerns are the creativity of offensive coordinator Al Borges, the size and arm strength of Campbell in the pocket, getting Williams on the ground with first contact, and the matchups with Brown down field in the passing game.
Letís explore the defensive keys to see how the Hokies will address those concerns.
Key #1: Withstand the Early Assault
Auburn feels snubbed by the BCS process, and they will want to set the tone early to prove that they belonged in the National Championship game. There will be no ďfeeling out processĒ for the Tigers. Getting off to a fast start is nothing new for Auburn. This season, they punted only once on their first possession and outscored their opponents 123-19 in the first quarter. Those statistics are quite impressive.
With over a month to prepare, look for Auburn to throw a lot of different wrinkles at the Hokies' defense early. They will show a lot of motion and many formations, from bunched and stacked sets to splitting either or both running backs wide. They are going to test the discipline of Techís young linebackers with variations of misdirection plays that were studied on film. Specifically, look for Auburn to challenge Vince Hall and his great linebacker instincts. Hall will need to have his emotions in check and play with discipline and poise early. Mikal Baaqeeís senior experience aligned next to Hall will be critical in adjusting to all of the stuff that Auburn will show early.
Look for the Tech defense to play fairly straight up on the initial drives to determine how the individual battles will develop. The key will be Ė wait for it Ė execution. To survive the early assault, each player must remember the fundamentals Ė play physical but under control, stay disciplined, control the gaps, and tackle. Auburn will be anxious to get points on the board, so look for them to take some chances early on. Since the USC game, the Hokies have done a great job eliminating big plays and forcing offenses to snap the ball. If they stay disciplined and solid fundamentally, then Techís opportunistic defense may be able to take advantage of Auburnís anxiousness to put up a bunch of points early. Key stat -- Techís defense is fourth in the nation with a total of 30 takeaways.
What to watch for early:
Auburn Ė lots of motions, formations and new wrinkles. While the world focuses on Williams and Brown, look for them to take some chances with deep passes or with various forms of trickery.
VT Ė Penetration at the line of scrimmage. Watch the tackling. Crisp tackling early will lead to some opportunities for the defense. Missed tackles early will lead to quick scores by Auburn.
Key #2: Contain Williams, Game Plan Against Brown
As usual, the Tech defense will put a priority on stopping the run first, but they canít over-commit on the running game because Auburn is too balanced and has too many other weapons. Still, the key to Auburnís success is the running of Carnell Williams and Ronnie Brown and the Hokies must control them first and foremost.
Auburn will use Williams and Brown in a variety of ways and many times they will be on the field together. Williams is their featured player and is their 1,000 yard runner. Look for Techís defense to play containment against Williams, which means they will try to force him back inside into the pursuit where Techís defensive speed can be utilized. The key will be to tackle him once they get there. He has great vision and balance and he is tough to get on the ground. He isnít a burner, but he has excellent quickness and can cut on a dime. Tech has the talent and speed on defense to keep Williams contained, but they must play their gaps correctly and they must limit his yards after first contact.
Brown is a bigger back with good speed, but he is more of a straight-ahead type of runner. He is also an excellent blocker and a terrific receiver out of the backfield. He will be used in a variety of ways as a runner, blocker and receiver. For example, they like to line up Brown as an offset fullback and use him like a pulling guard to lead Williams around the corner. From the same formation, they will go with play action and run Brown down the field against a linebacker. Or they will shift him out as a wide receiver and throw a screen back the other way to Williams. From the standard fullback spot in the I-formation, Auburn will use him on dive plays and then use fullback misdirection with a pitch opposite the flow to Williams. From the shotgun with split backs, they will go with a swing pass to Brown on one side or Williams on the other.
All of that puts a lot of pressure on a defense and itís primarily due to the versatility of Ronnie Brown and how he is used to complement Carnell Williams. Because of his versatility, Brown is a matchup nightmare for most defenses and the Hokies will have to game plan specifically against him. He will get his yards as a running back, but itís important for Tech to limit his yards as a receiver. A key matchup will be Techís Backer (Baaqee or Xavier Adibi) in pass coverage against Brown. When Adibi is in the game, look for the Hokies to play a good bit of man under coverage, with Adibi matched up on Brown with zone help over the top. Look for Auburn to counter by running Brown more often when Adibi is in the game to test his gap control and discipline in run support.
What to watch for:
Auburn Ė how they use Ronnie Brown and the matchups they get with him as a pass receiver.
VT Ė keeping Williams inside and getting him tackled with first contact. How soon Adibi gets in the game to match up against Brown as a receiver.
Key #3: Penetration and Pressure Inside from Defensive Line
Much of Techís success on defense this season can be traced to the play inside by defensive tackles Jonathan Lewis and Jim Davis. Penetration inside is disruptive to any offense, and Lewis and Davis have been getting it consistently all season.
Matchup-wise against Auburn, Techís defense has an advantage inside with Lewis and Davis, both against the run and the pass. Their ability to get penetration will be the foundation of the game plan and is the common ingredient shared by all of the defensive keys.
Alabama did an excellent job controlling Auburnís running attack and the key was penetration inside by their defensive line and linebackers. Tech will look to do many of the same things against the interior of Auburnís offensive line by playing physical up front, utilizing the quickness advantage of the defensive line and run blitzing the linebackers. They canít let Williams or Brown continuously get up to speed and run downhill in the secondary. Gaining control of the line of scrimmage with penetration by the defensive line and run blitzing by the linebackers will force Auburn to attack more straight up, utilizing either a conventional fullback or going to two tight ends. Both have been effective packages for Auburn this year, but the Hokies will have accomplished something if Auburn has to turn more conventional, splitting time with Williams and Brown at tailback instead of having them on the field together.
When Auburn goes to the pass, the Hokies will be looking to get pressure against QB Jason Campbell primarily from the defensive line. That will be a tough challenge, particularly on the edge, where sack leader Darryl Tapp will be matched up often against Auburnís All-Everything monster tackle, Marcus McNeil. It is unreasonable to expect Tapp to win the majority of those battles, so pressure will need to come from elsewhere along the defensive line. Once again, Lewis and Davis are the keys. Just as it is critical for them to get penetration against the Auburn running game, it is equally critical for them to bring inside pressure against Campbell and the passing game.
The Hokies will want to get Campbell on the move and not let him step up and throw from the pocket. While he throws well on the move, he is much more dangerous and accurate when he can set his feet and step into his passes. In the pocket, Tech will look to get pressure on him from the inside out, with the defensive ends looking to push him up inside. When he rolls out or breaks the pocket, look for Tech to run their linebackers parallel to the line of scrimmage and then straight at him when he prepares to set his feet. Along with Xavier Adibi, Whip LBís James Anderson and Aaron Rouse have been excellent in zoning, stringing and closing on rollouts, bootlegs, and pocket breaks.
What to watch for:
Auburn Ė push by the offensive line, particularly inside by the center and guards. Campbellís ability to step up and throw cleanly from the pocket.
VT Ė penetration by Lewis and Davis, both run and pass. Getting Campbell on the move and closing with the linebackers to prevent him from setting his feet.
Key #4: Mix Coverages with Controlled, Calculated Pressure
A lot of people will want the Hokies to blitz in this game, but donít expect to see very many defensive jail breaks. Auburnís screen game is a weapon and they will go to it at the first sign of all out pressure by the Hokies. The Hokies will bring pressure on occasion (they have to mix things up), but it will be controlled, coming from one side or in the middle from an extra linebacker or two. Campbell has been around awhile, so itís highly unlikely that he will be fooled by blitz disguises. Like Bryan Randall, he has been given a lot of control of the offense with a full suite of checks available to him based on his pre-snap reads. Tech will try to confuse him by shifting into various coverages from the same base set with the same personnel group. They did a great job of that against Miami; so much so that they even confused ABC analyst Gary Danielson, a former NFL quarterback.
One of the pressures to look for is a corner blitz backside against play action. This can be from either a true corner in base or nickel sets, or it could come from the Whip LB aligned over the slot receiver. Otherwise, look for Tech to rely on getting pressure from the defensive line while playing a mixture of man and zone coverages in the secondary.
The matchups outside are very intriguing, with Techís Eric Green and Jimmy Williams against Auburnís WR quartet of Courtney Taylor, Devin Aromashodu, Anthony Mix and Ben Obomanu. After watching several game films, I am convinced that Auburn has not gone up against a pair of corners as good as Green and Williams. There will be several occasions in this game where Campbell will get single coverage on one or both sides opposite the Tech corners. The coaches on both sides will like that matchup, so look for Tech to try to bait Campbell by showing it early pre-snap and look for Campbell to go after it when he gets it.
As they have done all season, I also expect the Hokies to play a good bit of 3-deep coverage, both man and zone under to force shorter passes. They will want to keep everything in front of them and close with a fury to minimize yards after the catch. That game within the game will be fun to watch.
If you want to look for the 3-deep coverage, keep an eye on corners Jimmy Williams and Eric Green just before the snap. If they both back off the line of scrimmage, then 3-deep is the likely coverage. Vinnie Fuller or James Griffin will come up in an underneath zone or in man against the TE. The other safety will drop back into the middle of the field, splitting the deep areas of the field into thirds along with Williams and Green. Thus the term ď3-deepĒ.
What to watch for:
Auburn Ė Campbellís timing and accuracy to hit receivers in the seams of Techís zones. Recognizing personnel and man under coverage to get Ronnie Brown or Carnell Williams in a mismatch against one of Techís inside linebackers. Will Auburn take shots down the field against the Tech corners?
VT Ė restricting Campbell to shorter passes and check downs in his progressions. Forcing Campbell to make a lot of adjustments at the line of scrimmage, both in protections and in route adjustments. Limiting yards after the catch.
Key #5: Get Off the Field after 3rd Down
Auburn has had great success on third down this season, converting at a 46.5% clip. Because of the balance they have on offense, they can run or pass the ball with equal effectiveness on many 3rd down situations. It forces defenses to play third downs in much the same way they play first and second downs Ė conventional sets and coverages with balanced respect up front for the run or the pass.
On the flip side, one of the primary reasons for Techís turnaround on defense this season has been their play on 3rd downs. Offenses have converted 3rd downs only 28.7% of the time, so something has to give. Itís unrealistic to expect the Hokies to shut down the Tigers on 3rd downs at their season clip, but they canít allow Auburn to convert on half of their 3rd down opportunities and expect to stay in the game.
Picking their poison, the Hokies would prefer to keep the ball in Campbellís hands and force him to make a throw to get a new set of downs, so look for the Hokies to play the run aggressively on third downs of five or less yards, while letting their corners defend straight up against the pass outside. Look for Auburn to look for TE Cooper Wallace matched up against a LB if the Hokies press outside and leave the safeties back in a 2-deep look.
Because of all of their weapons, Auburn has the advantage on third and short (three yards or less). Auburn will run the option in these situations, so Tech will have to be prepared to play a assignment defense against it. Auburn will also run some option down around the goal line as well. If they run any option at all, Iím hoping they run it to the short side left with McNeil, Brown, Campbell and the Cadillac against Tapp, Baaqee/Adibi, Griffin, and Jimmy Williams. That would be fun to see.
On third and long (eight yards or more), look for Tech to go to the nickel set that has been so effective this year. Roland Minor will replace a linebacker (generally the Whip or Backer) and Eric Green will shift down to the slot receiver. That is a good matchup for Tech when the pass is likely and Auburn goes to their three WR package.
We also may see the dime package that was so effective against Miami, with Mike Daniels in as the sixth DB and Xavier Adibi in as the lone linebacker. In that look, Tech will play man under across the formation with Vinnie Fuller and the three corners. Daniels and James Griffin will play zone over the top and Adibi will shadow either Williams or Brown. This should be a very effective defense against Auburn as well, particularly when they spread out the formation with four WRís.
What to watch for:
Auburn Ė success on third downs from four to eight yards. Auburn needs to convert on 45% or more of those situations.
VT Ė stopping Auburn on third downs from four yards or more. Tech needs to win at least 70% of those battles.
Tech Offense vs. Auburn Defense
As good as Auburnís offense has been this season; their defense has been equally as impressive. Statistically, they are near the top of the national rankings in most defensive categories, leading the nation in scoring defense. They rely on speed rather than size and they play an aggressive style of defense that will look familiar to many Hokie fans. Their speed and aggressive play has led to 35 sacks on the season, tops in the SEC.
The star of their defense is All-American corner Carlos Rogers, the Thorpe Award winner. Auburn will use him in a variety of ways, but often will match him up in single coverage all over the field, giving defensive coordinator Gene Chizik a lot of flexibility to mix and match coverages elsewhere. Their other star player on the back line is senior strong safety Junior Rosegreen, a big hitter that is particularly strong in run support.
Up front, they will use a lot of players, particularly at defensive end, where five guys get quality snaps. DTís Tommy Jackson and Jay Ratliff are very similar to Techís Jonathan Lewis and Jim Davis. Jackson has had a big year and was selected first team All-SEC. Ratliff is a 6í5Ē player with good quickness. Like Davis, he moved inside this year from defensive end.
Auburnís linebackers are generally small, athletic and fast. Their leading tackler is 6í1Ē, 212 lb middle linebacker Travis Williams. Donít let the size fool youÖWilliams is a playmaker with excellent speed and quickness.
At 6í4Ē, 244 lbs, strongside LB Kevin Sears is by far the biggest of the linebacker bunch. He is strong at the point of attack and will be a force in their run defense. When they go nickel or just want a better pass defender on the field, they will replace Sears with Karibi Dede, another smallish, athletic linebacker with good speed.
One of the keys to the game will be the play at weakside linebacker. Regular starter Antarrious Williams was lost due to injury and the Hokies will look to attack his replacement, Derrick Graves, in much the same way Tennessee did in the SEC Championship game.
The Tech offense has been a work in progress all season. They timed it all just right, getting better with each game. Behind the play of QB Bryan Randall, they hit their stride with a furious fourth quarter rally in Atlanta against Georgia Tech and then hit their peak down the stretch against Maryland, UVa and Miami. They are not an explosive offensive juggernaut, but they made the plays when they had to.
Auburnís defense will be a significant challenge, but again, I like how the Tech offense matches up. Techís physical style of play, combined with misdirection, playmakers outside and a mobile quarterback are the key ingredients in the ďGuide to Attacking Auburnís DefenseĒ.
Letís break all that down a bit further.
Key #1: Misdirection Straight-Ahead
OK, thatís a play on words, but itís also accurate. Many people associate ďmisdirectionĒ with reverses and other things that allow the offense to get outside an overly aggressive, over-pursuing defense. The Tech offense is not going to have any success trying to outrun the Auburn defense to the outside, so that is not the type of misdirection they want.
In this case, the focus of the misdirection is to get one or two specific players extended out of their gaps and hit them with direct runs or cutbacks into the open gaps within the perimeter of the defense. The Tech offensive system is well suited to utilize this type of misdirection and, as we all saw in the SEC Championship game, Auburnís defense can be exploited by it.
Look for Tech to utilize many of the same misdirection techniques they have used for the last several years. Running the tailbacks between the tackles combined with WR reverse action can effectively freeze the backside defensive end, draw the safety out of his run support gap and cause the linebackers to over-extend on their reads. Look for Tech to run at least two variations of that type of misdirection. The first will be a direct run with power blocking to test Auburn weakside LB Derrick Graves, who will be subbing once again for the injured Antarrious Williams. The second will be a designed cutback off of zone slant blocking to test Auburn free safety Will Herring. Tech executes both of these plays very well and with Auburnís struggles against Tennessee, you should expect to see them both early and often.
Of course, Tech canít rely completely on variations of misdirection action. To succeed against this defense, they are also going to have to line up, physically win the battles in the trenches, and get their tailbacks to the second level. The offensive line really came together later in the season, particularly leading the power run game. They are not the athletic type of line that is going to pull and lead a bunch of successful sweeps, but they are very effective at power and zone blocking, with direct runs by the tailbacks. Auburnís defense is small, quick and fast, so look for the Hokies to run right at them in much the same way they attacked the Miami defense. Auburnís defensive front is better than Miamiís, but the game plan has to be same Ė canít run around them, so run it right at them.
One thing to watch will be how Billy Hite chooses to use Mike Imoh and Cedric Humes in this game. For the first time this season, both will be fully healthy and available. Humesí style is probably better suited to attack Auburnís type of defense, but Imohís ability to make people miss will be key when the Hokies are able to get him isolated one on one in a gap through misdirection or on a cutback. Their styles are an excellent complement to each other, so look for both to get a near equal share of snaps in the game.
What to watch for:
Auburn Ė discipline and gap control against Techís misdirection. Keep an eye on #29 Graves and #35 Herring. Will play eight-in-the-box on occasion, but how often against the Hokies? Keep an eye on #4 Rosegreen and where he aligns pre-snap.
VT Ė success with the running game early between the tackles. Look for the north/south burst by Humes and the cutbacks by Imoh. Look for a variation off the reverse action with an option to the weakside.
Key #2: Protections
Sometimes statistics can be deceiving and sometimes they identify a key to the game. As far as sacks are concerned, the statistics do not bode well for Tech in this game.
Tech has struggled with pass protections for most of the year, finishing next to last in the ACC with 35 sacks allowed. On the flip side, Auburnís defense knows how to get to the quarterback, leading the SEC with 35 sacks thus far this season. Anyone else think Auburnís defense will be expecting to get a lot of pressure on Bryan Randall?
The Hokies canít afford to get behind the chains against this defense, but to have success in this game, they need to get some things accomplished throwing the football. Just guessing, but Iím betting that the offensive coaches and players have spent a good amount of time over the last month studying Auburnís pressure techniques and working on their protection packages, particularly in the QB meeting room with Kevin Rogers and Bryan Randall. Auburn does a fair amount of man blitzing and zone blitzing, shooting linebackers and safeties up the middle and corners off the edge, while dropping defensive linemen into underneath zone coverage. I would look for Auburn to utilize a heavy dose of NC Stateís game plan and blitz Tech even more than usual. Iím sure they feel confident in the ability of Carlos Rogers to shut down any of the Tech wide receivers (that might be a mistake, by the way), allowing them to bring an extra safety and their linebackers often.
Tech will have to defy the trends and neutralize Auburnís pressure. Jimmy Martin and Jon Dunn have to win their battles in passing situations against Auburnís two young defensive ends, Stanley McClover and Quentin Groves. Bryan Randall will have to recognize where the additional pressure is coming from, make the correct protection adjustments, and get in-sync with his wide receivers on sight adjustments to the hot routes. Most importantly, he will need to defeat the unblocked blitzer, either by escaping pressure, hitting a hot route or by throwing the ball away.
I would expect to see a lot of max protections by the Hokies in this game, with one and two man routes on occasion. Keep an eye on Josh Morgan when heís in the game. If they can get into the right situation, look for the Hokies to max protect on a first down play and send Morgan on a deep post against either of the Auburn safeties. That matchup has potential for the Hokies, particularly if they can get Morgan isolated on free safety Will Herring.
Another thing to look for is the I-formation, twins set to the wide side of the field. Against that formation, Auburn will align both corners to the twins set, leaving the boundary defended by the weakside linebacker and free safety. From that formation, Alabama hit a big play down the field to a wide receiver against the Auburn corner. Look for Tech to try that same formation, but with Humes at fullback and Imoh at tailback. With play action, strong safety Rosegreen will get occupied in help against one of the wide receivers. Herring will be aggressive and will be occupied with Imoh, leaving Humes running in single coverage against LB Derrick Graves without deep help. With Humes having his speed back, sending him on a wheel route against Graves would appear to be a good matchup for the Hokies.
What to watch for:
Auburn Ė wants three sacks minimum. Will step up pressure incrementally until Tech shows they can adjust. Watch for Carlos Rogers on the corner blitz. Also watch for the zone blitz by the linebackers over the right side of Techís offensive line with the DE (#98 or #75) dropping into coverage on the opposite side.
VT Ė wants two sacks maximum. Use of the tight ends -- a big part of the passing game all season, how often will they have to stay in for pass protection? With 2-TE formations, look for one to protect and one to release.
Key #3: Success on 3rd Downs
Success on third down will be critical for the Tech offense in this game. They need to sustain drives, flip field position, and keep Auburnís offense off the field for as long as possible. Thatís one of those obvious keys for most every game, but it becomes more relevant for an offense that is expected to be fighting a continuous uphill battle against a very strong opponent.
The game plan will be to work down and distance, stay ahead of the chains and convert workable 3rd down situations. On 3rd and long, Auburn will be able to go nickel, release their young, speedy, sack-happy defensive ends, and bring a little extra pressure up the middle or off the edge. Thatís a bad matchup for the Tech offense and is one they will try to stay out of as much as possible.
To that end, look for Tech to keep everything vertical, both in the run and pass game to minimize the opportunities for lost yardage plays. Missed assignments, poor execution and penalties will all impact down and distance and Tech will experience some of each, of course. When they find themselves behind the chains, look for the Hokies to be fairly conservative, depending on field position, score and the clock situation. Auburn has all the pressure on them, and the Hokies can play fairly free and loose, so look for Bryan Stinespring to take some chances, but also expect him to play Beamerball first and foremost.
What to watch for:
Auburn Ė will be aggressive on 3rd downs, with all-out blitzes and single coverage across the board.
VT Ė conservative on 3rd and long, aggressive on 3rd and short. Keep an eye on Justin Harper in four WR sets.
Key #4: Stretch the Defensive Perimeter
With their speed and athleticism, Auburn likes to pinch and press their defense to reduce the size of the field. Itís not a good matchup for a Tech offense that has struggled in the past against fast, athletic defenses (e.g., NC State).
The Tech offense needs to find ways to stretch the defensive perimeter, first by taking shots outside and down the field, particularly against corner (and former Tech recruiting target) Montavis Pitts. They also have to be willing to take a couple of shots against Carlos Rogers, specifically with Josh Hyman and his ability to make plays on the ball. From there, the Hokies need to attack the middle of the field by forcing the linebackers into deep drops and then hitting shorter routes underneath them.
Developing a plan of attack that stretches the perimeter of the defense will be important once the Hokies get into the red zone. That sounds counter-intuitive, but successfully working the defense around its edges will force that defense to play everything more honest, even when those edges are collapsed as the field narrows near the endzones. That is especially the case with a defense that is built on collapsing and funneling everything towards its speed and quickness.
What to watch for:
Auburn Ė forego containment and funnel everything towards inside-out pursuit. Be physical with both corners and challenge the ball down the field.
VT Ė drive the linebackers deep with a TE and release a back underneath (a slight twist). Get the ball outside quickly to the WRís, followed by some deep shots over the top. Keep an eye on Royal and Clowney short, Hyman deep and Morgan on the post.
Key #5: Force Defense to Account for Randall
The wild card for the Tech offense is Bryan Randallís dual threat abilities. Auburn hasnít faced many mobile QBís that can run like Randall, so they will have to game plan for those abilities, both by pressure containment and by shadowing him with a linebacker.
Look for the Hokies to get Randall on the run early to test Auburnís ability to account for him. Expect to see a package of planned runs, including options, bootlegs, and QB draws. Some of those plays may not gain a lot of yards, but Tech will show them early in order to force Auburn to account for it, allowing some other things to be set up for use later in the game. If Randall can occupy one of the Auburn linebackers, then that will open up some space for the receivers to work the middle of the field.
Of course, Randall is most dangerous when he scrambles away from pressure. Auburn will know that coming in, and I expect they will play containment more so against Randall than against any other aspect of the Tech offense. Auburn has enough speed on defense to neutralize Randallís scrambling ability, but his strength as a runner will likely surprise them early on. Randall needs to be aware of that speed and protect the ball from getting punched or stripped from behind by the defensive pursuit.
One other tidbit to point out about Randall in this game. By far, the most success he has had in his career throwing the ball have come in the two games he has played in domed stadiums Ė 2002 @ Syracuse and in 2003 against Cal in the Insight Bowl (yes, they closed the roof before the game started). His third and final college game in a domed stadium will be against Auburn in the Sugar Bowl. While Tech is hoping for another big game from Randall under the roof, they are also hoping for a reversal on the scoreboard.
What to watch for:
Auburn Ė flush Randall and get him running wide and/or shadow him inside with a linebacker. Should he break containment, rely on speed of the pursuit to chase him down and minimize the damage.
VT Ė planned runs for Randall, particularly with QB draws from shotgun formations. Expect quick decisions for Randall to pull down and scramble to escape pressure.
Conclusion
On paper, Auburn should win this game. The defenses are fairly even, but the Tigers get the advantage offensively. If these teams played multiple games, like in a playoff series, Auburn would win most of them. But this is a one-game deal, and Tech comes in having played some of the best football of any team in the nation down the stretch. All of the intangibles favor the Hokies, a team that just loves playing the underdog role on a national stage. The pressure is on Auburn to win and win big, and while they have had a magical season, they are facing a team with a karma thing going that supercedes all of the matchup comparisons and X and O analysis.
Itís been said many times already, but this sure feels like 1995 revisited. The Hokies would love a repeat of the Sugar Bowl that year versus Texas, only this time getting the two big TDís from Eddie Royal on the punt return and post pattern, a Cedric Humes TD from the goal line offense, and a final TD from one of Techís many deserving defensive linemen. Most of all, they would love to see a repeat of the 1995 defense that harassed QB James Brown all night and shut down the dynamic one-two punch of Texas running backs Shon Mitchell and Ricky Williams. Can the 2004 Tech defense duplicate that performance, containing Jason Campbell and shutting down Auburns one-two punch of Carnell Williams and Ronnie Brown? Few people believe they can, but a lot of people felt that way in 1995 too.
Iíll be back next year with the follow-up. Enjoy New Orleans, everyone!