A Gym Rat's Notebook: Happy Hour Has Just Ended
by Elijah Kyle, 12/22/04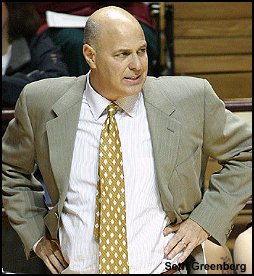 It has been months leading up to that first ACC basketball game, and after a season in football that saw an ACC Championship, a Player-Of-The-Year recipient in Bryan Randall and plenty of critical voices quieted along the eastern seaboard, the arrival of the North Carolina Tar Heels with all of their mystique hit Blacksburg this past weekend.
After kicking back in anticipation of the first ACC game for the last six months, while slamming Corona after Corona and building the requisite buzz, the actual event finally arrived and it was not at all a pretty sight, either from a playing standpoint or from a fan standpoint.
After battling the heavily favored Tar Heels evenly for the first 14 minutes of the game, the wheels came off for the Hokies late in the first half, and then the second half was full of basketball that many would rather forget. That is, if you were in the Cassell pulling for the Hokies, which not everyone was, another story in itself. Most notably, there were indications that more than one playerís effort was lacking down the stretch of the game. It certainly wasnít the manner that the basketball program wanted to introduce itself to other ACC teams and the conference.
This team, as currently constructed, will struggle in every ACC that will be played. There is no interior size, little inside scoring to keep defenders from contesting every dribble and pass on the perimeter, and the outside shooting is spotty, at best. Early in the season the team was able to enforce its will on opponents by pressing and harassing them into turnovers, thus igniting the transition game. That beep-beep style of play was AWOL Sunday, as it was the Heels who scooted up and down the court, outscoring Tech 21-6 on fast break points. So, it should not have been a huge surprise that the Hokies struggled against first class competition like they did.
The Tar Heels exposed all of VT's weaknesses. With their superior size and front court talent, the Heels were able to get the ball inside at will. With their superior quickness and athleticism on the perimeter, the Heels were able to contest every pass and overplay the passing lanes. They totally disrespected the inside game of Tech and used Sean May to act as a free safety in the paint, coming off his man to help with drives and backdoor cuts.
Although the crowd was announced at 9,847, there were not that many people there and furthermore, there was an abundance of Tar Heel fans. Too many of them, in fact. Did we really need to see UNC fans dressed in baby blue sitting at half court on both sides in the first two rows? How does that play on television? There were scores of Tar Heel fans in prime seat locations. I donít recall a recent game in which there were more opponent fans than was witnessed on Sunday. I heard people state "this is a pretty good crowd with the students not being in school" and I am thinking "whatever are they referring to?"
This was the inaugural ACC basketball game for Virginia Tech. It was an event that we will not ever see repeated in our lifetime. It was a game that many have been waiting for approximately 40-50 years. It was North Carolina, one of the true giants in college basketball. North Carolina brought the #5 team into the Cassell, and we canít get a sellout with all of the back story and historic significance that marked the date? Please.
To those fans that were in attendance and read the basketball message boards, you know you arenít being called out here. But, if the football team can see 6,500 fans sit in Cassell Coliseum on a Saturday night for 2 hours awaiting the arrival of the football team from Florida after clinching the ACC football championship against Miami, then expecting 10,000 fans to show up against the #5 team in the country in the schoolís first ACC game in history isnít asking too much. And by the way, that football rally was only announced the day of the game. It wasnít planned, but a quick spontaneous reaction to the dayís enormous football victory.
And before anyone thinks that we donít love the football team, let me point out that I was there in the Cassell greeting the football team and loving every minute of it. I love the football program and love everything it has accomplished. I attend every game and am basking, like all other Hokie fans, in the sunlight of our first ACC Football Championship.
But, it is a puzzling fact that so many of the fans that make Virginia Tech and Hokie Nation such a force in football so quickly evaporate in basketball. It is one thing to buy season tickets this year in basketball and sit at home during the early portion of the home schedule, thus leaving numerous prime courtside seats unused. That sure looks good on television and to recruits watching the games. It is quite another story to see these seats end up in the hands of Tar Heel supporters. If you have deep pockets and are just buying the seats so that you can cherry pick the games, donít go to E-Bay and sell them to Tar Heel fans. Where is the loyalty there? How would you like to be a 25 year Tech basketball season ticket holder who finds themselves moved up and much further away from where your seats have been for so many years, only to look at all the Tar Heel fans with terrific seats at the first ACC game in the history of the school? Sitting in seats better than yours?
The fans here at Virginia Tech are indeed the twelfth man for Virginia Tech in football. There is a reason that bowls love Virginia Tech. There is a reason that the Hokies have this huge reputation for being outstanding traveling fans. There is a love affair with the football team and rightly so. Few schools can equal the passion of Virginia Tech fans. Few schools have the reputation of Virginia Tech fans in football. We heartily embrace our football program for all to see, essentially saying to others "you canít top the affection we have for Virginia Tech."
But as soon as December hits, people seemingly run and hide. It's akin to a family with two sons. One son is the athletic star with the high IQ and outstanding grades. The other son doesnít possess the intelligence or the athletic ability. Shouldnít you love both of them equally? Can you truly rationalize showing preferential treatment to one over the other?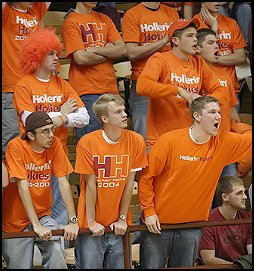 The love that is so available and so dominant throughout the football season has to be conveyed to basketball. There was only 1 ACC-looking team on the court Sunday in Cassell, and that team wasnít Virginia Tech. There is enormous work to be done to become a viable, competitive ACC program. The fans need to get behind this program and start acting like they want an ACC program. The administration needs to start acting like they want a true ACC basketball program and put some money up, not just use lip service. We hear every season about how you always need to be spending money on upgrading facilities in football, or else you are falling behind someone else there. We see things change every off-season where football is concerned. But in basketball, year after year, itís the same old story.
This isnít a call to arms pitting football against basketball. The football program needs and rightly deserves everything it gets in the way of athletic program dollars. It probably needs even more. But if the love affair that Tech fans have is for the University and all of its athletic programs, then a huge step forward has to be taken in basketball. The team isnít yet at the stage where it can be considered a truly competitive and worthy ACC program. The programís dollars arenít construed in a manner that puts us in a position with the programs that we compete with. The collective fan support is also, unfortunately, not yet at an ACC level.
Taking the quick and easy way out by saying that when the program wins it will be supported, will only serve to dig a deeper hole. We must collectively start acting like we truly want a competitive ACC basketball program. Lip service will not get the job done. We are lagging behind most every ACC program as we speak and that hole gets bigger every year, especially when the program, administration and fan support arenít ACC ready.