Mr. Clutch
by Chris James, 12/21/04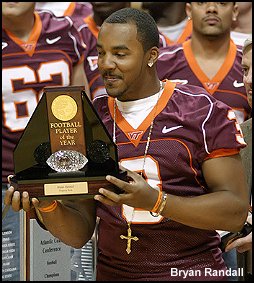 Flash back to the 2002 season. The Hokies have the ball 1st and 10 on the Syracuse 25 yard line. They are trailing 50-42 in the 3rd overtime, and must have a touchdown and a 2 point conversion on this drive. Bryan Randall drops back to pass, throws a fade to Ernest Wilford into heavy coverage. Intercepted.
Go forward one week to the West Virginia game in Blacksburg. It is 2nd and 10 from the WVU 11 yard line and the Hokies are trailing 21-18. Bryan Randall is flushed from the pocket and throws into heavy coverage yet again and is intercepted in the end zone with 12 seconds remaining.
Remember those frustrating moments? Randall was enjoying a decent season up until that point. The defense was stopping every team on the schedule, while Randallís job was to not turn the ball over and to protect the lead while the defense and the running game did their things. However, when the defense began their November collapse and the team needed Randall to perform in the clutch, he could not answer the bell. Those struggles didnít end in 2002. Instead, they lasted throughout the 2003 season and into 2004.
Randallís performance in the clutch became a hot topic on TSL Message Boards. Some argued that his age and experience would come into play in 2004, and that the Hokies would benefit from having a senior quarterback who was entering his 3rd year as the starter. Others said that Randallís past history would repeat itself and that the Hokies were heading towards a 7-5 season, or worse.
Randall did nothing to help his supporters at the beginning of the 2004 season. With the Hokies in a tight game with #1 USC, Randall made some horrible plays down the stretch. Trailing 14-10 in the 4th quarter, Tech had the ball on the USC 25 on a crucial 3rd and 8. Richard Johnson came across the field on a crossing pattern with no USC defender in a position to make the stop. Randall fired a pass that was way behind Johnson, who had some room to run. At the very least it would have been a first down for Tech. Brandon Pace kicked a 42 yard field goal on the next play, making the score 14-13. Perhaps nothing would have changed if Randall had hit that pass. USC could have easily won the game despite it. However, imagine if the Hokies get a touchdown on that drive, and are leading the game 17-14 with 7 minutes or less left on the clock (Pace kicked the field goal with 7:55 remaining). That puts an awful lot of pressure on USC to rally. Randall later had a crucial fumble with 2:01 remaining and Tech trailing 21-13. USC converted the turnover into a field goal, and the game was sealed.
This season, something finally clicked for Bryan Randall, and he began to start playing better down the stretch. During the NC State game, Randall led the team on two critical field goal drives to bring Tech within a point. In the final drive of the game, Randall hooked up with Josh Hyman on a crucial 4th down play to keep the drive alive. Randall later hit David Clowney for a 38 yard completion that put Tech in field goal range. Unfortunately for Randall and his legacy (up until that point at least) the kick sailed wide right. Bryan Randall was in the middle of his senior season, and he had yet to lead his team to a victory in the 4th quarter.
The best-known 4th quarter comeback by Bryan Randall this season was against Georgia Tech on national television. However I think we need to go back two games and see Randallís performance in the Wake Forest game during the 4th quarter. Using his arm and his legs, and with the game tied 10-10 in the 4th and on the road, Randall led the team down the field for a game winning touchdown drive. Randall hit Jeff King for a 24 yard completion and had runs of 12, 12 and 21 yards before Mike Imoh scored the winning touchdown. The defense had a goal line stand with just seconds remaining to make the lead stand up.
You know the story after that. The 4th quarter miracle in Atlanta. The perfect 4th quarter against UVA. The 4th quarter touchdown pass to Eddie Royal in the Orange Bowl. Except for the USC game, it seemed like Bryan Randall was just about perfect in the 4th quarter for the Hokies this year. He led the team to four 4th quarter wins (Wake, Georgia Tech, UVA and Miami) and was the definition of clutch. So how good were Randallís 4th quarter stats?
Well honestly Ė and surprisingly Ė they could have been better. Take a look at the table.
Bryan Randall's 4th-Quarter Stats, 2004 Season

Game

Completed

Attempted

Yards

TD

INT

Rush

Yards

TD

Fumbles Lost

USC

6

13

43

0

0

3

-13

0

1

Duke

1

4

4

0

1

2

16

0

0

NC State

7

14

126

0

0

6

-14

0

0

WVU

3

6

26

0

0

4

1

0

0

Wake

1

4

24

0

0

3

45

0

0

GT

3

5

159

2

0

3

41

0

0

UNC

0

6

0

0

0

1

5

0

0

UVA

5

5

71

1

0

3

16

0

0

Miami

2

5

51

1

0

0

0

0

0

Totals

28

62

504

4

1

25

97

0

1
(Keep in mind that Randall did not play in the 4th quarter against Western Michigan, FAMU or Maryland, none of which are listed here, because they were all blowouts.)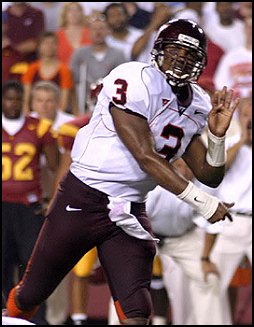 Randallís touchdown to interception ratio was an outstanding 4:1. Four touchdowns and only one interception on the season in the 4th quarter. Thatís pretty good, especially the one interception, when we take into consideration his past history. Besides that interception, Randall only had one other turnover in the 4th quarter on the season, which was his fumble against USC. Looking at the table, we see that both of those turnovers came in the first two 4th quarters that Randall played in this season. So from the NC State game to the end of the season, Bryan Randall did not turn the ball over in the 4th quarter. Not even once. Itís probably not a coincidence that Tech only lost one game in that span and that was by a few inches on a field goal that, had it been good, would have jumpstarted Randallís amazing string of wins in the 4th quarter a couple of games early.
Looking at some of the games specifically, I was surprised when seeing that Randall was 0-6 passing in the 4th quarter against UNC. However, that statistic deserves an asterisk. Randall had two passes dropped in the 4th quarter against the Tar Heels, one of which was a deep crossing pattern that probably would have gone for a long touchdown to Josh Hyman. If Hyman catches that pass, then Randall comes up big in the 4th quarter yet again.
From a yardage standpoint, the game that sticks out at you is the Georgia Tech game. Randall completed passes of 28, 80 and 51 yards to Josh Morgan, Eddie Royal and Josh Morgan respectively. The last two went for touchdowns, and the first nearly did with Morgan being tackled at the one yard line. The Hokies converted that one to a field goal, so all three passes that Randall completed in the 4th quarter led to 17 points for Tech. The 51 yard touchdown pass to Morgan was set up by a 32 yard run by Randall. From a yardage standpoint, the 4th quarter of the GT game was Randallís best through the air and 2nd best on the ground.
His masterpiece came on November 27 on Senior Day in Blacksburg against UVA for the Commonwealth Cup. Randall was perfect for the 4th quarter, going 5-5 for 71 yards and a touchdown pass to Josh Hyman. The touchdown pass to Hyman, which was the 2nd time that Randall and Hyman hooked up for a touchdown on the day, answered a field goal by UVA that had tied the game at 10. The pass put Tech up 17-10, with the Hokies going on to win 24-10.
Against the Miami Hurricanes, with the ACC Championship on the line, Randall only completed 2 passes in the 4th quarter, but they were two of the biggest passes of the season. First he hit Eddie Royal for a 39 yard touchdown that put Tech up 16-10, then he later hit Jeff King on a 12 yard pass for a first down that kept the clock running, helping to preserve a Tech victory.
So how does Randallís 4th quarter performance compare to his overall performance, as well as his performance in quarters 1-3? Letís take a look.
Randall's 2004 Stats
4th Quarter vs. Quarters 1-3

Statistic

Quarters 1-3

4th Quarter

Totals

Completion %

58.7%

45.2%

55.6%

Yards

1,461

504

1,965

TDs

15

4

19

INT

6

1

7

Rush

102

25

127

Yards

369

97

466

Yds/carry

3.6

3.9

3.7

TDs

3

0

3

Fumbles Lost

1

1

2
First of all, his completion percentage in the 4th isnít nearly as good as the first 3 quarters of play. He threw 23% of his total attempts for the season in the 4th quarter, so his attempts were evenly distributed, from that standpoint. The two drops against UNC would have raised his completion percentage in the 4th quarter to 48.4%.
Somewhat surprising is that only 4 of Randallís 22 touchdowns (passing and running) on the season came in the 4th quarter. They all came in the final 4 games of the season, with the UNC game being the only game in that stretch that Randall didnít account for a touchdown in the 4th quarter. Itís kind of hard to explain why, but do those stats really matter? There is no statistic that measures whether or not a player comes through when his team needs him, and that is exactly what Bryan Randall did in 2004.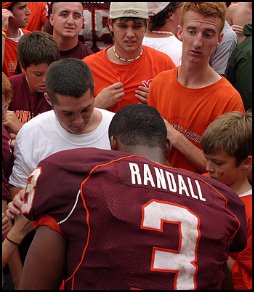 This season, Randall did whatever it took to win, whether it be putting the team in a position to win (Wake Forest), throwing the game winning touchdown pass (GT, UVA, Miami) or just not turning the ball over and preserving a victory (WVU, UNC). Some of his statistical numbers may not be all that gaudy, but I guarantee you one thingÖ.Bryan Randall wouldnít trade this remarkable season for some nice 4th quarter statistics. After all, the main statistic that one is judged upon is the number of wins and losses, and Randall passes that test with flying colors. Randall has four 4th quarter wins and an ACC Championship, so what do stats matter?
Take Peyton Manning for example. Manning stands just one touchdown pass shy of tying Dan Marinoís record of 48 in a season. When Manning breaks that record, and he will, it will be an amazing accomplishment and one that he will take pride in for the rest of his life. But if the Colts pull an upset or two and win the Super Bowl this season, I bet the most memorable moment of the season for Manning will be winning the Super Bowl, not breaking the record. Itís the same situation for Randall, who broke numerous records at Virginia Tech this season but no doubt takes more pride in the ACC Championship.
From scapegoat for the past failures of a poor clutch team, to the hero and leader of the ACC Champions, Bryan Randall has seen and overcome a lot in his days at Virginia Tech. It's tough being the quarterback who falls in between the two Vicks, but Randall won in the end. Randall has always been a popular guy among Tech fans because of the high quality person that he is, and now he is at the top because of his performances on the field.
Those fans who said Randallís game experience would pay off for Tech this seasonóand admittedly I am not one of those peopleówere correct. Some guys just "get it" at different points in their careers. Michael Vick got it as a redshirt freshman, and Jim Druckenmiller as a redshirt junior. Bryan Randall didnít get it until halfway through his senior season, but that has been enough to make me forget about his first 3.5 years.
I donít know whether or not Randall is an NFL quarterback. I suspect that he will get an opportunity to be Ö after all, Grant Noel and Dave Meyer were signed to free agent contracts by the Ravens and Colts, respectively. Randall will at least get the same treatment, and it will be up to him from there. I donít know how long he will hang around the NFL or if he will at all, but if he does, there will be no guy who deserves it more. Heís already overcome a lot of adversity at Tech, so whatís a little more?