For an Embattled Coaching Staff, a Season of Redemption
by Will Stewart, TechSideline.com, 12/14/04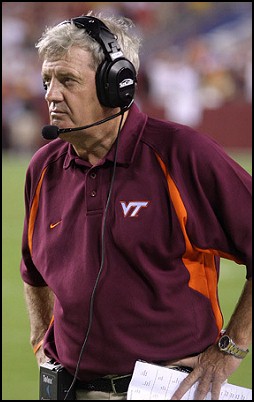 A little less than a year ago, in the wake of the bowl loss to California, it looked like the Hokie coaching staff was losing their touch. Frank Beamer had lost control of a team full of star players, Bryan Stinespring was being exposed for the overworked, inexperienced offensive coordinator that he was, and Bud Foster, one of the top defensive coordinators in the country for a long time, was clinging to an outdated defensive system that was being abused by modern offenses. Almost a year later, things look much different, and we're left to reflect upon what changed and what we, the observers of the program, can learn from it.
Frank Beamer became head coach of the Hokies in 1987 and struggled his first six years, the victim of a two-year probation -- in 1987 and 1988 -- and its lasting effects. Virginia Tech football bottomed out in 1992 with a 2-8-1 record, but then-athletic director Dave Braine stuck with Beamer, who was forced to make changes in his coaching staff. Four assistant coaches changed from 1992 to 1993, when Phil Elmassian, J.B. Grimes, Rod Sharpless, and Bryan Stinespring joined Beamer's staff, taking over for Michael Clark, Steve Marshall, Tommy Groom, and Keith Jones.
The rest is history, of course. The 2005 Sugar Bowl will be VT's 12th bowl in a row, a streak shared by only four other schools: Michigan (30 in a row), Florida State (23), Tennessee (16), and Florida (14).
Aided by Big East membership and the exposure and recruiting it brought, Frank Beamer and staff built the Hokie program from the ground up into a perennial top 10 team -- the Hokies have been ranked in the top 10 at one point in the season for six straight years now and eight of the last ten. For the most part, they did it with unheralded players and diamonds in the rough, building a blue-collar program that its blue-collar fan base could identify with and love.
The rise of VT football led to a national championship game appearance in 1999 and an 11-1 season the year after, both under QB Michael Vick. Those glory days passed by though, and the well-documented November/December swoons of 2001-2003, culminating in a 2003 November disaster despite a team stocked with NFL draft choices, brought the program back down to earth. After Cal quarterback Aaron Rodgers chuckled his way to 52 points in last season's Insight Bowl, the program again hit bottom, or at least reached a low not seen since 1992.
Suddenly, everything was fair game for criticism, and I even wrote an ambitious seven-part "State of the Program" series that examined the offense, the defense, special teams, leadership and discipline, recruiting … you name it. Most of the series was not complimentary and pointed towards the need for change. Mostly minor, but change, nonetheless.
The coaching staff came under fire. Fans and columnists, including yours truly, pointed towards Frank Beamer's often-confused face on the sidelines (no one will forget ESPN's endless close-ups of Beamer during the 2003 WVU debacle) and a general lack of discipline in the program as evidence that he had lost his grip on the program. Beamer's non-coaching activities, which include Beamerball.com, fantasy camps, and Beamer's restaurants, were pointed to by many fans as examples of a "corporate Frank" who was allowing too many outside concerns and activities to compromise his coaching ability.
Among the assistant coaches, Bryan Stinespring's inexperience as an offensive coordinator, a position he held for the first time at any level in 2002, made him message board fodder, particularly when his offense seemed to lack an identity and was inconsistent from week to week. Bud Foster's defense, one of the best in the country in 2001, had become a swinging gate by the end of 2003, allowing all those who approached it to pass through with ease. This led to even the venerable Foster being questioned as a coach whom the game had passed by.
Many hard-line fans felt that the post-2003 offseason required definitive action similar to the post-1992 offseason, and they were angered when Beamer took no apparent action in early 2004. No one's duties changed, no coaches were dismissed, and no fresh blood was brought in.
The poor finishes of 2001-2003 and the apparent resistance to change activated the deep-rooted fear of the fan base of every successful program: that it was all about to go away, that a once-successful coaching staff was stubbornly clinging to antiquated ways, shouting, "Be calm! All is well!" as the sinking ship went down.
That's an understandable fear. It happens to every program, it seems. Virginia lost its zip in the last few years of George Welsh's tenure there, and no one wants to be in the same boat as Penn State, where Joe Paterno is feared to have lost his touch after four losing seasons out of the last five, including a 7-16 record and just three Big Ten wins (two against Indiana) the last two seasons.
It had taken a hundred years for Virginia Tech to become a legitimate player in NCAA football, and Virginia Tech's passionate fan base didn't want to lose that. Hence the criticism, and the desire for change that so many possessed. No one wanted to lose what they had.
The offseason didn't bring sweeping changes, but the coaching staff did calculate what needed to change, and they took some steps to make it happen. The changes seemed small at the time, but they knew with a little luck and some improvement from the players, things would pay off.
Suffice to say, they did.
Beamer Regains His Grip
Frank Beamer has never been the type of coach to carry a clipboard on the sidelines, call offensive or defensive plays during the game, or rally the troops with fiery pre-game or half-time speeches. He believes in preparing the players during the week before the game, he believes in letting his coordinators handle the details of the offense and defense, and he believes that if you're not ready to play on the day of the game, no jabbering from the coach is going to change that.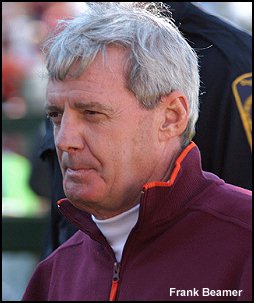 Beamer has always been more of a program manager, as opposed to an X's and O's, in-the-trenches guy. (The one exception is his preparation and play-calling in special teams.) That leads to a perception that Beamer doesn't have control of the program come game time, and indeed, he is to a large degree at the mercy of his players and coaches once the ball is kicked off.
When things go well, Beamer almost disappears during a game, because the coordinators and players take over. But when things don't go well, as they didn't during last year's 28-7 butt-whipping at WVU, the TV cameras love to show his upset, seemingly-confused face on the sidelines. ESPN made dramatic theatre of Beamer's sideline reactions during that WVU game, including his infamous helmet slap of Ernest Wilford.
That hands-off aspect of Frank Beamer's coaching style won't change. But what did change since the end of the 2003 season was his management of the program, namely the egos that populated it. Beamer was fortunate in that most of the rumored morale disruptors on last year's team moved on to the NFL or finished their eligibility and weren't around for 2004. But of those that remained, he took steps to keep them in line.
First came a postseason speech to the team in which Beamer threatened 6 a.m. workouts with Mike Gentry for players running afoul of team rules. Beamer also warned his players that if they didn't take care of academics and behavior off the field, he would not hesitate to "separate" them from the program.
During 6 a.m. winter workouts and spring football practices, the team sported T-shirts with "TEAM" printed in very big letters, and "me" printed in very small letters, a message to the players that me-first thinking and dreams of the NFL were not appropriate while playing for the VT football team and would not be tolerated. The team later partnered with the United Way to produce and sell "TEAM UNITED" wrist bands as a fundraiser for the United Way and a show of unity among the players and fans.
When promising rover Michael Hinton was arrested in April and charged with felony malicious wounding and misdemeanor destruction of property, he was quickly dismissed from the team, despite the fact that he was an important backup at a position not deep in talent, and despite the fact that he is a kid from a rough background to whom football was a way out.
When wild card cornerback Jimmy Williams shot his mouth off before the BCA Classic against USC, saying that the Trojans "ain't never seen nothing like me," Beamer quickly reeled him in, muzzling Williams for the entire season and not allowing him to speak to the press again.
When the Hokies committed an unseemly number of personal foul penalties against Georgia Tech and participated in too much trash-talking and taunting of the GT fans, Beamer reinstated an old punishment: a 100-yard dash at 6 a.m. Wednesday for each yardage of penalties incurred during a game.
The major fly in the ointment were the arrests of Marcus Vick, Mike Imoh, and Brenden Hill in January, shortly after Beamer's discipline speech, on charges of contributing to the delinquency of a minor. Hill was not a player of consequence, but Vick and Imoh were key cogs on the depth chart, and Vick even seemed ticketed to take over the starting quarterback job.
Beamer and Athletic Director Jim Weaver dragged their feet on punishing the players, and the sordid tale wound its way through January and into May, when the three were finally convicted. Shortly after that, in early July, Vick was arrested for reckless driving and possession of marijuana, and a firestorm of negative publicity ensued.
This time, Weaver reacted quickly, suspending Imoh and Hill for three games and Vick indefinitely (Vick was later suspended from the university for the entire fall semester). With Cedric Humes having suffered a broken leg in April, the Imoh suspension put the depth at running back in peril, and likewise with the Vick suspension, since all the Hokies had to back up Randall were two true freshmen, Cory Holt and Sean Glennon.
The promotion of team over individualism and increased discipline in the program helped the ship run more smoothly this season. But Beamer was also aided greatly by his team leaders, upon whom he has always relied, sometimes to his detriment. Bryan Randall, Darryl Tapp, Jim Davis, Vinnie Fuller, and Eric Green stepped up and set the examples for leadership and team play. This was never more apparent than at half time of the Georgia Tech game, when Beamer had a half time meeting and comments prepared, only to discover when he went into the locker room that the seniors had the team huddled up and were speaking to them already.
"I learned a long time ago that the best way to get things done with a football team is to let them do it," Beamer said on the Hokie Hotline the following Monday. He did, and they did, storming back for one of the biggest wins of the season.
For his efforts, Beamer won a well-deserved ACC coach of the year award, and Sports Illustrated even named him their national coach of the year. I was one of those concerned that Beamer had lost his grip on the program last year, and perhaps he had at the time, but one thing is sure: he's back in charge. Instead of stubbornly insisting that all was well, Beamer identified the weaknesses of his flailing program and corrected them in just one season. He didn't feel his assistants were the problem, and for this team and these coaches, he was right.
Stinespring Has His Moments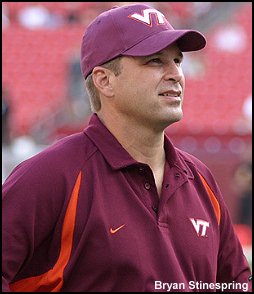 My criticism of third-year offensive coordinator Bryan Stinespring was that although he was consistently adding plays to his playbook, he hadn't developed a feel for the game, or the ability to set defenses up early in the game for something later.
Stinespring seems to have made great progress in that area, though I'm not an astute enough observer (not like TSL writer Raleigh Hokie) to provide you with an X's and O's breakdown of why I think so. All I can point to are the results, and the Hokie offense, after struggling in the clutch in 2002 and 2003, has come through for Stinespring this year.
I didn't think Stinespring had very good games against NC State and Georgia Tech from a playcalling standpoint. Against the Wolf Pack, the Hokies struggled to stop the blitz. Some of that was because of poor execution by the OL and running backs, and some was because of incorrect protections called by Bryan Randall, who struggled with reading the defense pre-snap in that game.
Then came the Georgia Tech game, where Stinespring had a solid game plan but made some curious play calls that thwarted the offense, until a fourth-quarter outburst brought the win. But the biggest side note to the GT game was that Stinespring's offense wasn't fooled by GT's zone-blitz package, like they were against NC State. That points to adjustments and better game preparation from the coaching staff.
Against UNC, Stinespring had the correct game plan – run, run, run – and it resulted in a record 243-yard rushing day by Mike Imoh. Stiney even made the perfect play call on the first play of the fourth quarter, when he sent Josh Hyman on a deep crossing pattern, a play that would have resulted in a 72-yard game-clinching TD, had the wide-open Hyman not dropped the pass.
In the Virginia game, Stinespring adjusted to the penetration of nose tackle Andrew Hoffman by doubling down on him with a guard, and he patiently waited to attack Virginia's shaky secondary, producing two fourth-quarter touchdowns that took advantage of UVa's glaring weakness at the DB positions.
In the "ACC Championship Game" against Miami, Stinespring again had a solid game plan, and again, he struck when the opportunity presented itself. In much the same way that he called a long TD pass to Hyman against UVa late in the third quarter, he called a crossing route to Eddie Royal for a go-ahead TD the first time the Hokies started a drive in Miami territory. Stinespring developed a knack for going for the throat that started in the GT game, progressed through the UNC game, and led to key wins against Virginia and Miami.
Stinespring did a much better job controlling the game this season than he did in prior years. Is he a great offensive coordinator yet? No, but he has made visible progress. It's not his fault that Frank Beamer elevated him to the position early in his career, forcing him to learn on the job, so that's all you can ask, is progress.
Stinespring also correctly identified the strengths and weaknesses of his offense heading into the season, and he redesigned his offense to play to the strengths and minimize the weaknesses. The Hokies were inexperienced at fullback, and despite the fact that the I-formation with a blocking fullback has been the staple of VT's offense for a bazillion years, Stinespring went with a two tight end set with no fullback for what seemed like 50% of the plays this year, and he made it work.
It's no coincidence that that set leveraged one of the offense's strongest, deepest positions: tight end. Stinespring didn't hesitate to throw to the tight ends, leading to an unbelievable 38 receptions by the tight ends, versus just 16 last year: 22 for 292 yards by Jeff King; 13 for 162 yards by Jared Mazzetta; and 3 catches for 64 yards by Duane Brown. King's 4 TD catches were the most by a VT tight end since Greg Daniels had that many way back in 1990.
In the same way that Beamer was the beneficiary of his players' abilities in the leadership area, Stinespring benefited from unexpectedly good play from a young group of receivers, as well as a remarkable turnaround by Bryan Randall. The stat that defines the 2004 VT offense is this one: In the last eight games of the regular season, Randall threw 14 touchdowns and just 1 interception. QB play like that will make any offensive coordinator look like a genius.
Lastly, Stinespring took some heat for offensive line coaching, but the line showed improvement this year. Jon Dunn, once a painful player to watch, has developed nicely, and James Miller, an average lineman in the past, has had some very good games this season.
Perhaps the best offensive line move Stinespring made all year was to replace guard Reggie Butler with former defensive tackle Jason Murphy at midseason, a smart move that brought an end to the line's early-season struggles. Butler needs to improve, but unfortunately he only has one more year in the program to do so. Stinespring probably went with him early in the season because Butler is 6-6, 339 to Murphy's 6-2, 301, and Stinespring hoped Butler would develop with playing time. When he didn't, Stinespring pulled the plug on Butler starting this year, and time will tell if he revisits that option. (Murphy has one more year in the program, too.)
All in all, a serviceable year for Stinespring, one in which he showed improved knowledge of the game and the OC position. No one will ever confuse him with USC's Norm Chow, but Stinespring showed that when he has players – mainly a quarterback – who will execute, he can direct a solid offense that can win games.
Foster's Defense Returns to Form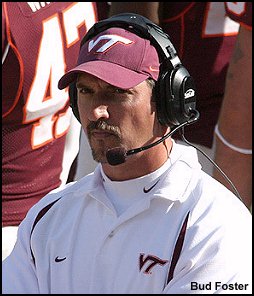 In recent seasons, Bud Foster was the victim of very poor play from the defensive tackle and linebacker positions. The Hokie defense was weak up the middle, and Foster paid the price for it, as his ability to coach, adjust, and evaluate talent was called into question.
Foster made two well-publicized adjustments to shore up his defense: he made the Whip linebacker more of a true third linebacker, as opposed to a hybrid LB/DB with downfield coverage responsibility, and he made the Rover more of a true strong safety with deeper coverage responsibilities; he also switched Vince Fuller from cornerback to safety and Jimmy Williams from safety to cornerback.
For Anderson, the change to the Whip linebacker revived a dead career and didn't just get him back on the field, it got him into the starting lineup. While Anderson didn't have the dominating year many expected based on preseason hype, he did make some exceptional plays: he intercepted Maryland QB Jordan Steffy and knocked him into next week when Steffy tried to make the tackle; he was there to meet Virginia QB Marques Hagans at the 2-yard line on a critical 3rd and goal, forcing him out of bounds; and he made one of the more memorable plays of the year when he closed on Miami QB Brock Berlin like lightning and knocked the ball loose on a critical first-quarter possession.
The changes to the Whip linebacker and Rover positions removed the true weakness of Foster's defensive scheme: the mismatches that occurred when opponents were able to block smallish Whip linebackers with receivers in the running game, or were able to isolate speedy receivers against Rovers in the slot. (For more on this topic, see the section titled "Whip and Rover adjustments are just what the doctor ordered" in Keys to the Season, from 10/15/04.)
As for Fuller and Williams, the switch went against their body types but was perfect for their respective mental abilities. At 6-1, 187, Fuller has cornerback size and speed (4.4 forty), and at 6-3, 219, Williams is built like a safety. But Fuller has a better mind for the safety position, where Williams struggled in 2003 to call blitz and coverage adjustments and stay disciplined in coverage.
Williams was beaten against USC for a key touchdown, and it wasn't the only time he was beaten, but as the year went on, he got better and better. Eventually, he turned into a good cover corner with phenomenal run-stopping capabilities. The signature play of Williams' season came when he stood up first team All-American offensive guard Elton Brown of UVa in a one-on-one matchup, forcing Marques Hagans to run outside and get stopped short of the goal line on 3rd and goal from the 2. That's a game-altering play, one that I'll venture the 187-pound Fuller couldn't have made, had he been left at corner to face Brown.
Like Beamer and Stinespring, Foster too benefited from vastly improved play from his charges. Darryl Tapp was better and more consistent than any defensive end since Corey Moore, Noland Burchette came on strong, and the defensive tackles were night and day from the last few years. Jim Davis was a welcome addition inside, Jonathan Lewis was a monster and consistently strong, and with Kevin Lewis and Carlton Powell, the backups were stout. This freed up Jason Lallis to move back to defensive end, which is more suited to his body size and playmaking skills.
At the linebacker spot, Vince Hall was more of a physical run-stopping presence than his predecessors. Mikal Baaqee found the sweet spot in his weight – 224 pounds – allowing him to be physical enough without compromising his speed. The two of them led the team with 63 (Baaqee) and 62 (Hall) tackles, remarkably low numbers for a leading tackler for the Hokies. The last time a leading tackler for the Hokies finished with fewer than 88 tackles was in 1991, when Wooster Pack led the team with 70 tackles in 11 games. Baaqee and Hall may end up with more tackles than Pack's 70 once bowl game stats are added in, but remember, their stats will be for 13 games. Baaqee and Hall's current per-game tackling average of about 5.25 per game will be the lowest for a leading tackler since the Hokies started keeping tackling records in 1974. That attests to the efficiency of this defense and its overall balance.
Xavier Adibi gave Foster a nice option he didn't have at linebacker the last few years, a speed guy with great instincts and open-field ability. Due to his injury, Adibi didn't get a chance to develop like Hall did, and his best football days are ahead of him. But he was crucial in the Georgia Tech win with his containment of Reggie Ball, and Foster obviously used Adibi as a spy late in the season, like in the Miami game, to contain QBs and backs out of the backfield. The improved play of the front four, which pressured the QB without help from the linebackers, freed up Foster to do more things with the linebackers, especially Adibi.
Foster didn't need to make sweeping changes to his defense, he just needed to tweak it and get his players to play better, harder, and smarter. He got that. He also did a good job making in-game adjustments throughout the season, evidenced by the fact that many teams had their best success against his defense early in the game, only to bog down as the game wore on (see GT, Virginia, and Miami for the strongest examples of this). Foster is back to being considered one of the best DC's in the business.
The Staff's Redemption
In my opinion, the ACC championship and Sugar Bowl trip this team earned did two things for this coaching staff:
1.) 2004 earned the coaching staff the trust of the fans.
For the time being, the 58-year-old Beamer has shown that he's capable of identifying weaknesses in his coaching and his team, and making adjustments to correct those weaknesses. The next time the Hokies struggle in a season, or even two or three, the staff should get the benefit of the doubt, as this season has shown their ability to grow, learn, and make changes.
Beamer's overall program management is still a solid system that can get the best out of players and coaches, if he has good leaders on his team and players who can make plays. Like any coach, if he doesn't have those two things, there's only so much he can do.
And changes like what the coaching staff made in schemes and discipline are not changes that can occur in the middle of a season. The last few years have shown us that once a program gets momentum, be it positive or negative, there's not much that will change that momentum in the course of the season.
2.) 2004 cemented Beamer's reputation as a top coach.
The true importance of this season to Frank Beamer's reputation is that he accomplished a conference championship and a trip to a BCS bowl for the fourth different time, with a third different set of players. The 1995 and 1996 BE championships and Sugar Bowl and Orange Bowl bids could be credited to Jim Druckenmiller and Cornell Brown. The 1999 BE championship and Sugar Bowl berth could be credited to Michael Vick and Corey Moore.
But once a program reaches heights for the third time, you still have to acknowledge the players – Bryan Randall and a defense by committee – but it's time to start giving the coach the credit. Beamer has proven that he knows how to build, and now maintain, a successful program. He has a better handle than ever before not just on what it takes to get to the top, but what it takes to stay there. There's an important distinction there.
Will VT win the conference championship every year? Of course not. Too many variables enter into the picture. But I won't be surprised to see the Hokies do it again. I was surprised when they made the 1995 Sugar Bowl, and I was surprised again when they made the 1999 national championship game. I was a little surprised when they won the ACC this year, but "impressed" is a better word. In the future, I won't be surprised by anything the staff is able to achieve.
In terms of career wins, Beamer is currently fourth on the list of active NCAA Division 1-A football coaches. He trails FSU's Bobby Bowden, PSU's Joe Paterno, and South Carolina's Steve Spurrier. The only thing Beamer can do to enhance his reputation at this point is what those other three coaches have already done: win a national championship.
Conclusion
This year has been educational for me, and I'm sure it has been educational for you, with regards to what this coaching staff can accomplish. The next time the program looks like it's struggling, as it did in 1997-98 and again in 2002-03, I won't be so quick to assume that the staff can't bring it back. That doesn't mean I won't analyze and critique, but it does mean that I'll be patient and give them time to set things straight.
Like the title of the article says, this season has been one of sweet redemption for the VT coaches. To employ an overused phrase, it has been Sugar sweet.