Keys to the Game: Miami
by Raleigh Hokie, 12/3/04

Coming off an emotional victory against their in-state rivals from Charlottesville, the Hokies head to the heat and humidity of South Florida looking to ride a wave of momentum to victory over the Miami Hurricanes and a berth in the Sugar Bowl. The Hokies have won six of the last nine meetings against mighty Miami, including last year's blowout against the #2-ranked Canes in Blacksburg.
The stakes are higher this year and the Canes are looking for a little payback, but the Hokies are playing their best football in five years. They go to Florida brimming with confidence and a seven game winning streak. The Canes are coming off their best performance of the year and a two week break to prepare for the Hokies. It feels like a classic, and if the breakdown of the Xís and Oís means anything, it will be a classic.
I was tempted to include special teams keys this week, but I didnít want to change the format and jinx the streak. Suffice it to say that there are some dangerous fellows running around in the kicking game this week and a big play or two is highly possible. As usual, Iím going to set all of that aside and focus solely on the offensive and defensive keys.
Letís get to itÖ.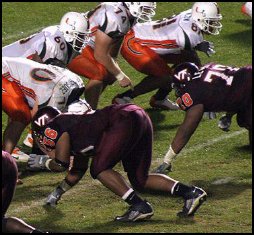 Tech Defense vs. Miami Offense
Miami has a balanced offense with weapons at all the skill positions, including fullback and tight end. They donít do anything fancy scheme-wise; instead, they put athletes all over the field and then look to attack the mismatches. With Roscoe Parrish, Lance Leggett, Sinorice Moss, Darnell Jenkins and the return of Ryan Moore, the Canes have a lot of weapons at wide receiver to mix and match against Techís coverage schemes. Physically, this group is a difficult matchup Ė they have size, speed, quickness and great athletic ability. But they also have been inconsistent on occasion, missing on some big play opportunities with imprecise route running and dropped passes.
While Techís offensive success this season can be traced to the emergence of QB Bryan Randall, the same can be said of Miami and QB Brock Berlin. Like Randall, Berlin is playing with poise and confidence and his decision making has improved significantly since last season. He is not the same QB that the Hokies saw in Blacksburg last year, and as a result the Hokie defense will have to game plan a little differently for the Canes this time around.
Last year, the Tech defense crowded the line of scrimmage, played aggressive on the edges, and blitzed Berlin into several big mistakes in the passing game. Berlinís improved play combined with better offensive balance makes such a game plan very risky this season, as NC State and Wake Forest both discovered.
Look for Techís defense to rewind the tape from their first game of the season and install a game plan that closely matches the plan for USC. Pre-snap, the base defense will be more 2-deep shell with Rover James Griffin aligned more often as a strong safety. He will move up on occasion to get into 8-man fronts, but only when specific formations and game situations dictate. From the 2-deep base, Tech will mix it up showing a lot of zones, man free and 3-deep, man under coverages with a priority on neutralizing Miamiís big play offense.
Key #1: Withstand 1st Quarter Assault
Bad blood, hostile crowd, BCS bowl game on the line, senior day for the Canes Ė the emotions will be running high. Expect Miami to take some home run shots early, looking to grab the momentum, get a quick lead and put the Tech defense back on its heels. The last two Tech/Miami games at the Orange Bowl turned into offensive shootouts with the Canes striking early and often. Techís first priority on defense is to prevent a repeat performance and keep the game from getting away from them in the first quarter.
For Tech to survive the early onslaught attempts, they must keep their emotions in check, stay under control, and take care of their individual assignments. Discipline and concentration is critical -- they cannot afford to give up big plays nor commit big penalties. The defensive line has to get penetration and the corners have to keep the wide receivers in front of them. The linebackers and safeties need to protect against being overly aggressive, focus on their keys and not get caught by Miamiís play action game.
Look for Tech to test Berlinís willingness to check down to underneath receivers by backing corners Eric Green and Jimmy Williams into 3-deep coverage with the linebackers and free safety playing man underneath. Vinnie Fuller is still dealing with a bum shoulder, so look for the Canes to go after him when they get him matched in man coverage against TE Kevin Everett.
It will be interesting to see how long it takes Miami to get Devin Hester involved on offense. When heís in there, look for Tech to walk Griffin up into an 8-man front to widen the defense horizontally against the run and into underneath zones against the pass with Griffin and Whip LB James Anderson dropping out into flats. Hester will be the fastest player on the field, but Techís defense has enough team speed to keep him bottled up.
Techís defense has played well all season, so the Canes will have to come out on fire to catch the Hokies early. If Tech can choke off the early attack, build defensive momentum and get the game into a battle of the trenches, then the game will be in Techís favor.
Key #2: Break Berlinís Rhythm
Brock Berlin has become a more consistent, predictable QB this year, but he still is very much a streaky player. When he gets in a good rhythm, he is extremely hard to stop. He is much more effective passer out of the shotgun, but he has made significant improvement coming out from under center.
Tech must give Berlin a lot of different things to look at by mixing coverages with the same personnel groups. Creating confusion, forcing check downs, and getting pressure up the middle (more on that later) are the best ways to break Berlinís rhythm and force some errant throws.
Berlin has certain tendencies, one of which is to immediately check down to the hot route receiver on the same side when he reads pressure off the edge. Tech will be careful with blitzes in this game, but look for the defense to work those tendencies by doing some things with robber coverages, bringing a single blitzer off the edge and jumping the hot route with a roaming safety or corner.
Key #3: Pressure from Defensive Line
One of the primary factors in Techís success on defense this season has been the ability of the defensive line to get consistent pressure. It takes on added importance in this game against the Canes and their big play passing attack. The Hokies have to be able to get pressure on Berlin without relying on the blitz. Getting pressure while playing 2-deep and 3-deep coverages will keep Berlin off balance, force the Canes to drive the ball, and prevent the wide receivers from making big plays down the field.
Berlinís effectiveness is reduced significantly when he has to move his feet and leave the pocket. Tech will look to get pressure up the middle, both from the defensive tackles and from the defensive ends through line stunts. Jim Davis has been making plays inside all season and he will be a major factor in this game. It will be key for him to get penetration and bring inside pressure against Berlin.
One key to Davisí success this year has been the play of Jonathan Lewis. Lewis has drawn a number of double teams, freeing Davis to use his quickness to beat interior linemen one on one. Davis and Lewis against the Miami guards is a good matchup for Tech, depending on how effective Lewis is with a cast on his hand. The injury to Lewis could be a major factor in how Miami chooses to execute their protection schemes inside. If Lewis struggles with his injured hand, Miami will look to single block him (or his replacement) while double teaming Davis with a guard/center or guard/tackle combination.
Should Miamiís offensive line neutralize Davis and successfully block Techís other DT one on one, then look for the Hokies to run stunts with Darryl Tapp and/or bring an inside linebacker on a delayed blitz through the center of the line. That will be a risky approach because it will commit one of the Tech safeties to man coverage, giving Miami single coverage outside for one of their big play wide receivers against either Eric Green or Jimmy Williams. Tech is willing to take that chance on occasion, but they want to control the circumstances and not get forced into it due to lack of pressure from the defensive line.
Key #4: Contain Slot Receivers
Against Techís base defensive personnel, Miami will play a lot of three WR sets and look to get a big play from either Roscoe Parrish or Sinorice Moss in the slot. With quickness and speed, both will present matchup problems for Tech Whip LB James Anderson in man under coverages. Tech will counter by mixing coverages and playing a good bit of zone underneath, but that will open up some things in the middle of the field for tight ends Kevin Everett and Greg Olsen (who may not play due to an injury).
I expect Tech to play a lot of 3-deep coverages in this game to prevent the big play and to minimize matchup problems against the slot receivers. Against that coverage, Miami will look to run dig routes with the slot and outside receiver from the same side to get the safety committed over the top while the underneath receiver digs inside against man under coverage. Thatís a midrange opportunity in the passing game, but itís a good defense against the home run play.
Techís safeties have to guard against getting fooled by play action, allowing Parrish/Moss to spring free down the middle of the field with Anderson trailing the play. USC hit a big play in the slot to WR Steve Smith against that very coverage. Tech was in 3-deep coverage, which was the correct defense, but the play hit big for USC because the safety bit up on play action, allowing the slot receiver to get behind him. Miami has the QB and big play receivers to execute that play as well as USC, so the Tech safeties must stay disciplined against play action, particularly when they are the last line of defense in 2-deep or 3-deep coverage.
Based on down and distance, look for Tech to go to their nickel package often in this game to get better matchups against the slot receivers. Roland Minor will take the outside receiver with Eric Green or Jimmy Williams dropping down against the slot. It will be interesting to see if Tech stays with base personnel or goes to nickel personnel on run/pass option downs. It will be just as interesting to see if Miami foregoes the pass and runs Frank Gore or Quad Hill against Techís nickel defense.
If Tech does a good job defending the slot, then the primary emphasis of the passing game moves to Miamiís outside receivers against Jimmy Williams and Eric Green. Miami wonít back away from those matchups, but Techís defense should feel fairly confident about its chances should the game go in that direction.
Key #5: Play Physical, Secure Gaps and Tackle
Here I am on the last key and I havenít talked much at all about Frank Gore, Tyrone Moss and the Miami running game. I have talked a lot about defending Brock Berlin and the big play passing game, but the Miami offense truly is about balance. Their late season surge coincides with Goreís return to form and has forced defenses to respect the running game just as much as the passing game.
Without exception, Techís first priority on defense is to stop the run. Normally, Bud Foster will do that by crowding the line of scrimmage with a variety of 8-man fronts and run blitzes, forcing the offense to put the ball in the hands of the quarterback. Unfortunately, that plan isnít going to work against the Canes because the Brock Berlin of 2004 is more than capable of beating an 8-man front defense by throwing the ball.
Once again, the key for Tech will be to mix defensive sets. Giving Berlin various looks is key to breaking his rhythm, but itís just as key to mix defenses against Gore and the run blocking schemes. Look for the Hokies to have a lot of movement along the defensive front with the intent to confuse Miamiís young guards, while making it more difficult for fullback Talib Humphrey to get isolated against his primary key. Miami has fast players all over the field, but Techís speed and quickness on defense will be most effective against the Canes running game.
Tech will be in a 7-man front a lot in this game, so it will be critical for the defensive line to play physical and get penetration. The linebackers have to play just as physical, secure their gaps and get off blocks. Vince Hall has emerged at Mike LB and is no longer playing like a freshman. He will have a lot of opportunities in this game to get his hands on Frank Gore and Tyrone Moss; when he does, he needs to do what heís done all year Ė wrap up and get them on the ground.
James Griffin and Vinnie Fuller will have to come up in run support to force and secure the cutback lanes. With Miamiís firepower outside, a big play in the run game will almost certainly lead to points. Unlike UVa, it will be difficult for the Hokies to have an extra defender unaccounted for in the run game. Tech will have to play this game a little more honest, which puts a higher emphasis on getting off blocks, playing responsibilities, securing gaps and tackling well. For the most part, Techís defense has tackled well all year and that must continue against Miami. Against this offense, the Hokies cannot afford to give up a lot of yardage after first contact.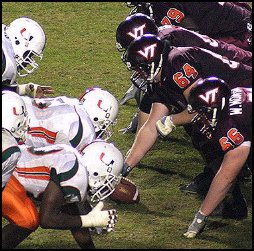 Tech Offense vs. Miami Defense
As with their offense, Miami doesnít do a lot of fancy things with their defense. They play a straight 4-3 with basic fronts and a lot of man coverage in the secondary. They depend on their players to use superior athletic ability to win their individual matchups and make plays on the ball, both against the run and the pass.
This year, due to attrition and injuries, the Miami defense hasnít been as strong as in past years. They have had to use a lot of young, inexperienced players and the results have been mixed. They have particularly vulnerable to the run and that is an area that Tech will look to exploit in this game. Fortunately for Miami, DT Santonio Thomas returns this week after missing several games with a knee injury. He is their best run stopper up front and his return will have an impact; how much will depend on the number of snaps he is able to take.
Techís offense has continued to get better with each game and heads into Miami this week with a lot of confidence. Itís no secret that Bryan Randallís growth at QB has keyed the emergence of the offense.
Going down to Miami to play the Canes for a bid to the Sugar Bowl is about as challenging as it can get in college football. The coaches know the importance of facing such a challenge with an experienced, confident quarterback and thatís what the Hokies have right now in Bryan Randall.
Key #1: Run, Randall, Run
For years, one of the best weapons against Miamiís defense has been a mobile, strong running quarterback. Their man coverage schemes leave a lot of open lanes for a quarterback to exploit and a strong runner like Bryan Randall will be difficult for Miamiís defense to contain.
Look for the Hokies to get Randall off and running early in this game. They will run him inside on QB draws and outside on options and shotgun misdirection. He will have the freedom to pull it down and scramble on passing plays. Miami doesnít play much zone, if at all, so they make look to assign a spy to shadow Randall. USC adjusted to Randallís running ability by widening their fronts, playing containment, and forcing Randall back into the defensive pursuit. That worked well for USC because they had the players inside at linebacker and along the defensive line to neutralize Techís interior blocking and shut down a running game missing Mike Imoh and a healthy Cedric Humes. Miami doesnít have that type of defensive strength up the middle, so if they employ similar techniques to contain Randall, then the Tech offensive line should get a good push inside and Imoh/Humes will have a lot of room to maneuver.
To win, the Hokies will need to have more rushing yards than the Canes, with Randall contributing significantly to the total. He has the chance to have a big day running the ball and the Hokies have to be willing to turn him loose. Miamiís speed will close on him quickly, so he has to keep his head up, run without hesitation, and protect the ball at all costs.
Key #2: Inside / Outside Run Balance
Staying with the running game, the Hokies will look to work the inside of Miamiís defense with their power running game and then work the edges of the defense with a series of options, pitches, misdirection and zone stretch plays. The option will really test the discipline of Miamiís young defense, particularly with a strong runner like Bryan Randall pulling the trigger. It requires the defense to play assignment football against specific players, regardless of who has the ball. That is different from how a defense normally plays and itís a difficult adjustment for a young defense that hasnít seen a lot of option offense.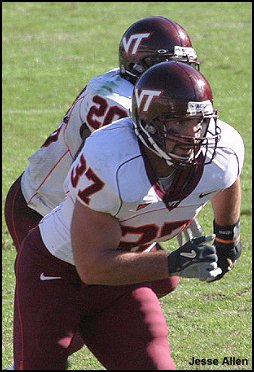 An option play also depends on successful blocks by the wide receivers. Native Floridian David Clowney has been one of Techís best blocking wide receivers this season. Look for Clowney to get the opportunity to spring an option for a big play with a crack back block against Miamiís middle linebacker.
Moving inside, look for Tech to run a series of isolation plays to test the strength and toughness of Miamiís middle defense. Tech has used a lot of 2-TE formations this season, but look for the fullback to have a bigger role against the Canes. When Miami splits the defensive ends wide, look for the Hokies to run isolations off-tackle to the strong side of the formation, getting fullback Jesse Allen isolated on Miamiís freshman linebacker Jon Beason. Off of that, look for Tech to slide Allen into the flat off play action. That should be particularly effective in the red zone against a defense that can be overly aggressive around the goal line.
Establishing a successful balance in the run game will eventually get the Miami safeties to work their way up toward the line of scrimmage in run support. Thatís a trend that the offensive coaches will be looking for as the trigger to take some shots outside with the young wide receivers against the Miami corners.
Key #3: Be Willing to Challenge the Man Coverage
In recent games against the Canes, Techís offense has been very reluctant to attack Miamiís defense by the pass with future NFL first rounds picks Phillip Buchanon, Mike Rumph, Ed Reed, and Sean Taylor roaming around in the secondary. The 2004 Hurricanes have good talent in the secondary, but they are not at the same level as those past teams.
The best player is senior cornerback Antrel Rolle, best known to Tech fans as the Canes player that was ejected along with DeAngelo Hall in last yearís game in Blacksburg. Rolle is considered a lock to be Miamiís next first round NFL draft pick, but his play this year has been a little inconsistent. Tech cannot be afraid to test him with the young wide receivers.
Rolle and fellow corner Kelly Jennings like to play a lot of press man. Since the debacle against NC State, Techís wide receivers have made a lot of progress getting off the line against aggressive corners. Since that time, Bryan Randall also has developed a lot of confidence in those young receivers, so when he gets a shot, look for Randall to throw it out there for the wide receivers to make a play. I donít think passes to the wide receivers will be as critical as it was last week against UVa, but Randall and the receivers have progressed to a level such that the coaches will not hesitate to look in that direction when needed.
Key #4: Occupy Safeties with the Tight Ends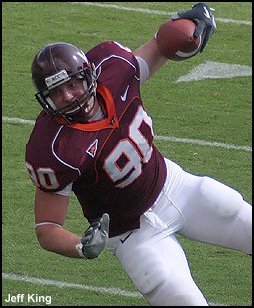 Look for Tech to work the tight ends in various ways from a series of formations. Miami safeties Greg Threat and Brandon Meriweather are athletic, but they arenít very big. Instead of running up the seams, look for the Tech tight ends to release outside the hash marks, forcing the Miami safeties to run further in pursuit, while protecting the football with the big bodies and passing angle. Play action bootlegs or rollouts are effective weapons against the Miami defense, particularly from an offense that has a strong running quarterback and experienced, pass-catching tight ends. Randall with a run/pass option off the bootleg will be a good play for Hokies, even with the speed that Miami has on defense.
Releasing the tight ends and showing a willingness to throw the ball to them will set up some opportunities for the wide receivers, especially in three WR formations. Tech will want to take advantage of those opportunities on early downs when Miami is in base personnel. The Canes will play a lot of nickel and dime packages when the percentages indicate pass. Donít be surprised to see Tech play ďbackwardsĒ a little in this game by passing the ball on running downs against base personnel and running the ball on passing downs against nickel or dime personnel.
Key #5: Overcome the Big Injury
Depth along the offensive line has been a concern all season. Until this week, there have been no injuries of significance up front. Unfortunately, left tackle Jimmy Martin, considered by many to be Techís best offensive lineman, has a badly sprained ankle and may not be able to play against the Canes. His absence could be a significant factor in this game, both in pass protection and in creating lanes for Bryan Randall to run.
If Martin canít go, it looks like the start will go to Reggie Butler. Butler has plenty of experience logging a lot of playing time at guard this season, but he is not the pass protector that Martin is. Miami will certainly look to increase the pressure on Randallís blind side if Martin is out. Butler (and backup Brandon Gore) will have to step up and do the job against Miamiís much quicker and more athletic defensive ends. How they perform will dictate what the Hokies can do running the ball to the left side of the formation and passing the ball from the pocket. The primary concern is a turnover that results from a blind side hit. If Butler struggles, look for Tech to slide a back over or use a TE to help with blind side protection.
Conclusion
This one is for all the ACC marbles, so I am expecting both teams to play hard and play well. Both teams have hit their stride in recent weeks, so both will come in with confidence. Miami will be looking for a shootout and Tech will be looking for the defense to dictate.
I think Bryan Randall is the wild card in this game. For Tech to win, he has to have a big game running and throwing the ball. Having such a game is well within reason. He is a great running quarterback facing a defense that absolutely hates running quarterbacks. Miami will have to play a little out of their comfort zone to account for Randall and that will only open up some good opportunities for the Tech passing game.
In the end, it comes down to execution. Miami has been the more erratic team and Tech has been the more consistent team, particularly on defense. If Tech can survive the early tidal wave and keep it close in the first quarter, then Tech will have a great shot at walking out of the Orange Bowl as sole champions of the ACC. Tech is the more physical team, so I like the Hokies chances if the game is close in the fourth quarter.
One other thingÖ.Tech needs to play their normal game on kickoffs and punts. This game is for the championship. Play smart, but donít play scared.