I Don't Like to Share
by Jim Alderson, 12/1/04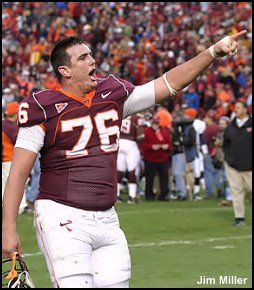 I don't like to share. This less-than-stellar character trait first surfaced during my childhood, a good chunk of which was spent hanging around the nearby house of my grandparents. My grandmother was a lady who delighted in pumping large quantities of sugar into her grandchildren and was constantly baking cakes, pies, cookies, brownies or just handing us a spoon and letting us eat it directly from the sugar bowl. It tended to make her quite popular among us. I had a problem, however. My grandmother, when presenting yet another of her sugary confections that developed the sweet tooth that I still have, steadfastly refused to allow me to eat the entirety of what popped out of her oven. She insisted I share with my brother and what seemed to be the dozens of cousins always at her house. Not much has changed over the years. I still like sugar and I still donít like to share. Especially when it comes to Virginia Tech football championships and bids to the Sugar Bowl.
Tech astounded most everyone, including the ACC media, many of its fans and probably the coaching staff, by clinching at least a share of the ACC football championship last Saturday by knocking off the Hoos. While this is already a stellar accomplishment for a team picked to finish sixth by the media sages last August, it is only a share. Whether Miami and Florida State gets to share in that championship will be settled this Saturday in the Orange Bowl. As usual, I want it all.
Tech grabbed the championship last Saturday with a remarkable fourth quarter demolition of the Hoos, checkmating their own designs on the ACC title. It would seem that brilliant reclamation project by Grandmaster algroh ran into trouble not only against the ACCís Florida contingent but anybody else at the top of the standings, too. How did that happen? Wasnít this supposed to be the Year of the Hoo? Did not the ACC media spend all of last summer attempting to outdo themselves in who could lavish the largest amount of praise on the Hooville genius who in a mere four years had established a juggernaut? Of course, that was the same media that disdainfully proclaimed Tech a fading power and consigned them to the middle of our new conference home. Right state, wrong team, guys.
To what was no doubt the astonishment of all those media types, it was Virginia Tech walking off the field at Lane Stadium last Saturday proclaiming themselves ACC champions. And, as the Hoos prepare to make travel plans for a holiday extravaganza in the vacation destination that is Boise, and algroh has his agent send out feelers to gauge NFL demand for a coach who canít win the big game, an interest likely to be light, it is Frank Beamer and his staff and team that has established dominance in the state for the fifth time in the last six years and the ACC for the first time in the last one year. It is also the Tech guys who are preparing for a game this Saturday to determine whether they get to grab the entire ACC football trophy for themselves or are forced to share it with the Canes and Noles.
Iím sure, as Cedric Humes shed Hoo tacklers on that touchdown run, administering what ABCís Brent Musberger aptly described on my game tape as the ďcoup de Commonwealth,Ē it was a very satisfied Frank Beamer who reflected on just what his maligned program has accomplished this year. It was likely a short reflection as he pondered that there is still more, much more, for this Tech team to play for in 2004 and who provided the next obstacle. It is our old friends the Canes.
The conference may change but the song remains the same: Virginia Tech and Miami will play to settle a league championship. This might be new stuff for our new league but it is old hat for the Hokies and Canes. As the Liíl E persistently refused to acquire a champion, or at least one that has no business being anywhere closer to the BCS than a Pittsburgh television set, it must thrill them to no end to prepare to observe Top Ten teams [according to the AP, anyway, at the moment my favorite poll] Virginia Tech and Miami square off for the ACC marbles. In the meantime, Tech and Miami will get it on for the Sugar Bowl. When John Swofford wrecks a competing conference, he doesnít screw around.
Virginia Tech and Miami play to determine whether a former Big East team wins the ACC football championship outright or whether they share it with another former BE team and the ACCís one prior claim to football fame. It might be a new experience for the ACC to have a late game with this kind of magnitude; it is old hat for the Hokies and Canes to settle things among themselves. It was pretty much the norm in the BE, where the two combined for eight of the eleven round-robin championships. The teams and rivalry shifted to the ACC but not much else has changed. It will be business as usual this Saturday afternoon.
Miami is certainly holding most of the advantages in this latest title clash; the Canes got an off-week to rest and prepare while Tech was engaged in that slugfest against the Hoos. Miami will also hold the home tropics advantage, as the weather come kickoff in the Orange Bowl will be quite a bit different from that experienced this week in Blacksburg. Tech will counter with the intangible as well as tangible of being a team that seems to absolutely refuse to lose and displays a weekly grit and determination to win no matter what the obstacles in their path. This bunch of Hokies is not as physically talented as some of their immediate predecessors but has turned talent subtraction into successful addition as they swept aside previous November collapses, compiling a 3-0 record in this one on its way to the ACC championship. The 2004 Virginia Tech team has captured the imagination of a spoiled and jaded Tech fan base like no Tech team since 1999. It has been a fun ride since things looked a bit bleak in September following the NC State game.
There will more than likely be some other things at stake Saturday in the Orange Bowl other than how many names appear inscribed on the wall at the ACC headquarters in Greensboro. This game will probably decide whether Bryan Randall or Brock Berlin captures the Player of the Year award in the conference. The Coach of the Year honor could also be at stake between Frank Beamer and Larry Coker, although John Bunting of North Carolina will get strong support from that stateís provincial media. Bunting will deserve support, too, as his Tar Heels, like Tech, performed far better this season than forecast. However, most reading this should not have much trouble figuring out for whom my Coach of the Year vote would go if I had one.
Virginia Tech and Miami in a big game this Saturday. Again. The two schools are picking right back up in the ACC where they left off in the Big East. Tech already has clinched at least part of the ACC championship. Things are still the same in our new conference and as they were when I was a child at my grandmotherís house: I donít want to share. I also still like Sugar.