2004 Virginia Game Analysis
by Will Stewart, TechSideline.com, 11/22/04

Click here for TSL's game recap with stats
TSL Defensive Player
of the Game


picture: hokiesports.com
#96 Noland Burchette
DE, 6-2, 251, rSo.
Score: 24.6 points

Click here for an explanation of the award and how the scoring is done

On a day when Virginia Tech's defense put in a total team effort, Burchette won his first-ever defensive player of the game award. Burchette had 3 solo tackles, 1 assist, 1.5 tackles for loss for 3 yards (including a sack), 1 QB hurry, and a forced fumble when he knocked the ball away from UVA QB Marcus Hagans from behind.
Total: 24.6 points.

2nd: Darryl Tapp, 16.8 points (3 solo tackles, 2 assists, 1.5 TFLs for 4 yards in losses, and a fumble recovery).
The Virginia Tech-Virginia rivalry is full of startling second-half turnarounds in recent years. The most famous are VT's 1995 fourth-quarter comeback from a 29-14 deficit for a 36-29 win, which was answered three years later by the Cavaliers, who came back from a 29-7 half time deficit to shock the Hokies 36-32 in Blacksburg. In each case, the trailing team came back strong for a legendary win, and in much the same fashion, the Hokies rallied from behind to run the Wahoos off the field in this one, outscoring Virginia 24-3 down the stretch for a memorable 24-10 win.
Each of those games had something in common with this one: a quarterback in the prime of his career, turning in one of his most memorable performances, staying cool in the face of adversity and making plays to lead his team to victory. In 1995, Jim Druckenmiller hit Jermaine Holmes with the Pass Heard 'Round the Commonwealth, and in 1998, Virginia's Aaron Brooks shredded a good Hokie defense for 345 yards passing and 3 TDs.
And now in 2004, Bryan Randall connected on 10-of-12 second half passes for 141 yards and two touchdowns to blow open a hotly contested game. Virginia took a 7-0 lead by converting an Eddie Royal fumble into a touchdown with 10:24 to go in the third quarter, and from that point on, Randall and company went to town. In the end, this one finished with the Hokies dominating Virginia at the line of scrimmage and in the fourth-quarter stats, but in reality the game was a lot closer than that, and the Hokies were teetering on the brink as late as the 13-minute mark of the fourth quarter, with UVa parked on the Hokie 1-yard line and VT holding a slim 10-7 lead.
There was no indicator that the Hokies were going to run away with this one late. VT struggled offensively in the first half, accumulating just 82 yards of offense and a pathetic 4 first downs. But after the break, they took control, with 265 yards of offense, 15 first downs, and of course, 24 points.
Let's run through the stats on the turnaround.
First Half Versus Second Half
The first half ended in a snoozer of a 0-0 tie. The Hokies had fought off two UVa scoring opportunities, blocking a 45-yard field goal on Virginia's first possession and recovering a fumble inside the VT 5-yard line on Virginia's 3rd possession. The fumble was the biggest play of the first half, coming a few plays after a 78-yard run by UVa's Alvin Pearman had taken the ball from the Wahoo 6-yard line to the Hokie 16-yard line.
Or maybe the fumble was the second-biggest play of the first half, the biggest being Jimmy Williams running down Pearman to prevent the touchdown. The play had Hokie and Hoo fans throughout the stadium flashing back to 1996, when UVa's Tiki Barber broke free at the UVa 10-yard line and ran 80 yards before being dragged down by Tech's Torrian Gray at the Hokie 10-yard line.
The Hokies didn't mount any sort of offensive threat in the first half. Their deepest penetration was the UVa 40-yard line on their first possession, when the Hokies had two of their four first downs of the half. Mike Imoh tried to play with his strained hamstring, but he only had 7 carries for 22 yards, and by the end of the half, he was done.
The Hokies had managed to turn back UVa's scoring threats and keep it at 0-0, but VT was getting controlled, or at best neutralized, on the line of scrimmage. Of particular concern was Virginia noseguard Andrew Hoffman, who was giving the Hokies trouble on the line of scrimmage and contributing greatly to VT's offensive struggles. Hoffman was in on two first-half sacks and disrupted VT's offense.
In the second half, the Hokie offense woke up, and the defense, which had given up the 78-yard run in the first half, stayed rock steady and gave up just 129 second-half yards. Here's the breakdown of the first half and second half stats.
First Half

Second Half

Statistic

VT

UVA

VT

UVa

First Downs

4

6

15

8

Rushes-Yards

19-23

25-155

21-124

21-33

Passes

6-10-0

2-4-0

10-12-0

6-10-0

Passing Yards

59

15

141

96

Total Yards

82

170

265

129

Time of Possession

13:22

16:38

15:04

14:56
Obviously the Hokies dominated the second half in every statistic except time of possession. The biggest question is, what caused the turnaround?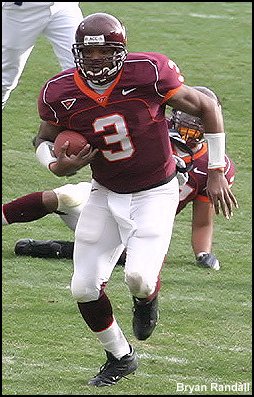 I'll leave it to Raleigh Hokie to try to break down the X's and O's of what changed in the second half, but I can answer the question with two broad statements: quarterback play and the battle on the line of scrimmage were the reasons the Hokies controlled the second half.
Bryan Randall's play speaks for itself. As noted, he was 10-of-12 in the second half, including 5-of-5 in the fourth quarter. He threw a beautiful pass to Josh Hyman for a 45-yard TD that put the Hokies up 10-7, a play on which Hyman beat the cornerback, and safety Marquis Weeks was late getting over and took a bad angle in doing so.
With the score locked at 10, Randall read a UVa blitz, took a three-step drop, and simply lobbed the ball up in the air off his back foot, trusting Hyman to go get it. Hyman did, grabbing the 32-yard TD that put the Hokies up for good at 17-10.
While Randall's play was commendable, something equally important was going on in the trenches. The Hokie offensive line, which had struggled in the first half, started getting a good push, and they neutralized Hoffman, who had been a problem prior to intermission. Hoffman had combined with Ahmad Brooks for two first-half sacks of Randall, but after the break, all Hoffman could manage was a tackle of Randall after a 9-yard run, and that came with over 10 minutes remaining in the third quarter. Hoffman was not heard from again.
On the 45-yarder to Hyman, Randall stood unmolested in the pocket for nearly four seconds before releasing the pass. It was great blocking by Tech's OL, and it came at the perfect time on the perfect play, allowing Randall to set himself and make a great throw. The VT blitz pickups were impressive in the second half, a sharp turnaround from the NC State game, which now seems long ago.
The play that was symbolic of VT's growing control of the line of scrimmage was Cedric Humes' 37-yard TD romp that iced the game at 24-10. Hoffman was buried by Tech center Will Montgomery and guard Jason Murphy, and Montgomery rolled off the block and cut down Ahmad Brooks, as well. Those two blocks, plus overpursuit by Weeks that set him up for a cutback by Humes, sprung the big back into the clear. Humes then showed that his speed is back, as he outran UVa's secondary to the end zone.
The double-block by Montgomery was highlight reel stuff and even got some play on ESPN SportsCenter. I once saw former OT Anthony Davis block three defenders on one play, and WVU tackle Lance Nimmo once took out three VT players with one block in the 2002 game in Lane Stadium. Montgomery's block is right up there with those two.
Some Things That Went According to Form
One thing about playing the 11th game of the season: by then, you know a lot about each team and can analyze with some certainty where the strengths and weaknesses are. Here are some things we knew about each team going into this game, and how the outcome of the game supported what we knew.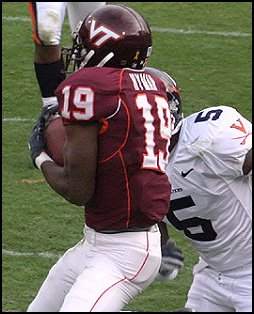 Virginia's secondary is the weak spot of their defense. Virginia's linebacking corps is very good, and their DL is strong, even in the absence of defensive end Chris Canty, who is out for the season. But their cornerbacks and safeties are suspect, and VT took advantage of that.
For the most part, the Hokies were content to hit the tight ends short and to threw quick out patterns to the wide receivers. But when the Hokies went deep, they had some success. On Hyman's 45-yarder, he beat the corner, and the safety (Weeks) took the wrong angle and came up short and out of position. Yes, it was a great throw by Randall, but a good play from UVa, particularly by Weeks, would have resulted in an incompletion.
Then there was the 32-yard TD by Hyman. That was simply a case of Randall putting it up in the air to let his receiver make a play. UVa cornerback Tony Franklin didn't know where the ball was, and when he finally found out, it was too late and he fell to the turf.
The Hokies also got a pass interference call out of the UVa secondary, when Franklin interfered with Josh Morgan. That play came with the Hokies trailing 7-0 and helped move Tech downfield for their first score, a field goal.
UVa's punting situation is shaky. The Cavaliers were dead last in the ACC in net punting by a wide margin, and one of the worst teams in the nation. In this game, the Hokies netted 40.3 yards per punt to UVa's 34.7. Vinnie Burns had three out of six punts go over 50 yards as he was one of VT's lone first-half bright spots, while UVa's Chris Gould had no punts over 50 yards, out of 7 kicks.
VT had the advantage at quarterback. Yes, Marques Hagans was second in the conference in passing efficiency coming into this game and had posted some impressive numbers. And he's awfully quick. But Hagans doesn't have the grasp of UVa's offense that Bryan Randall has of VT's, and lately, Hagans hasn't been playing to UVa's strengths. In the passing game, he hasn't been using the back out of the backfield as an outlet, nor has he been hitting all-world tight end Heath Miller with the efficiency that Matt Schaub used to.
Randall, on the other hand, is on fire. He now has 12 TD passes and just one interception in his last six games, and he has become more and more clutch each week. Earlier in the year, Frank Beamer was talking about how you could really count on Randall in the clutch, and frankly (pardon the pun) I disagreed. Throughout his career, Randall hadn't been one for coming through when it mattered, and early this season, it looked like more of the same when he fumbled deep in Tech territory late in the USC game, with the Hokies down by one score. He also didn't distinguish himself against NC State, though he did enough late in the game to get the win, had Brandon Pace made the field goal.
Since he engineered the winning drive against Wake Forest in game six, Randall has been a much better clutch-time QB, coming through against Georgia Tech and now against Virginia with late-game bursts to put the Hokies ahead.
Randall did a much better job than Hagans of using his weapons, running his offense, and striking when the opportunity presented itself. Down the stretch, Hagans was ineffective, but Randall came through and pulled his team to victory.
Some Things that Didn't Go According to Form
Virginia didn't win the turnover battle. Coming into the game, Virginia only had eight turnovers on the season. That's a crazy number, fifth best in the nation. But against VT, Virginia turned it over twice, which is a veritable avalanche for them. The second one, a fumble by Hagans forced by Noland Burchette, came with the Hokies up 24-10 and wasn't much of a factor in the overall scheme of things. But the first one, a botched handoff between Hagans and Lundy, cost the Cavaliers at least three points, maybe seven, and prevented them from seizing the momentum early in the game.
The Hokies only had one turnover, a fumble by Eddie Royal on a punt return, and Virginia turned that into a touchdown. From that standpoint, you could say that UVa "won" the turnover battle, because they scored points off VT's turnover, and VT got no points from UVa's fumbles. But from a straight numbers standpoint, the Hokies won the turnover battle, which you wouldn't have guessed prior to the game.
Heath Miller only caught two passes. Last year, VT tight ends caught 16 passes all season. Miller caught 13 in the Tech game alone. But in this game, Miller had just two catches for 35 yards, while VT tight ends Jeff King and Jared Mazzetta combined for five catches for 36 yards.
Yes, the VT tight ends had bigger stats than Miller. Not by much, but they did. "Nuff said. I'll leave it up to Raleigh Hokie to explain exactly how the Hokies held Miller in check.
Cedric Humes put up the numbers in Mike Imoh's absence. The fear was that if Mike Imoh's hamstring was touchy, Humes and Justin Hamilton wouldn't post Imoh-like numbers. For the first half, that was true. Imoh struggled with his injury, and Humes ran it three times for just 10 yards.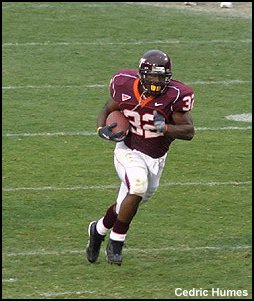 In the second half though, as VT's offensive line started taking control and opening holes, Humes capitalized. He can't make something out of nothing like Imoh can, but if you give him room to work, he is effective. The UVa defense started to wear down, and Humes, a power back, started to break tackles and gain extra yardage. He had one carry for 4 yards in the third quarter, then really laid the smack down in the fourth quarter, toting it 11 times for 81 yards. If you take away his 37-yarder, he still carried 10 times for 44 yards in the second half, a respectable 4.4 yards per carry average.
What was most encouraging about Humes' performance, however, was his 37-yarder. He showed vision, a nifty little cutback move, and a burst of speed. Seeing a 230-pound back blow by defensive backs and outrun them to the end zone bodes well for the Miami game, if Imoh is not healthy. I still prefer Imoh over Humes, but the gap has narrowed significantly, based on this game.
Xavier Adibi didn't play a key role. The thinking going in was that some combination of Jimmy Williams and Xavier Adibi would be used to defend Heath Miller and shadow Marques Hagans, if necessary. Adibi and Williams have the size and speed to do both, and Hokie fans wondered how Bud Foster would use them.
The answer was that the Hokies by their own admission did nothing special defensively; they just simply outplayed Virginia. Without a special assignment, Adibi wasn't much of a factor in the game. He only had two tackles, and on Pearman's 78-yard run, he took a wrong angle, letting Pearman spring open for the big gainer. Every other Hokie on the play got blocked, and Adibi, with the only clear shot, pursued too far inside, and Pearman got past him.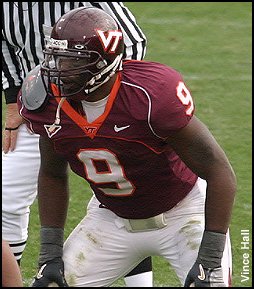 Adibi did make one critical stop, though. On Virginia's first possession of the second quarter, the Hoos faced a 3rd and 3 on the Tech 36, and Adibi knifed in for a great-looking open field tackle on Pearman at the 35-yard line to kill the drive. The Hoos faced 4th and 2 on the next play and chose to punt instead of go for it, a conservative decision that upset a lot of Virginia fans.
While we're talking linebackers, Vince Hall played his best game yet, totaling 10 tackles (all of them listed as assists, oddly) and showing excellent athleticism for a player his size (6-0, 240). Hall had two plays that really stood out: (1) he avoided an impending block by Tom Santi with a nifty move, slipping right around Santi and making a key tackle; and (2) he fought off a block to make an impressive one-armed tackle of Hagans.
Hall is really coming into his own now, and I thought that he was a better linebacker than Adibi in this game. Adibi's forte is the open-field tackle, and he didn't get much chance to show that, getting caught up in traffic a lot in this physical, grind-it-out game. This game was more to Hall's liking, as opposed to the Georgia Tech game, where Adibi's speed proved so valuable in containing Reggie Ball.
The Goal-line Stand
The turning point in this game was VT's goal-line stand in the fourth quarter. With the Hokies holding a 10-7 lead, Virginia penetrated to the Tech 1-yard line, where they had a first and goal. Here's how the next three plays went:
1st down from the 1: Noland Burchette and Vince Hall tackle Pearman in the backfield for a loss of 1.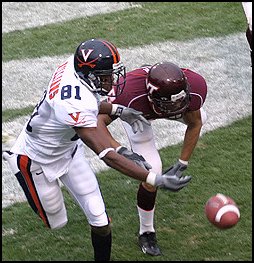 2nd down from the 2: Hagans rolls left and throws in the corner to Deyon Williams, who is nicely defended by Vince Fuller. The ball drifted on Hagans and fell incomplete.
3rd down from the 2: UVa goes with two tight ends and no wideouts to the right. With no one to cover on the right side of the field, Jimmy Williams gets in tight and cheats up to the line. The TE on Williams' side goes in motion, and at the snap, guard Elton Brown pulls out to the right to block. Williams meets him, battles him, and forces Hagans wide, where James Anderson finishes him off at the 2-yard line.
The Virginia coaching staff rightly took some heat for their finesse play calls down near the goal line. On the first down, the decision to run the 204-pound Pearman up the middle, instead of touchdown machine Wali Lundy, who outweighs Pearman by 10 pounds and has 16 TDs on the season, was questionable.
With the offensive line UVa has, I would have brought in Lundy, fullback Jason Snelling (back after a long absence), and two tight ends and just slammed away at it. (Or maybe I would have thrown play-action to that Heath Miller guy.)
I liked the third-down call, though. The formation is intended to draw the corner in, and pulling Brown down the line is designed to create a mismatch of the 6-6, 338-pound Brown against a cornerback. But Jimmy Williams, at 6-3, 215, is a corner in a safety's body, and he stood his ground against Brown and forced Hagans wide. Simply a great play by Williams, and not many teams in the nation will be able to meet Brown on the corner with a CB as big as Williams.
Williams was beaten on the TD pass to Pearman, but he played a great game, particularly in run support. Early on, when UVa controlled the line of scrimmage and Pearman was breaking through the line, it was Williams who was there to meet him. Jimmy had four tackles in run support in the first 15 minutes, until the VT DL and linebackers got their feet under them and started playing better.
Quick Hitters
The ABC production of the game was atrocious. Do those guys even read the pronunciation guides that the SID hands out? It's HAY-gans, not HAG-gans. It's Buh-KEE, not BACK-ee. Sheesh. And try showing a replay. And try turning up the crowd microphone a little, you're ruining the atmosphere. Sloppy.


Vince Fuller, in case you haven't noticed, is playing in pain. If you see him around town, DON'T slap him on the shoulder. That thing hurts. Vinnie's giving it up for the team.


For the first time I can remember, Virginia Tech has a whole handful of guys who just look like receivers. They move like receivers, they run like receivers, they catch the ball with their hands like receivers.


Question: Was Jimmy Williams able to run Alvin Pearman down because Williams has been running 100-yard sprints as punishment for penalties? Williams had an unsportsmanlike penalty against Maryland, which means that he met with Coach Beamer at 6 a.m. Wednesday and ran 15 sprints of a hundred yards. Maybe that gave him the lung power and stamina to catch Pearman. (I'm only half joking.)


Consider this: Jonathan Lewis recovered the botched handoff between Hagans and Lundy because he got penetration and was there to fall on the ball when it was dropped. Last year, VT probably didn't have a defensive tackle, including Lewis, who could get into position to make that play.
Conclusion
This game was as good as advertised, once the snoozer of a first half was over, and even if VT had lost, I would still say that. It was close, it was competitive, and it featured great plays by great players, always a plus.
There were a lot of nice subplots in this game, mostly the way VT gradually took control of the line of scrimmage after a rocky start. But in the end, I think you have to give credit for this win to Bryan Randall. He was patient and opportunistic, waiting for his moments and then taking advantage of them. I noted in the preview that this game is often about momentum, but it is also often decided by the team that has the better quarterback. In this one, VT had the better quarterback.
Virginia has some great talent, boasting many players the VT coaches recruited and would love to have playing for Tech. But as one message board poster pointed out, the Hoos are talent-shy at some positions, and the Hokies took advantage of it. Virginia also suffered from the inability of QB Hagans and offensive coordinator Ron Prince to utilize the Wahoos' running backs in the passing game and to find Heath Miller. Pearman, usually a key component of the passing game, had 25 catches coming in, but he only caught one ball, the TD, in this one. And as noted, Miller caught just two passes.
The Hokies also won because they've got those elusive qualities known as chemistry, heart, and leadership. When the going got tough, they had guys step up and make plays. When things got tough for Virginia, they didn't have anybody they could look to, and no one stepped up and made the plays.
For the Cavaliers, losing to FSU and Miami is one thing, but losing to VT will make them question their place in the ACC pecking order. For the Hokies, this is another chapter in a season of solidarity, a season in which a beloved quarterback has finally come of age on the field. The Hokies have spent 11 games setting 'em up, and now they have one game left to knock 'em down and capture the ACC championship. It has been a fun ride, and it comes to its final destination in Miami next Saturday.