Keys to the Game: Virginia
by Raleigh Hokie, 11/24/04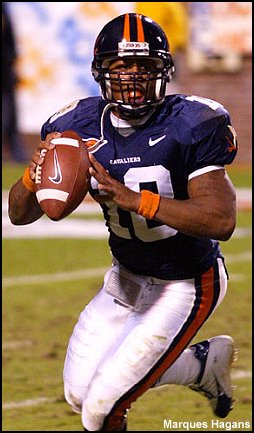 This Saturday in Lane Stadium, for the first time ever, the Hokies and Wahoos square off in a football game with major ACC implications. As if the yearly battle wasnít already big enough, the winner of this yearís game will gain at least a share of the ACC championship and remain eligible for a BCS bowl bid.
One thing is for sure -- this one is going to be fun. Itís one of those games that can be broken down and analyzed a hundred different ways, but itís the type of game where the intangibles will determine the outcome. Fans can argue over who has the most talent here or the better player thereÖ.throw all of that stuff out the window because this game comes down to focus, discipline, and emotion.
I hate to say it, but the officials could be a huge factor in this game. Given the fiasco last week between South Carolina and Clemson, the officials will be more sensitive to trash talking and extracurricular activities after the whistle. Neither team can afford to lose field position due to big penalties, but we all know that some personal foul or unsportsmanlike penalties are likely. Those penalties are a good way to measure which team is more disciplined and in control of their emotions. And those penalty yards may shift the momentum and field position enough to have a major impact on the outcome. Everyone wants to see a game free of big penalties, but given the circumstances, expect to see the yellow hankies quite often in this game.
Enough of that. Letís get to the more interesting stuffÖ..

Tech Defense vs. Virginia Offense
Having played outstanding football all season, the Tech defense faces a big test this week against a very balanced and very powerful Virginia offense. UVa can put a lot of pressure on a defense, attacking in multiple ways with a wide range of weapons.
The Cavaliers can be characterized as a classic ball control offense that rarely turns the ball over. They favor the power running game with TBís Alvin Pearman and Wali Lundy running behind a big, athletic and experienced offensive line. With Lundy, they have a powerful inside runner that is very effective around the goal line. With Pearman, they have a back that can run between the tackles, but also has the great speed when he breaks the first level or takes it outside. With Marques Hagans, they have a mobile, elusive QB that can make big plays when things break down. They top all that off with TE Heath Miller, their go-to guy when they need a big play in the passing game. Their primary weakness is outside at wide receiver, where youth, inexperience and injuries have slowed the development of a consistent outside passing game.
As usual, Techís first priority will be to stop the run. Look for the Hokies to load the box with eight and nine defenders to try to force Hagans to beat them with the passing game.
Key #1: Penetration by Defensive Line
By far, this is the most important factor for Techís defense in this game. The battles in the trenches usually determine who wins and loses, and this game is no exception. Led by G Elton Brown, UVa has the most physical, athletic offensive line that Tech has faced this season and the ability to neutralize the line of scrimmage will be key to Tech slowing down the UVa running game.
UVa likes to pull their linemen (especially Brown) and get them outside against LBís, corners and safeties. One of their bread and butter plays is the counter trey, a combination power/misdirection running play that takes advantage of their physical, yet athletic offensive linemen. Penetration is the key to defending that play, so keep an eye on the interior battles to see which side is getting the push at the snap. I would look for Techís LBís to run blitz quite often in this game, but they have to stay disciplined in their gap control and not get caught by the misdirection. This is particularly critical for freshman LB Vince Hall because he hasnít seen a lot of these types of running plays.
UVa also employs a full suite of power inside, zone, and outside running plays. They use a lot of three TE formations, with Tom Santi lining up as a fullback or H-back. Patrick Estes is their big blocking TE and Heath Miller will do a little bit of everything. Against Techís personnel, speed and defensive scheme, I am expecting more straight ahead power runs behind isolations, zone blocks or inside traps with a guard or tight end. Again, penetration by the defensive line will be critical against the inside power running plays.
Tech plays eight defensive linemen, rotating out the first four (Darryl Tapp, Jonathan Lewis, Jim Davis and Noland Burchette) with a second four (Jason Lallis, Kevin Lewis, Carlton Powell, and Chris Ellis) based on a certain number of plays. This practice is an excellent way of keeping defensive linemen fresh and it simplifies the personnel calls on the sideline. One thing to watch closely in this game is the effectiveness of the second line against UVaís running game. The second line has given up the majority of the big plays in the running game this season; something that UVa would have noted in film study. On paper, UVaís offensive line is a mismatch against Techís second defensive line, so this will be a matchup to watch closely when they are in the game.
Key #2: Contain Marques Hagans
One of the biggest concerns for Techís defense in this game is the broken play that turns into a big play for the UVa offense. QB Marques Hagans may be a bit on the short side, but he is very dangerous when he is able to break containment. He has good speed, but his biggest strength may be his elusiveness. He is very difficult to wrap up and once he gets running around, he puts a lot of pressure on a defense. The Tech secondary will have to stay focused and protect against receivers breaking long on broken plays. The corners are going to be in single coverage here and there throughout the game, so they will be under a lot of pressure to stay with receivers for an extended amount of time when and if Hagans breaks out and runs back and forth across the field a couple of times. Heath Miller is particularly dangerous on these types of plays because he will run to an open spot in the coverage, sit down and present a big target for Hagans to find on the scramble. Thereís no way to know how many of these crazy plays we will see, but should any happen, Techís defense must be geared to give up the single or double, but not the home run.
Considering the more normal plays, UVa likes to get Hagans moving to his right on planned rollouts or on bootlegs from play action. They will motion a WR tight and slide him or a TE into the flat to give Hagans a run/pass option, and they will occasionally let Hagans take a shot deep if he gets single coverage on a WR. Techís defense has been vulnerable to bootlegs, so look for that to be a big part of the UVa game plan. Through formation, UVa will look to force containment on the Tech defensive ends, but look for Tech to counter with an 8-man front, getting the Rover or Whip LB up as containment against the bootleg. Tech will also use LB Xavier Adibi to shadow Hagans on occasion, utilizing his speed to come up on Hagans when he gets outside the pocket.
Hagans is playing well, so it would be unrealistic to expect the Hokies to completely shut him down in this game. The key will be to keep him in the pocket as often as possible and prevent the big play when he gets outside or breaks containment.
Key #3: Win First Down
This has become a recurring theme each week. UVa is a ball control offense, but over the course of the season, they are about 50/50 run/pass on first downs. Power runs, counters, rollouts, play action bootlegs, and quick outs make up the majority of the UVa game plan on first down. Thatís a lot for a defense to handle, particularly when itís all working.
Look for Techís defense to be aggressive on first down, loading the box with eight or more defenders and run blitzing one or both of their inside linebackers, depending on the formation. They will do much the same on second down, but with added attention given to UVaís screen game.
Crowd noise could make a big difference in disrupting UVaís offense, particular to the timing of many of their running plays. Many Tech fans like to rattle their keys on third downs, but in this game, first downs will be very key for the Tech defense.
Key #4: Rovers Solid against the Run and Pass
James Griffin will be a big part of the Tech defensive game plan in this game. He will be up in the box often, aligning as a fourth LB or coming up to the line of scrimmage from his normal 2-deep safety position. Often, he will be the extra defender in the run game unaccounted for by the UVa blocking schemes.
Look for Griffin to be aggressive in run support at the line of scrimmage, but he will need to guard against play action and not get caught inside on the bootlegs that UVa likes to run. When heís back as a safety, look for UVa to slant their blocking to create cutback lanes that get isolation on Griffin. He will get a lot of opportunities for tackles in this game. Same for Mike Daniels when he is there at Rover. It will be key for both Rovers to come up strong in run support and, most importantly, they must tackle well.
Watch for UVa to try to get their running backs matched up against Griffin/Daniels in the passing game, particularly on early downs. We may see some formations with Pearman and Lundy in the game at the same time to get that isolation.
Key #5: No Big Plays
Many Tech fans remember Heath Millerís 13-catch performance in last yearís game in Charlottesville, but it was the big plays in the second half that allowed UVa to pull away to the victory. UVaís offense is different with Hagans at QB and Techís defense has been much better this year at staying disciplined in coverage, but it will be critically important for the Hokies to prevent any big plays in the passing game.
As they have done all season, look for Tech to get a lot of defenders around the line of scrimmage, bring controlled pressure, and play a lot of zone coverages. UVaís screen game is a blitz buster, so look for Tech to choose specific opportunities to bring extra pressure. UVa likes to run their screens with Hagans under center, so look for Tech to consider blitzing more often when Hagans is lined up in shotgun formations.
Miller is UVaís go-to guy when they need a big play, particularly in the red zone. He is a tough matchup for defenses because he is too big for most corners and safeties and too athletic for most linebackers. Techís defense has a couple of options that will be interesting to watch. They could man up on him with Xavier Adibi or bracket him with Adibi and a safety. Weíll probably see those coverages during the game, especially between the 20ís. Also look for Tech to get Jimmy Williams matched up against Miller, particularly in the red zone where Williams can use his size and athleticism to challenge those end zone corner routes.
The discussion on big plays would be incomplete without mentioning the wheel route. Pearman took one for a TD in last yearís game when Tech corner Eric Green inexplicably got caught looking inside at the QB in man coverage, allowing Pearman to run right by him for the easy pitch and catch. Look for UVa to try to go to it again this year if they get in the right situation. Pearman is a running back, but he is probably UVaís best deep threat at this point. Last year, Tech had the right coverage called, but got poor execution on the play. Look for UVa to try that play at least once in this game to see if Techís defense can handle it.

Tech Offense vs. Virginia Defense
This is a game of two successful defenses that employ very different styles. Techís defense is a base 4-3, attacking, 1-gap defense, where the defensive linemen and linebackers have specific single gap responsibilities at the snap of the ball. UVaís defense is a base 3-4 alignment that they will flex into a 4-3 in certain situations. They employ a 2-gap, read and react defense, where the defensive linemen have responsibilities for one of two different gaps, depending on their initial reads after the snap. The schemes are about as different as defenses can get, but with the right personnel for each scheme, both can be very effective against any style of offense.
UVa runs a lot of Cover-2 in the secondary and they rarely bring a safety up to load the box. They have been successful defending the run with their base 7-man fronts. As everyone knows, the focus of their defense is with the four linebackers -- Ahmad Brooks, Darryl Blackstock, Kai Parham and Dennis Haley. However, in my opinion, the key to their success against the run is the play of NG Andrew Hoffman. More on him in a little later.
UVaís primary weakness is in the secondary, particularly at corner. Tony Franklin has been solid on one side, but they have had problems on the other side, where Marcus Hamilton and Philip Brown have both struggled at times this season.
Look for Techís offense to come in with the intent to establish the run inside, get Randall on the edge, and get passes outside deep against those corners and to the middle based on the drops of the linebackers. Tech has used a lot of 2-TE formations this season; expect that to continue in this game. Itís a good way to attack the 3-4 defense and get those LBís balanced out across the formation.
Key #1: Will Montgomery vs. Andrew Hoffman
Against most defensive fronts, the offensive linemen are "uncovered" because defensive linemen align in the gaps between the center/guards and guards/tackles. In a 2-gap, 3-4 defense, the defensive linemen generally align directly over the head of specific offensive linemen. It can be a difficult adjustment for offensive linemen to make, particularly when they donít practice or play against a lot of 3-4 defenses throughout the course of the season.
When Tech center Will Montgomery gets ready to snap the ball in this game, he will have UVa NG Andrew Hoffman aligned directly over him. Tech likes to do a lot of things with Montgomery in the run game, but he will have his hands full with Hoffman, who has proven to be an excellent 2-gap nose guard for UVaís defense. For Techís run game to have success, Montgomery has to get a push on Hoffman at the snap. Tech needs Montgomery to be successful in that one-on-one matchup in order to get their guards out against the UVa linebackers. If necessary, there are some things Tech can do to help him with the 2-TE formations, but that will limit some options for the Tech offense and it will give UVa a big advantage in their efforts to contain the Tech run game. Hoffman will try to disrupt Montgomeryís ability to pull, which Tech likes to do on many running plays. Thereís a lot of grabbing and tugging that goes on in there, and Hoffman has been around long enough to know all the tricks. Montgomery has a tough assignment this week for sure.
Against Georgia Tech, UVa run blitzed their LBís a lot, particularly Kai Parham. It worked well in shutting down the Jackets running game, so look for UVa to use it quite a bit this week against the Hokies run game. Georgia Tech seemed unprepared for it, mainly because UVa hadnít done a lot of run blitzing in previous games. The Hokies get some benefit from seeing it on the Georgia Tech film. The guards will have to be ready for it and if Randall reads it, he might be able to check into a play action pass to a tight end releasing over the middle. Also, look for Randall to vary the snap count as a way to counter UVaís aggressiveness with the run blitz.
Key #2: Get Randall to the Edge
Tech QB Bryan Randall has had a lot of success running the ball this season, both on planned runs and on scrambles from the pocket. He is strong, tough and durable and anyone thatís looked closely will note that he is also much quicker and faster this year.
Look for Tech to run a few options early to see if UVaís defense is disciplined enough with their individual assignments. UVaís defense hasnít seen a lot of option this year, so look for Tech to work in some option early against the outside linebackers and corners. Getting Randall out on the edge will keep the UVa defense honest, particularly if Mike Imoh is unable to go.
UVaís defense did a good job last week containing Georgia Techís QB Reggie Ball. Ball had a poor game overall and made a lot of bad decisions, but UVaís defense showed that they are capable of shutting down a mobile, good running QB.
Bryan Randall is a hot QB, playing the best football of his career. The game has slowed down for him, he is reading defenses better than he ever has, and he is making great decisions with the ball. With Mike Imoh a question mark (even if he plays), look for the Hokies to ask Randall to a do little more against UVa, in the running game as well as the passing game.
Key #3: Protections against the "Flex"
On passing downs, UVa will flex their 3-4 into a 4-3 look with LB Darryl Blackstock dropping down as a defensive end. Blackstock is a hot defender right now, playing much like he did two years ago when he was a disruptive force off the edge. The Hokies must game plan their protections against him.
Jimmy Martin is Techís best pass blocker and he will be matched up often against Blackstock in this game. If Martin can contain him, then Tech will be able to release the backs into the flats as outlets for Randall or use them more in blitz pick-up. Tech may choose to keep the backs in anyway for protection purposes, leaving Randall and his feet as the primary outlet option.
UVa will also play a lot of nickel defense in passing situations. They will flex their front to a 4-3, with Blackstock and Brooks as the defensive ends. Hamilton or Brown will come in as the extra defensive back, with Tony Franklin dropping down on the slot. From this position, UVa likes to bring Franklin on the corner blitz from the opposite side of Blackstock. If Tech aligns their back to help in protection against Blackstock, then the burden will fall on a Tech TE or an interior lineman to step out and pick up the corner blitz. Given Techís issues with pass protections this season, look for UVa to take more chances with blitzes in this game.
Key #4: Wide Receivers vs. Corners
This will be a fun matchup to watch. The play of Techís young WRís has been instrumental in the success of the Tech offense this season. Look for them to be a very big part of the game plan this week, particularly on deep outside routes in the seams of the Cover-2 between the corners and safeties.
Look for the Hokies to work Eddie Royal and Josh Hyman in the seams between the corners and safeties, with Hyman also working the inside behind the linebackers. David Clowney and Josh Morgan will get some chances in this game as well, with Tech looking to get Morgan down the field in a matchup against one of the UVa safeties.
Obviously, Bryan Randall has to get into a good rhythm to make the passing game work. Inconsistency has been an issue for him in the past, but he is now playing with a lot of confidence, both in himself and his receivers. The trust he has developed with his receivers cannot be overstated. In the past, that trust and confidence often wasnít there and it led to hesitation and bad results. Things are clicking now in the passing game and that will have to continue for the Hokies to be successful against the UVa defense.
UVa will try to confuse Randall and the young receivers by showing a Cover-2 look, then roll to a 3-deep coverage at the snap. Randall and Techís receivers have to be on the same page and recognize the coverage. If they do that, then some opportunities will open up outside underneath and inside down the hashes.
Key #5: Tight Ends Work the Middle and Flats
On passing plays, keep an eye on the linebackers and the depth of their drops. The UVa zone coverages will provide natural containment against Randall when he breaks from the pocket, but they may shallow up their drops in order to close on him a little quicker. That will open up more space for the Tech tight ends to work between the LBís and safeties. The TEís have become a primary weapon for Bryan Randall, with both Jeff King and Jared Mazzetta making big contributions in the passing game. They will get their opportunities against UVa, so look for Randall to go to them often.
Look for the Tech wide receivers to drive the corners down the field, with Jeff King releasing and working the flats underneath. We may not see a lot of that, but expect to see it enough to create some space for the WRís later in the game. Releasing a TE into the flats may force the UVa corners to sit down a little shorter in their zone drops, freeing up additional space for the WRís in the Cover-2 seams between the corners and safeties. If the corners drop too far, then having King in the flat gives the Tech offense a chance for a good play.
Conclusion
There is no way to predict how this game is going to go. Itís such a big game for both teams, with the winner guaranteed at least a share of the ACC championship. Tech may have a slight advantage because of the home field, but this is a huge rivalry game and UVa has won games in Lane Stadium before.
Setting aside my earlier speech about penalties, Iím expecting both teams to play well, with the outcome coming down to just four or five key plays. UVa has a new punter and Techís kicking game has been inconsistent, so special teams could play a major role.
I do know that the build up, hype and anticipation over the next few days will be nerve racking and, for most of us, Saturday canít get here soon enough. No matter who wins, one thing is for sure -- itís going to be a great day for football in the state of Virginia.