Crossing the Lines
by Jim Alderson, 11/23/04

And now the Hoos. The Virginia Tech football team, having ended its ten-game preliminary season sporting an 8-2 record, its usual national ranking, and a November confidence not seen around these parts in a while, now moves into two games with its two biggest rivals. First up is the Hoos. Needless to say, there will be a little more than usual bragging rights on the line.
It was said before this first season in which Tech and the Hoos will square off as ACC rivals that both being in the same conference would ratchet up an already spirited rivalry. It sure didnít take long for that to happen. This first clash between the two as league foes finds a little more on the line than merely possession of the Commonwealth Cup. The winner of this game will be guaranteed at least a share of the ACC championship. There will be bowl ramifications ranging from the Sugar to whatever corporation has hung its name on that Orlando bowl that used to be referred to as the Tangerine. Tech is the only ACC team with a shot at winning the title outright, no mean feat for a squad that was relegated by the media to also-ran status prior to the season. With so much spice added to the normal run-of-the-mill enthusiasm attached to this in-state rivalry, it should be quite a game. Letís hope that's all that it is.
I assume that by now even those who spent the days following Techís rout of Maryland lounging around an island in the South Pacific or in the biosphere have not managed to reach such a state of incommunicado that media reports of events over the weekend havenít filtered in. From the melee in Detroit to the brawl at Clemson, this was not exactly the brightest moment for organized sport.
Consequences of the fight at Clemson have certainly clarified the bowl picture for the ACC, narrowing down the choices for the Tire Bowl. The affray on the floor of Tiger Stadium had been building throughout the game. South Carolina and Clemson are, like Tech and the Hoos, two state schools that donít like each other very much. Take the usual emotion of any contest between the two rivals, and throw in that it was the last regular-season game for outgoing Gamecocks coach Lou Holtz, and conditions were ripe for extra-curricular activity. Indications are that the crew of SEC officials had done little in the way of attempting to control the game, and scuffles flared up throughout, finally boiling over into the late-game fracas. Passions will be running at least as high this Saturday in Lane Stadium. Hopefully, there will be no repeat of the fight at Clemson, or of the one engaged in by Tech and Hoo players at the end of the game in 1989 which cost Frank Beamer a tooth as he attempted to separate combatants.
I feel certain both coaching staffs will mention to their teams this week the necessity of playing under control. Hopefully the Tech coaches will make it a point of emphasis. Chances are good that ACC supervisors of officials will instruct Saturdayís officiating crew to take a very hard line towards any emotional flare-ups that might cause things to get out of hand. There will likely be very little official tolerance for Techís annoying habit of committing silly personal foul penalties. The last thing Tech will need in what is likely to be a very close game is to surrender bushels of field position in penalties or to have a key player ejected from the game. Keep your wits about you, Tech, as we certainly do not need to be responsible for the ACC not meeting its required number of bowl teams.
What happened in Detroit was far worse, unless you were a Clemson fan who had already bought bowl tickets. It involved fans. It is a natural impulse to write the whole episode off as just more antics of immature NBA players. Ron Artest has a history that strongly hints at emotional instability. He had no business whatsoever charging into the Palace stands and richly deserved the draconian suspension handed down by NBA Commissioner David Stern, who suspended Artest for the remainder of the season, without pay (73 games and $5.5 million). Chances are, however, that Artest would have had to find some other place and event to display his latest bit of mental unsteadiness had not some idiot fan decided to waste a perfectly good beer by dumping it on the player. The situation might not have escalated into one of sportís worst spectacles had there not been moronic fans on hand who decided to attempt to turn the whole thing into a professional wrestling pay-per-view extravaganza. Nobody was without blame last Friday night in Detroit, including those fans who were not content to merely observe the action but instead elected to become part of it. At the top of that list are those who came onto the floor.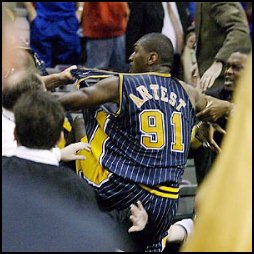 While a fan should, when purchasing a ticket to an athletic event, be entitled to the reasonable expectation that he can watch the game without having to concern himself with whether some crazed player is suddenly going to come charging into the bleachers and begin launching haymakers, those fans who venture onto a court or playing field immediately forfeit that right. It was with amusement and satisfaction that I observed that overweight fan, whose alcohol-induced flight of fancy somehow convinced him that he could tangle with a superbly-conditioned athlete, go sprawling to the floor. It served him right.
Tech fans are no strangers to aberrant fan behavior. There are many Hokies, including this one, who have vowed never again to set foot inside Mountaineer Field. Those disturbing images of last yearís fan riot following the Tech-WVU game remain all too vivid and are reason enough to never again schedule them in anything. Those WVU fans on the field deserved the mace in the eyes, as does most anyone else who ventures from the stands onto a playing field.
It has become quite fashionable these days in college athletics for fans, primarily students, to, at the final gun, act as those their team had never before won an athletic contest and charge onto the basketball court or football field to engage in celebrations ranging from Carolina students trying to figure out how to bring down goal posts following their last-second win over Miami to last yearís carnage at Morgantown. No good is going to come of this.
We live in an age where entirely too many people feel entitled to engage in whatever behavior they desire with no consequences to whatever actions might pop into their empty heads. This misplaced sense of entitlement now manifests itself in fans feeling that the purchase of a ticket allows them the right to dump beer and throw whatever - popcorn, batteries, empty liquor bottles, etc. - at players. It also has resulted in fans running onto the field and court at the end of games like lemmings, all the while claiming that it is their Ďright.í It ainít.
Virginia Tech fans have become recognized as some of the best in the business. Lane Stadium is one of the great venues in sports. The electric atmosphere inside Lane last Thursday night had much to do with rattling Maryland. Other schools marvel at the passion, dedication and enthusiasm routinely shown by Tech fans. Techís first trip around the ACC has shown that there are few, if any, fan environments that can match Techís. They sure cannot at Groves Stadium, Bobby Dodd Stadium, or Kenan Stadium. Tech fans have demonstrated that they can wildly support the Hokies and do it while respecting the game, the stadium and the opponent. There have been no scenes in Lane remotely resembling what happened in Detroit or last year at WVU. Hopefully, it will stay that way.
Saturdayís game against the Hoos is a big one. Emotions will be high because there is a lot on the line. This Virginia Tech football team is in a position to become a special one. Lane needs to be at a fever pitch and I suspect it will be, providing the team the outstanding fan support it has come to expect, one that, no matter how much they try to rip off our traditions in Hooville, algroh can still only dream of. Letís rock the house. And, if the fortunes of football smile on us with a victory, or if they donít, remember: we have been there before.