2004 Maryland Game Analysis
by Will Stewart, TechSideline.com, 11/22/04

Click here for TSL's game recap with stats
TSL Defensive Player
of the Game


picture: hokiesports.com
#2 Jimmy Williams
CB, 6-3, 219, Jr.
Score: 48.0 points

Click here for an explanation of the award and how the scoring is done

The defensive tackles played well against MD, but it was the guys who made the interceptions who scored the highest. And because he took his back for a TD, Jimmy Williams gets defensive player of the game. 3 solo tackles, 1 tackle for loss (-3 yards), 2 passes defensed, and 1 interception returned 34 yards for a TD.
Total: 48.0 points.

2nd: James Anderson, 27.4 points (3 solo tackles, 1 forced fumble, 1 INT for 14 yards).
When you come into a hostile stadium on the road, as Maryland did, and you go up against a team like the Hokies that's on a roll, one of the last things on your to-do list is, "Cough up two turnovers and 14 points in the first four minutes." The Terrapins entered this game with a shaky psyche, and when they got off to a rough start, they ran into a buzzsaw of a Hokie team that was ready and willing to take their mistakes and turn them into the biggest blowout in the ACC this season.
A lot of Hokie fans and observers felt good going into this game, but to me, perhaps the most telling prediction for the game came from Rick Snider, the Maryland beat writer for the Washington Times. Snider was a guest on the "Tech Beat With Mike Harris" radio show in Richmond Wednesday night, and when asked by Harris for a prediction on the game, Snider forecast a 31-10 Hokie victory.
That was a bit of an eye-opener. But Snider, as a close observer of the team, knew what Maryland Coach Ralph Friedgen fretted about in his post-game interview following VT's 55-6 mauling of his team. "Obviously, I'm not reaching these kids," Friedgen said, and you get the feeling that he has lost his team, and that they're just playing out the string at this point in the season.
Maryland started out 3-1 this year but had lost 4 of 5 before coming to Blacksburg. Their offense had disappeared, putting up just 17 points in the four losses. The Terps had pulled a surprising 20-17 upset of FSU on October 30th, but other than that, they had gone completely south.
Virginia Tech, on the other hand, entered the game focused, injury-free, and on a roll. So while the 55-6 margin of victory was surprising, the win itself was not. When you consider how generous Maryland was, gift-wrapping five turnovers for the Hokies, you can see how this went from a simple Hokie victory to the biggest blowout in the league this season.
Maryland Miscues
The Hokies scored 31 points off of Maryland's five turnovers (four interceptions and one fumble). It wasn't just that Maryland was turning it over, it was where they were turning it over: deep in their own territory. You know those long interceptions where TV announcers say, "That was just like a punt"? Well, uh, Maryland didn't have any of those.
In the first quarter, the Terps threw two interceptions (to James Griffin and Xavier Adibi) and gave up a fumble, all in their own territory. As a result, VT's average starting position in the first quarter was the Maryland 41-yard line, and three of their five first-quarter possessions started on Maryland's 29-, 17-, and 23-yard lines.
Starting deep in the other team's territory is nice, but the Hokies have had trouble converting red-zone opportunities into touchdowns against the better teams on their schedule. If you remove the Western Michigan and Florida A&M blowouts from the statistics, the Hokies had scored just 10 touchdowns in 27 red zone opportunities, with 13 field goals.
Not so in this game. VT scored on all 7 trips to the red zone: 5 touchdowns and 2 field goals.
Opponents

VT Red
Zone Trips

TDs

FGs

Failures

FAMU and WMU

13

10

2

1

USC, Duke, NCSU, WVU, Wake, GT, UNC

27

10

13

4

Maryland

7

5

2

0

Totals

47

25

17

5
Getting the Hokies inside the red zone has been one thing -- getting them in the end zone has been another. This time, the Hokies sealed the deal.
The Terrapins put up a little bit of a fight early on, even with the two quick turnovers. While MD's first two possessions ended badly and put the Hokies up 14-0, the Terps had two of their longest drives on their third and fourth possessions of the game. They traded punts with the Hokies, and then they drove 38 yards in 9 plays to kick a field goal and make it 14-3.
At that point, Maryland had outgained the Hokies 64 yards to 53. The two turnovers had hurt, but teams have come down from 14-0 before. The Hokies did it against Georgia Tech less than a month ago.
It was through the course of the second and third quarters that things got really, really ugly for Maryland. Only one of the Terps' next seven possessions gained over 10 yards, and that yardage figure I mentioned before ballooned from a slight Maryland advantage to a 340-131 Hokie advantage.
While Maryland was floundering, the Hokies were, in the words of ESPN's Mike Tirico, "dialed in." While it's true and smart (and obvious) to talk about the points the Hokies scored off Maryland's turnovers, it's also true that when presented with a long field, the Hokies were able to score from there, too. During the first half, the Hokies had touchdown drives of 53 and 62 yards and a field goal drive that covered 72 yards.
Offensive Game Plan and Execution
As the season has gone on, the offensive line for the Hokies has improved, and offensive coordinator Bryan Stinespring has started to rely more and more on the running game. Check out the rushing statistics for the first five games of the season and the last five games:
| | | | | |
| --- | --- | --- | --- | --- |
| | Runs/Yards | Passes | Per-game Ratio | Ave. per Carry |
| First 5 games | 204 / 774 | 139 | 41:28 | 3.8 |
| Next 5 games | 238 / 1,171 | 102 | 48:20 | 4.9 |
Maryland had a pretty good rushing defense coming in. They were ranked 45th in the nation, giving up 131.8 yards per game and 3.16 yards per carry, both respectable figures. And the Hokies went straight at them, running the ball on their first eight plays, scoring two touchdowns while doing it. In a classic case of "Here, stop this," VT went for it on fourth and goal on their first possession … and Maryland couldn't stop it.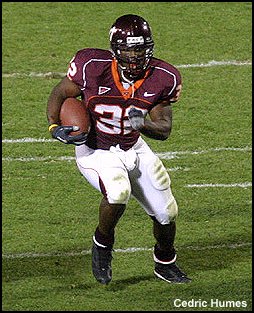 As a team, the Hokies gained 239 yards on 50 carries (4.8 per rush). Mike Imoh played the first two series of the game before suffering an injury, and he gained 35 yards on 7 carries. That's a 5.0 yards-per-carry average, and when he went out, the rushing production didn't go with him. Between the two of them, Cedric Humes and Justin Hamilton got 135 yards on 26 carries, 5.2 yards per carry.
If the offensive line isn't opening holes, Imoh is a much better running back to have on the field. He's shifty, he's elusive, and he makes something out of nothing. If the offensive line is doing a good job of run blocking, then it just becomes a matter of style. Humes and Hamilton are power runners who don't have the speed to the corners and don't have the moves Imoh has. But if you give them some daylight, they can average as many yards per carry as Imoh.
Another data point for the improved offensive line play is the sack totals. We all know about the hideous 10-sack game the Hokies had against NC State, and that contributed heavily to the 22 sacks the Hokies gave up in the first six games. In the last four games, they have given up just 6 more sacks, and 3 of those came in a bad first quarter against UNC.
The improved running game and pass protection has contributed, in my opinion, to greatly improved play from Bryan Randall. VT's season went south last year when Randall's TD/INT ratio went south. In the last 7 games of the 2003 regular season, Randall threw 2 touchdowns and 8 interceptions. Things didn't start out much better for Randall in 2004, as he threw 5 touchdowns and 6 interceptions in the first five games.
But in the last five games, Randall has thrown 10 touchdowns and just 1 interception. We knew coming into this season that one advantage the Hokies would have over many of the other ACC teams would be experience at quarterback, and the key is for Randall to outplay the other team's QB and not make silly mistakes. He had one bad stretch against GT where he threw an interception and fumbled the ball away in the span of three drives, but get this … those are his only two turnovers in the last five games. If Randall keeps that up, with the defense the Hokies have, it will be hard for anyone to beat them.
This game is a classic example: Maryland QBs had four interceptions and threw some of the worst passes I have seen in a long time, straight to VT defenders, and that sucked the life right out of the Terps. Randall, on the other hand, hit 8 of 14 for 137 yards and 2 TDs, didn't throw a pick or a fumble, and tossed a "video game" move on Maryland's Gerrick McPhearson (#38) that had McPhearson scrambling around in the Lane Stadium turf, trying to find his jock. Randall is staying in the pocket, progressing through his reads, and running the offense with more confidence than we have ever seen from him.
Can I Just Say Something?
Lee Corso was very complimentary of the Hokies, for the most part. His love of Cedric Humes' physique is a little frightening. But his criticism of Beamer for "running up the score" late in the first half was ludicrous, and it moved a TSL poster to aptly remark, "No wonder Indiana fired him."
Down 38-3, Maryland was dumb enough to toss the ball around on their end of the field with less than a minute remaining in the first half. So when the Terps' Jordan Steffy threw a pick to James Anderson, and VT set up shop on the Maryland 18-yard line with 19 seconds to go, of course VT took the opportunity to tack on a field goal.
You never, ever, let up in the first half. As a matter of fact, if you're spanking a team, you leave the starters in, and you keep going for points, for at least one possession of the third quarter.
But you never let up in the first half.
I've never seen a team let up in the first half, and like I said, most don't let up until midway through the third quarter. One exception to this was the FAMU game this year, when the Hokies put in Sean Glennon on the first possession of the third quarter, holding a 48-0 lead. But that's FAMU, and the lead was nearly 50.
In this game, VT didn't take Randall out until after the third possession of the second half, with VT holding a 48-3 lead. Another rule, at least in Frank Beamer's book, is that you don't remove the starter after an unsuccessful possession, so when VT went three-and-out on their first two possessions of the second half, Randall stayed. Not until he led the Hokies on a TD drive did he come out. But the Hokies also weren't tossing the ball downfield on those second-half possessions.
Anyway, as much as I like Corso, and as many of those "God is a Hokie" T-shirts as we've sold, he's dead wrong on this one. 'Nuff said.
The VT Defense
Defensively, the thing I noticed about this game was how aggressive VT defensive coordinator Bud Foster was. He blitzed a lot early in the game, and even late. Maryland QB Joel Statham was drilled by Mikal Baaqee on a blitz when he threw his first interception, a bullet straight to James Griffin, and that wasn't the least of it.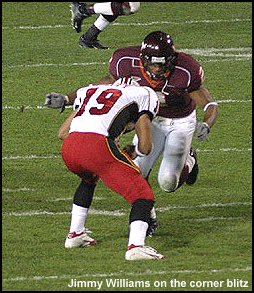 Foster even uncorked the corner blitz from Jimmy Williams, a play that he hinted at in the spring game when he blitzed Roland Minor from the corner a couple of times. At the time, Hokie fans (and I) oohed and aahed at the idea of a corner blitz from Williams, but to my recollection, we didn't see it in the regular season until this game. The first time Williams did it, Statham read it properly and threw behind him to the receiver he had left uncovered, but the second time … Jordan Steffy never saw it, and he got drilled by Williams. Unfortunately, the Terps false-started on the play, and instead of 2nd and 15, the Terps got 1st and 15 out of the deal. Still, it was good to see the corner blitz. If you run it well and the safety does a good job of helping out on the play -- remember, GT's safety did a very poor job of helping out, allowing Josh Morgan to run right by him for a big TD -- it can be an effective weapon.
Foster had obviously seen Maryland's poor QB play on tape and felt that he could pressure them into some mistakes. Boy, was he right. If Foster senses weakness in a QB, as he did in Miami's Brock Berlin last year, he'll come after him and try to rattle him. Remember, he tried to get to NC State's Jay Davis early in the game this year by blitzing Mikal Baaqee up the middle. Baaqee missed the tackle and NC State got the first down, but Foster did it because to that point, NC State's QB situation had been shaky and not very productive.
I will give Maryland credit for one thing: they neutralized VT's defensive ends better than any team has this year. Darryl Tapp had his least productive game by far this year, with just one tackle, though it was a tackle for a 4-yard loss and a beautiful example of Tapp's speed in pursuit. In all, the Terps held Tapp, Noland Burchette, Chris Ellis and Jason Lallis to 5 total tackles, including 1.5 tackles for loss … and nothing else. No QB hurries, no forced fumbles, no sacks, nothing.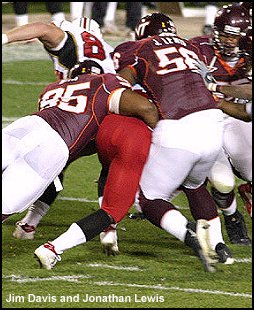 But the defensive tackles? Well, that's another story. Jim Davis, Jonathan Lewis, Kevin Lewis, and Carlton Powell had 12 total tackles -- 3 apiece -- and 6 of Tech's 11 tackles for loss. Once again, Jonathan Lewis was extremely impressive, blowing up the middle of the Terp line on several occasions. Lewis had two TFL's among his three tackles, including VT's only sack. Davis and Powell also had 2 TFL's. In my opinion, the VT defensive tackles were the defensive story of the game.
One stat I didn't pick up during the game, but which I noticed perusing the stats later, was how the Hokies totally stuffed Maryland's running game. Yes, the Terps had 56 yards rushing on 30 carries, which is 1.9 yards per carry. Take away the one sack of Steffy for a 4-yard loss, and it's 60 yard rushing on 29 carries.
But the really amazing stat is that outside of the 4-yard sack of Steffy, Maryland's ball carriers gained 90 yards and lost 30. Ten of Maryland's 29 rushes lost yardage! The Terps had one carry -- count it, one -- that went for more than 10 yards. Very nicely done by the Hokies.
About the only impressive stat Maryland had offensively was a 5-for-14 third-down conversion rate. Okay, that's only 36%, but it beats the VT defensive season average of 30%, and on a night when the Maryland offense was horrible, it's a straw for the Terps to grasp at.
Quick Hitters
Okay, this was a blowout. The Hokies showed up to play, and Maryland didn't. The Terps surrendered the ball like the Syracuse football team surrenders big road games. So here are some quick hitters to take you home:
Great play by Aaron Rouse to stop MD's first deep drive. Playing against the option, Rouse played the QB AND the pitch man on the play. First he forced the QB to pitch, then he tackled the running back that the QB pitched to. Poorly done by Joel Statham, who (as Kirk Herbstreit said) failed to attack Rouse's inside shoulder and make him commit.
The personal foul call on VT kicker Jared Develli was one of the most ridiculous calls I've ever seen. A Maryland player went after Develli, Develli grabbed him and fell down backwards, and they called a personal foul on Develli. The ESPN announcers were flat-out laughing at the call.
Eddie Royal, for the first time since the season-opening USC game, didn't have a reception. To my recollection, the Hokies didn't even throw the ball to him.
With one minute to go in the second quarter, the Hokies successfully executed the throwback play to the tight end for a touchdown. Bryan Randall rolled out right, stopped, and threw back to a wide-open Jared Mazzetta for a 15-yard TD. Although that call gets a lot of play from Hokie fans as the "Syracuse play," paying homage to Donovan McNabb's throwback to Stephen Brominski in the 1998 VT/Syracuse game, it's rare to see a team get fooled by it. Most teams sniff it out and defend it properly, but Maryland, as they did for most of the night, botched the play.
On VT's 3rd-quarter TD, Cedric Humes was robbed twice. First the referees didn't see that he made it into the end zone from one yard out, and then Frank Beamer let Bryan Randall score on the next play, instead of Humes. BOOOOO!! Okay, I'm really shouting, "Huuuuuumes!!" (Not.)
Since 1999, VT has 45 non-offensive TDs, second in the NCAA to only Miami (50). (Stat courtesy of ESPN.)
With 12:15 to go in the game, VT cornerback Roland Minor played great defense – he did not buy a pump-fake to Maryland's Derrick Fenner and stayed with him when he turned upfield. On the very next play, reserve defensive end Bob Ruff made a great play, too. He dropped back on a zone blitz, read the a screen pass perfectly, and made the tackle.
Steve Suter was the only Terp who came to play. He had over one third of Maryland's 197 yards of offensive output, catching 6 passes for 69 yards. Fenner had 7 catches for 61 yards, but Suter was the only Maryland player who made me sit up and take notice.
A key to the game? The Hokies shut down Terp tight end Vernon Davis. Davis was Maryland's leading receiver coming in (25 catches, 418 yards, 3 TDs), but he had just one catch for 8 yards in this one.
Conclusions
1.) Maryland stunk.
2.) The Hokies were great.
The Hokies played very well in this game, but Maryland fed into that by playing absolutely awful. I don't think you can take much more away from this game than that.
The game served an important purpose, in that it helped feed the Hokies' self-confidence and keep them on a roll. It helped keep them at the top of the ACC standings. But at its core, I think it was a case of a team on a roll (the Hokies) meeting a team that gone into the tank (Maryland). From that standpoint, don't read too much into this game, but at the same time, recognize that it contributes to a greater body of work: six wins in a row, a senior QB playing well, and a defense that is hot.
Virginia is next. The ACC championship is still in sight.