Keys to the Game: Maryland
by Raleigh Hokie, 11/17/04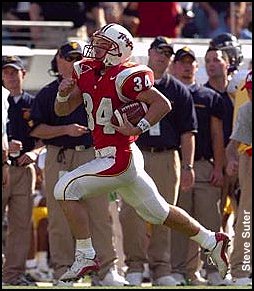 After finding themselves alone at the top of the ACC standings, the Hokies take the field this Thursday night against a Maryland team that is fighting for season survival. The Terrapins come in knowing that they have to win their final two games against Virginia Tech and Wake Forest in order to be eligible for a bowl game. The Hokies know that they are in a position to have a special season if they take care of business, and that starts with Maryland.
As usual, this article will focus on specific factors that are key for Techís offense and defense in this game. Special teams will play a significant role and itís an area where Maryland likely has the advantage. Marylandís kickers are outstanding and in Steve Suter, they have one of better kick returners in the conference. Techís special teams have been inconsistent and there were several breakdowns in the last game against UNC. Maryland will look to get big plays out of the return game and tilt field position in its favor with the punter. I would also look for Maryland to try some twists on special teams to see if it can catch the Hokies overcompensating for some of the breakdowns against UNC.
While acknowledging that special teams may play a significant factor in the outcome of the game, letís move forward and take a look at the keys for Techís offense and defense:

Tech Defense vs. Maryland Offense
Offense in the ACC this year can be described best with one word Ė inconsistent. And no team carries that banner better than Maryland. Offensively, the Terps have struggled all year long to find consistent play. When theyíre good, they are hard to stop, as witnessed by the nearly 700 yards of total offense in a road win against Duke or the 387 yards of total offense in a home win against Florida State. When theyíre bad, they are awful, as evidenced by the 172 yards of total offense combined in home losses to Georgia Tech and NC State. In four conference losses, Marylandís offense has scored a total of 17 points. Ralph Friedgen, long considered one of college footballís top offensive minds, has been unable to scheme any magic with his squad this year.
As is usually the case, many of Marylandís issues on offense can be traced to the play of the quarterback. Joel Statham won the job in spring practice, but his struggles during the spring game were a hint of things to come. He has good physical ability, with enough mobility and arm strength to get things done. However, he has struggled with the mental aspects of the position, which is common for a first year QB. His backup is Jordan Steffy, a true freshman with superb athletic skills and a big arm, but his play has been indicative of a young quarterback that was in high school a year ago.
To help the situation for both QBs, the coaches simplified the offense with a package that was missing some of the creativity and diversity often seen from a Ralph Friedgen offense. Some of those things, including a package of slants and screen passes, were put in for the FSU game and the results were excellent. Hoping to build on that the following week against UVa, the offense instead flopped, both QBs struggled and the Terps were shutout in Charlottesville. So goes inconsistent play. Against the Hokies, expect Statham to start (assuming heís healthy), with Steffy getting quality playing time as well.
Key #1: Rattle QB Early
Techís defense wants to set the tone early. Against Florida State, the Terps got off to a hot start scoring on three of their first four possessions, racking up 216 yards of offense. That was a surprise to everyone, particularly the Seminoles, who took the field that day with one of the best defenses in the nation.
Look for Tech to mix defenses early, moving back and forth from 2-deep safeties to 8-man fronts in an effort to confuse Statham and force him into checks at the line of scrimmage with the crowd screaming down at him. To take some of the early pressure off Statham, Maryland will look to get its run game going with Josh Allen and Sammy Maldonado. Tech knows this and will show (or even decoy) overload against the run by moving a safety in and out, based on down/distance and formation.
It will be interesting to see if Statham tries to take some shots deep when he sees Tech in an 8-man front. Marylandís best outside deep threat is WR Derrick Fenner, but he hasnít shown the ability to be the consistent playmaker that the Terps can rely on when they need a big play. In reviewing film, Techís corners will go into the game confident that they can man up against the outside receivers and challenge them down the field with single coverage. The top priority is to defend against the big play, so look for the Hokies to find specific opportunities to put their corners on an island and bring all-out pressure on Statham.
Key #2: Defending Vernon Davis
By far, Marylandís best playmaker on offense is sophomore H-back/TE Vernon Davis. He is a great athlete, with a rare size/speed combination that is very hard to matchup against. To get him isolated in a mismatch, he will line up all over the field, from fullback to H-back to motion receiver to slot receiver.
Look for Tech to defend Davis in various ways, utilizing a game plan similar to what they used last year against Miamiís Kellen Winslow. They will bracket him with the combination of a LB and corner/safety or play a man under coverage with the safeties in zone over the top.
It will get interesting if and when Tech decides to bring pressure and play straight-up man coverage. Against pressure, Marylandís protection scheme will generally trend toward keeping the backs in to block while releasing Davis down the field. Given how Davis aligns in most formations, man coverage will most often come from a linebacker or safety in Techís defensive scheme.
Vinnie Fuller is expected to play, but should he have a setback, then Mike Daniels will get the majority of snaps at free safety. Daniels is an intelligent, physical player that makes few mental mistakes, but his limited speed would be an issue in single coverage against Davis. This is a situation where we may see Jimmy Williams playing some safety in order to match up in man coverage against Davis. He has the size, speed and athleticism to match up well with Davis in single coverage. Look for Techís defense to be more aggressive with pressure if and when Williams is used at safety. Otherwise, look for Tech to play a lot of zone and combination coverages, especially if Maryland is unable to establish any consistency with their run game.
Maryland may also try to get Davis isolated on a Tech linebacker by aligning him as a fullback or offset in the backfield out of the shotgun and then sending a TE in motion the other way to unbalance the formation. Should they get that isolation, we might see Davis running down the sideline with Xavier Adibi in coverage. On the other hand, given Adibiís speed and athleticism, Techís game plan may include a package of defensive sets that has Adibi in single coverage against Davis. As far as game planning, itís a matchup that both teams may look to exploit.
Key #3: Aggression, Emotion and Discipline
Maryland uses a full suite of formations and motion, both from under center and from the shotgun. Like Tech, Maryland will test the discipline of the defensive ends and safeties by bringing a WR around as a reverse option in the running game. Off that, the Terps will play action pass or run a speed option with the QB and WR.
Both QBís have good mobility (Statham has decent feet, Steffy has great feet) and film review will show that Techís defense has been vulnerable at times to bootlegs and misdirection. From the shotgun, watch for bootlegs off of fake inside handoffs, with Maryland dragging a TE/H-back over or pulling a guard against the flow to lead the way.
I suspect the emotion level will be high, so the defense needs to stay focused and play good, disciplined, assignment football against an offense that has plenty of potential to be dangerous, but hasnít executed very well for most of the year. Iím expecting Maryland to test that discipline often, especially if Vinnie Fuller is unable to play a lot, hoping to catch the Tech defense out of position or overplaying its assignments. As good as Fuller has played, he has been even more valuable as the quarterback of the defense, making the right pre-snap calls and adjustments. If he canít play, the Maryland coaches will test his replacement (whether itís Mike Daniels or Jimmy Williams) to see if he can get the defense out of a personnel mismatch or a bad coverage.
Key #4: Keep the Short Stuff Short
To have any success, Maryland will need to use the quick game against the Tech defense, either with outs and slants to the WRís, or with swings and screens to the RBís. Tech has been willing to give up the short outside passes in order to prevent big plays in the passing game. Expect that continue Thursday night, with a game plan that allows the short stuff, with a priority on pursuit and good tackling.
As mentioned earlier, there is vulnerability at the safety position if Fuller is unable to go, but outside of Vernon Davis, it isnít a given that Marylandís offense can take advantage. I expect their offense to try to get the safeties isolated in the run game by slanting the line and forcing the safeties to have backside gap responsibility. However, I donít see Maryland having a lot of success with that strategy because Mike Daniels is particularly strong in run support. They could use it to set up play action later against a 2-deep or ďman freeĒ coverage, hoping to catch the safeties cheating up, but thatís not likely since Marylandís run game hasnít shown enough this season to fool the safeties with play action.
In the passing game, WR Drew Weatherly has the great size and athleticism to be a threat and WR Jo Jo Walker has the good speed, but neither has been a consistent playmaker for the Terps. WR Steve Suter is a great player, but heís more known as a kick returner than an offensive weapon. Look for members of Techís defense to keep everything in front of them and force an often inconsistent, sometimes broken offense to drive the ball down the field for points.
Key #5: Dominate First Down
Techís defensive front has played well all season with Darryl Tapp and Jonathan Lewis leading the way. Look for the DL to get good penetration, particularly against the right side of Marylandís offensive line. That will make it difficult for the Terps to have success running their tailbacks on first down. If Marylandís offense executes the way it has most of the season, then 2nd and long is a mismatch for the Tech defense. Look for Maryland to try a lot of things on first down early, from quick passes to bootlegs to option to misdirection, to avoid those 2nd and long situations. To counter, look for Tech to show a lot of base looks and play it fairly straight-up on first down (while moving a safety back and forth to keep Statham thinking), particularly when Maryland goes with three WR formations.
Tendencies also will be a key in how Techís defense decides to attack first downs. If the defense is getting penetration and containing Marylandís run game with a 7-man front, then look for the LBís to play more read/react and look for the safeties to stay back. That would be a huge advantage for the Hokies, giving them a wide variety of options to defend against Davis and the WRís outside. Marylandís best chance on offense is to have success running the ball early on first down, forcing the Hokies to get more aggressive by run blitzing or bringing their safeties up more often. Given the trends set by both teams so far this season, that is a development that is unlikely to happen.

Tech Offense vs. Maryland Defense
While Maryland continues to search for production on offense, its defense has been solid all season. Itís an experienced defense with a good mix of size, speed and athleticism. In DE/LB Shawne Merriman, LB DíQwell Jackson, CB Dominique Foxworth and S Chris Kelley, the Terps field a playmaker at each defensive position.
If they are vulnerable at a position, itís probably at defensive tackle, where attrition and injuries have had an impact. With Merriman and Kevin Eli, the defensive end position is in good hands, so it will be important early for the Hokies to successfully attack the middle of the Maryland defense and then work out from there. Getting production up the middle is possible, but it will be tough nonetheless because of the presence of DíQwell Jackson, one of the best linebackers in the conference.
Once again, Techís offense is facing an uphill battle against a strong defensive unit. Balance will be emphasized in the game plan and, as was the case against UNC, Randall will be given options at the line of scrimmage to check into or out of run and pass plays. The Hokies will have to stay patient, protect field position and take advantage of the few opportunities that they get in this game.
Key #1: Find and Block Shawne Merriman
Marylandís scheme will mix a 4-3 front with a 3-4 front based on how it aligns combination DE/LB Shawne Merriman. He plays the ďLeoĒ position and will sometimes line up as a DE in a 3-point stance or line up off the end as a stand up DE or LB. Merriman is a playmaker and will be a disruptive headache unless the Hokies can find and block him on every play.
Moving a front from a 4-3 to a 3-4 and back again can confuse offensive linemen because they have to block each front differently. Protections have to be adjusted accordingly as well. Proper recognition of the front and communication of the protections and line calls are even more critical when facing this type of defense, especially when there is a disruptive player like Merriman moving around. Expect there to be some confusion early as Bryan Randall, Will Montgomery and the rest of the offensive linemen adjust to Marylandís changing fronts.
Tech has favored the 2-TE formations in many games this season and I would expect that to continue against Maryland. Two TEís will balance out the defense, making it easier for the Hokies to predict where Merriman is going to be on any given play. It also simplifies the adjustments in the blocking schemes as the defense moves from a 4-3 to a 3-4. However, it will be critical for Jeff King or Jared Mazzetta to get the job done in run blocking when they donít get help from the tackles. After struggling against Georgia Tech, both King and Mazzetta had better games against UNC. To control Merriman and spring the run game, itís critical that both are productive in their run blocking against the Terps.
Key #2: Big Game from the Tight Ends
Continuing with a focus on the tight ends, look for King and Mazzetta to be a big part of the passing game as well. They are similar players and both have the ability to get down the seam of a defense and catch the ball in traffic. Zone coverage isnít a strength of the Maryland defense and it will give Bryan Randall and the Tech receivers some midrange opportunities between the hash marks.
Executing on those passes to the middle of the field will also open up some opportunities outside for Techís wide receivers. Dominique Foxworth and Gerrick McPhearson are the Maryland corners. Foxworth is one of the top corners in the league and McPhearson has the great catch up speed when he needs it. I think the Hokies will be careful with their looks against Foxworth and will take more chances with McPhearson. I donít expect to see a lot of deep passes; instead, I am expecting short passes outside against man coverage, with the deeper passes to the middle of the field against the Maryland zones.
How much Maryland blitzes will determine how often the TEís can get down the field in the passing game. The Terps like to bring controlled pressure, usually with their LBís. They arenít as aggressive with the blitz as an N.C. State or Georgia Tech, but they might be inclined to step it up this week knowing how much the Hokies have struggled with their blitz protections this year.
Key #3: Randall Takes Control
As it is with every game, the success of the Hokiesí offense depends on the execution of their senior QB. Once again, Bryan Randall will be given a lot of options to work with as he examines the defense before each snap. He will need to recognize the defensive front, find Shawne Merriman, key the middle LB, read the coverage, adjust protections if necessary, and check into a run/pass option based on those reads and adjustments.
Randallís mobility will concern the Maryland defense and they will have to game plan for containment, specifically against Randall pulling it down and using his legs. That could lead to Maryland playing a lot of zone, particularly when down/distance dictates a pass play.
Randall has to keep his eyes on the Maryland linebackers and safeties, particularly DíQwell Jackson and Chris Kelley. Jackson is great against the run and is equally effective in pass coverage. Kelley is a former QB that has made a very successful transition to safety. He is the emotional leader of the defense. Randall has to guard against locking in on a receiver and letting his eyes lead Jackson or Kelley into an easy pick. He has improved a lot in that area over the course of this season and is much better in looking off defenders and going through his progressions. That will be critical again in this game because Maryland has the players on defense that will take advantage of those types of mistakes.
Key #4: Build on Run Game Success against UNC
Establishing the run is always critical for the Tech offense and that is certainly true this week as well. UVa had a lot of success running the ball against the Terps by pulling the athletic offensive linemen out into space. For some reason, Marylandís defense was uninspired against the Cavaliers and it was run over and around throughout the game.
Coming off the UVa game, Marylandís confidence against the run has to be a bit shaken. The Hokies will look to take advantage of that, as well as build on the success they had ten days ago against UNC. Mike Imoh has found a good rhythm and is running well behind an offensive line that has continued to get a little better with each game. From all reports, Cedric Humes has earned more playing time, so a rotation of Imoh and Humes would give the Hokies the type of 1-2 punch at tailback theyíve been accustomed to over the years.
Imoh is very effective when he can find cutback lanes, so look for Techís blocking up front to stretch and slant to create those cutback opportunities. The Hokies will also work their blocking inside to get movement against the defensive tackles. Movement at the point of attack will allow the linemen to release to the next level against Jackson and the other Maryland linebackers. Without that movement, the interior will be neutralized and the linebackers will be cleared to run to the ball. Tech will find very little success running the ball if Jackson and the others kept clean or are getting off blocks to secure gaps at the line of scrimmage.
Tech getting its blockers to the second level will determine how often Maryland will bring its safeties up in run support. The Terps may be inclined to do that anyway, taking their chances with Foxworth and McPhearson outside against Techís freshmen receivers. If they are up, then Randall will have to decide whether to go with a run option or check into a pass play. Likewise, Maryland will have to decide what to do with the safeties if they read the check. Do the Terps drop a safety out or do they bring him on a blitz and risk Randall breaking containment and running in open field against man coverage? Itís a constant chess match that will be in the Hokiesí favor if they can manage to get the run game established early.
Key #5: Remember Imoh as a Receiver
Passes to the tailback are not a major part of the Tech offense, but there may be some opportunities for it against Maryland. If the run game is working, then itís unlikely we will see much of it. However, if Maryland is stuffing the run game, then getting the ball to Imoh out in the flat will challenge the speed of the Maryland linebackers, as well as its defensive pursuit in general.
When Maryland goes to a 3-4 front, Shawne Merriman stands up as an outside linebacker and often has coverage responsibilities out in the flat. Getting him isolated out in space against Imoh is a good matchup for the Hokies, particularly since Imoh has proven over the last two years that he can be a very good receiver.
Should the opportunity present itself, look for Tech to try to get Imoh on a wheel route against Merriman in single coverage. The Hokies may get a shot at that matchup from the shotgun where Imoh is aligned to the weakside of the formation (i.e., opposite of Merriman). If Maryland goes 3-4 and drops Merriman as a LB, then thereís a good chance he will have the coverage responsibility should Imoh run a wheel route to the strongside of the formation (opposite of his original alignment). Maryland will have to be in man or ďman freeĒ coverage to get that matchup, but that is something it will do on occasion and if Tech can read that correctly, then the Hokies could get Imoh running up the sideline in man coverage against a guy that plays a lot of defensive end.
Conclusion
In studying this game for the last several days, it looks like another one of those close, down-to-the-wire games that we have seen so often this year. The defenses are expected to dominate the action and both offenses will likely struggle to find consistent production. It could go either way with a big play or two being the difference.
Maryland has plenty of motivation to play well and the Hokies have to guard against looking ahead to those final two games against UVa and Miami. There is an intangible quality about this Tech team that is difficult to describe, but there is a sense that this is a strong team mentally, one that is properly focused on the task at hand. The leadership on the field and in the locker room might be the biggest strength of the team, and that is exactly whatís needed in order to be successful down the stretch against this schedule with the conference championship on the line.
Iíll be back this weekend with the follow-up.