The Great Race is On
by Jim Alderson, 11/3/04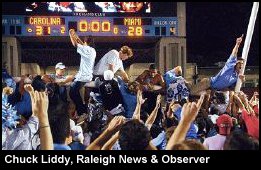 John Swofford did not seem to be joining in on the celebration. Following North Carolinaís improbable upset-for-the-ages win over Miami, the cameras of ESPN2 broke away from the wild celebration taking place on the field of Kenan Stadium. Viewers were treated to a shot of Tar Heel basketball coach Roy Williams savoring a moment that his program has not yet produced, a major upset. Alert observers noticed Swofford in the next booth, wearing a facial expression noticeably different from the wide grin stretching the face of Olí Roy. Swofford did not seem to be quite as thrilled at his alma materís improbable win. One would almost believe he was thinking not as an alumnus but as ACC Commissioner and calculating the monetary damage done to the leagueís bottom line during this ACC Upset Saturday. While Swofford did not and has not engaged in the wailing heard from Mike Tranghese whenever Tech knocked Miami out of a Big East football championship, he canít be particularly thrilled.
A lot of the financial underpinnings of ACC expansion sailed through the Kenan uprights Saturday night, just as they had fallen short of the Byrd Stadium ones earlier that afternoon. Florida Stateís loss at Maryland ended the ACCís chance of copping $4.5 extra large from a second BCS bid for the league, and Miamiís pratfall at Carolina assured that no ACC team will participate in this yearís MNC game in the Orange Bowl. This was not how things were supposed to be scripted.
Remember all of those stories and columns informing us that the new ACC football order was going to be one win after another by Miami and Florida State? These two leviathans would get their clash of the titans out of the way early, then loot and plunder the rest of the ACC like the German Army in Belgium before getting together again in Jacksonville to determine which would move on to grab the MNC. The rest of the conferenceís football teams were to serve as mere television fodder. Columnist after columnist related that the two Florida teams would rule ACC football with an iron fist. Well, if there is one thing I have learned during all of these years of writing sports columns for TSL, it is that people who write sports columns know very little.
I seem to remember a night early last November when Miami did not seem so invincible. That the Canes came into Lane last year and got their heads handed to them is a little factoid I have almost never seen mentioned in any of the stories and columns preaching Miami ACC football dominion. Actually, beating Miami is no longer considered a terribly big deal at Tech, since it has been done so often, even in the Orange Bowl. Itís not quite as easy as pounding Duke, mind you, but Tech had already proven that the Canes are beatable. As for Florida State, the Seminoles have spent the entire 21st century demonstrating that this is not the same caliber of program that ran roughshod over the ACC during the latter part of the 20th. It might be unsettling to the bean counters at ACC headquarters or to various ADs that were already spending the extra $400k or so a second BCS bid would have brought each ACC school, but there is some pretty good football being played in this league by teams not named Miami and Florida State. As conference play heads into November, there are three teams tied for the lead in the ACC, and only one of them is from Florida. Maybe it will not be quite as profitable as some imagined, but a great race has been substituted for a little marginal income. All things considered, Iíll take the great race.
What makes the race even greater, of course, is that Tech is in the thick of it. Tech grabbed their share of the top spot in the ACC with a sterling and stirring come-from-behind effort last Thursday night at Georgia Tech. Our Tech came out on top in this first ACC multi-Tech battle with something rarely seen recently from the good guys, a late rally. After 54 minutes of generally mediocre football that produced no small amount of irritation in that huge throng of Hokies perched high atop Grant Field in the GT version of the SEZ, Virginia Tech, behind Bryan Randall, grabbed this game by the throat and ripped victory away from Georgia Tech. While it might be hard on the nervous system and blood pressure to win games in this manner, at this point in the season weíll take our wins anyway we can get them. Especially at this point in the season.
Tech is moving into November, what has been the cruelest month for recent Tech football editions. It was very difficult last Thursday to sit and watch the general dreary manner in which Tech played most of the Georgia Tech game and not think, ďHere we go again.Ē That looked a lot like a Tech team that was getting ready to tank yet another November. It still might happen because, letís face it, for all of the pronouncements from both team and fans that this year is different, we wonít know that it is until it is. The early evidence seems promising, however.
Tech got some great plays from some freshmen who havenít been around for the previous three collapses; they also got some very good senior leadership. It has been a long time since Tech has had an experienced senior at quarterback, and late Thursday night we got an eyeful of what one can accomplish. It was a very cool Bryan Randall who surveyed the field late in the game, found the open receivers and took this game back from Georgia Tech. This is the sort of poise that can come in very handy this last month of Techís season and Randallís career. It could definitely prove useful this Saturday against a Carolina team that suddenly looks a lot tougher and has its own senior quarterback, Darrian Durant, who remained cool under all of the fire Miami could throw at him. Randallís play could again prove pivotal in a game that now looks like it will be just like every other conference game that does not involve Duke in this first ACC-expanded season, a hard-fought one that will go down to the wire. The Tech-Carolina game had plenty of juice to begin with and the Heels coming off the biggest win in their history only livens things up.
There will be all sorts of sub-plots swirling around Kenan this Saturday. Both Carolina coordinators have been employed at Tech. There was the song-and-dance played out between Frank Beamer and the Tar Heels late in 2000. Both teams are angling for bowl bids. There is also the little matter of UNC coach John Bunting still fighting for his job. Bunting was the fallback position for Carolina AD Dick Baddour when Frank Beamer and several other coaches turned him down following the firing of the hapless Carl Torbush. For the most part, Bunting has coached like it. After a successful first year with players inherited from Torbush, Bunting took Carolina straight to the bottom of the ACC standings, last year achieving absolute rock bottom by somehow managing to even wedge Duke out of last place.
It was widely assumed that Bunting would be fired after this year, but a funny thing has happened: Bunting and his team have actually won some games. Carolina endured a number of close losses last year and some of them are being turned around. In addition to the stunner over Miami, Carolina handled Georgia Tech fairly easily and has also beaten NC State, a pretty big deal around Chapel Hill and a feat which escaped the Hokies. Buntingís Carolina program is getting better and it would seem his job has been secured, but a win over Virginia Tech and the coach that turned them down would certainly seal the deal. This will be an emotional game for Bunting and will be played before what should be a pretty enthusiastic crowd, at least by Kenan standards. Carolina has come about as close to catching Football Fever as they have since Choo Choo Justice ambled around Kenan. This is going to be a tough game, a lot tougher than it looked to some last August.
There will be a football buzz around Chapel Hill Saturday, totally unlike anything seen last week around Atlanta. When oneís Atlanta traveling party includes Russian Hokie and Hokie Kev, one expects a fairly high level of enthusiasm and there was. It was a good thing we brought our own, because Atlanta seemed to welcome what was a pretty big football game with a collective yawn. Nobody seemed to have been aware that a game was even scheduled. There was the hotel employee who, noticing all of the people running around clad in Virginia Tech colors asked, ďAre you guys here for a basketball game?Ē There was the bartender at a midtown bar who inquired as to the identity of the team that Virginia Tech was playing [at some point between all of those shots of tequila we may have told him]. There was the owner of that Peachtree liquor store who saw his inventory of Wild Turkey seriously diminished Thursday morning, who was aware of the game but could care less since he was a fan of the Dawgs. There was the Thursday morning sports section of the local paper where the game between the two Tech teams, including the local one, was relegated to page four while the front page contained a story about the extended tailgating going on in Jacksonville prior to that Saturdayís Cocktail Party between Georgia and Florida. Explain to me again the value of all of these big markets, Swofford.
What excitement there was in Atlanta for this game was brought by the several thousand traveling Hokies. There would have been some excitement somewhere other than the sports pages, but I was able to quell my first instinct when, following a very late Wednesday night of carousing in Midtown Atlanta, Hokie Kev began pounding on my hotel room door at 7:45 the next morning screeching, ďLetís go check out the breakfast buffet.Ē I figured the difficulties in obtaining bail for the charges that would undoubtedly be brought after Kevís body was discovered having been thrown from a third-floor balcony might cause me to miss the game. Plus, the rental van was in his name and on the positive, educational side, I learned some Russian language obscenities. Aside from the great comeback, I would have not participated in that second pre-game Communion with the other Tailgate Monks nor would I have had the pleasure of meeting inside the stadium Mz. Hokie and all of those great folks from the Middle Tennessee Hokie Club. Although Iím not sure how they felt about it, I enjoyed meeting them.
Fun and winning games in Atlanta behind us, Tech now heads into November. The Hokies will be looking to both make a splash in this inaugural ACC season as well as expunge some painful memories of recent Novembers past. That can begin this Saturday in Kenan Stadium. The ACC does not have in this first post-expansion season domination by the Florida schools or the cash from a second BCS bid. What it does have is what it has rarely seen in recent decades, an exciting conference race with Tech squarely in the middle of it. Sounds good to me. Letís head to Carolina.