Staying Up Late
by Will Stewart, TechSideline.com, 10/29/04

I didn't have to stay up until 3:00 a.m. last night writing up the TSL game report on VT's big win over the Yellow Jackets. I didn't have to try to capture every single twist and turn of the game. But every once in a while, you sense that you've just seen a game for the ages, and it's hard to shut things off and go to bed.

Let's put this one in perspective right off the bat: The last time the Hokies came back to win a road game in which they trailed at the end of the third quarter was in game eleven of the 1995 season, when they erased a 29-14 deficit and downed Virginia 36-29.

What were you doing in 1995? Well, you couldn't have read about the game on TechSideline.com, or its predecessor, HokieCentral.com, because they didn't exist yet. That's how far back 1995 was. VT come-from-behind road wins are as rare as WVU bowl wins. We're talking once-in-a-decade stuff. That's how special last night was.

With the win over GT, the Hokies went a long way towards getting back the mojo that's been missing since the 2000 season. Momentum is a fickle thing, and chemistry is a tough thing to force, but it appears that this edition of Hokie football now has both. What they do with them remains to be seen, but unlike the last three seasons, the Hokies are well-positioned to have a solid run down the stretch.

The victory accomplished three important goals with regards to the ACC standings: (1) it kept the Hokies in a pack of four teams at the top of the league that have 0 or 1 loss in the conference -- Miami (3-0), FSU (4-1), Virginia (3-1) and the Hokies (3-1); (2) it kept one game of separation between the Hokies and NC State (3-2) in the ACC loss column; and (3) it pushed GT down into a group of teams at the bottom of the standings with 3 or more losses in the league.

But outside of the mathematics of the conference standings and trying to figure out what bowl game the Hokies will attend, the win did much, much more. Namely, it threw a lifeline to a hard-working team that has seen more than its share of heartbreak in close conference losses in the last three years. The number of agonizing conference defeats in the 2001-2003 seasons are too numerous to mention in this space (sad to say), as is the number of times Frank Beamer has told a post-game press conference words to the effect of, "You can what-if yourself to death, we just didn't get it done."

Well, last night, they got it done. It was a rocky trip, but once the floodgates opened, victory washed over the Hokies, stripping away three seasons of angst and agony. The Hokies now know that getting behind, even on the road, isn't cause to throw in the towel. They know that their offense, through proper play-calling, short drops, and quick throws, can handle an aggressive, zone-blitzing defense. They know that they can overcome a two-score deficit and multiple turnovers. They know that a football game is 60 minutes long, and they know that out of all the qualities you can have in life, persistence may just be one thing that will get you where you want to be. I'm no fan of the late NC State basketball coach Jim Valvano, but he had it right when he said, "Don't give up. Don't ever give up."

Someone asked me this morning what I thought would happen from here on out, and I answered that I think this win will galvanize this team, and they'll roll through November stronger than they have in years. I won't fall into the trap of predicting wins and losses, but I do know that this team is ready to rock and roll, and if you asked them how they felt right now, I'll bet they'd answer to a man that they want to play UNC now, not next week. When kids are winning, they want to keep going.

As fans, though, I recommend against the tendency to want the next game to get here in a hurry. In case you hadn't checked, the regular season is already two-thirds over, with just a little over a month to go. We've reached the bottom line of the Football Opponents section on TSL Links page, and that always makes me pause and wonder where the season has gone. Like a good book, we're so anxious to find out how the season ends, but remember, once it's over, it's gone for good, and all we can do is wait until next September for the next one to start.

So don't be in a rush. Savor this season. Enjoy it. The Hokies appear to be hitting their stride. At the beginning of the season, it's safe to say that we all had visions of the defense playing well, particularly Darryl Tapp, Jim Davis, and Jonathan Lewis; we had hopes that Xavier Adibi and Vince Hall would live up to the hype; we had hopes that the young freshman receivers would turn out to be playmakers; and we had hopes that the team chemistry was back in place, and that the Hokies would finally start putting together some wins in close late-game situations.

Lord knows there have been an endless string of close losses in recent years that will live forever in infamy, games that have been rehashed on the message boards ad nauseum. Finally, in this game, the Hokies got a remarkable victory that will serve as message board fodder for years to come.

I think that's what kept me up last night: the thought that I had just seen something special, after all this time, and I didn't want to go to bed. I wanted to be the last person to turn out the lights on the message board before turning in.

Adibi's Return: I'll admit that I felt a little trepidation that the return of Xavier Adibi was overhyped and that he might disappoint in last night's game. Part of me knew that his speed and range were the perfect antidote to Reggie Ball's running ability, but another part of me realized that we were talking about a guy who had only played 23 plays and made 2 tackles on the season. How could he possibly live up to the expectations?

Silly me. Adibi is as good as advertised. Right now, he's like Nestle Toll House cookie dough: he's really, really good, but if you throw him in the oven and let him cook for a while, he'll get even better

.

Okay, that's a goofy analogy, and cookie dough was never as quick as Xavier Adibi. Before last night, in his brief playing career, his signature play was nice deck-job of USC QB Matt Leinart in the BCA Classic, just an instant after Leinart had released a pass. But last night, against Georgia Tech, Adibi showed just why he's so valuable to this defense, with his 12-yard sack of Reggie Ball on 2nd and goal from the Hokie 5, with VT trailing 17-12 and facing extinction.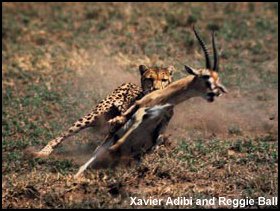 Ball took a deep drop, and Adibi briefly stayed in zone coverage at the line of scrimmage. Then he burst up the middle, straight at Ball, and for a brief moment, it was one on one, two talented players in the open field with the game on the line. Adibi closed quickly on Ball, broke down briefly and threw Ball a little twitch, and when Reggie committed in one direction, Adibi cut him off and took him down. You can't teach what Xavier Adibi did to Reggie Ball. You've either got it, or you don't. One message board poster likened it to a cheetah taking down a gazelle on the open plain, and I've got to admit, Ball had that same defeated, nowhere-to-go look about him. Not to mention that Adibi had that cheetah look about him.
Xavier Adibi has a special quality that no other current VT linebacker has: the ability to pursue sideline to sideline and chase down fleet ballcarriers in the open field. In the age of the mobile quarterback, that's an important element to have on your team, and as long as the Hokies have the stockier Vince Hall to balance out the inside linebacking corps, Adibi will serve an important role that no other middle linebacker -- I repeat, no other middle linebacker -- in VT football has ever served. He's that good, and he'll only get better with age.