2004-05 Virginia Tech Men's Basketball Preview
by Elijah Kyle, 10/21/04

After all the talk about what admission to the Atlantic Coast Conference will mean to the menís basketball program at Virginia Tech, the time has arrived to kick off a season that will always serve as a historical perspective, and hopefully catalyst, in the renewed interest of a program that has been dormant for far too long.
The Hokies had a nice run under Charlie Moir back in the early 80ís when the program won 20 games in five consecutive years. That followed an NIT Championship under former head coach Don DeVoe in 1973, who was then replaced by Moir following the 1975-76 season, one in which DeVoe posted a 21-7 record in his swan song. Moir won 19 games in each of his first two seasons, followed that with a 15-13 mark, before his run of five straight 20-win campaigns ended with a 10-18 record that was accomplished in the Ď86-87 season, Moirís final year in charge of the program. With the exception of a 19-win season by Frankie Allen in the Ď87-88 season, his only winning record in four seasons at Virginia Tech, and the 18-10, 25-10 and 23-6 seasons that were posted by Bill Foster during the Ď93-94, Ď94-95 and Ď95-96 seasons, which also included an NIT Championship in 1995, the program has floundered for far too much of the time since the departure of Moir.
Seth Greenberg provided some much needed optimism last year with the surprising 15-14 mark in his maiden campaign, but the landscape has changed this year with the program taking up residence in the ACC, and the job to become a competitive program became harder with the new conference brethren.
There is no doubt at all that there is an excitement that surrounds the program that hasnít been seen in quite some time. Finally getting to play in the ACC is a large reason for that excitement, but the work generated last year by Greenberg has also ignited the optimistic hopes of many of the Tech faithful. With an inexperienced team that was short on depth and size, Greenberg was able to guide the program down the stretch to a winning record, finishing with 7 victories in the last 11 games, and 4 of the last 5, all against conference opponents. The opening round victory in the Big East Tournament represented the only time the Hokies advanced to participate in the conference tournament.
That momentum that was generated at the end of the season will hopefully carry over into the 2004-05 season, with the large majority of the personnel returning, and with Greenberg bringing in a recruiting class that is the highest rated at Virginia Tech for quite some time.
Post Players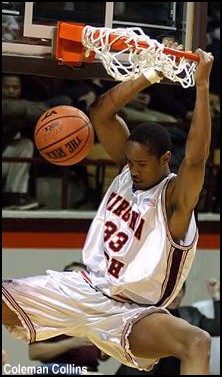 While the large majority of players return, no discussion of the fortunes of the Ď04-05 edition of the Hokies can get very far without talking about who will not return to the team. Bryant Matthews left a very vivid impression on the program during his senior season last year and his accomplishments will be greatly missed. Matthews was a First team All Big-East Conference selection, leading the Hokies in points, rebounds, blocked shots, three point field goal percentage, minutes and free throws, among many categories. Replacing his contributions and steady play will be an arduous task. His impact was that great and his stamp on the team that prominent.
It is unlikely that any single member of this yearís team will be as critical to the teamís overall success as Matthews was on the team last year. But, it says in this space that the player that might be the most indispensable will be Coleman Collins. After the frontcourt lost both Matthews and 6-9 Philip McCandies, who transferred to the College of Charleston, while bringing in only 7-0 Freshman Robert Krabbendam, the health of the three players inside is integral to the team, and that starts with Collins. The 6-9 sophomore, now 228 pounds, showed flashes of brilliance last year, averaging 8.7 points and 3.7 rebounds in just over 23 minutes per game. Collins also missed 7 games due to injury and that might be a concern this year. With only Allen Calloway and newcomer Krabbendam available inside, Collins simply has to stay healthy and have a big year for the team.
Krabbendam doesnít need to be forced into playing significant minutes before he is ready, while Calloway doesnít have the body to defend the post for long stretches, thus leaving Collins as a very vital part of the Greenberg dossier for success this year. Collins has gotten noticeably stronger through the upper torso, and it should help him defensively inside. He also will not have the free rein that he had at times last year, when teams doubled Matthews and presented him with scoring opportunities. Collins showed that he is a strong offensive player with confidence, but he will have to substantially improve his rebound numbers, as well as his free throw shooting, an area where he shot just .500 for the season.
Allen Calloway returns for his junior season, and the 6-8 Calloway is one of the most athletic members of the team, and also a versatile defensive player, who showed last year that he could go out on the wing and guard players like Miamiís dual threat Darius Rice, or take on players closer to the basket. While Calloway isnít a polished offensive performer, he did improve as the year went on as he gained confidence. He has battled a hip injury during the fall, so how well and how quickly he returns from that injury will be watched closely. Calloway does appear better situated to thrive in an uptempo style of play that utilizes his excellent athleticism.
Little is known about 7-0 freshman Robert Krabbendam, other than he comes advertised as a player who has some offensive talent, along with a need to add upper body strength. Ideally, Krabbendam would be brought along slowly, letting him become acclimated to basketball here in the United States, while adding strength. But on a team that canít afford to pick spots for Krabbendam to perform, it is likely that he will play minutes early whether he is ready or not. His height would lead one to think he is an ideal center, but he might fit in better as a power forward over the course of his career here. Krabbendam can shoot the basketball with range, he has a serviceable jump hook inside, and he shows some passing skills that are reminiscent of other Euro big men, such as Vlade Divac.
Aside from Collins, Calloway and Krabbendam, there are really no other natural post players on the team. 6-7 sophomore walk-on Chris Tucker has worked hard in the weight room to become stronger so that he can defend inside better, and Tucker is a fine shooter as well. He might be looked upon in certain situations this year, much as former walk-on Mykhael Lattimore was last year. For that reason, Greenberg can be expected to tinker with and use various combinations this year.
Guards
The return of 6-7 senior Carlos Dixon to the team from a medical redshirt year could be very welcome news to a team that ranked dead last in the Big East Conference in three point field goal percentage at .304 last season. Dixon was a three year starter for former coach Ricky Stokes and can be expected to add offensive firepower and defensive versatility. Dixon played point guard, wing guard and small forward under Stokes, and will more than likely add a fourth position this year under Greenberg, when he gets some minutes, maybe even more than a few, at power forward. Greenberg would like nothing better than for Dixon to step up and consistently shoot the three pointer, and hopefully become one of the team's two leading rebounders. One thing that Greenberg will probably utilize with Dixon will be his defensive versatility, in a manner similar to guard Markus Sailes. Dixon has been a solid defender in the past and with his length and athleticism, he can be expected to take a prominent role in the different trapping and pressure defenses that one might expect Greenberg to employ this season.
We can also expect to see other players, such as freshman Deron Washington, maybe even returning junior Shawn Harris, log some minutes at power forward. Yes, that Shawn Harris, he of the 6-4, 225-pound frame. Greenberg might be expected to show some creative and unusual lineups this year, and he will probably use the first two weeks of practice to determine which players will garner the majority of minutes on the team, and then make an adjustment according to the style of play that he wishes to utilize. Last year we saw a very effective use of a 1-3-1 half court trap, which led to some transition opportunities for the Hokies. Surprisingly, we didnít see a lot of full court pressure, perhaps due to anticipated foul trouble and depth issues. Seeing more of a combination of full and half court pressure, along with traps, might be expected from a team with greater depth, more team athleticism and quickness, to mask some of the height and size issues that remain on the team. One would also expect the Hokies to take advantage of that athleticism and quickness offensively, by increasing their transition opportunities this year.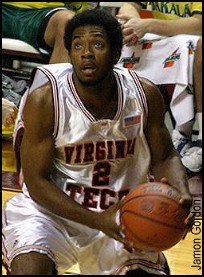 While Greenberg looks at his frontcourt with more than a little trepidation, there is much more of a comfort factor where his backcourt is concerned. Returning both starting guards in freshmen Jamon Gordon and Zabian Dowdell, adding the most heralded incoming recruit since Dell Curry in freshman point guard Marquie Cooke, then seeing three-year starter Carlos Dixon return from a medical redshirt year for his senior season has Greenberg well fortified in perimeter players.
Gordon showed himself to be one of the better rounded guards to play at Virginia Tech in more than a few years. He is the leading returning rebounder on the team at 4.4/game, he led the team last year in assists at 4.5/game, and he was also the team steal leader with an average of 2.8 per game, which happened to lead the Big East conference in that category. Mostly, Gordon showed outstanding court instincts, toughness and decision-making, while averaging 9.8 points in the process. An off season focus on improving his perimeter jumper should make him a better balanced offensive threat, and his unselfishness is a largely overlooked component of his game.
Dowdell stepped in and took the reins of the team with poise and showed an ability to be not at all hesitant about taking important late game shots. Dowdell was second to Matthews on the team last year with a 10.8 average and has added upper body strength. While not a pure, natural point guard, Dowdell nonetheless was a low turnover point guard who will get more opportunities to play off the ball this year with the arrival of Cooke. He has greatly improved a jumper that was inconsistent last year, and his mid-range game got better and better as the season wound down. It wouldnít be a huge surprise if Dowdell turned out to be the leading scorer on this team, although there is expected to be a significantly better balance throughout the team.
Speaking of Marquie Cooke, the 6-3, 200-pound freshmanís arrival is greatly anticipated by many of the Tech faithful and he promises to make a strong run at early, substantial minutes. He is the natural point guard that Dowdell perhaps is not, and Cooke is also a strong penetrator who ably gets the ball to his teammates on the wing for open jumpers. He has been limited during the fall by a deep thigh bruise, but Cooke is a strong and physical point guard who has shown that he can get into the paint and score. He is also a player who has shown the ability to navigate and handle full court pressure, something that the Hokies can be expected to see more of this year in the ACC.
Quick now, with a show of hands, who would have guessed before the start of last season that 6-5 junior guard Marcus Sailes would start all 29 games and average 32 minutes per game? The unsung member of the starting five returns for his junior season and while Sailes is unlikely to see the minutes that he saw last year, he does provide Greenberg with a steady ball handler who can play the point position, while being a fine defender capable of guarding several positions. In fact, that was the appeal of Sailes last year. He isnít a flashy player, but he can guard the basketball, a fact always sure to get notice from the defensive-minded Greenberg. Sailes finished among the top 15 in the Big East conference in steals for the season, and his 2-1 turnover ratio would have ranked him in the top 7 in the conference, had he generated just 6 more assists for the year.
The final member back from last seasonís team in the backcourt is the afore-mentioned Shawn Harris, who returns for his junior season. Harris can be an offensive igniter off the bench, as he showed on several occasions last year. With the influx of freshmen perimeter talent into the program, Harris will be hard pressed to generate substantial minutes, unless he improves his .329 shooting percentage from the field, and his chilly .200 percentage from behind the arc.
Wing Players
Speaking of that perimeter talent, Marquie Cooke isnít the only freshman that will push for playing time in the freshman class in the backcourt or at the wing position. 6-7, 190-pound freshman, and athlete/extraordinaire Deron Washington, has steadily built a buzz during the fall among players with his sustained excellent play. Washington probably has no peer on this team from an athletic standpoint, and he comes with the reputation of being a potentially fine defensive player. Perhaps the biggest surprise early about Washington has been his play on the offensive end of the court. He might have to play out-of-position at the power forward more than Greenberg would like initially, but if that happens itís more than likely because Greenberg is looking for ways to get Washington onto the court as much as possible. Washington is energetic, he is said to play hard consistently, and his sports background (father coaches for the Green Bay Packers) has given him a poise and understanding of situations that makes him mature beyond his years.
Finally, the last member of the incoming class and a player that might be able to provide some early perimeter assistance is 6-7, 180-pound freshman guard/forward Wynton Witherspoon. Witherspoon can play either backcourt position, as well as the small forward position, and he is reputedly a fine perimeter shooter, a quality that the program has a shortage of currently. Witherspoon has savvy and court sense and will just need to understand the day-to-day intensity required to perform at the college level. His versatility, shooting ability and ball handling can help Greenberg in numerous lineups that he might wish to offer.
Conclusions
While the Hokies are extremely short inside as far as size and depth are concerned this year, they have added scoring, athleticism and ball handling to the team. They are deeper in the backcourt and along the wing positions, which will give Greenberg numerous options concerning playing style and matchups. While it will be hard to predict any starting lineup with certainty, and in fact that lineup might change throughout the season, it appears that some combination of Dowdell, Gordan, Cooke, Dixon, Washington and Collins have the best opportunities to start. Greenberg might look at a more conventional front line of Dixon, Washington and Collins, with Cooke, Dowdell and Gordan battling for the two backcourt positions. He might look to play three guards and let Dixon and Washington fight it out to play alongside Collins in the frontcourt. And, depending on how fast he emerges, it is even possible at some point that Krabbendam forces his way into the lineup, leaving Tech a taller team along the frontline, especially if coupled with Collins.
Whichever is the case, the depth of the team looks to be one of the strengths of this Ď04-05 edition. Someone among Dowdell, Dixon, Cooke, Washington and Gordan will have to come off the bench. Perhaps even Collins. And we havenít even mentioned, perhaps even have overlooked, Sailes, who only started every game last season. When you add incoming talent to your program, and there is the possibility that two returning starters might be relegated to the bench after having helped provide the first winning record for the program since the 1999-2000 season, well that surely has to provide some cursory evidence at least that your talent base is improving. That is something all Hokie fans are anxiously hoping for, indeed; knowing that the other conference members are situated more strongly at this time and it is a battle to catch up as quickly as possible.