So What Are We Supposed to Do This Saturday?
by Jim Alderson, 10/21/04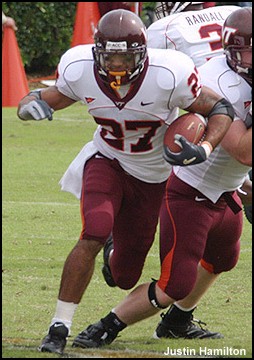 The 2004 Virginia Tech football season has been an ACC block party, with five home games out of seven and trips no further away than DC and Winston-Salem. The result has been that I and a bunch of other Hokies have attended seven Virginia Tech football games over the last eight weeks, including the last six weeks in a row. With the fortnight or so before we journey down that inter-coastal waterway known as I-85 to play a divisional rival in the ACC's first multi-Tech game, we find ourselves with what has been a rarity this year, an open date. We are at loose ends.
It has been a grueling stretch of games. Well, only if 'grueling' can be construed as hanging around a lot of tailgates and watching Tech play a lot of football. At least the getting up at 4 AM every Saturday could be considered grueling. While I won't miss the early alarm clock, there are some aspects, along with the actual football, that I will miss. They all are tailgate-related. Due to the early starting times for the last six games, I have become accustomed to arriving at our tailgate to find a nutritious breakfast awaiting me. I suggested last Saturday to our tailgate chef that he travel the 3-4 hours to my driveway, set up his cooking apparatus and have one waiting for me when I arise this Saturday. This was not received with the enthusiasm for which I had hoped. It appears I will have to fend for myself.
I have also enjoyed the pleasant tailgate ambience provided by the happily-increasing frequency with which attractive young Tech ladies have been showing up at our tailgates. I made another suggestion, this one that these young ladies gather at my house this weekend. I confess to not being totally familiar with the jargon used by young people these days, but a response of "Ewwwww" is probably not an altogether positive one. I will be hungry and alone. Any chance of the Athletic Director scheduling a game for this Saturday?
At loose ends and not having to deal with the tailgate logistical difficulties of reading the e-mail discussions by other people dealing with them, I have had time to give greater attention to the news. I notice that the ACC has gotten around to naming the football divisions that will be in place next year when Fredo arrives. The ACC's crack marketing gang has come up with the highly-original 'Atlantic' and 'Coastal' designations. Tech finds itself in the latter grouping, the one that will create hot demand for beachfront property in Blacksburg, Hooville, Chapel Hill, Durham and Atlanta. One out of six ain't bad. I had thought that John Swofford, not one to exhibit shyness when it comes to cutting new deals with the ACC's corporate partners, would have come up with sponsored divisions, perhaps naming them the 'Insurance Division' and 'Bovine Division.' Think of all the exciting opportunities those cows could create at places like NC State and Clemson. Tech would really need to join them in that division, although I'm sure that division's sponsor would prefer keeping Fredo, as I'm sure they are salivating at the prospect of dropping their chicken into the Boston market.
The Insurance Division, of course, would stand for those swell guys who happen to have a profitable sports broadcasting operation as a sideline, one that seems to be growing even more profitable every time Tech appears on their network. The Nielsen people seem to have delivered to J-P Sports the astonishing news that there are people outside of Blacksburg and Roanoke who will actually watch Tech football on television. Who knew? Well, ESPN, for one. They figured out long ago that brand trumps market when it comes to college athletics and J-P now seems to have climbed on board. One can only imagine the television excitement exciting contests between Syracuse and Duke and Wake Forest would have generated in upstate New York. Come on, John, you can tell us now: did you really want Syracuse or were you just stringing Shalala along? We know what ESPN's opinion in the whole matter was, as both Tech and the Orangepersons are appearing on that network this year about the same number of times each did when both were in the BE, many for Tech and few for the Cuse.
Speaking of our old friends and former conference mates at Syracuse, it was quite surprising to see them pop back up on the Future Schedules page. I would have thought that after what happened to Syracuse and how it came about, Virginia Tech would be about the last team they would have scheduled for their OOC. Does anybody else get the feeling that perhaps negotiations for a new Li'l E television contract are not going particularly well, and the Orangepersons see this as a chance to cop some television time? It sure became apparent in a hurry which team you schedule from this state if you want to get on the tube. Playing Syracuse again means Tech will have to make another visit to the Carrier Dome, not exactly the favorite venue of Frank Beamer. With the game not scheduled until 2010, however, I have a feeling that Frank feels that will be some other coach's problem.
Back to a Saturday with no Tech football, there will be some other games around the area of at least passing interest. One will involve the Hoos. Snicker. The drive on I-81 back to Roanoke last Saturday night seemed a lot shorter with the uncontrolled sobbing of Mac McDonald to keep us company. That was a terrific job of establishing the Hoos as the up and coming ACC power, algroh. Several of us had been wondering what would happen when somebody shut down that Hoo running game that had overpowered the likes of Temple, Akron and North Carolina; we found out that what happens is crushing defeat. The Chessmaster of the Grounds might be a great NFL coach, but he sure got that big head handed to him by one of those good old Southern coaches he once denigrated as lacking his intellectual capabilities. Explain to us again, algroh, about the difference between your chess and Bobby's checkers.
Bowden did a masterful job of baiting the Hoos. I laughed out loud during the 6 o'clock televised sports one night last week when I saw Bobby Bowden, in a great dead-pan, comparing Marcus Hagans to Mike Vick. Unlike the claims of their bamboozling coach, the FSU players sure seemed to be able to tell the difference. Despite all of the saber-rattling before the game, the Hoos got pounded and will take what was described as an 'ailing' team into the rest of their season sans those great expectations. Of course, there is no better remedy for a sick team than to have Duke pop up on the schedule. The Hoos should get well in a hurry before taking a gander at the rest of their slate, where there reside a couple of teams that will also be able to shut down Lundy and Pearman.
The big game this Saturday is the Raleigh shootout between NC State and Miami. ESPN prime time, Gameday; the Wolfpack is moving up in the world. You miss one lousy field goal and look what happens. Despite falling at Carolina, the Pack have turned into the ACC's road warriors, winning at Tech and going to College Park last Saturday and knocking off a Maryland team that is rapidly running out of players recruited by former coach Ron Vanderlinden. If Miami is still experiencing any lingering after-effects from that near-death experience against Louisville, this one could be fairly interesting and provide some decent football to watch. It certainly looks more appealing than the rest of the conference fare which includes Maryland traveling to Clemson to determine who will be first voted off of the Survivor: Boise island, or Florida State dealing with the overachieving and overmatched Wake Forest team.
It will be a different Saturday, this first away from the Tech team in six weeks. It will seem a bit unusual to awaken Saturday and not have a Tech game to attend or a tailgate without breakfast and attractive company. I will probably spend this Saturday without football watching football. It seems like the logical thing to do. And besides, before you know it, it will be time to pack for the trip to Atlanta.