Keys to the Season
by Raleigh Hokie, 10/15/04

After three weeks of last minute excitement, the Hokies will take the field on Saturday looking to get better across the board against a heavily overmatched opponent. Normally, my objective here is to identify four or five things to look for on offense and defense that would key a Tech victory. Against Florida A&M, the keys to victory don't require much thought. On offense, look for the Hokies to pound the ball against a defense that lost two-thirds of its starters to academic sanctions before the season began. On defense, look for the Hokies to bring a lot of pressure against a pass-happy run-and-shoot offense that might be missing its starting quarterback. And look for a lot of backups to get significant playing time on both sides of the ball.
After the Hokies put this one away early, the attention will return to the challenges of the ACC and the second half of the season. The Hokies started the 2004 campaign with many questions on both sides of the ball and now at the midway point, some of those questions have been answered, while many others remain. For this week's "Keys to the Game", let's revisit those factors on offense and defense that have been key to Tech's season to date and what to look for from each for the rest of the season.
The Tech Defense Returns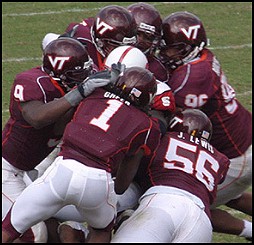 So far this season, we have witnessed the Tech defense of old. They have been fast, physical, aggressive and disciplined. We have seen better tackling, better pursuit, and fewer mistakes. I think everyone would agree that the defense has come a long way since last year's late season meltdown. What's different? Why are they playing so much better? Will it continue, or is another crash and burn possible?
Of course, some of the improvement is due to the turnover in players at certain positions, but that's only a small part of it. Let's look closely at five other factors that have helped turn around the Hokies defense:
Key #1: Improvement up the middle
Good defense starts up front, and good, consistent play from the defensive line was missing the past two seasons. The defensive tackles were inconsistent, lacked conditioning, and often found themselves getting pushed backwards late in games. Blockers were able to get to the second level and take out the inside linebackers far too often. The defensive ends did not make enough plays from the edge. Consistent pressure from the front four was missing, both in the run game as well as the pass game. The defense was forced to commit the safeties far too often, leaving the defense susceptible to big plays.
This year, we have seen much better play from the defensive line, both from the starters as well as the backups. Jonathan Lewis is no longer a guy that offenses can attack in the run game. This year, they have to game plan their blocking schemes to try to minimize his ability to penetrate on a consistent basis. The quickness of Jim Davis next door makes that duty even more difficult, because any schemes used to double-team Lewis leaves Davis one on one against a guard or tackle inside. In a game defined by matchups, Tech has a nice combination of Lewis' strength and Davis' quickness to create big problems, particularly against teams that still use a lot of man blocking schemes.
The key for the defensive ends has been their ability to get pressure up-field without the need for blitzing. In my opinion, Darryl Tapp is having an all-conference type of season. Both West Virginia and Wake Forest changed up some things in their attack to account for Tapp, which is an indication of the type of season he is having. Going forward, it will be interesting to see how teams plan to use their tight ends and backs in combination blocks against Tapp.
Finally, how 'bout them inside linebackers? When Xavier Adibi went down against USC, there were many Hokie fans (including this one) that thought his loss would be too difficult to overcome. I thought moving Mikal Baaqee over to Backer was a risk that might seriously weaken two positions, with Baaqee getting overmatched in space and Vince Hall not quite ready to step in as the starter at Mike LB. However, both have played very well, with Baaqee showing that Backer may have been his best position all along. Hall has been a force against the run and has probably played better than anyone expected. With Adibi coming back soon, the inside linebacker positions look to be in good shape heading down the stretch with the rotation of Hall, Baaqee and Adibi, with solid depth in Blake Warren and Brandon Manning in nickel situations.
Key #2: Better chemistry / on-field leadership
Team chemistry is one of those things that is hard to define, but you know it when you see it. From all the off-season talk to the renewed commitment by the returning players to the team unity wristbands, it's obvious that the team chemistry was bad last year, particularly on defense. I've watched the Tech defense very closely for many years and I've never seen the kind of missed assignments, mental mistakes, and general freelancing that we saw play after play down the stretch last season. On-field leadership was missing, and what was there came from the wrong players at the wrong times.
So far this season we have seen a complete reversal. The players are all about the team, both in the words and their actions. The senior leadership has been outstanding, with Jim Davis, Mikal Baaqee, Eric Green and Vinnie Fuller leading the way. Green and Fuller have been the most vocal, both on and off the field. Green admits to being a big part of the problem last year, but is showing that he is a big part of the solution this year. Fuller has the been the defensive spokesman to the media and anyone who witnessed the sideline disturbance during the West Virginia game could see how much he has stepped up to be the quarterback of the defense, both as a player and as a leader.
So, is there tangible evidence that the chemistry is better? The statistics show that the defense is better against the run and the pass this year, but one way to know that a defense is playing well is by how they play on third down. A defense that plays together is a defense that gets off the field on third down. From that measure alone, it's clear that this Tech defense is in synch and playing well together.
Key #3: So far, so good on the Williams / Fuller experiment
The move of Jimmy Williams from free safety to boundary corner in the spring caused quite a buzz on the message boards. Was he quick enough and fast enough to single up against those speedy wide receivers? Some folks were also scratching their heads over Vinnie Fuller's return to free safety. Was he physical enough to stick his nose in there against those big running backs and tight ends?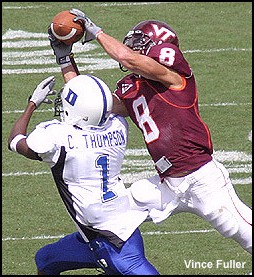 In reality, the coaches didn't have a lot of options. With the departure of DeAngelo Hall, they needed to shore up the boundary corner spot and in the Tech scheme, that spot demands a physical player that can protect the boundary in the running game. Physically, it's more demanding than the free safety position, both against the run and pass, and Jimmy Williams seemed like a good candidate. The only question with Williams was whether he had the corner skills to backpedal, swivel his hips, and change direction quickly enough to take wide receivers in single coverage. He has been beaten a couple of times, but he has shown much better at corner than many thought he could. Going forward, look for offenses to try to get him isolated outside and continue to attack him down the field. The good news for Tech fans is that he is getting better and more comfortable at corner every week, which bodes well down the road in games against UVa and Miami.
While it raised a few eyebrows, moving Vinnie Fuller back to free safety made sense given the move of Williams to corner. Fuller had been a safety in the Tech system for two years before moving to corner as a RS-sophomore. He has that good speed and great range that coaches look for at safety. And he was better positioned to handle the mental aspects of the position. Free safety is the quarterback of the defense and is responsible for all pre-snap calls, including blitz and coverage adjustments. This is an area where Jimmy Williams struggled a little last year, and so far this year Fuller is showing that he has a good grasp on the mental challenges of the position. And he has shown that he is more than willing to come up aggressively in run support. Looking ahead, watch for teams to try to attack the weakside of Tech's defense, hoping to force Fuller to fill against pulling guards or other lead blocks. That will be tougher than it might be otherwise because there will be a 6'3", 220 pound corner out there weakside to deal with as well.
Key #4: Whip and Rover adjustments are just what the doctor ordered
For ten years, the Hokies got a lot of mileage out of a scheme that could load eight in the box against the run while having five defensive backs against the pass, all with the same personnel. This trick was possible due to the hybrid responsibilities of the Whip LB and Rover positions. The Whip LB was part linebacker and part safety, often back as a deep safety in deep half or deep thirds coverages. The Rover was part linebacker and part corner, often matched up in single coverage against slot receivers. It gave offenses fits because they could not key on personnel or base sets to know what the Tech defense was doing. It took hundreds of hours of studying Tech game films for offensive coordinators to figure out how to get isolations and matchup advantages, specifically against the Whip LB. At the same time, Tech was having difficulty finding the athletes with the type of skills required to play both the linebacker and safety aspects of the position. At the end of last year, Bud Foster announced that the defense was going to look at some adjustments, particularly in how the Whip LB is used and, as a consequence, how the Rover is used as well. In a nutshell, the adjustment was to make the Whip LB a fulltime linebacker, with the Rover taking on the safety duties.
This year, we've seen those adjustments used very effectively. The change to the Whip LB position immediately shot James Anderson to the top of the depth chart. He has the ideal size and skill desired for a weakside linebacker and he has flourished with the change. The change has also helped Aaron Rouse just as much. He has great physical skills and is a difficult matchup against receivers in the flat. Offenses are having to account differently for the Whip LB in their blocking schemes, often having to get an offensive linemen out there to spring a run. They can no longer get away with blocking the Whip with an inside receiver while committing their linemen to the defensive line and inside linebackers.
The defense is showing more 4-3, 2-deep looks as the base set and it's forcing offenses to tighten up their formations, as we saw two weeks ago with West Virginia. As part of that 4-3, 2-deep look, we are seeing the Tech Rover back as a deep safety for the first time in many years. Prior to this year, the Rover was almost never back as a safety in 2-deep or 3-deep coverages. Instead, he was up at the line of scrimmage, either as the fourth linebacker in an 8-man front or across from a slot receiver in man coverage. With the Rover back, Tech is showing more of a Cover-2 base, with the corners up in press man more often and the two safeties back aligned to the formation. We have seen Tech get from that to a 3-deep coverage by dropping off one of the corners prior to the snap, getting one corner and two safeties in deep thirds. We have also seen the Rover move up to the line of scrimmage from the 2-deep base to give the defense the familiar 8-man fronts that have been the foundation of Tech's defense in the Beamer era. Going from a 4-3, 2-deep base to an 8-man front or a 3-deep coverage has given offenses something new to worry about and thus far, the results speak for themselves.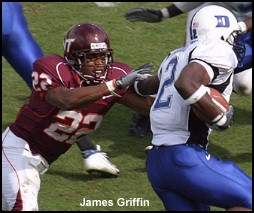 After being lost at times last year, James Griffin has settled in nicely at Rover, playing very well for the most part this season. He is always around the ball and he has been very physical in run support. Offenses haven't tried to test his coverage skills as much as I thought they would, so that is something to keep an eye on as the rest of the season unfolds.
Going forward, watch for offenses to try to find ways to attack the weakside of the defense with short passes and the strongside of the defense with long passes. Can Anderson/Rouse handle those matchups in the flat? Can Griffin cover that deep half of the field and not get suckered by play action? I expect teams to continue to take their shots at both. As long as Tech is getting consistent pressure from the down linemen, I expect Bud Foster will continue to mix it up, show different fronts and coverages, and keep the offenses from getting into those potential mismatch situations.
Key # 5: Depth is deeper
Heading into the season, the depth at several defensive positions was a big question mark. This was especially true along the defensive line and in the secondary, where expected 2-deep players like Jordan Trott and Michael Hinton were lost to the team for various reasons. The linebacking corp joined the act in game one, with the loss of Xavier Adibi. There was legitimate concern about depth everywhere it seemed, with no obvious answers. The biggest hole appeared to be the depth at Rover behind James Griffin. Both Cary Wade and D.J. Walton were unproven and both lacked the type of size/speed combination needed at the position.
Enter Mike Daniels. Already the backup at free safety, Daniels has shown that he can provide quality depth at both safety positions. He did a superb job subbing for a banged-up Griffin against Wake Forest last week, figuring prominently on two very big plays. He will continue to get snaps at both positions and his emergence at Rover gives both Lorenzo Ward and Jim Cavanaugh a nice option when they are looking to rest Fuller or Griffin. It also gives Bud Foster another possibility for nickel personnel, with the option of dropping Fuller down on the slot with Daniels stepping in at free safety.
Other players that have eased depth concerns are Carlton Powell, Jason Lallis, Chris Ellis and Brandon Manning. Powell was a monster during the spring, so it's no surprise that he is getting quality snaps at defensive tackle. The good news is that he seems to be getting better and better with each game, so it's easy to get excited about his future. Lallis has moved back to defensive end without missing a beat. He can get swallowed up from time to time, but he is a playmaker. Chris Ellis is going through some growing pains and has a ways to go to mature as a player, but it's easy to see why so many people are high on him. He has great size, he moves well, and he has that rare ability to chase down the ball in pursuit or backside against speed backs.
Going forward, the return of Xavier Adibi is obviously a big deal. His speed and ability to close on the ball are God-given skills that aren't seen in many players his size. Teams with mobile QB's have given Tech some trouble in the past, particularly when the linebackers are responsible for outside containment. Planned runs or scrambles strongside when Adibi is on the field aren't going to work very often and most will result in negative plays for the offense. Getting him back in time to face mobile QB's Reggie Ball, Darian Durant, and Marques Hagans will be a big plus for the defense.
The Tech offense looks for improvement
Entering the season, I expected the offense to struggle, particularly with the loss of two big playmakers in Marcus Vick and Mike Imoh. There was concern on the offensive line, no proven talent at wide receiver, and the running backs were lacking the ability to pressure the perimeter of opposing defenses. The emergence of the freshmen wide receivers has been a pleasant surprise, with Eddie Royal showing that he is a superstar in the making. The return of Mike Imoh has boosted a running game that was lacking speed and quickness, and Bryan Randall has shown a new ability to deliver in crunch time. Still, the offense has a long way to go to get to where they want to be. Improvements are needed across the board and they have to work at them step by step.
So, what can we expect from the offense the second half of the season? Can they create an identity and carry that into each game? Are there any adjustments we might see? There are many important factors for the offense going forward, but let's focus on five that I think will be critical:
Key #1: Pick it up in the trenches
It's no secret that the Hokies have struggled along the offensive line, both in run blocking and in pass protection. As a group, they are physical and they give great effort, but they lack athleticism. Defenses that have good quickness and speed in their front seven create matchup problems for the Tech line, as we all saw against NC State a few weeks ago. The limitations are most notable at the guard positions where both Reggie Butler and James Miller have had trouble. Pull and trap blocks aren't as crisp as they need to be and both have had difficulty in pass protection, particularly in their blitz assignments.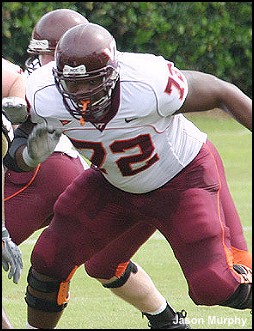 Going forward, look for Jason Murphy to continue to get more snaps in place of Butler, particularly against quicker defensive fronts. Look for some adjustments to the run blocking schemes, with more emphasis on power blocks and less emphasis on pulling and trapping. Paring down the blocking schemes will help this group get more out of what they do well and it will minimize the mismatches against the quicker fronts. In the pass game, until the offense makes them pay, look for defenses to continue to show various pressure packages, both from the edges and up the middle. The offensive line hasn't been responsible for many of the protection issues, but improvement is needed there nonetheless.
Key #2: Simply put - Bryan Randall
Through the first half of the season, Bryan Randall has demonstrated over and over that he can get it done with legs, showing quickness, speed, toughness and the ability to break tackles. Many worried that he could get injured if he ran too often, but he has proven to be incredibly durable. To my memory, he has only had to come out of a game for one play due to injury (two years ago at Miami when Jonathan Vilma stuck a helmet into his chin). He is the unquestioned leader of this team, and no player is respected more by his peers than is Bryan Randall. He brings many intangible qualities to the position and his strong character and leadership abilities will be critical down the stretch.
The only question that remains is whether he can get it done consistently enough in the passing game. Defenses have found that they can confuse him into poor protection calls and he can get rattled if he is hit enough. From film, they have also seen other defenses get away with defending less than the entire field. Going forward, this offense can take a big leap forward if Bryan Randall can make defenses pay severely for collapsing coverages, vacating areas, or giving up the deep pass. He is never going to have strong pocket presence, but I think it is important for him to show that he can go through his progressions without immediately breaking out to run with the football. Most important of all, he needs to make the read, throw the ball to a spot and trust that his receivers will be there to catch it.
Going forward, I would expect defenses to account for Randall's running ability by showing more zone coverages, with zone blitz pressures. He struggled greatly with NC State's various zone blitz looks, so expect that to continue, particularly against Georgia Tech. Playing man coverage leaves too many running lanes for Randall and defenses will want to slow that down by playing more zone. They will be able to get away with that as long as they can continue to handle Tech's running game without needing an extra player in the box. Most importantly, defenses now know that Bryan Randall can get it done when the game is on the line, so they know he will be a more confident player in the clutch.
Key #3: Tempo
The Tech offense is far from the fast paced, hurry up, quick strike style of offense that some teams employ and many fans like to see. It is methodical and deliberate, with an emphasis on ball control and time of possession. This year, it's also lacking a rhythm and they are having some difficulty building momentum after successful plays.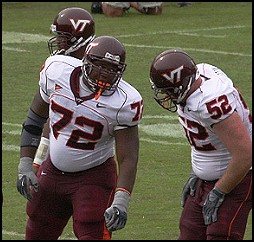 There is a lot that goes on from the time a play is signaled in until the snap. Reads, checks, protection adjustments, snap count, then finally the snap itself. We see the QB pointing, WR's pointing, the center pointing, and then a series of calls that are passed down from one end of the line to the other. It all looks far too complex and time consuming, and to an extent I believe it is the cause of some of the execution problems. Execution and tempo go hand in hand, and it's my opinion that many of the red zone issues are due to tempo. I also believe that many of the false start problems on the offensive line are due to the fact that they are having to stay in their stances too long between the set and the snap.
For the rest of the season, I am hoping to see some adjustments in offensive tempo, with a definite attempt to speed up the pace when momentum is building. I think we will see plays getting signaled in a bit quicker, with Bryan Randall going to the wristband more often. I think Randall will look to quicken the pace of the pre-snap calls and adjustments. And I look for the snap count to vary to stop defenses from jumping the snap. All of those will be things to look for as the offense attempts to create rhythm and improve execution.
Key #4: Wide receivers must continue to develop
Four wide receiver formations....four freshmen. I haven't researched it, but I think it's safe to say that it's been a very long time since that happened at Virginia Tech. The key here is patience. They have made mistakes and they will make more. But, it is clear that all of these guys can play and they are all getting better each week.
Going forward, look for the tight ends to continue to be primary targets in the passing game, with more and more attempts to Mike Imoh on swings and screens against various blitz pressures. Those two objectives do not complement each other well as far as protections and where the defense will key, so the offense must continue to work the wide receivers in the middle of the field, particularly against man coverages. We saw excellent execution of a hot read against Wake Forest when Randall hit Josh Morgan for a big gainer in the first quarter. Backing them out of blitzes and into more zone coverages will open up opportunities for all of the receivers, particularly Josh Hyman. It's no coincidence that few passes have gone his way during this stretch of games where the passing game has been inconsistent. Eddie Royal is the big play threat and he is going to get his chances, but one way to measure the progress of the passing game for the rest of the season will be the number of attempts to Hyman.
Key #5: Tailbacks have to deliver
The running game has improved since Mike Imoh's return, and it got off to a nice start against Wake Forest last week. However, the inability to control the game with the run in the second half has to be a concern for the Tech coaches. Wake's primary weakness on defense was their tendency to wear down later in games, but we did not see that last week. Heading into the second half of the season, it is fair to characterize the running game as inconsistent and still in search of its big breakout game.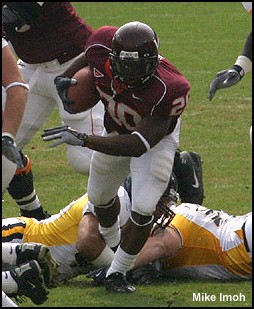 Going forward, the coaches will have to be careful with Mike Imoh and not wear him down. He is showing that he can be a #1 tailback capable of running it up inside with toughness and durability. But the offense needs to get him his 100 yards on 20 carries instead of 30, meaning that more production is needed from either Justin Hamilton or Cedric Humes. Look for both to get work while Coach Hite continues to look for a productive and consistent tailback rotation. The performance of the offensive line is certainly critical to any improvement in the running game and, as I mentioned earlier, look for some simplifications/adjustments to the run blocking schemes. I think we will continue to see the option two or three times a game, as well as the WR reverse action from the I-formation. Also look for a continued emphasis on the 2-TE, single back formations that balance out the defensive sets and give the offense the ability to run or pass equally to either side of the formation.
Conclusions
At the midpoint of the season, the Hokies have played about as expected on both sides of the ball. As they move into the back half of their schedule, the defense will need to continue to do the heavy lifting while the offense works on incremental improvements. The combination of Randall, Imoh, Royal and Hyman gives the Tech offense four players that are capable of putting consistent pressure on the edges of the defense, both with the run or with the pass. Consistent production out of that group will be critical if the offense is to be successful in the second half of the season. Getting pressure on the perimeter will force defenses to adjust how they play pursuit versus containment, it will free up running room between the tackles, and it will force defenses to back off from all the blitzing. It's easier said than done for sure, but look for the Tech offense to go for it by simplifying the blocking schemes, quickening the tempo, and solidifying the protection packages against pressure.
Most of all, expect a lot more close, tough, exciting, down-to-the-wire football games dominated by defense.