The ACC Race at Midseason
by Stefan Adams, 10/14/04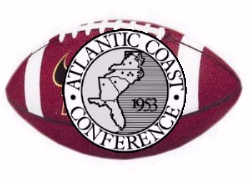 Atlantic Coast Conference commissioner John Swofford is reclining in his office chair with a smile from ear to ear. As the ACC enters its seventh weekend of conference play for the 2004 season, the level of competition is high: 10 of the 11 teams are legitimate football teams and can win on any given Saturday.
The six bowl slots (BCS, Gator, Peach, Tangerine, Continental Tire and MPC Computers) can be filled by a slew of different combinations.
Here is how the Atlantic Coast Conference looks going into this weekend
ACC Standings
(Through games of Thursday, Oct. 14)

Team

ACC
Record

Overall
Record

Virginia

2-0

5-0

Miami

2-0

5-0

Florida State

2-1

4-1

Virginia Tech

2-1

4-2

North Carolina State

2-1

3-2

Georgia Tech

2-2

3-2

North Carolina

2-2

3-3

Maryland

1-1

3-2

Clemson

1-3

1-4

Duke

0-2

1-4

Wake Forest

0-3

3-3
From the looks of things, the three teams that are almost sure-shots to bowl games this winter are Virginia, Miami and Florida State. Those three teams have the most momentum at this point of the season and are all ranked in the top 7 in both polls. Barring any late-season meltdowns, the Cavaliers, Hurricanes and Seminoles will have bowl bids.
That means that the rest of the eight teams will be competing for three post-season spots.
Considering Clemson and Wake Forest each have three conference losses, they are all but eliminated, unless they run the table, which is highly unlikely (Clemson must beat Maryland, North Carolina State and Miami in consecutive weeks in order to climb above .500, while Wake must beat Florida State, Miami and Maryland to reach .500, both with respect to conference standings). Considering Duke's level of play this season, coupled with the injuries the team has sustained, and the road that lies ahead, the Blue Devils will probably not be playing football in late December or early January.
That leaves five teams for three spots: Virginia Tech, North Carolina State, Georgia Tech, Maryland and North Carolina. Any games involving teams from this list will be considered must-win games in order to remain in contention for a bowl game. The Hokies have already played NC State (17-16 loss) and will play the other three teams (a Thursday night game against Georgia Tech on Oct. 28 in Atlanta, at North Carolina Nov. 6 and in Lane on Thursday night against Maryland Nov. 18). Considering Tech's other conference games after those three are against Virginia at home and Miami on the road, winning the three upcoming ACC games can really provide some cushioning in the standings if they are all victories.
The other four teams are floating on a similar ship as far as the rest of the season goes. Home games are in CAPS.
The ACC Race

Team

ACC Record

Remaining Conference Schedule

Virginia Tech

2-1

at Georgia Tech (Oct. 28, Thursday)
at North Carolina (Nov. 6)
MARYLAND (Nov. 18 Thursday)
VIRGINIA (Nov. 27)
at Miami (Dec. 4)

NC State

2-1

at Maryland (Oct. 16)
MIAMI (Oct. 23)
at Clemson (Oct. 30)
GEORGIA TECH (Nov. 6)
FLORIDA STATE (Nov. 11, Thursday)

Georgia Tech

2-2

DUKE (Oct. 16)
VIRGINIA TECH (Oct. 28, Thursday)
at N.C. State (Nov. 6)
VIRGINIA (Nov. 20)

North Carolina

2-2

MIAMI (Oct. 30)
VIRGINIA TECH (Nov. 6)
at Wake Forest (Nov. 13)
at Duke (Nov. 20)

Maryland

1-1

N.C. STATE (Oct. 16)
at Clemson (Oct. 23)
FLORIDA STATE (Oct. 30)
at Virginia (Nov. 6)
at Virginia Tech (Nov. 18, Thursday)
WAKE FOREST (Nov. 27)
As you can see, nobody really has it easy, therefore, anything can happen. Based on what has transpired thus far, North Carolina might have the easiest road ahead (although it is not very easy).
The two seemingly hardest remaining schedules belong to Virginia Tech and Maryland. The Terrapins cannot overlook any conference game remaining on the schedule, and after seeing the Tar Heels defeat North Carolina State and Georgia Tech, the Hokies cannot either.
Even though Clemson and Wake Forest have almost kissed their postseasons goodbye, that doesn't mean they won't come back to haunt teams in the coming weeks. Wake Forest's three conference losses have come down to the very end of the ball game — they are primed to win a close game, which could be against Maryland.
So, now everyone has seen the cookie and are asking, "How will it crumble?"
Three available spots for five teams means two will be on the outside looking in. Here is how I think it will happen:
North Carolina will be watching the most wonderful week of the year from the couch, including all six ACC bowls. The Tar Heels have upset two teams this year, but will not upset three of the four remaining on the schedule. Miami should demolish head coach John Bunting's team and the Hokies will come in seven days later and finish what the Hurricanes started. Everyone will think the storm has settled, but a bitter Wake Forest team will come rolling through and won't help UNC's situation. Considering UNC just lost three starters indefinitely for an incident involving marijuana, things could get ugly in Chapel Hill, leaving Bunting anxiously awaiting the Blue Devils to arrive to town for the season finale.
The other team that will finish with a door prize will be Maryland. The Terps have serious personnel issues that are breeding a stagnant offense. Maryland could easily drop games to NC State, Florida State, Virginia Tech, Virginia and Wake Forest, giving them six conference losses — ouch.
That leaves Virginia Tech, North Carolina State and Georgia Tech strutting into bowl games.
The Hokies were predicted to finish the season at 6-6 by many analysts. It is safe to say that Tech thus far exceeded expectations, but will not do much better than its forecasted finish prior to the season's beginning. The Hokies must win two of their final five ACC games to have a realistic shot at playing in the post season — this is not unreasonable. Wins against North Carolina and Maryland (Thursday night in Lane) are very likely and would give Tech four conference wins. Considering most Hokie fans do not want to travel to Boise, Idaho to watch the team play in the MPC bowl, the game against Georgia Tech is ever-important to increase Tech's chances of playing football in the sun, instead of the snow (on Smurf Turf, nonetheless). While the Hokies' chances are good against the "other Tech," the pessimist in me says quarterback Reggie Ball will spread the defense out enough to allow P.J. Daniels to have a big game and the Yellow Jacket defense will slow down the Tech offense enough to win the game…leaving the Hokies at 7-5 (4-4).*
*Assuming higher-ranked Virginia and Miami defeat Tech, as they will be predicted to do.
North Carolina State's defense and bruising running back T.A. McLendon will carry the Wolfpack and Chuck Amato's white Oakley sunglasses into the Tangerine Bowl. N.C. State will likely finish the season 7-5 (5-3) with losses against top-10 teams Miami and Florida State, but victories elsewhere.
Georgia Tech is the last team needed for the completion of the Adams equation. The Yellow Jackets will, as already stated, win what will be an important game against VT with respect to the bowl lineup. Conference losses against Virginia and N.C. State will also make them 4-4 this season. What could be an important game is GT's showdown with the University of Connecticut. If UConn can win that game, the "other Tech" could be the sixth team in the history of the bowl series to play in the post season with a sub-.500 record. While I think it is unlikely, let's go Huskies.
We have finally come to the end of this long and confusing journey. After several scrap pieces of paper charting out what could and will happen, expect the Hokies to be playing in noisy Boise.
ACC Prediction

Team
(Predicted Bowl)

ACC Record

Remaining ACC Games

Current

Predicted

NC State
(Tangerine Bowl)

2-1

5-3

at Maryland (WIN)
MIAMI (Loss)
at Clemson (WIN)
GEORGIA TECH (WIN)
FLORIDA STATE (Loss)

Georgia Tech
(Tire Bowl)

2-2

4-4

DUKE (WIN)
VIRGINIA TECH (WIN)
at N.C. State (Loss)
VIRGINIA (Loss)

Virginia Tech
(MPC Bowl)

2-1

4-4

at Georgia Tech (Loss)
at North Carolina (WIN)
MARYLAND (WIN)
VIRGINIA (Loss)
at Miami (Loss)

North Carolina

2-2

3-5

MIAMI (Loss)
VIRGINIA TECH (Loss)
at Wake Forest (Loss)
at Duke (WIN)

Maryland

1-1

2-6

N.C. STATE (Loss)
at Clemson (WIN)
FLORIDA STATE (Loss)
at Virginia (Loss)
at Virginia Tech (Loss)
WAKE FOREST (Loss)

Note: Bowl projections assume that only one ACC team will go to the BCS,
and that Miami, Florida State, and Virginia will fill the BCS, Gator, and Peach
slots. Duke, Wake Forest, and Clemson will not go bowling.
Considering the phrase "We must protect this house" will apply to Ralph Friedgen's living room and not a football field come December, playing in frigid Idaho will not be the worst thing that has ever happened to Virginia Tech.
Bring it on, Papa Smurf.