Midseason Ponderings
by Jim Alderson, 10/13/04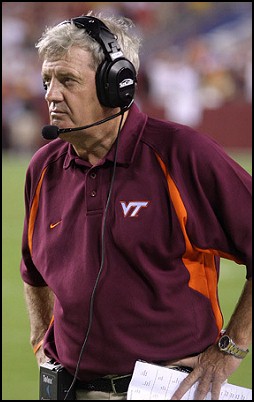 One thing about this 2004 Virginia Tech football team is that they sure keep it interesting. For the third straight week, any thoughts held by fans of perhaps leaving during the fourth quarter and getting back to the tailgating were erased, as Tech and yet another opponent battled right down to the wire. Such was the case with Wake Forest as the gritty Deacons battled right to the end, and it took four straight incomplete passes from point-blank range before Hokie fans could exhale and go check out the Dixie Classic Fair. Or at least those portions of it that could be seen from the Joel Coliseum parking lot.
The good news in this season of the last-second finish is that for the second straight week Tech held on to win. The better news is that Bud Foster's defense, so maligned during last season's late collapse, has strung together two straight late defensive stands, enabling Tech to come away with wins. The not-so-hot news is that Tech's offense continues to struggle, displaying an altogether annoying habit of red zone gaffes that keep Tech from piecing together any sort of comfortable lead and not turning end games into a series of Maalox moments. The offense is not doing anything easily, and it appears that the offense is going to be what the offense is. This is a bunch with a quarterback with the heart of a lion and, well, the heart of a lion.
It is also an offense where confusion reigns along the offensive line, contains a platoon of freshman wide receivers making freshman mistakes that shine brightly against experienced secondaries, also has a fullback position staffed entirely by freshmen whose inexperience has caused the position to be so weak that it can be considered useless, and lacks the stud running back that can carry a team, the likes of which Tech fans had become accustomed to observing for the last four years. There is no Jake Grove to anchor the o-line, no Ernest Willford to make the clutch catch and no Doug Easlick to lead block for a Kevin Jones who could place the entire team on his back. It also appears that there were no ready replacements for any of them. The recruiting junkies can ponder exactly how all of this came about, but it adds up to an offense that struggles and will probably continue to until some experienced quality players are more than lightly sprinkled through the depth chart.
For all of the offense's offensiveness, however, Tech has won two games in a row. The bottom line is always the bottom line, and Tech's most recent one is that they have prevailed in two close, hard-fought contests. Losing those types of games has been a problem for Tech. There is now solid evidence available indicating that this Tech team, unlike those of recent vintage, is learning how to win those games. That could be handy knowledge to have, as a glance at the remaining schedule after this week's throwaway game would indicate more close contests are in the offing.
This first season of the Tech and Miami-expanded ACC is turning into a doozy. Photo finishes are the norm, beginning with the fourth quarter collapse by Florida State against Miami. For all of Tech's close finishes, NC State can go us one better. The Wolfpack have followed up their narrow, last-second Lane Stadium escape with an overtime win over Wake Forest and last Saturday's near-miss at North Carolina that left the full-figured Chuck Amato positively jiggling as he bounced up and down in front of the referees attempting to convince them, one way or another, that TA McClendon had indeed scored. Neither Amato's arguments nor his burlesque show worked.
Amato has it easy, however. Even as Chuck manfully voiced instructions to his team to put the Carolina loss behind them and direct their attention to a Maryland team that Amato couldn't beat with Philip Rivers, Wake Forest coach Jim Grobe must be wondering exactly what his guys have to do to get a win in this brave new ACC. The Deacons could conceivably be 6-0 and the nation's darling, but instead are 3-3, 0-3 in league play, joining Duke at the bottom of the expanded conference. While Wake and Duke together at the bottom of the conference standings is not exactly a new ACC phenomena, the Deacons are there with two OT losses and a tough one against Tech. They can be forgiven for expecting a little better.
Glancing around the rest of our new conference at this roughly mid-way point of the season, there is certainly no surprise at the top of the league. Welcome to Miami, ACC. The Canes might have been the beneficiaries of a 'Welcome to the ACC' gift from Florida State in their opener, and it never hurts the record when you replace Tennessee with Houston on the schedule, but there they sit in their usual spot high up in the polls. With a win at Georgia Tech under their belts, Miami seems to be adjusting well to their new surroundings, although upcoming trips to Raleigh and Hooville might prove a little more difficult than those to, say, New Jersey and Pittsburgh.
Joining the Canes at the top of the midseason ACC standings are the Hoos. This is a pretty good team, although the suspicion persists that the main reason for that lofty ranking is some creative scheduling, the same sort that enabled Tech over the years to rocket up the polls. It also remains to be seen what will happen if somebody manages to shut down that ground game that up until now has proven so overpowering and forces quarterback Marces Hagans to win with his arm. There are teams on the Hoos' remaining schedule, beginning this Saturday, that can do just that.
Florida State has the manpower to match up with that Hoo line that has received little resistance in brushing aside the likes of Akron and Temple. The 'Noles are coming off a narrow victory in what Bobby Bowden referred to as that 'dadgum dome' at Syracuse. Frank Beamer has used more colorful language when speaking of the Carrier Dome. It hasn't been many times since FSU joined the ACC that they have found themselves staring up the standings at the rest of the league following their very first game. Considering the utter futility Booby's team has experienced against the Canes [it's not everybody that can manage to lose to one team six times in five years - Texas would have to meet Oklahoma in a bowl game to replicate it], what were they expecting when they invited the Canes? Turning their annual OOC loss to Miami into a conference one does not bode well for another FSU BCS bid, but quarterback goofiness aside, this is still a pretty good team.
Georgia Tech has become the leading candidate for the ACC's 'Go Figure' award. This is a group that can lose at Carolina and win at Maryland. This is also a group that has a very good defense that can shut Virginia Tech down and give the Hokie defense some problems with quarterback Reggie Ball. It should be an interesting Thursday night in Atlanta.
Maryland is a team that last Saturday had a huge dose of 'Uh-oh' injected into their season. Not too many people figured the Terps to lose at home last weekend to GT, certainly nobody in the group with whom I pick. Maryland is now 3-2 and has remaining on their slate a home game with FSU plus back-to-back road trips to Hooville and Lane Stadium, the latter on a Thursday night. Lots of luck in keeping that string of ten-win seasons going, Ralph.
The surprise team in the ACC has to be North Carolina. Don't look now but the Heels are 3-3, 2-2 in the ACC. It's amazing what can be accomplished when the job prospects of the coach are slammed as tightly against a Kenan Stadium wall as were those of John Bunting. The folks in licensing at Carolina are having to hold off selling those light blue visors, at least for a while. The dramatic win over State has loosened the alumni grip around the neck of the good guy Bunting, at least until those upcoming games against Utah, Miami and Tech.
The flip side of Carolina's surprise upside are the Clemson Tigers. When the Bowden family gathers this Thanksgiving, Tommy will no doubt give special thanks to Daddy for that game last year which allowed Tommy to pad his buyout by $4 extra large. Then he can gripe at him for not being so obliging this year. The Tigers are 1-4 with a trip remaining to Miami.
At the bottom of the ACC sits Duke. All of the hoopla and optimism surrounding the hiring of new coach Ted Roof lasted for about the first half of Duke's opening game against Navy, then things got back to normal. At least basketball practice starts this week.
And so we sit back and take a breather at this halfway point of Tech's inaugural ACC football season. Close games have been the norm, and there look to be more to come. There is nothing guaranteed here, even the continuation of Tech's bowl streak. One thing is for certain, however: this is a lot of fun and beats the heck out of what we might be contemplating were Tech still stuck in the Li'l E.